What is an eBay store?
With COVID-19 disrupting millions' lives, sellers were forced to go online and start selling on marketplaces like eBay. Several sellers took their sales up a notch by opting for the eBay stores, one of the best choices to sell your products on eBay. It gives you brand value and helps build customer loyalty with innumerable options. You get to extend your sales to over 185 million global active users through eBay. Let's dig a bit deeper and learn How to open an eBay store? How much does opening an eBay Store cost? And other related questions hovering around eBay Storefronts!
eBay Stores: An Overview
Getting an eBay store is getting yourself a centralized location on the marketplace such that your buyers can find the various merchandise you have to offer. It gives you an online presence without going through multiple intricate and time-consuming web designing sessions when creating your store.
The eBay store subscription, with it, also brings your very own search engine. The search engine facilitates the buyers' conduct a search within your store, eliminating the competition you face on the eBay marketplace.
When you do not have a store subscription for yourself, the listing appears as shown below in the image,

When you do get a store subscription for yourself, your listing appears as shown below. The major difference that you'll notice here is the additional option that says "Visit Store."

Why should you select the eBay store?
Many reasons can be put forth to convince you why you should go ahead with an eBay store. Let's uncover some of the most prominent points you should be looking for while getting yourself an eBay storefront.
#1. More exposure for your products
With the eBay store subscription, your products get more exposure. The exposure only means an increase in the number of your customers. According to a report published by eBay, sellers saw upto a 25% rise in their sales in 3 months after switching to eBay store subscriptions.
#2. Win repeat customers
Getting yourself a store with exclusive products that you have to offer leads your customers to remember it, resulting in – "them returning to you" when they require that product. With a store on eBay, you can work and excel on your customer service and experience efficiently. Excellent customer service is also one of the most influential factors that pave the way to customer retention.
#3. Save money
Compared to eBay's regular selling fees, store subscribers have the upper hand in selling and insertion fees. But what needs to be kept in mind is the number of listings that you deal in regularly. Here you need to evaluate your sales when subscribing. It can help you select the right subscription type. For instance, opting for an enterprise subscription when you only have 100 products to list makes no sense and will only result in imminent losses.
According to eBay, if you have more than 50 listings per month, going ahead with the store subscription can be a great way to save money.
#4. Increased credibility
Having a store represents you are here not just to sell but to establish yourself as an entity. Also, it adds to your professional credibility. Additionally, you can increase your store's impact using the various tools that the store subscription unlocks.
#5. Personalized URL
When you go ahead with the eBay store subscription, you get to set a unique URL for your store. The URL gives your customers an option to easily reach your store without having to navigate and search their way through the eBay marketplace.
Planning to go Multichannel? Let us help you get the best eBay integration experience for ShopifyBigCommerceWooCommercePrestashopOpencart and Magento stores. It's simple and easy!!
How to set up an eBay storefront?
To get an eBay store, you will initially have to start selling on eBay. You need to make sure you set up a business account. If you already have a personal account, you need to update it to a business account. Once done, you can proceed with getting yourself an eBay storefront.
#1. Prerequisites
Once you have made up your mind to open an eBay Store, there are a few requirements that you must meet:
eBay seller's account is a must, along with your credit card information for the account.
Also, having a Verified Premier PayPal account becomes a must.
You cannot have a below-standard seller performance rating in terms of seller ratings if you wish to open a Premium or Anchor store.
#2. Choose the right eBay store subscription
eBay offers you five different store subscription options. So, you need to make sure you select the subscription package that suits your listing volume. Suppose you have 100-150 listings available to you per month. Opting for a starter store won't help you out. It is a wastage of money on your part. Select a store after evaluating the number of listings, sales, and profit you are already making.
Although a store provides you with an opening, you need to make sure the investment you make is constructive. And helps you get the results you desire instead of putting a dent in your pocket.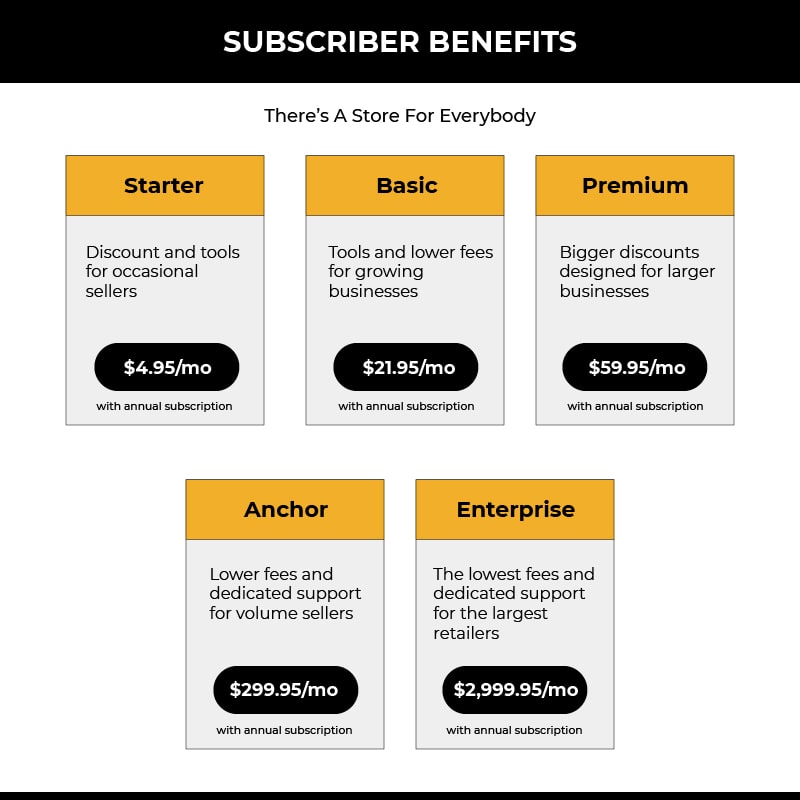 #3. Getting a Store
Getting yourself a store is pretty simple. You need to follow a few steps,
Sign in to My eBay.
Click "Subscriptions" under the Account tab.
Click "Subscribe" next to eBay Stores.
Now choose "Subscriptions" followed by selecting "Manage My Store" on the left.
Finally, select "Design My Store"/"Quick Store Tuneup."
eBay Shops (For U.K based sellers)
A similar subscription-based program is available for the sellers planning to opt for the storefront under eBay Shops' name. Here a seller can opt for a shop subscription from the option ranging between,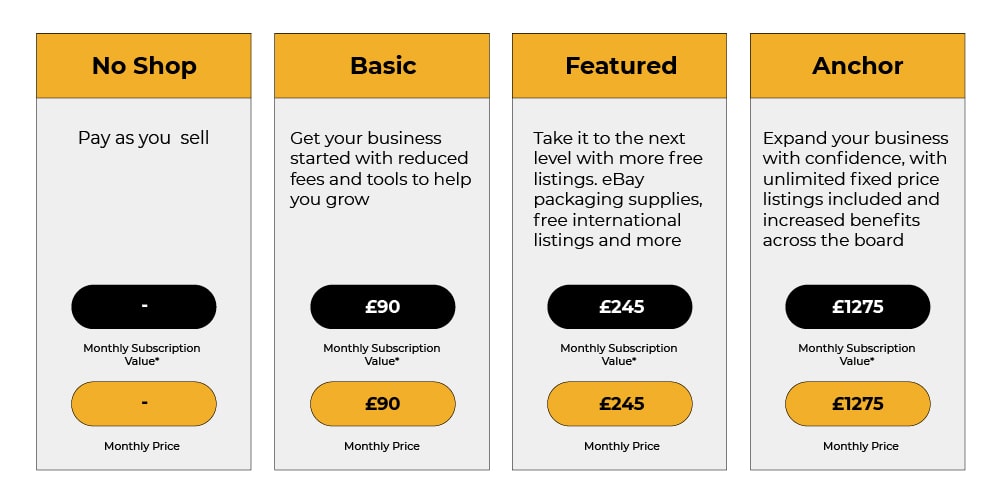 When is the eBay storefront a good idea?
Getting an eBay store is all about savings. Once you decide to walk the path of opening the eBay store, results can astonish you as you may end up saving a hundred dollars each month if you do things the right way.
A few points to keep in mind before opting for the storefront can make a massive difference for your sales.
If you deal in more than 100-150 listings per month or are making over $500-750 per month, getting your hands on an eBay store can be a masterstroke. It won't only get you a brand value for your business but will also help you save money.

In case you're selling electronics with a higher final value fee or items that sell for over $2500-3500, the eBay store can save you a lot on the costs you're subjected to pay. The fees are set at a maximum of $250 for store owners, unlike $750 for regular sellers not having a store subscription.

However, it is highly recommended that you first make sure you are dealing in large quantities of orders before getting yourself an eBay storefront. If you fail to meet the store's criteria, work on reaching the level and fulfilling the requirements.

If you're starting your seller journey on eBay, it is always a great move to start slow and grow with time. Once you're familiar with the eBay marketplace and its policies, you can step up and get yourself the store.
Is the eBay store worth it?
However, if you're all jacked up with orders, have experience selling on eBay, and are already making loads of money selling as a regular seller.
It's time you step up and decide to get your business a makeover with an eBay storefront!
However, it would help if you remembered that getting an eBay store subscription is not for you when you're not making enough to include one into your business. It'll only hurt your profits in the long run.
You can contact our team of experts to help you choose and expand your business. Contact them through SkypeWhatsappor you can even drop an eMail. If you're already selling on eBay, I would love for our readers to know about your experience. Please comment below and let them know if the grass is greener on the other side!
The post 5 Benefits Of eBay Store You Need To Know appeared first on CedCommerce Blog.