Have you ever felt that your creativity has the potential to sell? Then this whole blog is one big good news for you. Here, we will be talking about why and how to start selling your handmade items on Etsy.
But before diving into all of that, here is a brief on Etsy.
What is Etsy
Etsy, launched in 2015, is an online marketplace that sells handmade, creative goods and vintage items falling into a wide range of categories. If you are wondering is it worth selling on Etsy or notlet's have a look at the scale of Etsy.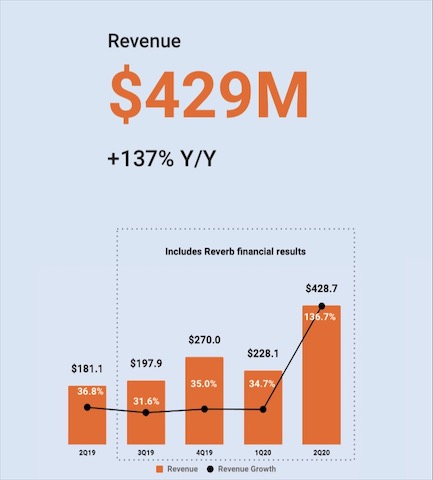 According to Etsy's Second Quarterly Report of 2020, Etsy now has more than 3 million sellers selling their creative and handmade items on the platform. The half-yearly revenue generated by Etsy in 2020 is 657 million U.S. dollars. Etsy today has more than 60.3 million active buyers.
What sells on Etsy
Buyers come to Etsy in search of handmade and unique items. Including decorative goods, clothing, paintings, illustrations, handmade gifts, and almost everything that you can think of. These items fall into a wide range of product categories.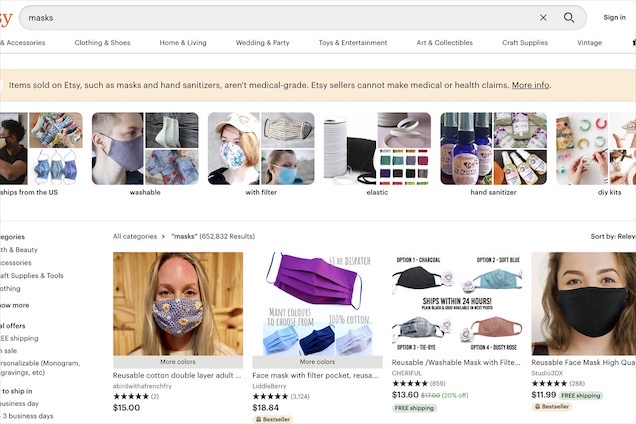 Here's a list of the top-level product categories on Etsy:
Accessories
Art and Collectibles
Bags and Purses
Bath and Beauty
Books, Films and Music
Clothing
Craft Supplies & Tools
Electronics & Accessories
Home & Living
Jewellery
Paper and Party Supplies
Pet Supplies
Shoes
Toys & Games
Weddings Items
Check out this blog about the top selling items On Etsy and strategise your business better!
Who are Etsy sellers
As stated by Etsy itself, it is a global online marketplace, where people come together to make, sell, buy and collect unique items. There's no Etsy warehouse – just millions of people selling the things they love." That's right.
Hence, Etsy works as a bridge that connects artists, crafters and vintage collectors with the buyers. Notably, most Etsy shops are run by individuals who produce, market and ship their products single-handedly. Apart from this, around 80% of the sellers are women.
Okay now that we know about the platform that can help you turn your creativity into an online business let's see why this is the best time to get started with it!
Five reasons to start selling your handmade items on Etsy
Online is the new normal
With the pandemic hitting humanity hard, the shopping behaviour of buyers has also changed. Not that online selling was a small thing before it, but it has emerged stronger during the global pandemic.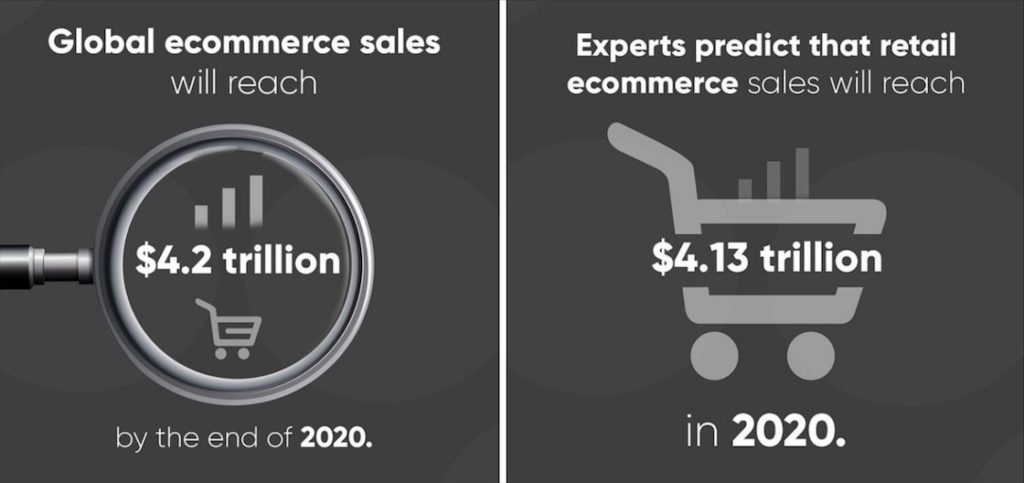 Online shopping has helped people save time and money. Of course the safety it assured considering with contactless deliveries has been one of the significant causes that attracted buyers online.
Let's figure that out with some stats
According to Adobe's Digital Economy Index, U.S. e-commerce increased by 49% in April. This data was collected through research that analyses more than one trillion online transactions across 100 million different SKUs. A recent study suggests that e-commerce businesses may see a 265% growth, from $1.3 trillion in 2014 to $4.9 trillion in 2021. E-commerce is expected to make 17.5% of global retail sales by the end of 2021.
This is because more and more businesses are moving online right now, giving the buyers the convenience they need. Hence, it is precisely the time you need to consider taking your creativity online, exposing it to millions of its potential customers.
Record-breaking Etsy sales in 2020
When trying to sell handmade online, you can not ignore Etsy. Especially now, when Etsy's graphs have only been going up and up this year.
Etsy ended 2019 with the total yearly revenue of 818 million U.S. dollars, which was 694 million U.S. dollars for the year 2018. However, in 2020, there has been a record-breaking increase in sales on the platform, delivering revenue of 429 million USD (+137%) in the second quarter. The increase was not only in the sales but also in the number of existing active sellers as well, which increased by 31% by the end of June 2020.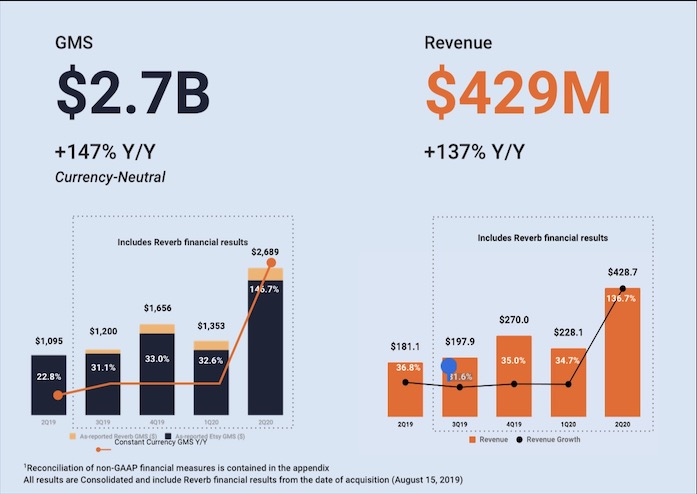 Are you trying to guess why so many new sellers joined Etsy and how it attracted so many new buyers? Let's see.
Etsy, at the beginning of the quarter, asked the sellers to make face masks. As a result, thousands of sellers started making face masks within a few days, and within a month, more than 60,000 sellers were making and selling face masks on Etsy. By the end of the second quarter, this figure rose to 112k sellers with a mask sale. The total revenue from mask sales alone was 346 million USD in GSM.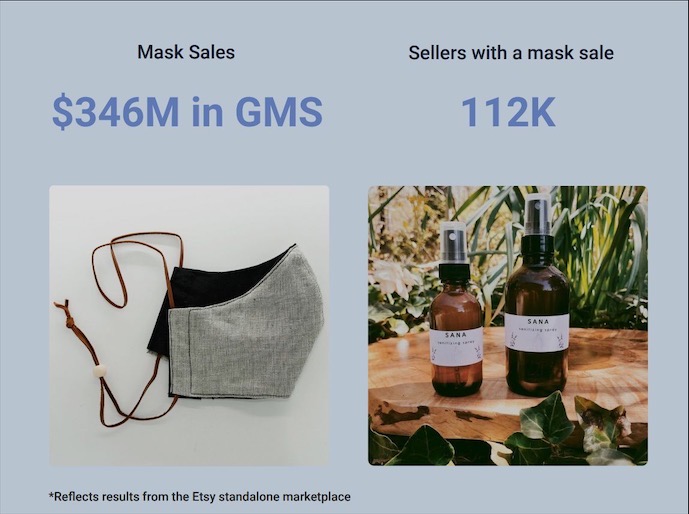 But we cannot give all the credit to face masks. Non-mask sales were up 93% in the second quarter as well. This clearly indicates the depth and breadth of the Etsy marketplace and growth opportunities for sellers like you.
The categories that performed well include:
Homewares and home furnishings
The category saw a tremendous growth of 128% year over year, as a result of more and more people staying indoors because of the global pandemic. Apart from this, notable increases have been recorded in the Beauty & Personal Care, Jewelry and Accessories, Craft Supplies, Apparel and Paper & Party Supplies categories as well.
Note that 25% of the overall GSM has come from the products that did not fit into the top-level categories on Etsy.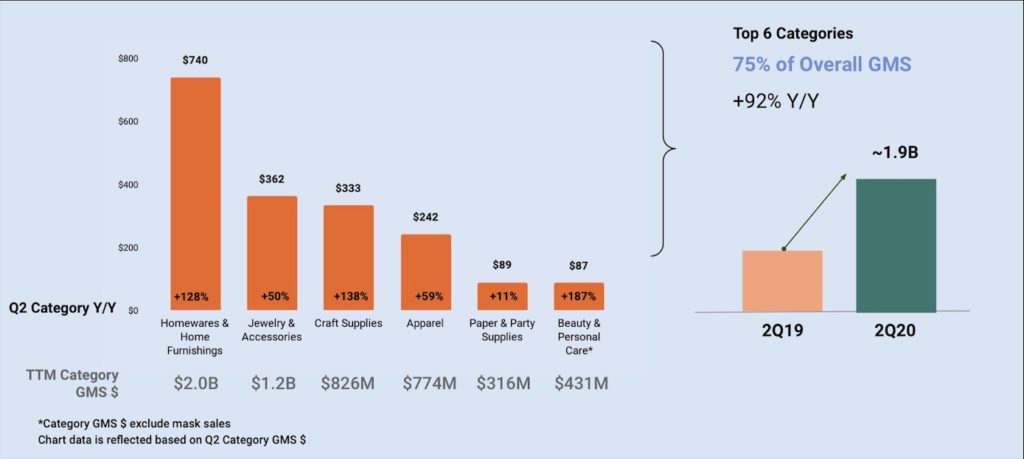 Okay enough of stats, the point is, Etsy has flourished quite well. People who make creative and handmade items are making the most of the opportunity. Notably, most Etsy sellers are businesses of one, and about 95% operate their creative business from their homes. Take this message as the universe telling you to start your business now!
The holiday season is almost here
The e-commerce seasonal holiday sales in the U.S. and around the globe have been noted to grow significantly year-over-year.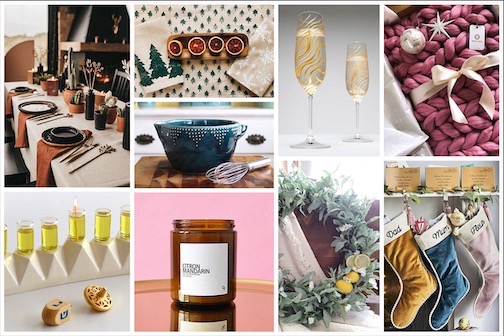 Starting from Labor day in September till the New Year celebrations that last till early January. Sellers on all marketplaces, strategise their business, optimise their listings, prepare their stores and come up with offers and discounts to attract more buyers.
The holiday season, without a doubt, significantly increases the demand for various products in the market. This year, because of the impact of COVID-19, researchers and strategists have anticipated that the demands online will be much higher.
Etsy has released a list of essential dates for sellers.
Let's look at what are the opportunities that you can target
7th September: Labour Day (U.S.)
4th October: Harvest thanksgiving festival (D.E.)
12th October: Thanksgiving (C.A.)
31st October: Halloween
5th November: Bonfire Night (U.K.)
14th November: Diwali
26th November: Thanksgiving (U.S.)
27th November: Black Friday
30th November: Cyber Monday/Week begins
6th December: St. Nicholas Day (D.E. and much of Europe)
10th – 18th December: Hanukkah
14th December: Christmas Jumper Day (U.K.)
21st December: Winter solstice
24th December: Christmas Eve
25th December: Christmas Day
26th December – 1st January: Kwanzaa
26th December: Boxing Day (U.K., CA, A.U.), Second Christmas Day (D.E.)
31st December: New Year's Eve
Labor Daywhich marks the end of the summer season, is celebrated to recognise the contribution of labourers to the development of the United States. The preceding weekend is called the Labour Day weekend and is one of the most popular weekends for online shopping.
The sale that Etsy sellers are asked to opt for will last from September 4th to September 7th. Etsy suggests it will clear out summer inventory and attract early holiday shoppers.
Clearly, Etsy is working in a strategised manner to help sellers make more and more sales during these unusual times, making this the finest time for new sellers with handmade items to come onboard.
Easy Store Set-Up on Etsy
Etsy is a giant in the handmade and creative market. And one might assume that to sell on Etsy would be a complicated process. Surprisingly, it is not the case. It is one of the easiest processes to follow.

We are giving a brief on how it's done over here. To know the process in detail click here.
Start with creating an account in Etsy. Go for the sell on Etsy option after signing in. Then, follow the following step:
Step 1: Name your shop
Add a name, check availability and save.
Step 2: Shop Preferences
Choose the shop language, the country you or your business is based in and your shop currency.
Step 3: Stock your Shop
Start adding your product listings. Remember that Etsy doesn't charge any amount at the time of your onboarding. You will not have to choose a plan to make your shop live. The only money a seller spends is a minimal 20 cents per listing, which is renewable after a period of 4 months. Apart from this, sellers need to pay Etsy for advertising on Etsy and outside Etsy (Offsite Ads).
You can learn about Etsy' Promoted Listings here.
Additionally, the shipping fee and transaction fee are also deducted, but only after the seller makes an actual sale. Not a bad deal!
Step 4: How you'll get paid
This is where you will choose how you want to receive payments for your sales. The primary payment method is Etsy payments, but it is only available in 30 countries for now. You can opt for PayPal if Etsy Payments are not available in your country.
Step 5: Set up billing
Enter your bank details. Etsy will use this information to set up Etsy's payment processing system allowing you to accept payment. Another use of this is that you will receive your periodic deposits of the money you earn through your sales. And that is all you need to do to start selling your products.
Later you can finish your shop setup by adding a Banner and Shop Logo, a welcome message (Shop Announcement), About section, and other details. Also, add your Shop Policies mentioning your shipping policies, returns and exchange guidelines.
After this, you can manage the store from the Sell On Etsy app as well. You can read this blog for details on the same.
One more thing, sellers, especially the budding ones and businesses of one, generally ask whether they need a license to sell on Etsy. See, Etsy doesn't require sellers to have a business licence. However, it recommends the sellers to follow any laws that apply to you as a small business selling online according to your country.
If you are someone who is already selling handmade or creative items online, then this might interest you
You can skip the humongous work of adding your product listings on Etsy individually and can bulk upload your products from your existing store with just a single click. Not only that, you can also manage the Etsy store and your existing one through a single platform using Etsy Integration App.
Isn't that efficient? Especially when we are just about to enter the peak selling period of the year!
And finally, because you should
This is possibly the most significant reason. Mainly because the rest were practical ones that you should consider before taking your business online or starting a completely new one from scratch. This one, however, is the personal one.
The fact that you are here, trying to learn about starting an online business is proof enough that you have a dream and a hope to build something on your own. Stick to that dream and do not give up. Take baby steps and focus on one thing at a time.
We know that starting to work on a dream can be overwhelming. For that, our team will be happy to have your back at every step! In addition to a product idea and your creativity, a bit of research and an action plan is all you need to get started. We suggest you to start with listing out your present resources.
It's better late than never. In fact, who said it's late. With the holiday season coming up, we consider it as the perfect time, an excellent opportunity to cease. Buckle up and get on the crazy ride of selling your creativity around the globe.
The post 5 Reasons To Start Selling Handmade Items on Etsy This Holiday Season appeared first on CedCommerce Blog.