On the 8th of May, the world celebrates Mother's day to appreciate all the birth givers irrespective of age, creed, or community. From a seller's point of view, you can make Mother's day 2021 the Kickstarter for your eCommerce store. Only If you know what to sell during this time of the year. 
This article is about some of the best gifting ideas for Mother's day 2021 and how a college student started a unique Shopify store that creates necklaces out of doodle sketches! Isn't it the sweetest gift to a mother? 
Online Gift Store is an Evergreen Niche That You Can Pick!
Be it any celebration hailing from any country – the commonality is that a good chunk of shopping happens for gifting purposes. And that's why it makes online gifting stores one of the best choices for eCommerce aspirants. 
The online gifting market is all set to gain momentum on this Mother's day. Most families will avoid going outside due to ongoing disturbances, and most likely, Mother's day shopping will happen online. 
Focus here should be how your store can be a part of this occasion. What products should you feature? Should you advertise through banners? How will Mother's day change your content strategy? 
But before you get into the brainstorming of what to sell during this Mother's day, let's see what all you can do with your Shopify store! You might offer the right products suitable for the occasion, but shoppers won't shop unless your store gives them the right vibe. 
5 Ways Your Store Can Be a Part of Mother's Day Occasion – 
Here is the twist – to be a part of this occasion, it is not necessary that you have to have a gifting store! Even online grocery stores can celebrate Mother's day – With better products, deals, and approaches. 
Offer Personalization – 
Personalization will stay and grow with time. In-store personalization along with personalized products is a double treat for shoppers. Just like a child snugging his/her mother feels comfortable, make your Shopify store a comfortable place to shop during this Mother's Day. 
In-store personalization can inspire loyalty and be the reason why shoppers keep coming back to you. The best thing – there are no prerequisites to it. All you need to do is blend the technology in your store, and boom! If you own a Shopify store or plan to start one, don't forget to consult Shopify experts. You can get into discussions with industry experts and come up with a suitable solution for your store! 
Personalized offerings should have the freedom to tweak merchandise or choose from a variety. You can do this in 2 ways – 
Add a new limited section in your store and allow customizations. 
Or you can make the most popular item of your store customizable. 
Go Social – 
Going social shouldn't be restricted to just posting content on your social media handles. Why not create a social shop and allow users to shop within the boundaries of social media? 
And don't forget about Pinterest! There are 300+ million active users on Pinterest and 77% of weekly pinners have discovered a new product or a brand. Pinterest audiences evaluate search results by how appealing each pin looks. Make sure that you upload high-quality images and group them by topic and color scheme. 
Organize Mother's Day Deals – 
Shoppers expect special deals during shopping events, and Mother's day is no exception to it. Here's how you can promote your store's Mother's day gift ideas on the internet – 
Promo Codes – They are great inventive. Shoppers can place orders at a discounted price and your business will generate revenues. You can roll out the following discounts in your store – 
Percentage-based discounts. 
Dollar value discount. 
Free or upgraded shipping. 
Free gifts.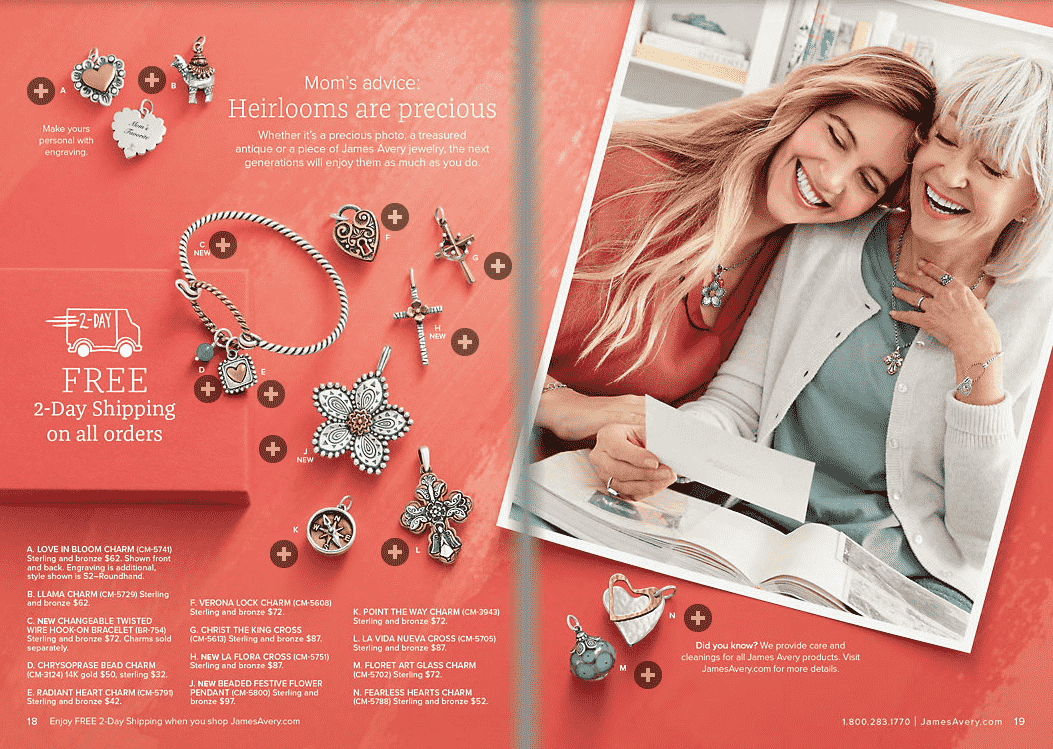 When you are ready with a mother's day campaign, it's time to spread the word on the internet. Push notifications are a great marketing tool for that. These notifications have 120-150 character limits and information is delivered to subscribers to promote your special deals. 
Don't forget to run social and search ads of your store! 
Create Email Series – 
Email marketing remains the top pick of merchants. Be it any festival, rolling out a series of promotional mailers is a ritual. By emailers, you can convey your various Mother's day gift ideas of your store. That's why it is something you should have at least a week before on your content calendar. Here are a few tips to garnish your email campaigns – 
Mother's day reminders or countdown. 
Special mother's day deals. 
Last-minute deals. 
Order deadlines. 
Ongoing offers not specific to Mother's day. 
Best selling products. 
Abandoned cart emails. 
Don't forget the fact that a lot of shoppers are using smartphones. Don't skip on mobile-friendly email campaigns so that your customers can better engage with your special offers. 
Tweak Your Content Strategy – 
This might be a gamechanger! A lot of traffic is dependent on your content strategy. From product descriptions, pop-ups to blog topics – there is abundant scope to include the element of Mother's day in your store. Here's what you can do – 
Find out keywords relevant to Mother's day, gift ideas, and likewise. Instill them in your product descriptions. Don't change descriptions of all the products. Just pick those products that are related to this day and make changes. 
Get in touch with a Shopify expert and ask them to design floaters and banners for this day. 
Don't forget to run ads themed on Mother's day.
Come up with short series of blogs related to Mother's day. 
So these were five quick ways through which you can make your Shopify store suitable for this Mother's day occasion. Let's move on to the second phase. 
Trending Products That You Can Sell During This Mother's Day – 
Here comes another deal – What you should sell on this Mother's day, or what can be some quick gift ideas for the day? 
Well, you can be sure about who is the end consumer. A mother! Keeping in mind the end consumer, you can offer some trending products during this time of the year. 
For your convenience, the list is broken into – apparel and cosmetics, home and well-being, and gifts.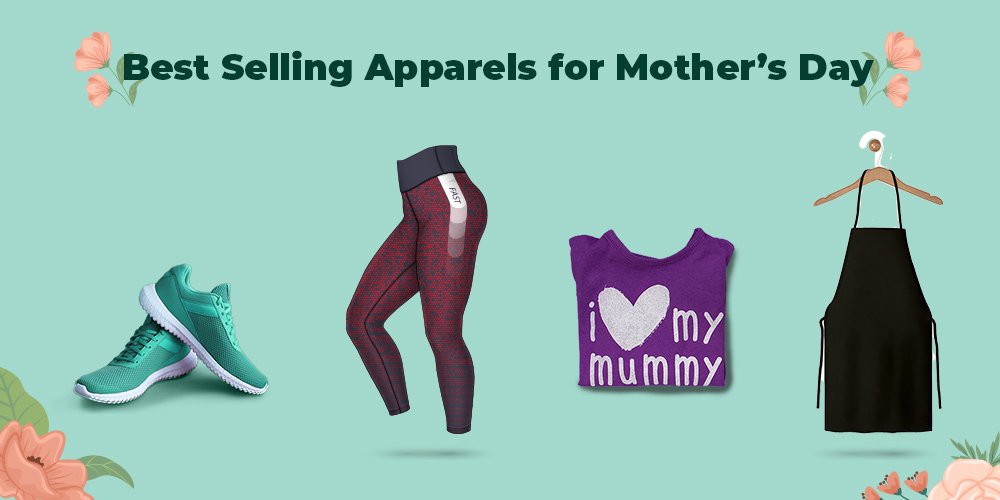 Apparel goodies will remain in the spotlight on this Mother's day. Here are some merchandises that you can offer during this time of the year – 
Snickers & Slippers – 
It is one of those categories that doesn't require too much investment and comes with an evergreen tag. Footwear is not only a gift, but mothers like to hand-pick their choice of footwear too. 
Leggings – 
From simple to Bluetooth-enables smart yoga leggings – the variation is humongous. Leggings can be the reason for incoming referrals! 
Personalized T-Shirts – 
Printed t-shirts are a long-time investment. If you have the creative child in you, you can inaugurate a print-on-demand store and settle your creativity in the goodies. Personalized products are the best gift ideas for Mother's day! 
Apron – 
Moms love to cook, don't they? And shoppers are going to take this habit seriously. If you see a hike in products like an apron, cooking utensils, don't be shocked, we already gave you a hint!.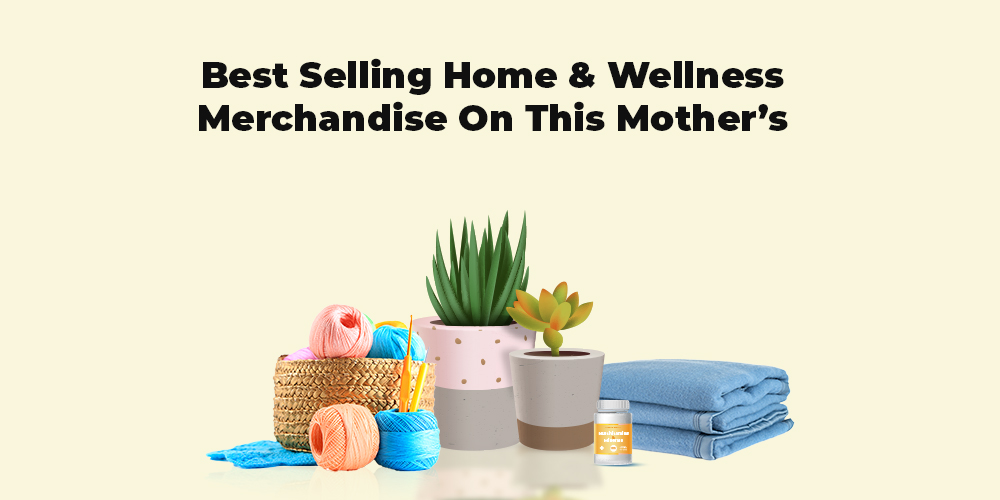 Keeping in mind that a mother does a lot of cleaning stuff, they need to rest as well. Here are some products that come with a surety of relaxing times – 
Low Maintainance Succulent – 
Home gardens are booming like anything. You can offer succulent plants that do well even without a regular water supply. 
Multivitamins – 
You can also sell multivitamins for women. Calcium tablets are the best pick. If your store is promoting a healthy lifestyle, you can expect a steady demand throughout the year. 
Blankets –
For the sake of a good night's sleep, blankets will keep on trending. Some might consider shopping for blankets during the winter season, but you can offer this product at discounts during this time of the year – this might turn out to be a good deal! 
Scented Candles –
Candles are a beautiful sight to behold. You can offer showpieces or scented candles – and both would do perfectly well. 
Elliptical Machine –
It should cost some dollars, but it is the need of the hour. Through this machine, you can promote a healthy lifestyle. Users can cover the steps without stepping out of their house. 
Electric Heated Foot Warmer –
Foot warmers give a spa feel to the users. These kinds of products can make your store visible to more audiences. The reason being, shoppers like to flip the latest technology that makes them feel comfortable. And this product is bound to grab the attention of shoppers. 
Sewing Basket –
This product will help mothers to manage their sewing assembly better. Children gift a sewing basket and other organizers a lot. Watch out for their trends! 
Fitbit –
Fitbits are shipping the future of wristwatches. From inexpensive basic smartwatches to complex, multitasking ones – this product has diverse variants. And looking at the current times, this product is a must-have in your portfolio. 
Steamer – 
An on-the-go lifestyle is all about doing things quickly and smartly. Steamers help customers to better iron their clothes without having to wait for an iron to heat up and hover here and there. 
Foot Warmers – 
Relaxing times are probably the best times ever! And that's why foot warmers are a great gift. You can offer this product at a discounted rate during summers and see how shoppers drool about it. 
A Few More Gifs Than You Can Add & Cover That Extra Mile –
Before we pull over, here are some gifts with which you can broaden your product portfolio, especially for Mother's day. 
5-Year-Journal – 
It is an interesting gift. This journal has a set of questions that children ask their mothers, and after some years, they ask the same questions again – to know much their mothers have changed! Isn't it perfect merchandise that brings a family together? 
Photo Frames – 
They are evergreen gifts, and the best thing about them is that photographs in them capture a moment, and that moment is always present around the family. Otherwise, photographs would be locked in the albums. 
Personalized Mugs & Jewelries – 
As mentioned earlier, personalized merchandise will always have the edge over other products during such gifting days. It's not only about great designs but also the deep assortment of products on which customers can imagine prints! 
Keep an eye on mugs, handwritten necklaces, and earrings this time. 
Doodles & Jewels – 
Shopify store Doodles & Jewels will have all the spotlight during this Mother's Day. The reason being that this store has something which perfectly blends with Mother's day occasion! 
This family-run business is wooing shoppers with its sweet and straightforward storytelling. Don't forget to check out their about us page where they talk about their 13-year-old daughter and how she got an idea about what to sell during Mother's day and otherwise!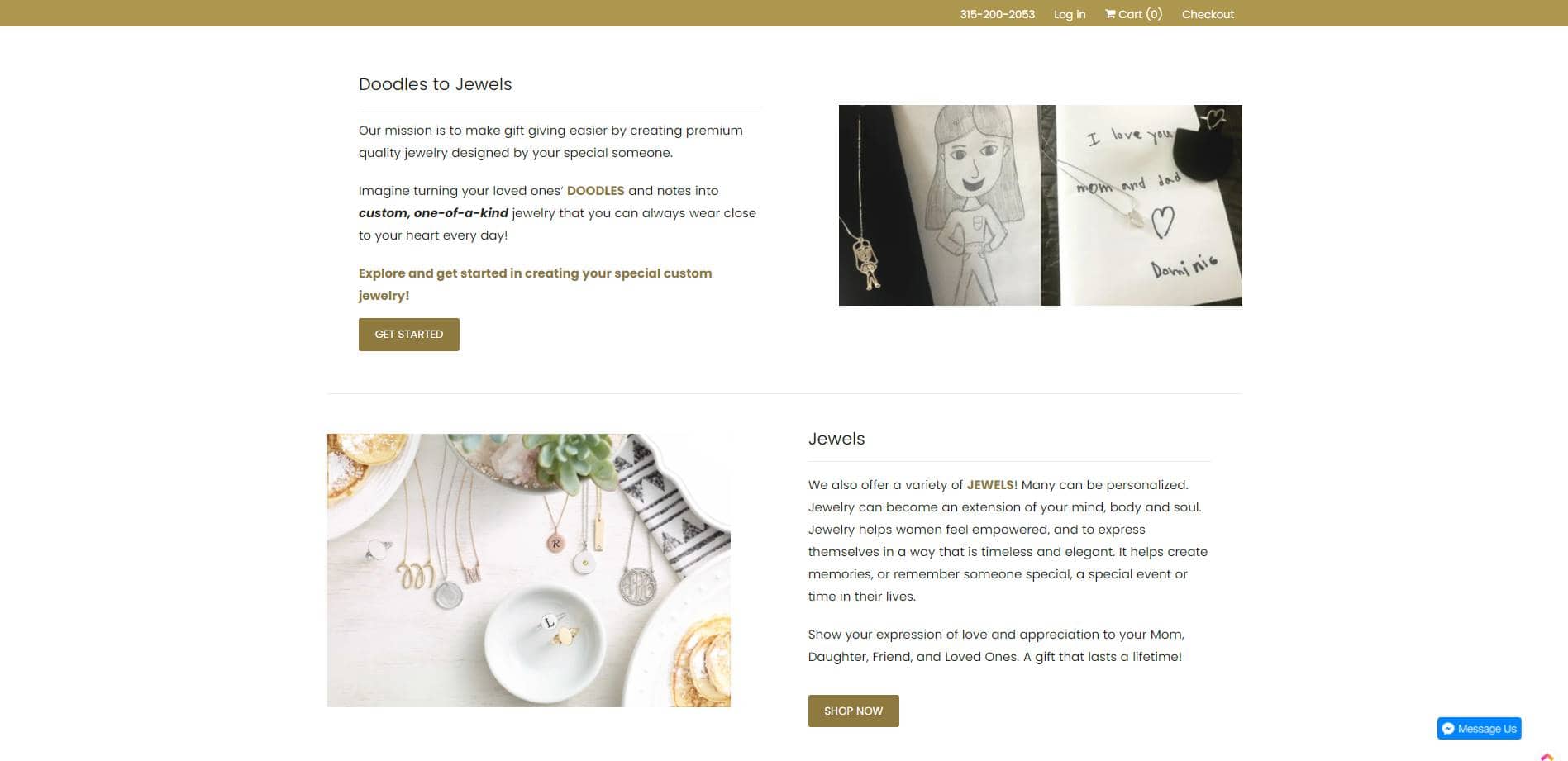 As Shopify expertsCedCommerce understood the innocence behind this venture and instilled calmness throughout the store. To show how Doodles & Jewels conduct the business, the experts built a separate page which talks about how the store brings scribblings into reality. 
From store setup to product placements – our Shopify experts nurtured this store just like a mother raises her child. 
Summing Up – 
Mother's day is all about appreciating the birth-givers from around the world. As a store owner, hidden learning comes in handy with the blog. Build your store just like a mother cares for her child. With the love, care, and dedication so that when the time is right, your store archives one milestone after the other. 
Happy mother's day to the world. 
The post A Motherly Guide for Your Online Store During This Mothers Day! appeared first on CedCommerce Blog.