Short Summary
Challenge faced
ShipDirect2You was processing orders manually, but that became a burden later on for Caren Sutherland and her team. Hence, this was the major problem which they wished to resolve immediately.
Solution
Opted for AliExpress Dropshipping Integration by CedCommerce that enabled them to automate order fulfilment without having to update each detail manually.
Outcome
ShipDirect2you witnessed a 75% increase in traffic and a 5X increase in sales within six months of using the AliExpress Dropshipping for BigCommerce Integration solution.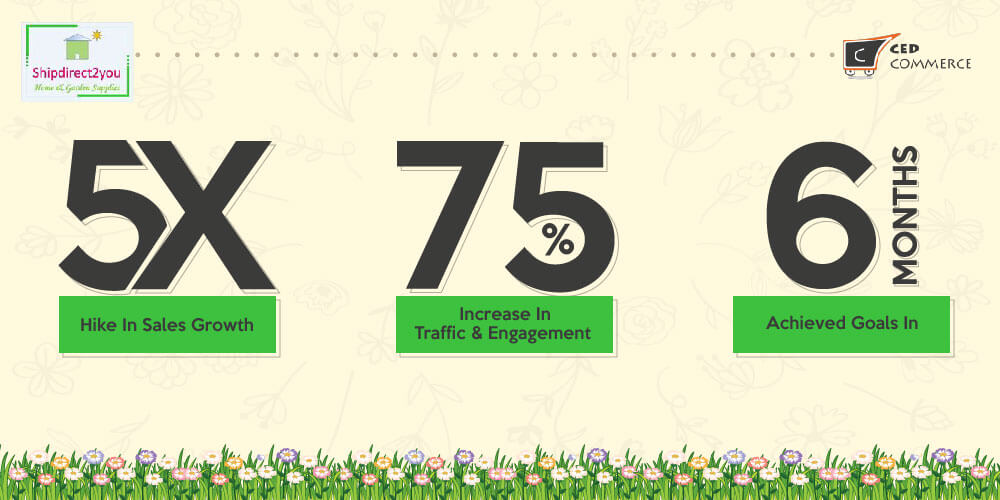 ShipDirect2you is a one-stop online store for Home & Garden supplies which mainly dropship products from AliExpress.com. The BigCommerce-based store was seeking an automatic order fulfilment and inventory management solution. And since the AliExpress Dropshipping Integration by CedCommerce successfully met their requirements, ShipDirect2you chose to sign up for the services.
About ShipDirect2you
Started selling online in 2019, ShipDirect2you is an Australia based store that mainly deals in providing a wide range of Home & Garden supplies worldwide which they dropship from AliExpress.com. Other than that, you will also find additional product categories such as Health & Beauty, Kitchen appliances, Tech & Electronics, and many more.
Owned by Caren Sutherland, the BigCommerce-based store provided varied shipping options like Free, Regular, or Express shipping at rates suitably fitting the customers' requirements.
The Challenge
Caren Sutherland and her team needed an integration app for their store that can handle the order fulfilment process automatically without having to be manually operated.
She was looking for a solution that can help her find hot-selling products from the best dropshippers on AliExpress.com in addition to centralizing orders and sales in one place.
The Solution
"I watched a few tutorials of CedCommerce's AliExpress Dropshipping Integration on BigCommerce apps page. And after reviewing a few of them, I thought I should give it try for my dropshipping store ShipDirect2you." Said Caren Sutherland.
ShipDirect2you wanted to make their dropshipping business process from AliExpress.com smooth and feasible. Right from bulk upload to selecting best selling products to synchronize orders and sales growth at one place, Caren Sutherland and her team wanted everything on point and seamless.
On contacting CedCommerce, they were suggested to opt for AliExpress Dropshipping for BigCommerce. The integration app is designed to benefit stores with quick product import along with order automation.
About AliExpress Dropshipping For Bigcommerce
Dropshipping is a great business opportunity for merchants seeking ways to earn without having to worry about inventory and shipment. Caren Sutherland opted for dropshipping business with an aim to achieve a maximum return without even stocking inventory.
While starting a dropshipping business, the biggest challenge is to come up with the best process of managing it. Also, finding best-selling items from trusted dropshippers while dealing with AliExpress dropshipping another major challenge. Thereby, AliExpress Dropshipping Integration proved to be more suitable for seamless processing.
The app is compatible with AliExpress Official API, which means all the automation of products, order processing, and logistics is highly secure. Dropshipping automation favoured ShipDirect2you a hassle-free selling experience, enabling them to earn 5X higher sales return.
Let's have a look at how we helped ShipDirect2you.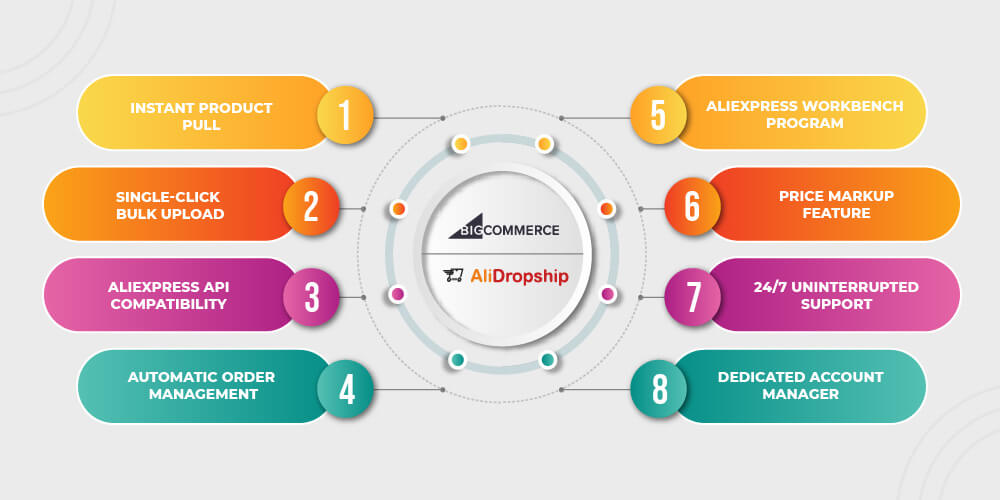 Pull Product Instantly
With the AliExpress Dropshipping appShipDirect2you was able to select and import products from AliExpress.com in one go. Caren Sutherland and her team were able to pull product of their choice from any of the dropshipper on AliExpress.com.
Single-Click Bulk Upload
Single-click bulk upload is another essential feature of the AliExpress Dropshipping for BigCommerce app. It helped Caren Sutherland and her team to update products of different categories, keywords, and prices in one go.
AliExpress API Compatibility
Compatibility with AliExpress official APIs enabled Caren Sutherland and her team to enjoy the benefits of automated order processing. The compatibility to official API also ensured higher-level security in order processing and management.
Automatic Order Management
Centrally sync, list and manage orders, cancellations, and other updates from the admin panel within BigCommerce. Caren Sutherland was able to track orders and manage well with the help of AliExpress Dropshipping Integration.
AliExpress Workbench Program
By joining the AliExpress Dropshipping Workbench programCaren Sutherland was able to automate her Dropshipping business with reliable dropshippers. Right from hot-selling products search, data analysis, image search to order tracking, the Workbench program made everything easy for her.
Price Markup Feature
The Price Markup feature enabled ShipDirect2you to upload products on their store with reasonably profitable rates of their choice. The AliExpress Dropshipping app helped Caren Sutherland earn a higher revenue margin which altogether resulted in a 5X hike in sales growth for them.
24/7 Uninterrupted Customer Support
"CedCommerce is one of few that takes care of inventory management, and provided 24/7 customer service which was missing on other apps." Says Caren Sutherland
No matter how perfect the integration solution is, some or the other problem always occur. With the AliExpress Dropshipping Integration Caren Sutherland and her team were able to reach our experts over Skype 24/7.
Dedicated Account Manager
After signing up to CedCommerce's AliExpress Dropshipping Integration solution, ShipDirect2you was assigned a dedicated account manager. They guided them through each stage right from app installation to complete account setup and inventory management.
Conclusion
By opting AliExpress Dropshipping for BigCommerce Integration solution, ShipDirect2you not just made their Dropshipping business processes smooth, but also achieved scalable results.
While the traffic increased by 75%, the sales growth, on the other hand, turned up by 5X in just six months.
With exclusive features of AliExpress Dropshipping Integration, the store is enhancing its shopping experience for customers every single day.
"Their service is great. I have one on one support and you can speak to anyone anytime in chat. All the glitches was sorted out quickly and orders were managed smoothly. Great App, highly recommend ++++" Says Caren Sutherland.
If you are passionate about starting your online store without worrying about storing inventory in real, then AliExpress Dropshipping business is a great option. You can seamlessly smooth your dropshipping business processes through this integration, just like ShipDirect2you.
Contact CedCommerce to sign up for its AliExpress Dropshipping Integration for your BigCommerce based store and start your own DropShipping business right away!
The post AliExpress Dropshipping For BigCommerce Enabled ShipDirect2you Achieve Scalable Results appeared first on CedCommerce Blog.