AliExpress dropshipping sounds very lucrative due to excellent products readily available at affordable prices on aliexpress, making AliExpress a must go destination for every ambitious dropshipper. Yes, you can earn a six-figure income with aliexpress dropshipping provided you are well versed with reality and the best method to handle it.
Having a fair idea about Expectation and Reality will Inspire you towards having an edge upon starting dropshipping.
Expectation 1:
Marketing is not required as I have listed the best product in the store, and it is mainly for average products to make it easy to convince customers to buy it.
Reality 1:
It requires loads of marketing efforts to get your product noticed by customers before the competitors. More importantly, aggressive marketing is effective in getting business recognized as a brand. Also, marketing fetches you the much needed in-depth insights about the target audience, business performance, and more to craft a cutting edge marketing strategy capable of engaging customers on a deeper level.
It is not the best product that wins but the best-known one that wins.~ Jaiden Vu, Founder, and CEO of Vantura Cosmetics,
Expectation 2:
ePacket is the best shipping method for AliExpress dropshipping, and it will work every time.
Reality 2:
Due to hundreds or even thousands of orders being processed (especially during the festive season), some delay is inevitable at any single collection point. Moreover, ePacket depends on passenger flights, and we all know COVID-19 hampered flights to the core.
Expectation 3:
If I write an SEO optimized product description, it will fetch me high sales.
Reality 3:
The reality is, a well-written product description will serve your objective only if it answers customer's queries. It will be helpful in convincing customers to purchase the product. It is recommended to write in customer language to make the customer feel how the product will benefit him
Expectation 4:
AliExpress dropshipping is dead in 2020 and, it's useless to work on it.
Reality 4:
Many ambitious dropshippers are discouraged by finding out that AliExpress dropshipping ain't as fruitful as it used to be. On the contrary, Google trends depict the opposite picture.
The above increase in interest speaks about the popularity of dropshipping. Statista projected the number of online shoppers in the US by the end of 2021 to be 230.5 million. These millions of shoppers will go online to find products, and a pro dropshipper will be able to drive them to his store. Does it sound like dropshipping used to be a thing of the past? Well, absolutely not. I would say that it sounds quite unrealistic that dropshipping is dead in 2020.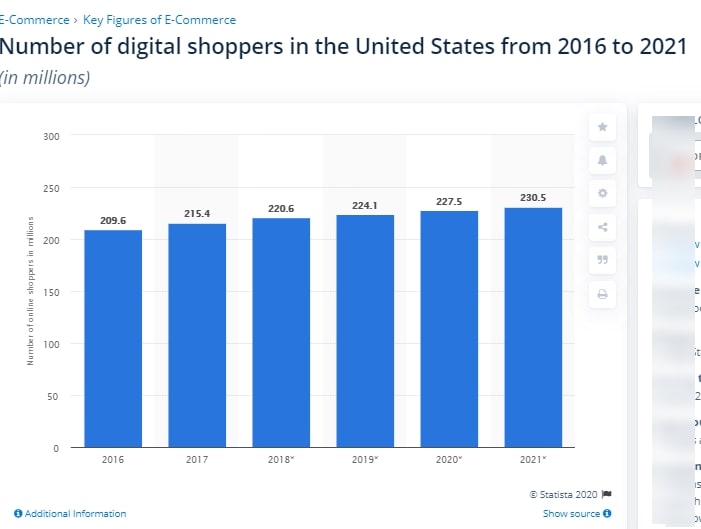 Image credit: Statista
Expectation 5:
Aesthetically pleasing website is sufficient enough to attract customers.
Reality 5:
No doubt, a visually appealing online store relatively boosts the chance of driving traffic and keeping them engaged, but that is not sufficient. Yes, apart from that few important things that upon incorporation will develop an ecosystem to capture customer attention.
A well-organised footer to quickly access contact info, company info, and more.
Highlights customer-friendly features like Free returns, Free Delivery, and Money Back Guarantee.
The Smooth navigation menu to easily locate the products and categories.
Search box to find products instantly.
Expectation 6:
A profitable product range is sufficient to bring high traffic and sales every season.
Reality 6:
This expectation is quite common among newbie dropshippers. Few products might be best suited to be sold at some point of time like during a particular festive season, but it's not like that the same will work every day. Therefore, it is better to analyze the previous year data and list a wide range of products accordingly in your store.
Expectation 7:
AliExpress Shipping takes a lot of time, and it will impact my customer. Hence AliExpress Dropshipping is risky.
Reality 7:
On the contrary, it doesn't hold true for all scenarios. Customers will be patient and won't complain about the late arrival of a few days. Moreover, customers will not poke you in case of late delivery if you present them with disclaimer beforehand. Being crystal clear about shipping days ensures no need to face angry customers.
Expectation 8:
I have a quick loading and aesthetically pleasing online store. It will fetch me an overnight success.
Reality 8:
Honestly speaking, there is no such thing as an overnight success. The journey of success demands efforts every day. Don't sit idle for a few weeks if the sales graph is high. Being active daily and focusing on growth is imperative to learn about upcoming changes and modify marketing strategies accordingly.
Expectation 9:
To extend my global reach and increase, I should sell in all possible countries.
Reality 9:
Well, there is no need to market the products in every corner of the world. No need to sell in countries where competitors are already selling the same product. Better target locations with minimum or zero competition. Most of your global competitors are interested in the USA, UK, Australia, and Canada. Hence, you will easily find countries to sell products outside of these four countries.
Expectation 10:
Setting the lowest price will increase sales instantly.
Reality 10:
The truth is quite different, and setting the least possible price might or might not fetch sales but will definitely, hamper your brand. Moreover, customers consider products with the lowest price to be faulty, low-quality, and sometimes even a refurbished one.
Summing It Up:
Being well-aware is the first step to be prepared for upcoming challenges. Above mentioned points will ease it for you to accept the realities related to AliExpress dropshipping and improvise your strategy accordingly towards success. 
The post AliExpress Dropshipping: Top 10 Expectations vs The Reality appeared first on CedCommerce Blog.