Imagine an ideal Facebook tool that helps you reach your targeted audience based on what they like, their interests, and their behaviors. Thus, making it easy for you to achieve your business goal. Doesn't it sound interesting?
That's what Facebook ad does for your business. The ads help brands like you to have extensive targeting options by creating a loyal customer base and generating leads and sales. Now, you can reach your potential customers not only based on demographic and age but also through their interests and shopping pattern. To know more about how to get started with a Facebook ad for your business, explore this step-to-step guide.
What does a Facebook ad mean for your business?
With so many options available, deciding where to start and how to spend your marketing budget can be a difficult choice to make. With that said, a Facebook ad helps businesses like you to reach your desired result easily. Here's how the Facebook ad is advantageous for your business: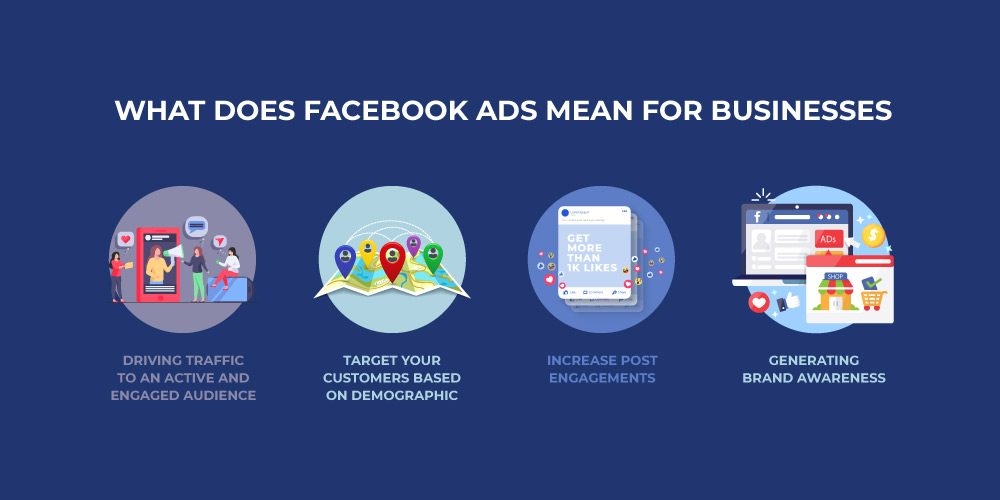 Driving traffic to an active and engaged audience: Facebook being a social media platform, has a well-established set of audiences. Thus, by leveraging Facebook ads, you can now meet your customers where they are already present, drive traffic to your Shops and gain more sets of active followers on your profile.
Target your customers based on demographic, interest, and behavior: A Facebook ad makes it convenient to expand your business reach by targeting your customers based on demographics. You can also promote your products by using Facebook advertising tools like text posts, photos, videos, etc.
Increase post engagements: If you own a Facebook business pageyou can increase engagements to your posts by boosting your Facebook page, adding a Call to action button like 'Shop Now, 'Avail Now.' Doing this would help you to cater your audience's attention to your products and let you drive more profile visits and incremental sales to your business.
Generate brand awareness: Most businesses have a Facebook or Instagram page to connect it with their audience. So, when you decide to increase your brand exposure and captivate your customers to your profile, Facebook ad help you do so in absolutely no time.
Get more flexibility and faster business growth across Facebook surfaces. Look what CedCommerce can do for you: Schedule a meeting with our experts.
What to do before launching Facebook ads?
Many businesses who run a Facebook ad are taking a swing at a new ad campaign with the hope to ace the game of the advertisements. Like other advertisers, you might lay focus on the demographics and interests of your customers, use a lot of different images, and even repost your content again and again. But that's not enough. There are other things that you need to focus on before starting with your Facebook ads. Some of the steps are: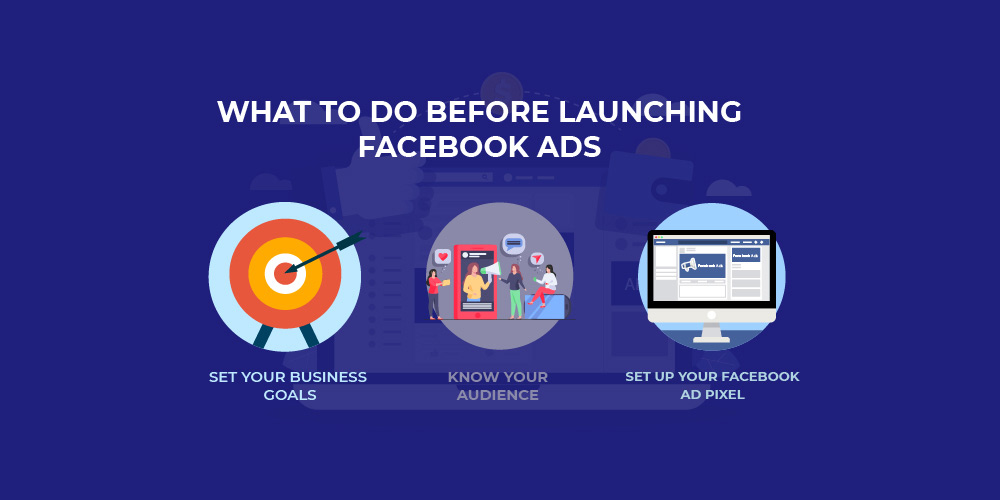 Set your business goals: Set your business goals of what you want to achieve through Facebook ads. For example, to increase your business exposure, you might go for the Facebook video ads that help you provide detailed information about your businesses to your customers.
Know your audience: Know your business ideas and potential customers to set up your ad campaign. You need to know what type of audience you want to target and set your ad campaigns accordingly.
Set up your Facebook ad pixel: The Facebook pixel is an analytics tool that allows you to measure the effectiveness of your ad campaign by understanding how your customers interact with your website. You can use the Facebook pixel to make sure that your ads are displayed to your potential customers.
What are the components of Facebook ads?
As a business, if you want to start your Facebook ad, it is not only essential to understand all the aspects of Facebook ads; but it's also mandatory to know the purpose and maximize each element of that ad. So, here are some of the components of the Facebook ad that you should take a note of: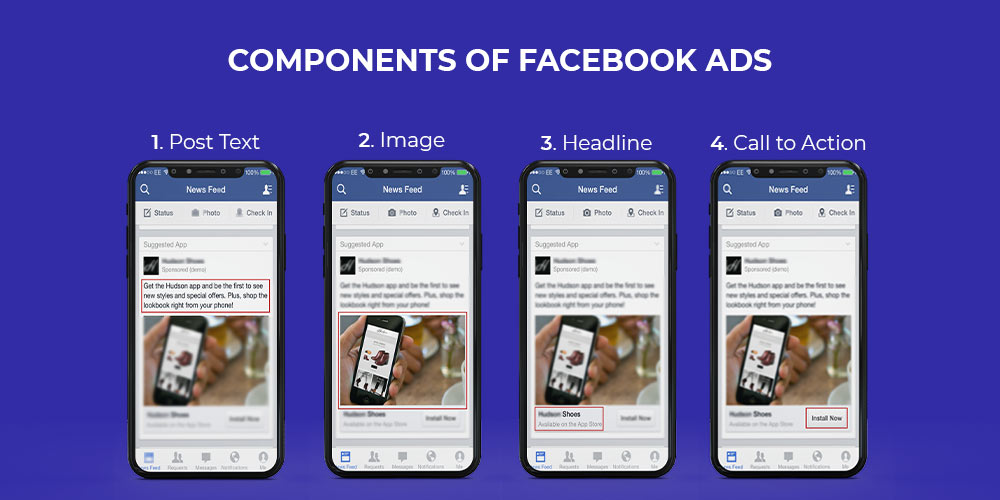 Post text: A text that appears right above the Facebook ad is known as post text or a body text. Usually, 1-2 lines are written while drafting a Facebook ad as it provides information to the customers about the product or service.
Image: The Facebook ad speaks volume if it has a picture to it. So, your image in the ad should communicate the message to your connections and captivate your audience's interest in your product.
Headline: It is recommended to create a sense of urgency with your Facebook ad template headline. Also, use Active voice and try to make your headline as catchy as possible.
Call to Action: A CTA button redirects your customers to their ultimate destination, where they can take the action that meets your goal. You can offer different CTA buttons such as Shop Now, Sign Up, Subscribe, Book Now, Contact Us, and more.
How To Set Up My Facebook Ad Manager Account?
Before you set up your Facebook Ad Manager account, you require a Facebook Business Page. Once created, you can go to Business Manager and create your Facebook ad account. To begin, you first need to:
Go to your Facebook Page, and click on Setting to know about your ad account settings.
Navigate to your Ads Manager settings, and click on ad account setup.
From here, you can Change Time Zone and Change Currency based on where you're located.
As soon as you change your currency or time zone, you can automatically create a new ad account.
Next, in Settings, enter your business information and advertising purpose. Once done, select Save Changes.
After this, proceed with budgeting your campaigns and set up your payment information for the Facebook ads.
If you want to know more: Explore this blog on Facebook Business Extension to understand what's new with Facebook & Instagram Shopping and how you can extend your reach with Facebook ads.
What can Facebook Ad Manager do for your business?
Facebook Ad Manager account provides you with a variety of features like:
Navigate Facebook products, switch between ad accounts, and access notifications, settings, and help.
Create a new ad or edit the existing ad from your Facebook Account Manager.
Review your account through the delivery tab of the Facebook Ad Manager to get all the information about your Facebook ad campaigns, ad set, or individual ads.
Track your ad performance and see how customers are interacting with your business.
See when your audience is most active; schedule your posts accordingly.
Receive notifications about your campaigns, ads, and customer engagements.
How to run your first campaign on Facebook
Are you wondering how to set up a successful Facebook ad campaign? Explore to understand the fundamental of Facebook advertising and set up your first campaign on Facebook successfully.
Step 1: Select the Campaign Objective
Choosing the objective for your campaign is essential as Facebook uses this to determine other elements of your campaign like ad formats, bidding options, and much more. With that said, you should always select the objective that best reflects your desired outcome for the campaign. For example: If you are promoting a website, you will most likely be running a conversions campaign. OR. If your campaign's end goal is to get the user's details, you should select the lead generation objective instead.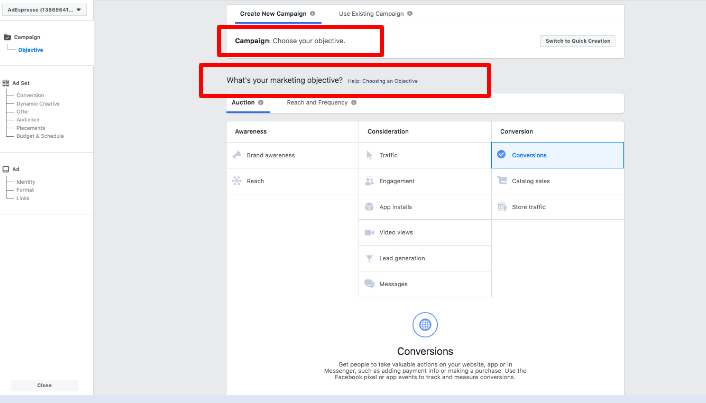 Step 2: Give A Name To Your Ad Campaign
After selecting your campaign objective, you need to give a name to your campaign. This is considered a crucial step in the campaign creation process as it helps you adopt useful naming conventions and lets you easily organize your campaigns as you scale and run more of them. In this step, you can add:
Your website name
Your target audience
Custom Audiences
The type of Facebook ad
Facebook Page.
Step 3: Understanding Facebook Audiences
Targeting your potential customers with the Facebook ad is one of the key aspects to grow your business. Facebook has more than 160 million businesses using its platform every month to communicate with prospective customers. So, finding people who are most likely to be interested in your brand or product requires the use of Facebook's audiences feature.
In this step, you can select two options: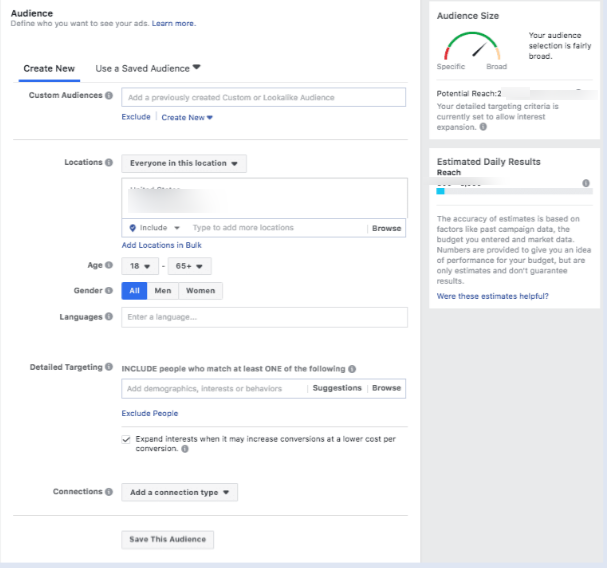 Create a new Facebook target audience
Use a Saved Audience.
Step 4: Setup your ad placement
The next step for you is to decide the placement of your ads on Facebook and Instagram. Some of the ad placement options are: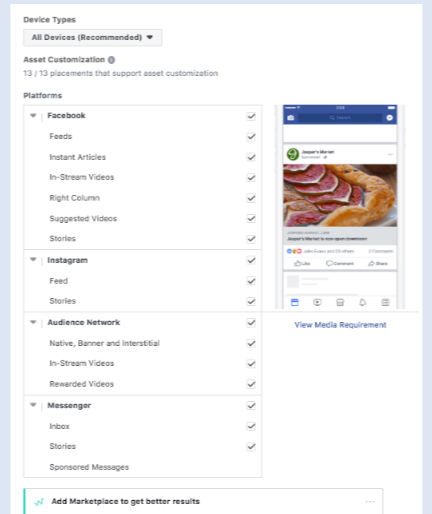 The Facebook Newsfeed (desktop view)
Facebook Newsfeed (mobile view)
Facebook right column ad
The audience network
Sponsored messages and Messenger inbox.
Facebook stories, Instant Articles, In-stream videos
Instagram stories and feed
Step 5: Set Up Your Campaign Budget
The next step is to set up your campaign budget. You can choose the budget in two categories i.,e, Daily Budget or a Lifetime Budget. You can decide how your budget in following factors:
How much money you've are investing in your campaigns?
What is the cost of your products?
What do you want to achieve through the campaign?
Till what time do you want to run the Facebook ad campaign.
Step 6: Set Up Your Facebook Ads
After setting up your budget, you can create your Facebook ad. Start with selecting your preferred Facebook ad type and insert your ad images and ad copy. Besides, you can choose the Facebook business page or your Instagram account to run your ads across Facebook surfaces. This would lead to an opportunity to grow your brand awareness and influence your business presence across the market. Some of the types of the Facebook ad are: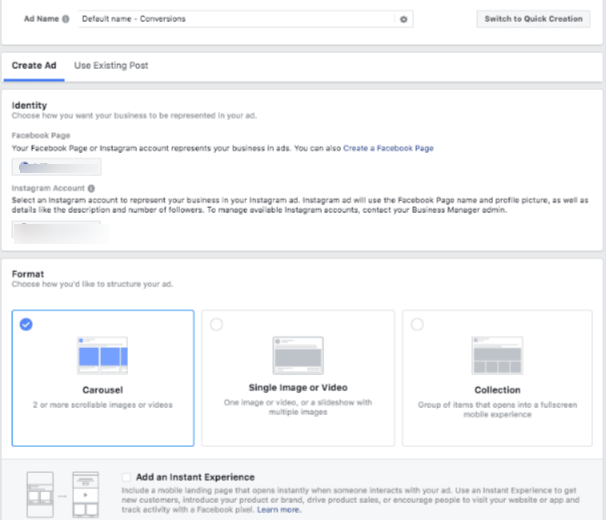 Facebook Image Ad
Carousel ads
Facebook Dynamic ads
Poll and Leads.
With that said, while creating your Facebook ad, you need to focus on the components of the Facebook ads and create your ad accordingly.
Summing it up
With the increased scope of social commerce, it is no surprise that most brands and businesses are diverting their attention to the Facebook ad and discovering the different ways they grow their reach across the Facebook family of apps. The new Facebook algorithm has only increased the importance of Facebook ads. It has now become way more convenient for you to recover your lost reach and gain more customers to your Shop without any hassle. So, buckle up and boost your business reach with a Facebook ad now! You can also connect with Facebook partners and schedule a meeting to have a seamless selling process across the platform.
The post All about Facebook Ad and How to Scale your Business with them appeared first on CedCommerce Blog.