One of the most popular marketplaces for sellers, eBay, has been ever-evolving since its inception. Making the selling and shopping even more exciting for its users, CedCommerce is upgrading the eBay Integration for WooCommercemaking it a version 2.0 with enhanced features and a more user-friendly UI. It includes features like promoted listings, campaigns, promotions, and much more!
The marketplace caters to about 185 million active buyers worldwideand is a sure-shot stair for your success. Know everything about how to sell on eBay and sell effectively on one of the most prominent marketplace in the world. 
The WooCommerce eBay integration automates the selling process on the eBay marketplace. The plugin lets you connect your WooCommerce store to the marketplace in no time. Apart from some extraordinary features, eBay WooCommerce is all set with updated features to enhance the selling process. Let's have a look at what exciting additions have been made to ease up your multi channel journey.
Updated Features of eBay Integration for WooCommerce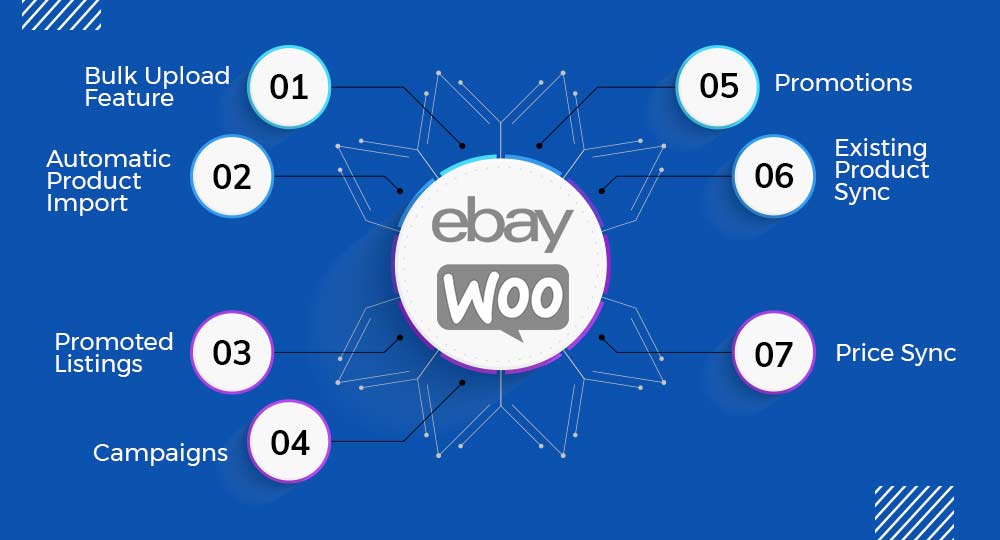 Bulk Upload Feature- The plugin assists you in uploading thousands of products in one go without much manual work.
Automatic Product Import- You can import products automatically from the marketplace to WooCommerce via the plugin.
Promoted Listings- With the plugin's help, you can create and manage promoted listings for your products directly from eBay.
Campaigns- The plugin helps you in creating and managing eBay campaigns for your products.
Promotions- You can also create and manage promotions for your eBay campaigns with the plugin's help.
Existing Product Sync- The plugin lets you sync your existing products to their corresponding WooCommerce products.
Price Sync- The integration facilitates price sync effortlessly from WooCommerce to eBay.
Some More Unique Features of Integration includes-
Along with such notable new features, the integration already minimises the selling efforts with easy to use functionalities which includes-
Product Data Validation
Easy Product Upload
Auto acknowledgment of orders
Category Mapping
Centralized Order Management
Real-time Stock Updation
Summing Up
CedCommerce strives towards improvising and updating its integration solution with the latest and scalable features. Make the most of such incredible features and integrate your WooCommerce store with the eBay marketplace. We, at CedCommerce, also provide eBay integration for different frameworks including, MagentoPrestashopOpencartand Shopify. Avail the benefits of the plugin and make the selling process effortless and effective!
The post Boost Your Sales with Enhanced Features of eBay Integration for WooCommerce appeared first on CedCommerce Blog.