For some, it could be to achieve job satisfaction, while for others, it is to have satisfaction in life. Women are inculcated with the perfect management skills, So when it comes to owning a business, she has proven herself there too.
Etsy has provided a platform to all those creative women who can convert their ideas into a product and cater to global audiences. There are currently 2.8 Million active sellers who share their artistry with buyers worldwide, out of which 83% are Women Sellers on Etsy. Many of them are operating from their homes, and you cannot ignore the outstanding success that they have achieved scaling their small business ideas.
Meet the Inspiring Women Entrepreneurs on Etsy
Women entrepreneurs comprise ⅓ of the total entrepreneurs worldwide, so their success stories inspire millions of budding minds. Women are now getting significant exposure through several platforms, providing them a perfect opportunity to showcase their ideas and share their creativity. Here are some of the inspiring women entrepreneurs who chose to challenge the COVID19 situations and come out even stronger and more supportive to the people.
Spread the colors around you- Koko Art Shop
This Store on Etsy is run by Laura Tariche, from the Florida United States. A woman Entrepreneur who encashed around 12k total sales to her store. Transforming her creativity and artistic skills into the Best Etsy Shops for wall art, she believed in herself and went on.
During the Holiday season, people were more interested in home decorations and furnishings; Koko Art shop provided the best range of wallpapers and decors, with timely delivery.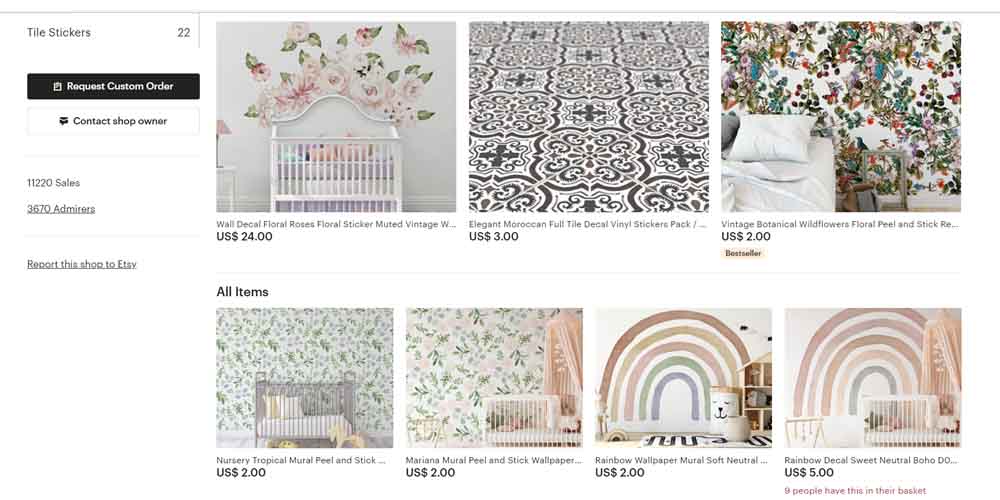 Since People were at home due to pandemic situations, they had plenty of time to think about their home makeover. At the same time, Koko Art shop took advantage of buyer's needs and fulfilled their demand with innovative and colorful products. Buyers were delighted with the product's timely delivery and quality, so Koko Art shop became one the best Etsy Art shops.
They were in successful Business for 15 years now, playing it cool with the store's website. It was not long before that Laura developed this intention of providing its products to anyone and anywhere. Since Etsy is a platform for promoting creativity, Laura found an excellent opportunity to get her products on Etsy. At the initial stage, it seemed unmanageable to run the store and the marketplace together, but then she came with an idea to integrate both and control everything with a standard dashboard. From that very moment, her Business took the height of success.
Sharing her experience, she says
 " I have been using this App for one full year, the integration from Etsy is 100% stable, and it runs seamlessly and smoothly. I don't even have to open the App dash to never order load directly into the order panel. I chose my new yearly plan, and customer service is amazing."
Let the divine in you spread the positivity-Angelic Roots.
Laurie, the owner of Angelic Roots, has made around 10 k the total sale on Etsy by selling the unique collection. She has been dealing with products related to reiki. All items are infused with healing Reiki energy, a Japanese word that means "Universal Life Force Energy." The Objects are charging with the Reiki energy; these charged objects help facilitate the positive energy around.
Since the world was affected by the pandemic situation, and it has negatively impacted the environment. People worldwide were depressed and frustrated; Such healing products became a sense of relief for them. Angelic roots were so famous during 2020, with relief products, top quality, and on-time delivery in the most innovative ways.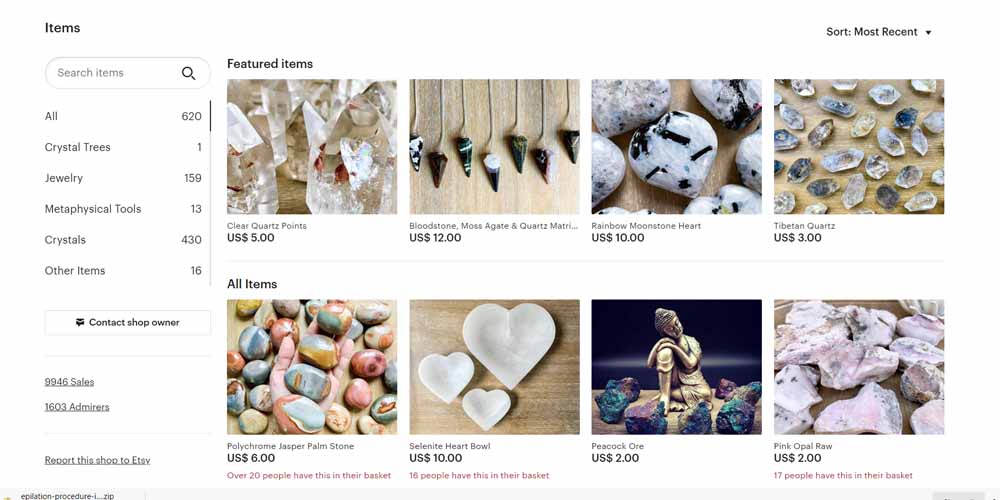 Laurie has provided the products range with stone jewelry, special reiki charged stones, crystal arts, and healing arts products. Doing this, she has become one of the finest women Entrepreneurs among the Etsy top seller list, who has changed Societal need into the venture.
Ever since 2016, Angelic Roots run its website providing high-quality materials for every occasion, stress reduction, joy, and love. Looking at the popularity of products and some outstanding reviews from people, Laurie decided to expand her approach to a much wider audience, which took her to Etsy. Since she was already doing great in her store, she knew she would be so busy on Etsy too. To curb out this chaos, she opted for an integration solution to manage both the stores easily.
She shared her words-
"The setup is easy, and the App works perfectly. I love managing all of my Etsy orders in Shopify, and I've been able to save so much time having my inventory synced across platforms. I had an issue where the Esty gift message did not display in Shopify, but the customer support has been so helpful. I recommend this App if you want to integrate your Shopify and Etsy sales!"
Embrace your Differences – Big Stuffed Store
Dana Muskat, the owner of Big Stuffed Shop, has excelled in making a five figures sale with their stuffed toy offerings. A woman Entrepreneur from Paris, France, has brought the concept of making stuffed toys with the story behind it. Her product's idea is based on the Albino underwater creature, rare and has a unique appearance. These creatures are pale-white; they differ from their family; for example, a White whale is rare. Keeping in mind, Dana's products are based on the story, which states that the creatures are abandoned at birth by their families because of their different appearance. They seek a new family and have droopy eyes, which symbolize their sad journey.
Just like Rare things on this planet are always appreciated and loved, similarly, these Stuff toys by Big Stuffed are much in demand and are sold on Etsy. The buyers appreciate the concept, design, colors, and material of the toys. Their cute faces are eye-catching and most loved by the kids. The products were much in demand for the gifting purpose during Valentine's week and Christmas. Be it the octopus, whale, or dinosaur were among the most sold items. When it comes to creativity women, come up with something unique, just like Dana. Having an Etsy store and making good sales is a motivation for her.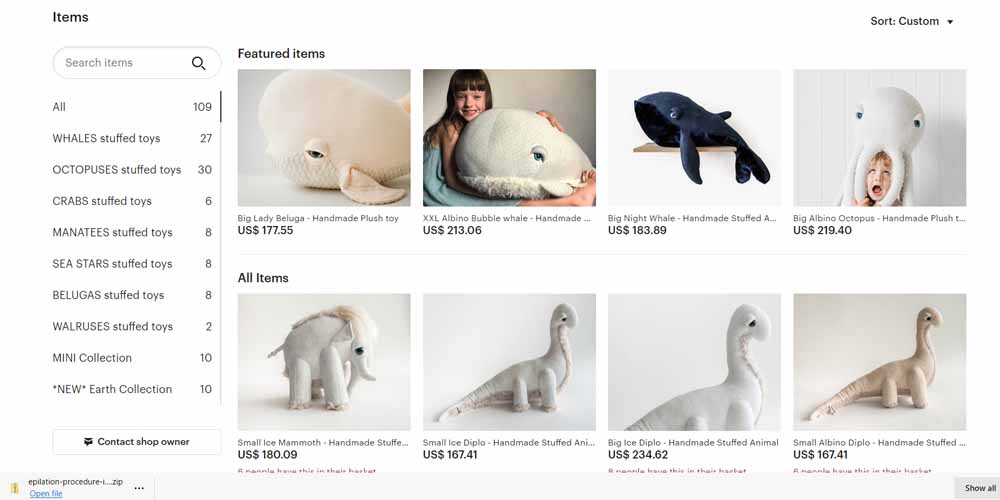 Having started the Business on her family friend's recommendation, Dana and her husband run the Big Stuffed store since 2014. Her creations' love and appreciation tilted her interest in showcasing her products to a more varied audience, so they chose the creative capital. Sensing that this expansion could become cumbersome, they integrated both the platforms to manage in a click to avoid any confusion and hassle.
Sharing her review, she says-
"We have been searching for a solution that manages all orders from Shopify; We had never found a solution before we came upon this App. The App looks Great! The product gets imported on the platform seamlessly; the Support is the real Quality of this App. Everything is sync, so no info gets lost." – Dana Muskat.
Bestow your creativity- Shoot Baby Store
These days it's trending to get the photoshoot done of your kids. Be it a newborn baby, or a 6-month-older, or just having the first few birthdays. Parents are keen to capture and save all the moments of their infants. Since the situations never remain the same, you cannot go out for a shoot; also, Indoor shoots are safe for kids and much more comfortable in terms of preparations.
Keeping all this in mind, Penny Smith started her Shoot Baby Store, offering varieties of props and fabric for baby photography. This Etsy Store is among Top Etsy Baby shops and has grown to attain around 11 k sales.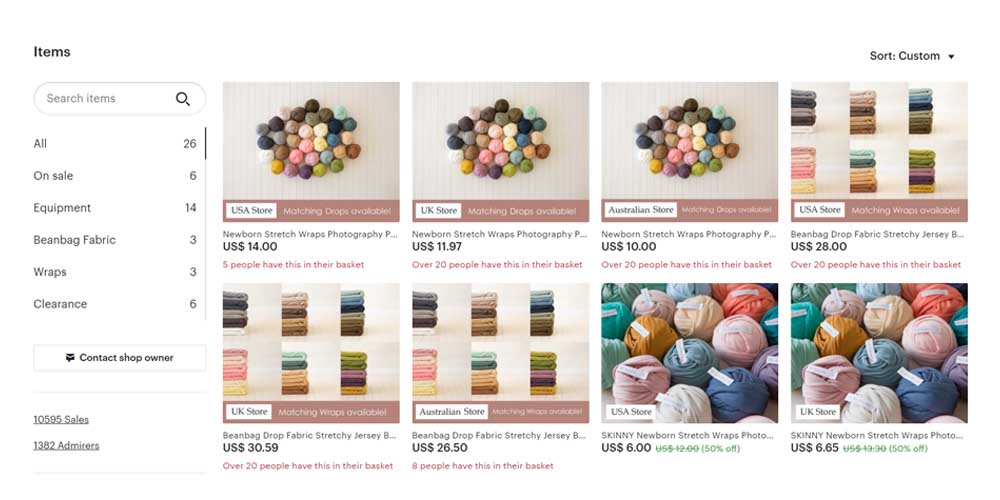 During the Holiday season, people were keen to follow and share their creative skills, capturing their baby's precious moments with different props and fabrics. The Shoot baby store has fulfilled every need by providing products during the pandemic, which was like a cherry on the cake during the holiday season.
It all began in 2009 for Perry, with only one product idea of providing newborn posing bean bags. Later it started to sell photography props and fabrics for amateur photographers and newborn shoots. Having two stores online, one with Shopify and another with Etsy, has increased the store's sales and product's reach to the buyers. Penny found that operating both stores simultaneously with proper data and information flow seems very complicated and wearisome. At this point, she started searching and never got the solution to integrate the platforms.
Adding to which she says-
"This is THE App I've been searching for! It has given me my life back, and I'm SO grateful! I used to have to enter Etsy orders manually into Shopify, which took up so much time! Thank you so much. Support is excellent too!"
There is no limit for a Woman to accomplish
From Beauty products to household wares, women are successfully running their small businesses to big ventures. Various women have written fantastic stories of Entrepreneurship and earned fame. Etsy has empowered thousands of women by providing them a trustworthy platform. These women are successfully operating their ventures. Some are even running more than one storewith their creativity and management skills. I hope this was an inspiration for you and let you turn your creativity into a venture.
The post Building confidence and Retaining your Passions: 4 Inspiring Stories of Women Entrepreneurs who Stand out on Etsy in 2021. appeared first on CedCommerce Blog.