It is celebration time!
Etsy Integration for WooCommerce has successfully made through a year of achievements. Kicking out the aftermath of Pandemic for businesses of all sizes, the integration solution enabled various brands to scale globally and boost up their sales in leaps and bounds. At CedCommerce we are breathing the air of excitement and joy, as we celebrate a complete year of our Etsy WooCommerce plugin topped with 350 licenses sold in 2020. The revelry doesn't stop here, as we also got listed in the "Favourite" section at the official WooCommerce panel.
It is an incredible accomplishment for us since businesses found a great way to set up, automate, and grow their presence, branching out to multiple channels like Etsy and WooCommerce. There are more expectations in 2021, and we will definitely fulfill them. So let us drive through our success journey.
And this is how we kept on moving ahead, with good hopes and vibes
The year 2020 was not normal, the pandemic hit already brought lots of suffering and a series of lockdowns across the globe. The most badly hit were the small-scale businesses. Since physical movement was restricted, merchants started shifting from brick and mortar shops to online stores.
As budding businesses jumped off to have their own store through WooCommerce. There has been a solid increase with 5000 websites since last year, which showed how rapidly WooCommerce grew.
On the other hand, Etsy became one of the most loved e-commerce platforms, especially in the US and UK. Since online retailing increased day by day, many small and medium businesses began getting lost in the crowd of numerous similar kinds of stores or they were mostly limited to specific locations for delivery.
This was the correct time to promote the brand among a wider audience, which cannot be possible done only through a single store catering to a selective audience. So, joining hands with big channels like Etsy was a great idea. Etsy, being a marketplace based on creativity, welcomed the WooCommerce merchants during COVID-19 and helped them to flourish which was about to drain.
Becoming Seller's favorite on WooCommerce Panel:
The urge to grow business and meet the buyer's needs made business multichannel seamlessly with the Etsy integration for WooCommerce. The plugin has eased the operations by making the handling of the two different stores together seamlessly. The Etsy Integration for WooCommerce has helped various merchants to grow their business and take it to success.
As the pandemic progressed People switched to online stores for their basic necessities, such as masks, sanitizers, household items, etc. Slowly and gradually families staying at home also started exploring old and new hobbies. There came a demand for products such as gardening, paintings, jewelry making, and much more. Not stopping here, the recent trend of work from home created the need for office products such as tables, laptop desks, organizers, chairs and so much more. All of this opened up a new gateway of opportunity for online retailers and finding these crucial buyers in a marketplace like Etsy made retailers expand and grow even beyond.
The festive season was no different and despite social distancing still, people were delighted for the holiday season from October 2020 onwards. Even if they were not visiting each other, they wanted to celebrate the festive season by decorating their homes and gifting their near and dear ones. Merchants who took their business with Etsy Integration for WooCommerce achieved more than expected during this time.
We, at CedCommerce, take pride that we could help businesses flourish while many gradually drowned. All of these achievements lead us towards acquiring a 4.5 star, which later made us become a Favorite among sellers.
For what Etsy Integration for WooCommerce is famous among sellers
A combination of Etsy-WooCommerce is a much-discussed topic amongst growing sellers in the U.S., U.K., and Australia, mainly dealing with handmade products, jewelry, and vintage. During Coronavirus widespread, there was a lack of resources to handle the online stores' operations due to physical availability, the Etsy Integration for WooCommerce has uplifted the business as well as able to manage both stores solely.
Let us know how the integration plugin features help in framing good ventures.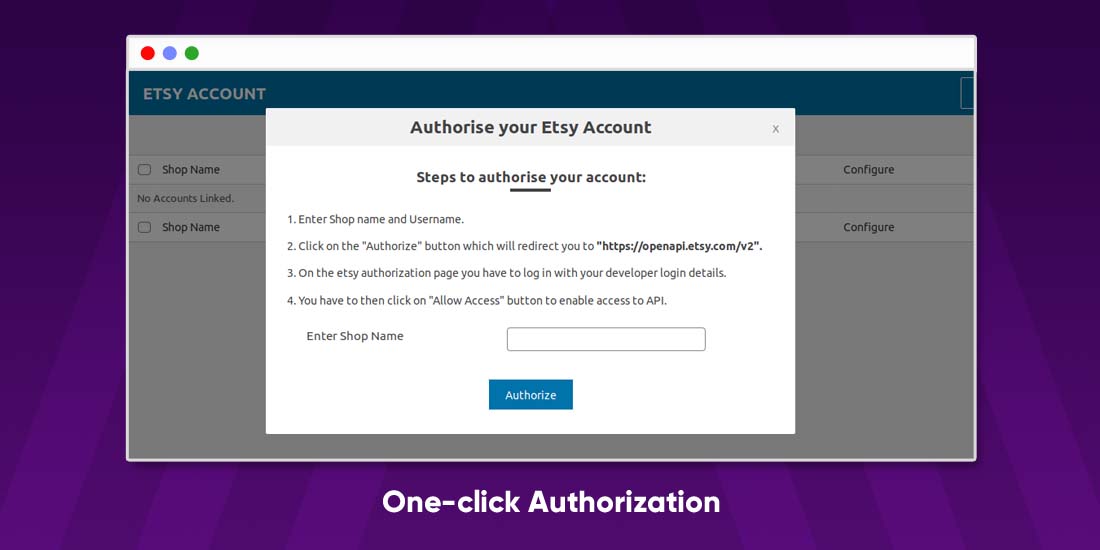 Simple access to the store by Authorization
With just a few simple steps, the Etsy store can be authorized, so that it can be accessed from the WooCommerce panel. Only the Shop's name and the credentials have to be provided so as to access the store. This helps to view and make changes to the Etsy store.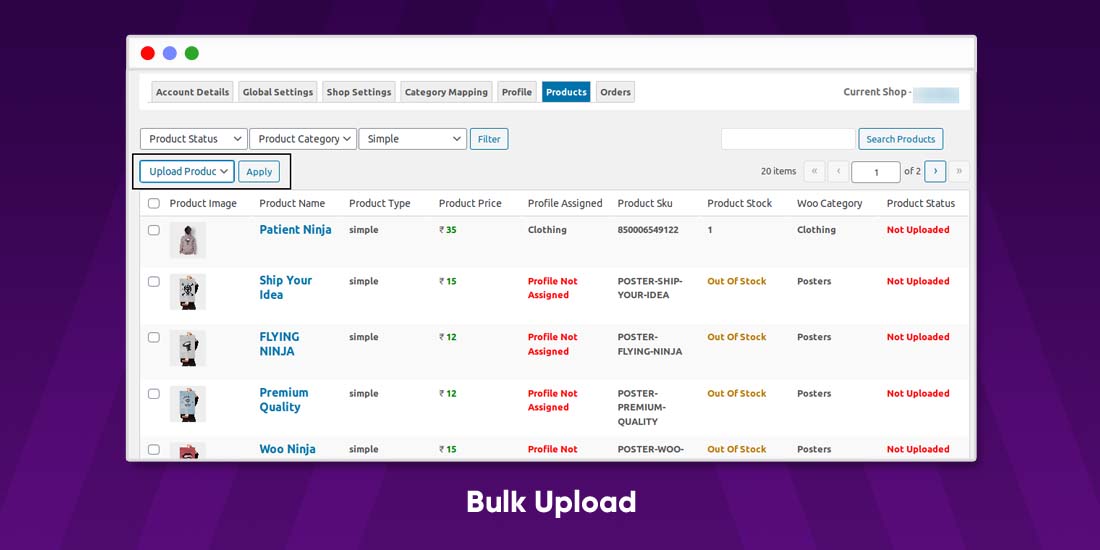 Quick listing in a click with Bulk Upload
With the help of WooCommerce-Etsy, plugin merchants can upload their listings at once in just a few clicks. Additionally, there are different rules: a set for inventories, pricing, shipping according to which stocks can be listed without any inconvenience.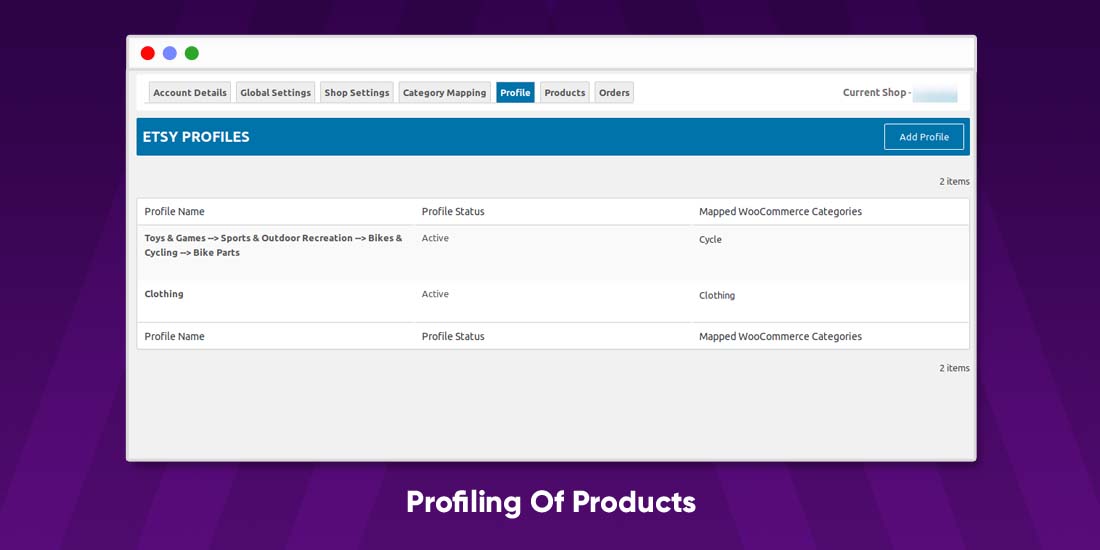 Segmenting the products with Profiling
After having the WooCommerce plugin for integration installed, it is easy to create certain categories and variants to list the products. Accordingly, the products can be uploaded based on these categories and attributes on Etsy, so it has become simple for buyers to search for the product they desire. Profiling actually avoids confusion in listing and searching for any particular items. For Example: listing stuffed toys in the kids' category rather than accessories. This has automatically increased sales and conversion rates.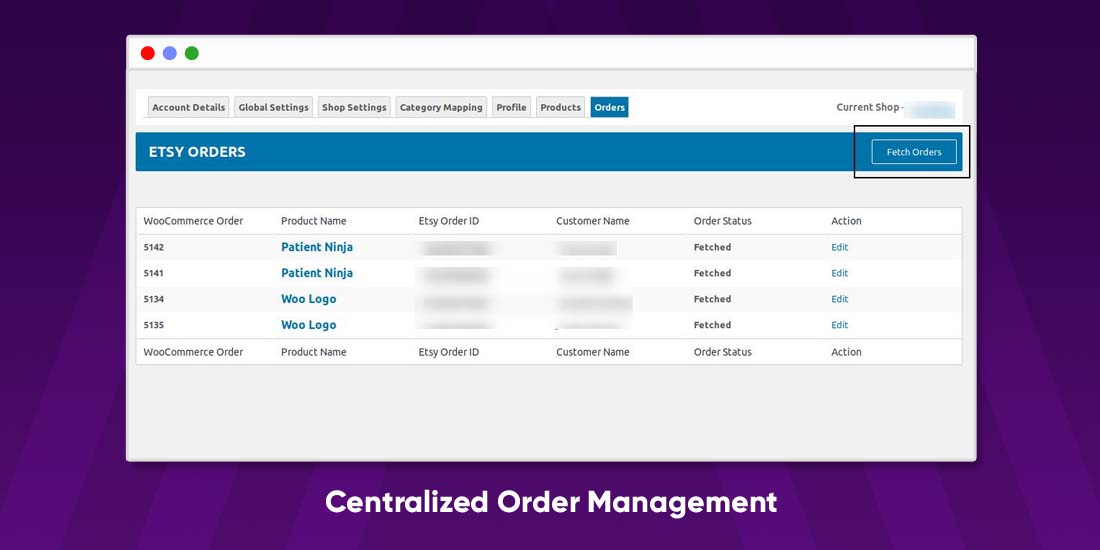 Managing orders from the central panel
This wonderful feature of the integration solution has helped to manage and control the orders of the Etsy store from the single panel. If any order happens on the Etsy store that will be auto fetched to the seller's WooCommerce store and can be easily managed and fulfilled along with real-time tracking information.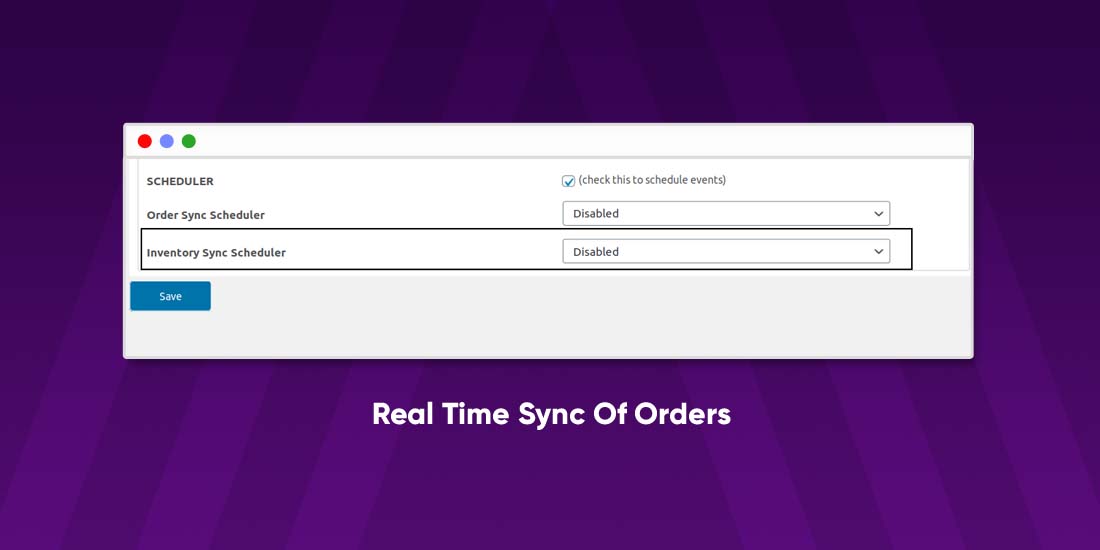 Fetching real-time Order and Inventory status
After the listing has been uploaded successfully, sellers get the option to synchronize listings on both platforms. Because of syncing the track of stocks/inventories on WooCommerce stores are kept to avoid overselling and duplicacy. For example: If an item gets sold on Etsy, the stock unit will be synchronized at each platform and will also get reflected on the seller's store so that tracking of the units sold and available stock can be done.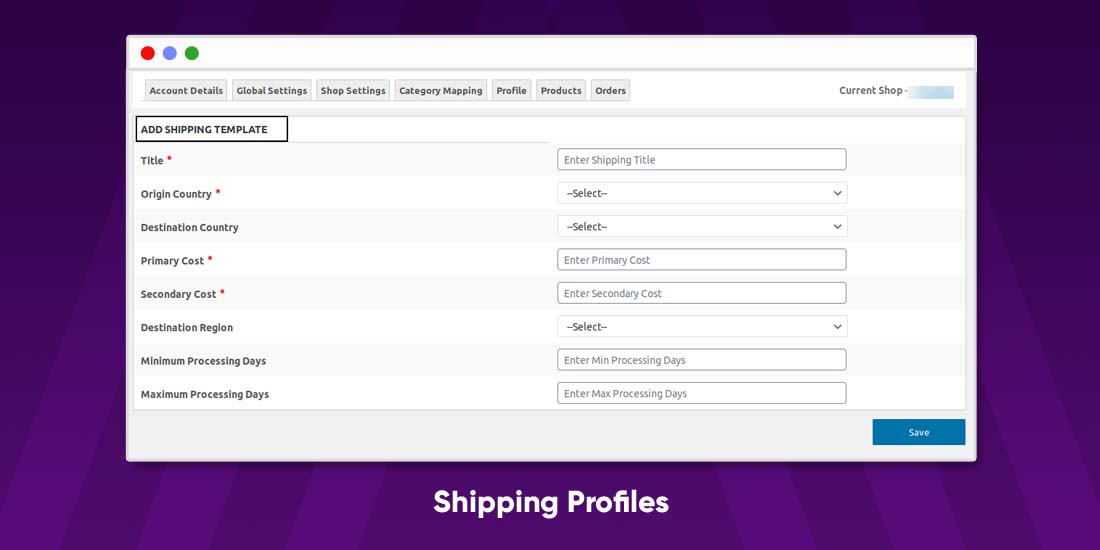 Automate your dispatch with shipping profiles
Shipping profiles enable automating the shipping process. There are certain conditions according to which the shipping rates are decided by origin, the weight of the product, destination to be delivered, etc. A listed product is available at both stores and then it is linked, the shipping price then automatically gets updated on each store. But still, sellers can make changes to their Etsy store.
Who helped us to reach the breakthrough successfully?
While businesses were eager to grow with Etsy and WooCommerce together, our Support team was equally eager to help them 24/7. From assisting on product listing across platforms to managing orders, and delivery through the real-time automated system, we left no stone unturned in being at their side. And when they successfully made their first sale through us, we were up above at cloud 9.
We have successfully sustained many sellers with us and onboard new joiners too. With that, we have marked around 1500+ merchants running their businesses through Etsy Integration for WooCommerce, as per last year's stats. Our team is always there to assist with onboarding and guiding across the complete process. We have received amazing reviews for our functionality and support. We are overwhelmed with it and are soon bringing more added features for our merchants.
Fantastic support team! The Etsy integration for the WooCommerce plugin works great, I did have a few setup issues but they were quickly resolved by the support team who were very responsive and friendly (big shout out to Tarannum and Ambikesh who were super helpful). Would definitely recommend the plugin if you use Etsy alongside your WooCommerce store!
Soon we will be having more feathers to the cap
Having an online store is just not enough when a seller can do a lot more and excel in it. Making sales from own store is fine but if a seller wants his listings to be popular globally then he needs to have stores on multiple -channels, such as Etsy. We are planning to add more features to simplify selling and meet your desired needs in the future.
We at CedCommerce feel delighted to see our sellers growing their business from little to big. Apart from all the amazing functions and advantages the integration provides, we ensure that it is pocket-friendly. The WooCommerce license is budget-friendly, so why wait? Get onto the wheel of creativity and expand the business worldwide.
The post Celebrating the Untold tale of Etsy Sellers flourished during pandemic appeared first on CedCommerce Blog.