Interested in opening your dropshipping store but worried about how to go about it? Well, no need to panic. Even if you lack dropshipping background, you will be able to succeed in no time provided you don't make mistakes that bog down your productivity and hamper customer experience.
Moreover, There is no alternative to excellent customer service and it has to be beyond expectation.Here you will find all that upon being followed will highly boost your chances for a 6 figure dropshipping store.
Poor SEO Setting
A common mistake among newbie sellers is sticking to the default setting. It will do more harm than good. Keeping the title and description the same for all pages of the store will confuse the search engine. After all, the purpose of every page is unique. Manually fill meta tags for proper SEO optimization. Moreover, SEO optimised pages rank far better in Google.
No Solid Content Marketing Plan
Content is key to attract as well retain the customers. It has power to convey your idea in a quick yet complete manner. It is recommended to write in with the target audience in the background instead of with the product in the focus. This approach will help you generate ample content. Hence more chances to better convince the customer.
Pro Tip: Choose an e-commerce platform that is super user friendly and no need for any coding skills.
Selling Everything Under the Sun
It is not a new thing to find beginners selling almost everything to gain as much profit as possible. Well, this is not how it happens. Huge market means high competition and targeting a diverse audience.
It is a massive task and requires sufficient experience. Therefore, beginners will not be able to handle it effectively.
Better select a product of your choice (one in which you have interest and knowledge) and work to improve it reach and visibility with best SEO practices.
Being Silent on Social Media
Customers spend more time on their favorite social media site than all others collectively. Staying dormant on social media negatively impacts brand building.  Afterall, you lose the opportunity to occupy a spot in the customer's subconscious mind. Therefore, promotion of blogs, sharing short videos, and of course running a contest must be part of your social media brand awareness strategy.
No doubt, a giveaway content will increase followers in the shortest possible time. It also provides you an opportunity to collect personal details which can be used for remarketing and more.
Moreover being active on social media fetch you loads of benefits as below
No Customer Profiling
It is found that a newbie mostly limits niche research part to analytics. It is fine to extract insights but the customer profile needs to be built to ensure the product reaches the target audience.Customer profiling means you get sufficient data for quick identification of the exact need and different sub niche. Therefore, it provides a competitive edge hence making it easy to sell more.
image credit: care4brands
Idea of Ideal Product
Choosing the correct product is as important as customer success in dropshipping business. Knowing the anatomy of an ideal dropshipping product will ease your job.
A 'wow' factor to compel visitors to stop scrolling and have a look into the product.
Should have been sold at least 10,000 times.
Features that are considered appealing by a huge customer base.
Most important of all, it must be a problem solver.
Lack of Product Research
Few products perform better than others, but sticking to those products is not really a wise decision in the long run. You might have some extra sales for some time but will it be sufficient? Of Course not, only an in-depth research will reveal the truth about parameters (orders, reviews, star ratings) that actually matter for ensuring it is a winning product or just an ordinary one.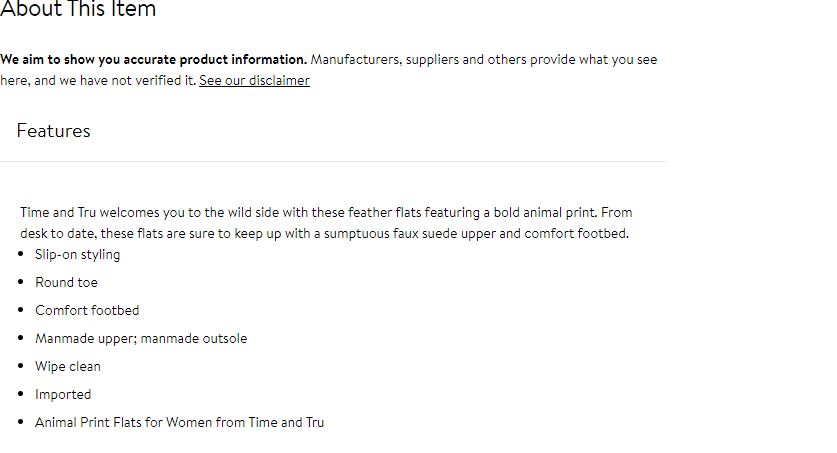 Image credit: Walmart
If research is overlooked means you have a fairly vague to negligible idea about the level of competition associated with the product.
Incomplete Product Demand Analysis
Don't simply go by somebody's recommendation and order 1000 pieces from manufacturers. It is better to know about monthly searches for products (using google keyword planner) and people's interest over the last 6 months (in geographic location where you plan to sell) using Google Trends. It will provide a fair picture about what's available.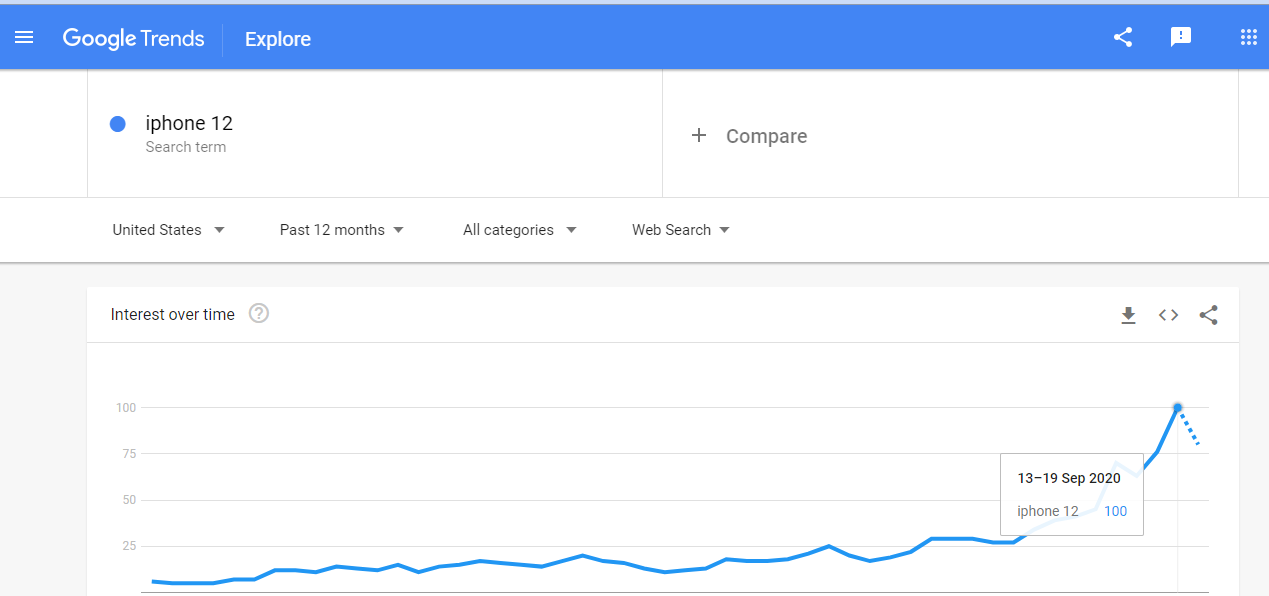 Image credit: Google Trends
Product Lifespan
One of the common mistakes among newbies is choosing a product that has little timespan, meaning it is being sold during specific months of the year. Hence, running stores solely on limited lifespan products is not a good idea at all.
Not Focusing on Upsells
Upselling refers to pitching another product after purchase of the first product The best part about upselling is it increases customer lifetime value. Thus, it is highly likely the same customer will show up for more purchase in future.
Broad Niche Selection
Niche under which thousands of products come are considered broad niches. Being a vast niche, you will encounter high level competition. Hence, a newbie dropshipper will have to struggle to survive and some might feel discouraged during initial days.
Dependent on Single Supplier
Every supplier or to be honest any supplier cannot be ready all the time (24x7x365) to ship your products. Considering recent COVID-19 pandemic had unnecessarily increased shipping time, better be ready with such unwanted scenario and contact with multiple suppliers.
Two simple tricks to differentiate a reliable supplier
Ask for a few sample products. He will never deny as he sees it as an opportunity to promote products.
Visit his manufacturing unit/warehouse. It will reveal his ability to deliver in time and in bulk.
Little Idea About Target Audience
Customers are driving forces behind dropshipping success. Thus, knowing them thoroughly becomes mandatory and is better than trusting your assumptions. Here are effective ways to achieve it and make your website look useful to the user.
Prepare questionnaires and convince customers (explain how this data will help you serve better) to answer it.
Read comments on competitors websites and track his social media to find how your target audience is responding and what are the primary concerns (pain points). It will help you find out points on which you can score more than competitors.
Using facebook insights, it gets easy to know how many people viewed your fb page. These views can further segment customers on below criterion. 

Age
Country
City
Gender
Device
Image of fb insights
Delay in Shipping
Shipping is a game changer in the ecommerce industry. Prefer ePacket shipping and share tracking details with customers. Thus, in case of some delay it will keep them updated. Therefore, customers won't bother you.
Not on Alert Mode
Well, an ambitious newbie has to go an extra mile to keep up with the competitors. Order must be processed on the day of being placed to ensure zero order delay. Apart from that, being always on alert mode helps in responding to customer queries as soon as possible is of utmost importance.
Importing Too Many Products First Time 
Yes, either over excitement or over confidence but importing 1000 products right on day first is a big no. After all, you need huge time to write compelling product descriptions for every product and for 1000 products it might occupy for several weeks.
If done continuously will not only exhaust you but, you end up having very less time to entertain customer queries. Hence, it is better if you import products not in very high amounts.
No Focus on Competitors
In order to beat competitors it is very important to build an understanding about them and know what works in their favour and how you can leverage it for your business. Focus on their social media profiles and website to find out below details
Are they running ads? And on which products?
Types of posts getting maximum engagement
Offers run by competitor on social media
Poor Website Design 
Website design can never be left neglected for really long. An online store with messy navigation or just ordinary design will not be able to attract customers attention enough to persuade him towards purchase.
A clean and professional look with high end images should never be neglected. Smooth navigation ease the usage and lessen time to complete purchase. It is another important criterion that helps visitors reach the product without putting in a lot of efforts.
Professionally designed logos are must and it will help customers differentiate your brand from others.
The About Us page is among the most important pages that can't be overlooked. AFter all, it is the most visited page. A successful page clearly conveys the mission and vision of the company.
The About Us page must have the latest details about business location and e-mail address.
Lack of Market Research 
Market research is the foundation of any e-commerce store. Tools like Google Keyword Planner provide plenty of insights to decide the demand of products. It also provides product related keywords that help in framing seo friendly product titles, descriptions, blogs, and website content.
Social media in another effective way to find how others view your product. Especially how popular it is among the target audience.
Selling products in the wrong niche leads to minimum return despite how much effort is put in it.
We have talked a lot about mistakes. Let' s get inspired with what actually worked for successful dropshippers.
It is quite an achievement that you have found high demand products but it's not the end. You need to have huge inventory and be prepared to ship it. After all, the customer will be happy upon the timely arrival of the product.
Be on the lookout for new arrivals in your niche. Simply sticking to same best selling products won't always work in your favour. Customer find new products exciting hence, ready to try them
It is wise to focus more on selling products instead of unnecessarily wasting time in making the theme beautiful. After all, an aesthetically pleasing store is not primarily related to high conversion.
Keep a close eye on the target audience and use google analytics to extract maximum data about custom. These insights will help in framing up effective marketing strategy.
All Things Considered!!
Persistence definitely pays off. Don't be discouraged by a few failures in starting because every failure takes you close to success. Therefore, avoid all sorts of negativity from others and stick to points mentioned above. You will definitely uplift the chances of high sales as well as minimize drop shipping mistakes as a newbie.
The post Dropshipping Store – Aren't You Making These Mistakes Like a Newbie?? Here's Solution appeared first on CedCommerce Blog.