Checkout has always been a problem point for sellers. A buyer visits a marketplace and spends time searching for the best product that happens to be yours but ends up abandoning the cart at the last minute. What's the reason? A complicated payment procedure that redirects your buyers to complete their payment is one of the most annoying things; a shopper will admit it! The managed payment on eBay makes it simple and easy for the buyers to make the payments by simplifying the complicated payment process. One need not visit a 3rd party payment gateway to complete the transaction.
What is eBay Managed Payment?
With eBay managing your payments, you don't need to worry about PayPal anymore. eBay lets you make the sale and get paid at the same place. It also opens numerous new options for shoppers to make their payments on eBay.
The managed payments let you set the frequency at which you wish to receive eBay funds upon making the sales (daily, weekly, or as the funds become available). The payouts get initiated from Monday through Friday (within two business days). The managed payments also make things simpler. You can work on returns, labels, protections, and tax documentation from eBay itself (Form 1099Ks).
The eBay managed payment introduced in 2018 has become an intricate part of the eBay payment system since PayPal parted ways with the global retail leader. eBay has already processed 38% of the international payments through managed payments. Over 1 million sellers globally have already migrated to the managed payments.
The managed payments make things easier by making things simpler in:
Selling: The flexible checkout making things easier for buyers.
Getting Paid: Simplified payouts send money directly into your account.
Management: With simplified fees, management becomes smoother.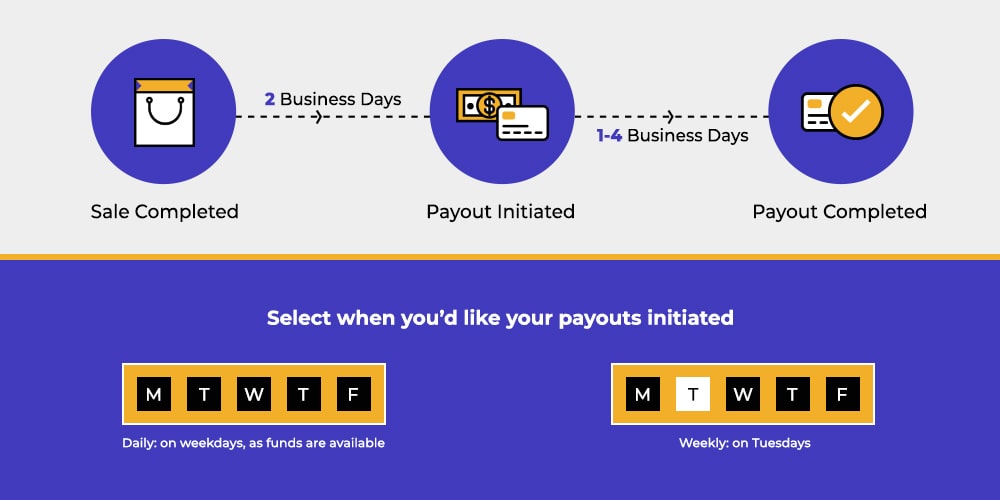 Accepted payment methods
The eBay managed payments support a vast array of payments processes like,
Credit Cards
Debit Cards
Gift Cards
Apple Pay
Google Pay
PayPal
PayPal Credit
Advantages of eBay Managed Payment
#1. Accessibility
eBay makes it easy and convenient for you as a seller to get your hands on everything you need right in one place, saving you lots of time.
Consolidated fees
Customized reports
Refunds and returns
Labels
Simplified protections
Tax documentation.
The 1099-K form (applicable in the US) contains information that helps you with the gross amount of all payment transactions you receive in a calendar year. It exists to assist in improving voluntary tax compliance.
#2. Amplified reach
The managed payment supports the Global Shipping Program that eBay has to offer. As the global shipping program caters to customers' needs through international shipping, a simplified payment system is always a welcome bonus for any seller who's indulged in the above-said program.
The managed payment handles the customs, taxes, and import/export fees you pay for international shipping.
#3. Better conversion rate
With the managed payments on eBay, your buyers can efficiently complete their payments, increasing your conversion rates. According to a survey, the three most prominent reasons behind cart abandonment are,
Complicated checkout process
Unable to trust the site with their card information.
Availability of a few payment methods.
The managed payment removes all the checkout complications, increases the payment options to choose from, and makes things easier for your buyers. Do not forget the trust factor eBay brings with its name when making the payment.
#4. Improved Seller Fees
The seller fee that eBay charged while partnered with PayPal was 2.9% + $0.30 per transaction. However, the seller fee under managed payments fees is a mere 2.35% + $0.30 per order with effect from August 12, 2020. It lets a seller save 0.55% when compared to PayPal.
#5. Reporting
The managed payment also brings the availability of timely, updated reports. These reports include your monthly statements, order, payout and post-transaction reports, performance insights, and tax reports.
Start managing eBay Multichannel selling on ShopifyBigCommerceOpencartPrestashopWooCommerce, or Magento store. CedCommerce gives you an integrated solution to get started with easy-to-operate multi-channel sales from a centralized location.
Limitations
#1. Limited access
Although sellers are being included in eBay managed payments at a very high rate, the inclusion is available for a select set of sellers in the following countries: the US, Germany, Canada, UK, and Australia. eBay has already covered over 50% of sellers in the U.S. in the 4th Quarter of 2020. You can speculate that sellers worldwide will become a part of the managed payments by the end of 2021.
#2. Cash flow complications
One of the most significant drawbacks the eBay sellers face when switching from PayPal to Managed payment is the payment processing time. Once enrolled for a managed fee, you'll have to wait for a minimum of 1 to 4 business days for the funds to reach your account.
Although eBay is working to reduce the processing duration, it'll still create a cash shortage. The situation results in disruption of various shipping and other related activities that depend on immediate cash availability.
Simplified Fees Payments
eBay charges a final value fee when you make a sale, the same holds true for managed payments. It consists of a category-based percentage based on your total sale value, plus a fixed price per order, excluding the PayPal processing fees. It also makes the monthly invoice more simplified, clean, and easy to follow.
With eBay-managed payments, the final value fee gets deducted from the sale you make. In case of any refunds or cancellations, eBay will keep only the order fee and return the remaining portion to you.
The seller fee under managed payments fees is a mere 2.35% + $0.30 per order with effect from August 12, 2020.
Registering
The eBay managed payment is an invitation-based program. You can register for the driven prices in a few simple steps:
You'll receive a notification/message to register for managed payments.
Verify the information details.
Provide a checking account.
You can also use an existing account (or can opt to open a new one.)
Once you've successfully registered your account for the managed payments on eBay, changes won't reflect until eBay activates it for you. However, eBay also notifies the sellers about the activation of the services in advance. Similarly, you'll receive a notification informing you about the same.
While registering, you can choose either of the two options in regards to the checking account you need to add,
Add an existing account.
Add a new account
All you need to do is make sure that your details mentioned below for the checking account match your eBay account's respective information.
The details you need to provide includes,
Name
Address, and
Business Information (if applicable)
Conclusion
eBay is all set to manage payments for its marketplace sellers by the end of 2021. It means everyone selling on eBay will eventually get an invitation to register for managed payments to continue trading on the marketplace.
The managed payments, for sure, are a boon for the sellers. It simplifies the complicated checkout system previously used when PayPal was an active payment service for the buyers. However, the more straightforward approach to payments also comes with added hardships. One needs to accept and make peace because payment processing duration for all the sellers enrolled for the managed payment services won't be instant as it previously was.
As a seller, it's time you start enjoying a more straightforward approach to payments, as will your buyers, purchasing your listings.
If you need any assistance, feel free to contact us on skype or drop a mail, we'll be more than happy to help. Or, you can drop a comment here, and we'll find you!
The post eBay Managed Payments: What you need to know about it! appeared first on CedCommerce Blog.