eBay has recently taken steps to revamp its business in refurbished items. The eBay recently launched its reCommerce site as a part of the "eBay certified refurbished program". These items are now organized and sold under the umbrella of eBay refurbished section. Moving further we shall discuss manufacturer refurbished vs seller refurbished ebay products and discover which is a better choice and how.
The ongoing COVID-19 condition worldwide has weakened the economy. Most people have too little in savings. So, buyers have lower shopping budgets this time. Buying a brand new product might be difficult for a massive number of buyers. Therefore, to tackle this, eBay launched its "eBay reCommerce" site under eBay Certified Refurbished Program.
Buyers can find branded items on reCommerce eBay from Razer, Philips, Makita, Hoover and more such brands. Shoppers can make savings of up to 50% on the products from some top-notch brands. The products sold on eBay reCommerce will look and perform like new. An additional benefit is the two-year-warranty, which applies to all products sold under the eBay certified refurbished program.
Insiders say on ebay reCommerce
Jordan Sweetnam is the senior VP and GM for eBay's North American market. Quoting Jordan, "Demand for refurbished products has surged, and by securing exclusive rights to inventory sold directly from the most popular manufacturers, eBay is changing the way people shop this category." Adding, "eBay shoppers tend to focus on value, which has helped make these products so popular. With this new Certified Refurbished destination, we're doing a better job of helping customers discover inventory sold direct from the brands they love and feel confident they will be blown away by the quality", said Jordan.
What do eBay refurbished items mean?
A refurbished item on eBay or anywhere else is a repaired product. This repair can be because of two main reasons.
A product that couldn't pass the final level of inspection
A product that suffered damage during- Manufacture, Packaging and Shipping
A refurbished product mostly works perfectly as new. But, the advantage of buying a refurbished item is the low price. Manufacturers provide the same warranty and guarantee clauses on these items also.
Prerequisites for selling on ebay reCommerce
To sell on the eBay reCommerce site under eBay certified refurbished program, brands must ensure that the products look like new. Also, the manufacturer itself or an agent approved by the manufacturer will refurbish, clean, and professionally inspect the items. Furthermore, if a product comes with additional parts or accessories, they must be added in working condition. These are some prerequisites for a product to sell under the eBay seller refurbished realm.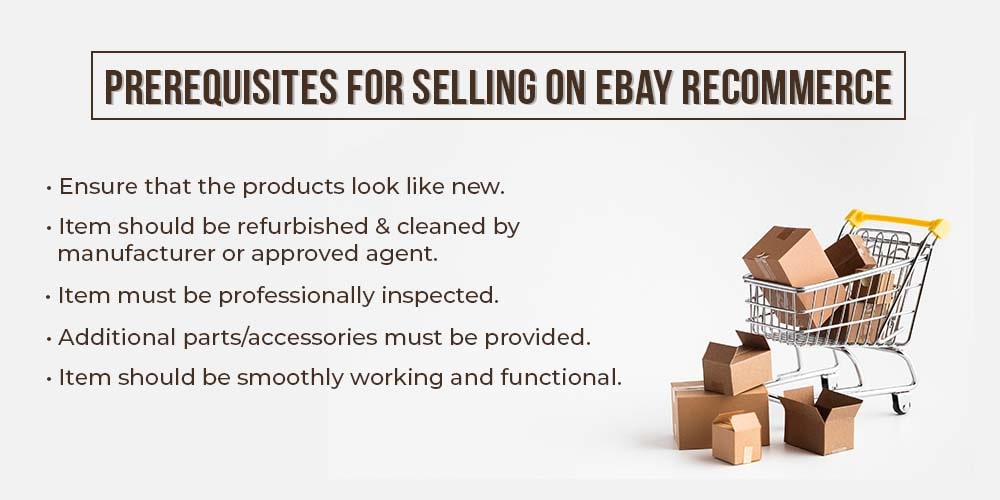 Eight out of ten Americans are happy with the idea of refurbished electronics for this holiday season.
What makes eBay Certified Refurbished Program an instant success?
With eBay reCommercethe marketplace has planned to bring ease to buyers at no cost on their end. More advantages of the eBay Certified Refurbished Program are as follows-
Warranty: eBay Certified Refurbished Program offers a two-year-long warranty on all the products. The seller or manufacturer involved in the entire process shall also provide a guarantee against malfunctions and breakdowns of goods, mostly electronics.
Customer Support: The seller or manufacturer is also liable to provide a 24*7 support to its buyers through the phone. Also, the seller will have to guide the buyer in item usage, if needed.
Quality: The items sold on eBay reCommerce will require a professional-level cleaning and sanitization. The products must look like new and unused. Additionally, the products should be refurbished as to nullify any possible troubles.
Returns: Sellers must ensure hassle-free 30-day-returns for unsatisfied buyers for products sold on eBay reCommerce. It is for the good of both buyers and sellers.
Money-back guarantee: In case the arrived product does not match the description provided before, buyers are safe. Buyer will also receive a full refund for the damaged or malfunctioning product.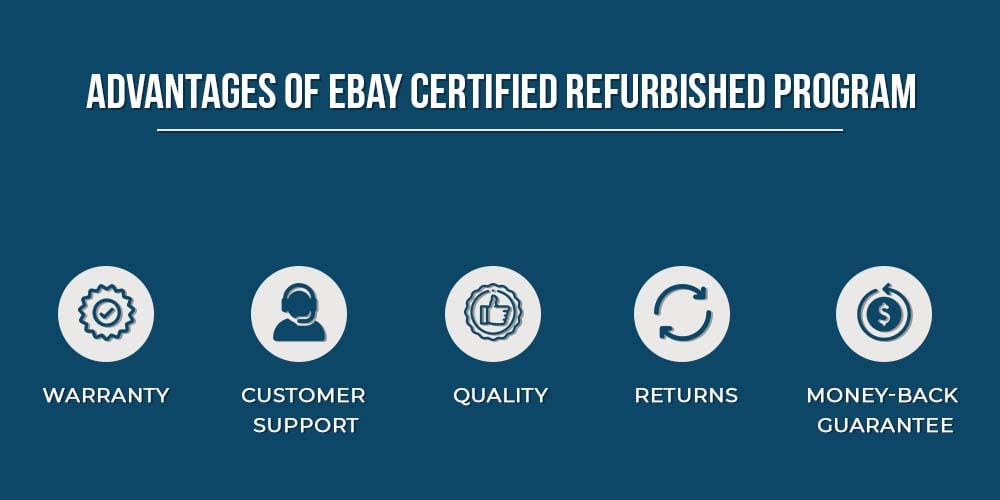 Manufacturer refurbished vs seller refurbished eBay products. What do they mean?
Manufacturer refurbished eBay Product.
Such products possess a manufacturer's warranty. The product undergoes tough testing at the end of the manufacturer before the sale. Sellers scan the refurbished products more strictly compared to the new ones. No matter where you sell the product, the manufacturer guarantee is equally applicable on all platforms.
eBay Seller refurbished items
An item sold as seller refurbished on eBay doesn't have an enforceable warranty from eBay even if the seller says it. In these items, there is some risk. The item might not be thoroughly tested, and this may result in malfunction. Though, this idea is outdated now. The eBay Certified Refurbished Program is a massive success because it has a guarantee on all its product ranges irrespective of who refurbished it.
Six out of ten Americans plan to gift refurbished items to their friends and relatives this year.
Conclusion
We can expect this program to establish a trusted buyer base for the refurbished items. As the products being sold will be going through several stages of checks before sale, they are going to be as trustable as new. As holiday budgets have declined due to the ongoing COVID-19 situation buyers are expected to choose this as an option. The officials at eBay say that this time, demand for refurbished items has surged. Therefore, they have considered launching a separate platform for selling refurbished items on eBay. This platform will provide more power to buyers, and a better chance to sell the repaired products for buyers. Properly cleaned and sanitized products that look and work as new will qualify to sell on eBay reCommerce. Two-year-warranty is a must on all the refurbished items sold in the certified refurbished program.
Adding to these perks, 24*7 customer support, quality and money-back guarantee in case of dissatisfaction make it more lucrative. Also, hassle-free 30-day-returns for returns are a perk. And last but not least, buyers do not have to spend a single penny to avail any of these advantages.
How CedCommerce can help
In order to sell more and improve your performance on the eBay marketplace, try our eBay Shopify integration. You can also sell on eBay via WooCommercePrestashopMagento and Magento 2.
The post eBay's reCommerce site is focused on Certified Refurbished Items appeared first on CedCommerce Blog.