Facebook yet again buzzed the online shopping market and has now launched the exciting Facebook Shop feature in the UK and Canada.
Starting 23rd February, 2021 the social media users from the UK and Canada can now very easily navigate to the "Shop" feature in their Facebook apps on desktop as well as on mobile. 
Originally, the Facebook Shop experience was introduced back in May, 2020 in the US until then it has been rolling out in more places. The Facebook Shops are designed to help businesses of all sizes; connect with their customers and give users the ability to browse virtual storefronts.
"Merchants already sell on Facebook and Instagram, but now, Facebook Shop gives every business, whether that's a major global brand or someone selling handmade jewellery out of their living room, the ability to set up a virtual storefront for free." – Facebook
Creating a Facebook Shop is really quick, simple, and easy. All you need is to choose what products you wish to feature from your catalogue and then customise the look and feel of your shop with a cover image and colors that showcase your brand.
If you are an eCommerce business based in the UK and Canada; you just need to connect your stores with Facebook shop and surface your products across Facebook interacting with customers wherever and whenever they are. 
Features of Facebook Shops
Over 85% of people worldwide are now shopping online. With Shop, Facebook wants to make shopping easier for people by providing tools within the app to help businesses sell online. Facebook Shops powers some very exciting features including: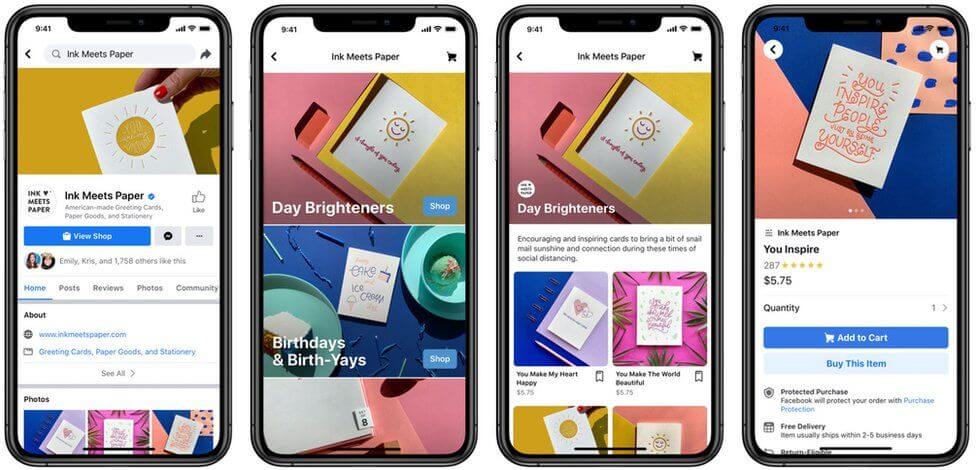 New Place for People to Shop
The new Facebook Shop will be available in a bookmark (on the app) and in the menu bar (on desktop). Moreover, this will help merchants to increase their product' visibility and offer convenience for the buyers.
Add as many products as you want
You don't need a cap on your offerings. Depending upon your needs you can upload as many products to your catalogue and start surfacing it on Facebook Shop. If you have bulk inventory, you can connect your stores seamlessly with Facebook and get everything synchronised.
Customise your product collection
You can organise your products into different collections; using the new design layouts so that your customers can browse your shop by category. Not just that, get a real-time preview of collections as you design them.
Communicate with customers
A clear communication allows businesses to provide personalised assistance to buyers so they can make quick purchase decisions. The fresh "Messaging button" on Shops makes it convenient for people to message businesses through Messenger, Whats App or Instagram Direct.
Real-time insights
Facebook Shop enables you to get the fresh and up to date insights helping businesses measure results. In addition, you can look through your performance, recommendations and assess the views, clicks and purchases for each of your products.
Requirements to open Facebook Shops
Cutting short everything, there are only two basic requirements to create a Facebook shop. Your Facebook shop must have:
To get started on with Facebook Shop, you can connect with the partner's solution which can help you from the scratch and get you shop live and running with real time synchronisation and order management across your store and Facebook.
Facebook Shop is just one of the many steps; the social media giant has taken to support the UK and Canadian businesses amid the COVID-19 pandemic. Over the time, Facebook has also been adding partners like CedCommerce; into it's ecosystem allowing merchants to connect and offer seamless and customised buying experience to shoppers.
The post Facebook Rings Bell in UK and Canada – Launches Shop Tool for New in-app Shopping Experience. appeared first on CedCommerce Blog.