Even though 2020 has been an unpredictable year, you can still learn a lot from customer behavior throughout 2020. Coupling it up with the changes and updates Google Shopping went through this year can help you predict and strategize better for 2021. This "Google Shopping prediction for 2021" will answer the following questions:
What are the critical eCommerce Trends and predictions for 2021?
What significant changes Google Shopping went through?
Which Google Shopping strategies for 2021 should you use?
How to implement Google Shopping strategies for 2021 to skyrocket your business in 2021?
Ecommerce trends and predictions for 2021
Pay attention to the consumer touchpoints
Omnichannel selling is still relevant, but the approach is different now.
In a recent study based on customer behavior in 2020, the customer who visited sites for purchasing, 50% searched for inspiration on Instagram, and 50% discovered new products or brands on Google.
Supporting these findings is another report that reveals that customers' pre-shop top touchpoints were- email ads, went to retailer websites, did an internet search, etc. Upon closer inspection, the report shows that internet search ranked second with 28% of online purchasers using it during the shopping process.
Google Shopping predictions for 2021 and strategy:
This trend is likely to continue, so while preparing your strategy for the next year, make sure to give search engine advertising and optimization a significant place.
Since the search engines are the top second touchpoints for customers, incorporating Google Shopping in your strategy will enable you to advertise for free on Google. Make profits and keep them for yourself by merely submitting your product feed to Google Merchant Center.
Are you struggling with product feed? We can help! Along with all our irresistible features and benefits, our automated solutions can help you upload your product feed to Google Merchant Center within minutes. Let's discuss!
Convenience over the price
Consumer behavior data reveals that 66% of online purchasers admit that convenience is the main reason they choose to purchase at a specific retailer. In comparison, only 47% say price vs. value is the main reason.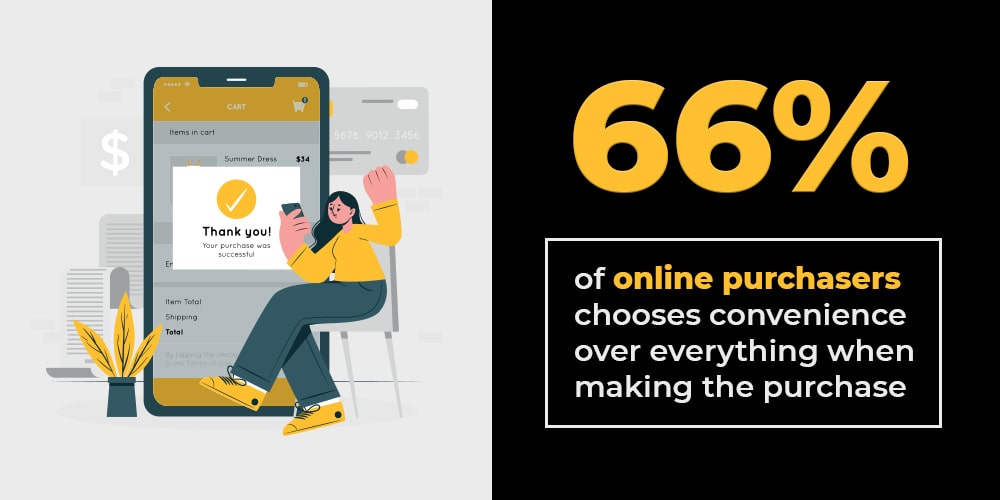 Predictions and strategies:
Since this pandemic shows no signs of slowing down, and the news of second and third lockdowns are surfacing, the consumers will most likely stay in their homes. They will shop online, which indicates that the eCommerce industry is steering towards this trend.
Consumers are the pillars of your business, and you need to attend to their needs. Here is how you can ensure that convenience is delivered:
Keep all your shipment and fulfillment options upfront and straightforward.
Keep all the refunds and return policies clear, concise, and easy to find.
Collaborate with local businesses such as Instacart or local stores' storage to ensure the products are delivered on time. As curbside pickups are also gaining momentum, collaborating with local businesses will offer you this service.
Further, amidst the health concerns, you can also include your packaging and delivery processes, such as sanitizing the product before packing, sanitizing the returned products, whether you provide contact-less delivery services, etc.
Suppose you want to choose a marketplace that also ensures convenience for your consumers. In that case, Google Shopping is an excellent platform for you as it has options like Universal cart, same-day delivery, free shipping, Google guarantee, and much more for its customers.
Advertising is still relevant
COVID did slow down and even made some brands cut back on the advertising budget, but it has started to become quite the trend again quickly. Even the new consumer behavior report also reveals that 54% of shoppers, who were exposed to advertising, admit that it helps remind them of something they need or prompts an idea for something they want.
Google Shopping predictions for 2021 and strategies
This trend is here to stay! If you have stopped or cut back on your ad budget, you can slowly invest more in that.
But you don't have to break your bank to follow this trend! You can now advertise for free on a platform where 3.8 million searches take place. Google has a free listing program, which enables you to surface your products on Google Shopping for free. And once you start seeing some significant results, you can step up your advertising plan using Shopping Ads on Google.
But Google Shopping Ads can be complicated at times, so let a professional help you through this. We have a team of experts who can help you build, manage, track, and convert your customers through ad campaigns for your business. Want to know more? Check this out!
User experience and mCommerce
Sometimes you may lose sight of the one most reasons why your business is running- the consumers. The consumers interact with your brand through your website and social media, and their experience can affect whether they will become your loyal customers or not.
In a study, successful marketers and sellers admitted that, among others, the user experience was the most crucial aspect of their marketing strategy. (Check out the stats below)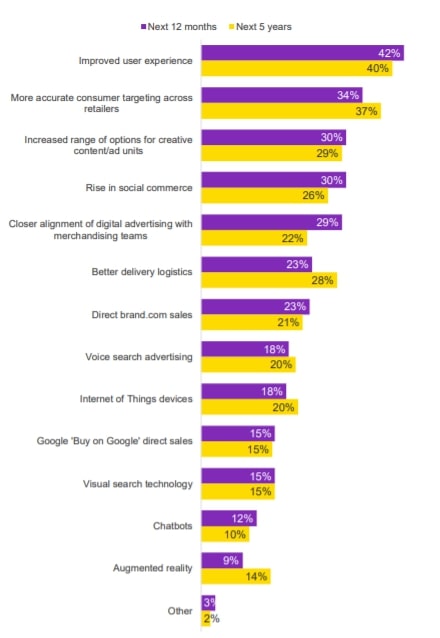 Google Shopping predictions for 2021 and strategies
One of the most critical aspects of ensuring a great customer experience requires a lightning-fast mobile experience as 50% of global eCommerce sales occur on mobile devices.
Research indicates 53% of consumers will abandon a site if it takes longer than three seconds to load on mobile. Moreover, mobile bounce rates are consistently higher than desktop.
What does this mean for you? You will lose valuable customers just because of your poor website.
What can you do about it? Google has a free tool called Test My Site that will help you gain quick insights into how your website is performing, and with its findings, you can further tweak your website, which will help your site performance.
Also worth mentioning- Google Lighthouse. Google Lighthouse is a free tool that provides powerful insights that can help improve your website.
By generating a Lighthouse report, you get access to any web page's page experience and access valuable tips to improve its performance. You can also use Google Lighthouse to enhance your user experience further.
Bringing it all together
By simply implementing these Google Shopping strategies for 2021, you can give your business a boost this year. And you can effortlessly take it a step further with our help. Our team of experts at CedCommerce, official partner of Google Shopping Actions, can help you build, manage, and track your entire Google Shopping strategies. Connect with us today!
Think we missed something? Got any questions? Let's start the conversation!
The post Google Shopping predictions for 2021: 5 Key trends and strategies appeared first on CedCommerce Blog.