With the holiday season right around the corner, consumers are excited to plan out their holiday shopping. In order to get your brand and business in front of these eager shoppers, you must make a concerted effort to prepare your inventories for the busiest shopping season of the year.
Today, everything is just one click away, making it convenient for the shopper to shop. Holiday seasons turn out to be an all-time favorite for the shoppers and sellers out there. Besides, the festive season is the best opportunity for businesses to rank their products higher in front of the audience and get the maximum sales out of it. So check out this eCommerce holiday season checklist to keep up with the latest information about the eCommerce world and best platforms to sell on for this year's potentially record-breaking retails.
The holiday season 2020 prediction
Holiday shopping is set to begin in a few days, causing an atmosphere of hustle-bustle amongst the merchants and consumers. Marketers often look at last year's holiday trends to understand how to plan this year's holiday season sales strategy. But looking at the previous year's statistics, it could be assumed that most businesses have taken a digital route. So, let's explore the effect of COVID-19 on the eCommerce community and what the holiday season for 2020 holds in store for you:
The eCommerce spike
The outbreak of COVID-19 has imposed a severe lockdown in most countries, causing many physical stores to close. Thus, causing merchants and shoppers to shift to online platforms for the purpose of buying and selling.
More sales opportunity
The holiday season has always been considered the most critical period for the merchants to enhance their business and drive sales. Also, it is assumed that the majority of shoppers purchase gifts during holiday sales to take advantage of the deals. The impact of COVID-19 looks set to exacerbate this as consumers consider their finances more carefully.
Why should sellers opt for eCommerce platforms or marketplace this holiday season?
Every year, something interesting happens with the merchants during the festive season, i.e., having an opportunity to interact with your potential customers and drive more sales. Every shopper is in search of the best deals and offers. Thus, if in case, you are still not surfacing your products online, here's your chance. Explore further to know why you should shift your focus on eCommerce websites and marketplace; what benefits you can attain.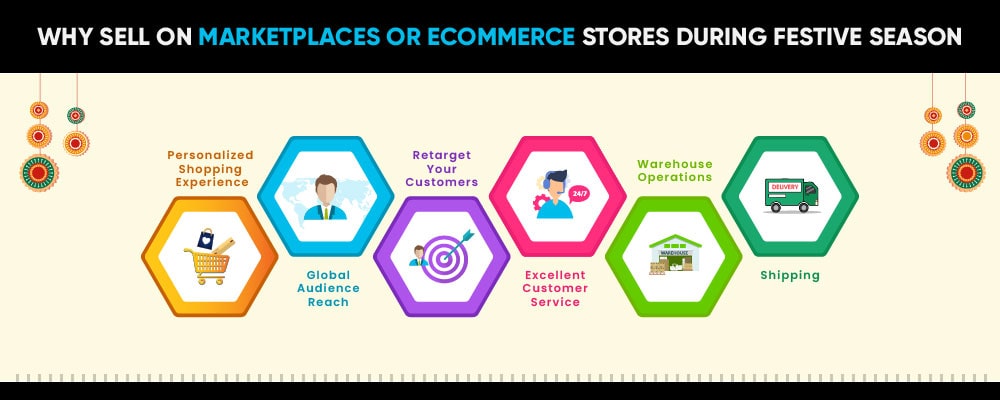 Personalized shopping experience
Selling on your eCommerce store allows you to market your products in a unique and differentiated way. Also, as the holiday season is approaching, you have the freedom to modify the theme of your store accordingly. This humanizes the shopping experience for visitors and provides a personal touch.
On the other hand, there are few marketplaces like Etsy, Facebook Marketplace, Instagram Shopping, etc.; these marketplaces provide instantaneous customer trust and loyalty because your store is featured in well-known and established marketplaces.
Global audience reach
Marketplaces are the well-established and highly trusted websites. These are the websites people are familiar with and are comfortable in making purchases. With the holiday season on its way, you can grab this opportunity to get in touch with shoppers worldwide with varying purchasing interests.
Retarget your customers
One of the most significant advantages of managing your store and website is getting direct access to your customers. You can communicate with your customers and ultimately have more upsell possibilities. For this, you can use different marketing strategies.
Excellent customer service, warehouse operations, and shipping
One of the benefits of selling on marketplaces is that you already are surfacing your products on a platform that is trusted by the shoppers. Marketplaces like Amazon, eBay, Etsy are entrusted with the supply of your goods, and the rest of the shipping, warehouse operation, payment procedure could be managed by the marketplace.
Best eCommerce websites and marketplaces you can sell this festive season
Are you looking for the top marketplaces and eCommerce websites to sell this holiday season? Well, as it is said, "Always Dress to Impress"- forms and significant impressions on the minds of the shoppers with the product display on stores and marketplaces. There is no denying that surfacing your products on eCommerce websites and marketplaces paves a way to expand your business and drive more sales. So, here is the list of the top marketplaces and eCommerce websites, you can explore:
Top marketplaces
Marketplaces provide you with a platform for your products to be seen most at. In 2019, the eCommerce retail sales worldwide amounted to 3.53 trillion US dollars and were expected to grow by 6.54 trillion US dollars in 2022. This lets you understand the opportunities you can have while selling on marketplaces.
Amazon
Amazon is one of the first marketplaces to strike in consumers' minds when it comes to online shopping. It is one of the top marketplaces in 2019 holiday season sales. You can offer various discounts to your customers during the occasions like Amazon Prime day, Year-end deals, Amazon Christmas Deals 2020, to grab the shoppers' enthusiasm to its platform.
Still planning to sell on Amazon, click here to know more.
eBay
Online shoppers start their shopping early, so you need to prepare your shop on the marketplace in advance. While selling on eBay, make sure to project the items that are in trends and keep your inventories upto date so you can have the product you need to maximize your eBay holiday sales.
As the holiday season is the prime time for impulse shopping, you can focus on fixed price listing and offer free shipping to your customers. This would create an inducement in the minds of shoppers to make a purchase. Besides, there are several methods from which you can explore your business from an eCommerce store to eBay.
Walmart
With the fiscal year 2020 revenue of $524 billionWalmart offers one of the most promising opportunities for e-commerce holiday sales to its sellers. With an ever-expanding range of categories and competitive shipping options, Walmart's online marketplace should be an integral part of every growing seller's portfolio this season.
If you are still thinking of exploring your business to Walmart, explore the categories of products supported by Walmart and what features and advantages you can leverage by selling on Walmart- Here.
Lazada
When you talk about the South-Asian marketplacesLazada is one of the top marketplaces over there. A few product categories rank higher growth potential like motorcycle parts, computers, accessories, homeware, and toys. Besides, during the festive season, The South-Asian market remains in an uproar, and different marketplaces and stores display a variety of sales and offer to its customers.
If in case, you want to expand your business to a South-Asian Marketplaces, you can opt for Lazada and experience effortless selling on the platform.
To know more about how to sell on Lazada and what features you can attain- Click here
Top framework you can choose to set up your eCommerce websites
The beginning of September marks the starting of the most important time of the year for retailers. Sellers start redesigning their stores, keeping check of their inventories from the end of August. This momentum carries on into the following months till Christmas, where holiday sales start immediately afterward with more deep discounts and plenty of reasons to make bargain hunters happy. So, explore more to understand how you can increase sales from your eCommerce stores and the frameworks you can sell on with this festive season.
SAAS based platforms
Frameworks like Shopify and BigCommerce are SAAS-based software; thus, you can easily make changes in your store's theme with the help of templates. Customize your Shopify store and BigCommerce store according to the holiday season. The landing page is the first thing noticed by consumers, so make sure to offer discounts and promotions on your store. Also, in addition, make sure to theme your store according to the festive season mood.
While setting up your product catalog, make sure to set your inventory according to the festive occasions as there are products that could generate high sales for your store.
OS-based platforms
Frameworks like Magento, WooCommerce Opencart, are OS based software. Here, you can enhance the designs of your websites according to your preferences. Among these frameworks, Magento is the most commonly used framework due to the additional features and specialization.
In case you are a seller dealing with B2B and B2C business, OG platforms could provide you an upper hand in setting up your store according to your wish.
How can you set up your eCommerce store or shop on Marketplace this festive season?
There are several eCommerce service providers that can help you set up your eCommerce store or your shop on the marketplace. While deciding to sell on an eCommerce platform or marketplace, make sure to strategize your plan for your eCommerce store:
Create your business plan.
Set up a Domain Name and develop your online store with the help of frameworks.
Build your inventory.
Proper marketing solutions for the online store.
Keep a track of your marketing campaign to generate better results.
Setting up your store with the eCommerce service provider
To ease your selling process across various platforms, you can contact several eCommerce service providers to establish your business online through integrations. As a seller, you can build your online store and sell effortlessly across various platforms.
You can leverage the following benefits by selling with the help of integrations:
Bulk uploading: You can upload products in a bulk.
Product synchronization: Synchronize your inventories from an online store to the marketplace and initiate an effortless selling experience.
Centralized order management: Manage your orders from a centralized dashboard and keep track of your orders and notifications.
Customer support services: CedCommerce provides you with the support of a dedicated account manager and 24/7 customer support services.
How to choose the right platform to sell this festive season
The holiday season brings ample opportunities and variants for retailers to explore different platforms and increase their business. The best place to sell online differs from seller to seller depending on the requirements, products, needs, and goals as each marketplace and online store.
To increase your customer reach and brand awareness, you can sell on both the platforms, i.e., the marketplace and eCommerce store. You can connect with several eCommerce service providers and leverage the tools and benefits to selling on different platforms through a multichannel service importer.
In case you have any queries, you can drop down your comments below. Our customer support service is available 24/7 to help you onboard and ease your selling process this festive season.
The post Holiday Season eCommerce cheatsheet (Marketplace vs eCommerce store) appeared first on CedCommerce Blog.