This year has been different so far in almost every aspect. Be it the way we live, the way we work, or the way we shop, the pandemic has enforced the entire globe to shift to the virtual side for working, socializing, or consuming informatio.. Ultimately, digital platforms have become the one-stop destination for almost all of us to work, get educated, entertained, or to get fit. This huge culture shift is not going to disappear overnight and this time, its effect can be seen even on the shopping behavior of consumers.
So, the holiday shopping season this year is starting earlier than ever. When it comes to holiday shopping, the only word that remains constant is 'big'. On this note, I would like to require what Mr. Blake Morgan addressed in his articlethe holiday season has always been the official season for big sales, big profits, big crowds! No doubt, that we will be witnessing some fluctuations in the holiday shopping 2020, so it's better to be prepared for it!
As the 2020 holiday shopping season approaches, we thought of collecting some holiday shopping trends and predictions for 2020 so that the marketers and retailers can easily stand up to the consumer expectations in the upcoming 2020 holiday shopping season.
What's Changing In The 2020 Holiday Shopping Season?
According to a survey based on consumer insights conducted by Radial, while doing holiday shopping, the consumers are not looking forward to changing the amount they spend in the 2020 holiday shopping season. Retailers can expect the expenditure to be the same as it was in 2019.
But there's one evident change in the shopper's behaviour this year. The fear of getting contracted with the coronavirus is on hype among the consumers and that is one possible justification for the fact that around 70% of respondents predicted that online purchases will be increasing drastically this season of holiday shopping 2020. In a nutshell, COVID-19 may not have affected the 2020 holiday shopping season but it does have affected the shopper's behaviour to a great extent.
Let's have a look at the consumer survey of July 2020 which was conducted by Dosh. Around 19,000 users participated in this survey and 90% of them said that to save money is their topmost priority.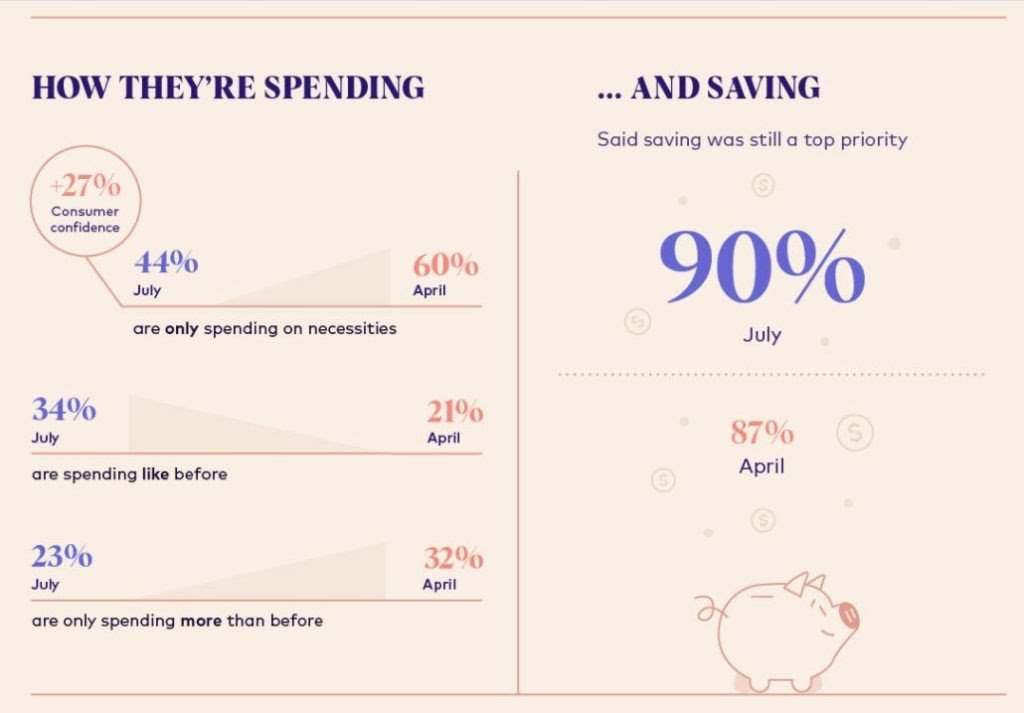 Source: Dosh Consumer-Check-In-Survey
Also Read: How to boost e-commerce sales with digital coupon codes?
No doubt, that the retail and brick & mortar industry has been facing several challenges due to the coronavirus pandemic. Tremendously decreased sales, shut down of stores and malls, companies going bankrupt are just a few examples of the adverse effects of COVID-19 on the retail industry. On the other hand, the pandemic has also influenced the shopping behaviour of consumers and has instilled new changes. All of this has resulted in the customers spending more time and money on the online platform, which may become permanent customer behaviour.
Now, another survey conducted by Qubit found out that most of the people are shopping online as compared to offline. What we are trying to denote here is that this holiday shopping season will be moving online!
As the online platforms will be becoming the centre of attraction during this holiday shopping season, retailers and online businesses must ensure that they are all prepared for it.
Also Read: Increase sales in the holiday season
How to prepare for the upcoming Holiday Shopping Season ?
Well, we think we can help! With the help of this article, we will be sharing the holiday shopping trends and predictions based on how as a retailer you can expect the state of the market. This way you will be able to do the right preparation for the 2020 holiday shopping season. So, buckle up, and let's jump onto the next section of our blog.
2020 Holiday Shopping Season Trends and Predictions 
We must tell you that this holiday season, the customers won't wait for Black Friday to check on their shopping list. As we said in the above section of the post, the 2020 holiday shopping season is coming unannounced. Why do we say that?
Well, we speak about the customer's choice. In a survey conducted by Coresight Research, three in ten consumers say that they will be starting shopping even before the holiday shopping season begins. As an online retailer, you must do everything in your power to make holiday shopping 2020 a treasure for your online business. With the help of the holiday shopping trends and predictions, you can avoid all those incidents which may lead you to lose your potential holiday season customers. So, let's bump into the 2020 holiday shopping season trends and predictions:
Go Online: The Customers Are Loading Up Their Carts
According to Deloitteholiday e-commerce sales will witness a high surge from 25% to 35%, which will be amounting in between $182 billion to $196 billion.
This implies that the interest and availability of the audience in this holiday shopping season lie in the online platforms. Because of the approaching winters and some areas witnessing a resurgence of the COVID-19 cases, the customers are more likely to stay at home and will prefer scrolling through the web to fill in their gift list.
As a result, the retailers and businesses are investing heavy amounts in the online platforms to ensure that they get the best out of this holiday season on their online websites and apps.
For instance, GAP is working towards filling up their warehouses and call centres while brands like Bed Bath & Beyond are driving the customer's attention via same-day delivery.
Holiday Demand Bells Will be Hitting Early This Year
As buyers started shopping online more frequently after COVID-19, retailers are going all-in for online sales, suggests a report by Brightedge.
Ultimately, the report by Brightedge predicts that the small store owners will be shifting all their sales efforts to online platforms the shopping store must be there, where the public is. As a result, most of the Black Friday events will be gone this year and instead, Cyber Money may replace its place.
Then, what should you do to get the most out of the season of holiday shopping 2020?
Well, we think that increasing online spending and SEO efforts can help your online store to capture the consumer's attention.
Also Read: Gift cards in e-commerce 
Moving To Different Ways Of Purchase Methods Can Save The Deal
In order to withstand the 2020 holiday shopping season, it's very crucial to acknowledge what the customers want and expects from your online store. Since innovations and technologies are creating a smooth experience for the customers in the e-commerce world, you need to stay ahead of the competition by introducing new and personalized methods of shopping in your online store.
Stress Test The Ecommerce Supply Chains
There has been a high eCommerce surge ever since the pandemic has started and it won't be slowing down any sooner. We are not just saying, a research conducted by Accenture implies that 75% of consumers says that they'll do their holiday shopping via online shopping.
Since the demand would be exceptionally higher during the holiday shopping season 2020, the online retailers need to be well prepared. In order to avoid supply chain issues, retailers must ensure their supply networks are as flexible and efficient as possible.
Also read: How to create an online marketplace? 
How can online retailers meet extra demands without stressing the supply chain?
Well, fulfillment to the home can help you out. Because more than 75% of consumers want the products to be delivered to their home as it will decrease the chances of getting exposed to the COVID-19. As a retailer, this holiday shopping season, you will be required to show your sensitive side since the audience is having almost no tolerance to an unsatisfactory experience. 56% of consumers say that they won't be shopping again from an online retailer following an unsatisfactory shopping experience in the 2020 holiday shopping season.
One more thing to keep in mind is to ensure that the supply chains can efficiently meet the high customer demands over the peak period of the 2020 holiday shopping season.
Also Read: Boost sales with multiple e-commerce payment options
Tips For The Online Retailers To Top The 2020 Holiday Shopping Season
It's obvious that some of the online retailers may panic during the virtual holiday shopping 2020 season due to the excessive demands. But don't worry, we have got you covered! No doubt, that the 2020 holiday shopping season is going to be a virtual one, but the best part for retailers is that people are ready to spend their money! So, here are some tips for online retailers to manage the holiday shopping 2020 effectively and efficiently:
Shift your focus to personalization. Ensure that the e-commerce experience for your customers is personalized and relevant as it will help you to increase your sales and revenue and on the other hand, will keep the customer coming back to your online store during this holiday shopping 2020.
Polish your marketing strategies. A large base of your customers can mainly be found on social media. So, it's very crucial for you to provide them with updates on all the social channels and other digital touchpoints. If you haven't planned your messaging and email strategy yet, hurry up and plan it now! Try to keep it as much, specific, authentic and professional as possible.
Acknowledge the consumer expectations and demands. According to a survey conducted by Radial based on the time range of the holiday gift deliveries and half of the respondents said that 5 days of delivery were reasonable. But you need to cover up as per the expectations of the rest half as well.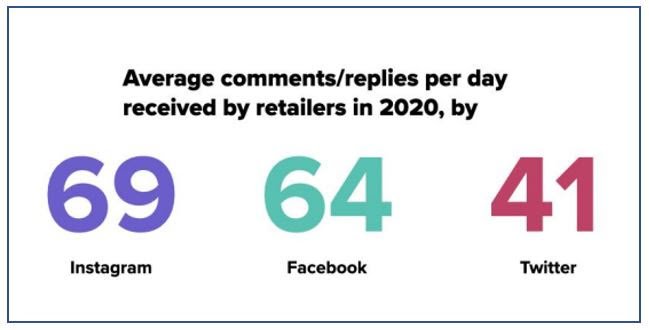 Source: Sprout social
This is it from our side. Note these points attentively since this is the exact glimpse of the future of the holiday shopping season. With these holiday shopping trends, try to acquire the trust of your audience by following what we said in the earlier sections.
At CedCommerce, our main goal is to help retailers throughout their e-commerce journey with the help of our advanced and efficient marketplace solutions and extensions. Our team at CedCommerce, is always looking forward to helping you out in order to enhance your e-commerce experience. Got any query? Connect with us today!
The post Holiday Shopping Trends And Predictions For 2020 appeared first on CedCommerce Blog.