How about this?
Post a simple product – set a release date – seal the deal
Adding up into the most trending and exciting shopping fling, Instagram has introduced drops; for releasing limited-edition products and small collections for a short time. The update has come up to meet the demands of an always-on shopper through small-batch launches and anticipate releases; that would make products feel more special and desirable to the masses.
Drops can be easily found inside your Instagram app at the top of the Shop tab. Brands and merchants can drop their newest collections, creating a buzz, hype, and exclusivity among shoppers for forthcoming products in the days and weeks.
It's been quite a fuzz since Instagram launched the newest, Shop experience in 2020, topping it up with the in-app checkout. Powering the gestation of social commerce, CedCommerce as a partner to Facebook and Instagram has been continously empowering merchants to leverage exciting commerce features from the comfort of their online stores.
Promote Less Reveal More: Shopping Product Drops
When you open Instagram, Drops will now have their own destination inside the app, where users can discover, browse and shop all the latest product launches, and view upcoming launches.
Moreover, Drops go one step forward by allowing shoppers to sign up and receive reminders about products they're interested in. Furthermore, shoppers can also look through products and collections from other drops that recently took place on Instagram.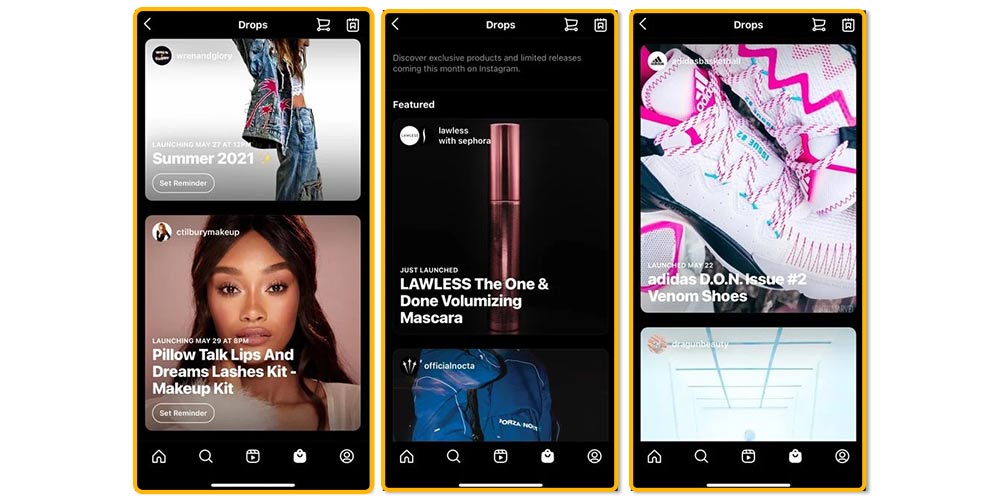 Till today, brands across fashion, beauty, streetwear, and others have successfully utilized the feature. Meanwhile, this week has five total drops available, and the number may vary from week to week.
Besides, Instagram has been running Drops since 2019. It was only for releasing the product reminders that allowed consumers to get notified when an item they were interested in became available for purchase.
Trends to Life: What do Drops have for Brands?
Instagram Shopping is the heart of social selling, and brands around the globe are using this feature to promote their products and ignite purchases through visual actions.
With drops coming into their sight, eCommerce merchants and brands like you can showcase your products using the product launch feature; which is available to businesses using Checkout on Instagram.
When shoppers engage in Drops, they will be redirected to your brand's page or shop and view the product information such as availability, price, and so on. From there, they can either bookmark the product, add it to their wishlist, or share it with their connections via direct messaging.
Besides, they can return to their cart or wishlist to complete the purchase; by checkout on Instagram without leaving the app. Checkout offers a seamless and friction-free purchasing experience within a single interface; where you can collect the payment all at once.
Hot Debuts: What's More You should Know?
It's no so long that Facebook gave a Livestream shopping push – launching Live Shopping Fridays. The feature allows brands to tag products while going Live, and shoppers can make direct purchases; either from Shops or the website.
With drops, brands like yours can also schedule Live shopping aligning your products on the go. While on Live, you can use an on-screen countdown and confetti animation when the product becomes available.
One major breakthrough: In the hope of helping businesses stay afloat or even grow during this pandemic; Instagram has also waived the selling fees; connecting with the plight of small and medium ventures doing business during all these tougher times.
Where should you start?
Drops are currently available to US businesses that too only on mobile devices. If you are thinking of leveraging this exciting feature; you can simply trust partners for each of your social commerce needs. All you need is a Facebook account and some physical products; that are ready to charm the appealing eyes of shoppers.
The journey is even simpler if you have a fully functional eCommerce business in hand; the partner's solution and assistance let you scale your reach by extending your products all with super ease and seamless management. Are you ready to make your biggest leap!
The post How Brands can make newest Shopping Product Release with Instagram Drops? appeared first on CedCommerce Blog.