With the evolution of the eCommerce industry and the rise in online shopping, it is evident that customers demand promising shipping options from sellers. After setting up your store successfully, the natural next step is to expand your business internationally. This blog will be addressing international shipping with OnBuy, How to earn globally with OnBuy, OnBuy's Expansion, and shipping on OnBuy with CedCommerce.
Everything you need to know about OnBuy
OnBuy is one of the most prominent marketplaces in the UK. Hence, shipping internationally with OnBuy is an excellent opportunity to expand business for UK-based sellers. With a range of over 35 Million products, 8,000,000+ buyers, and 5000+ sellers, OnBuy has shown an immense growth of 6X per year from the year of establishment, i.e., 2014.
How to sell on OnBuy?
Selling and onboarding OnBuy is an easy task to be fulfilled if you adhere to the following steps:
Register -Fill the application form to register your interest. Once done, the onboarding team will reach out to you.
Upload- After completing the setup, you can do it in three ways: creating products manually, using handy templates, or using a channel integration. We at CedCommerce, let you upload your products in bulk by using our integrations.
Sell -Now, it's time to sell. The OnBuy team promotes your products to expand your reach to millions.
Earn -OnBuy is the only marketplace in the UK that offers immediate payments; as soon as your items get dispatched, you receive funds by Paypal.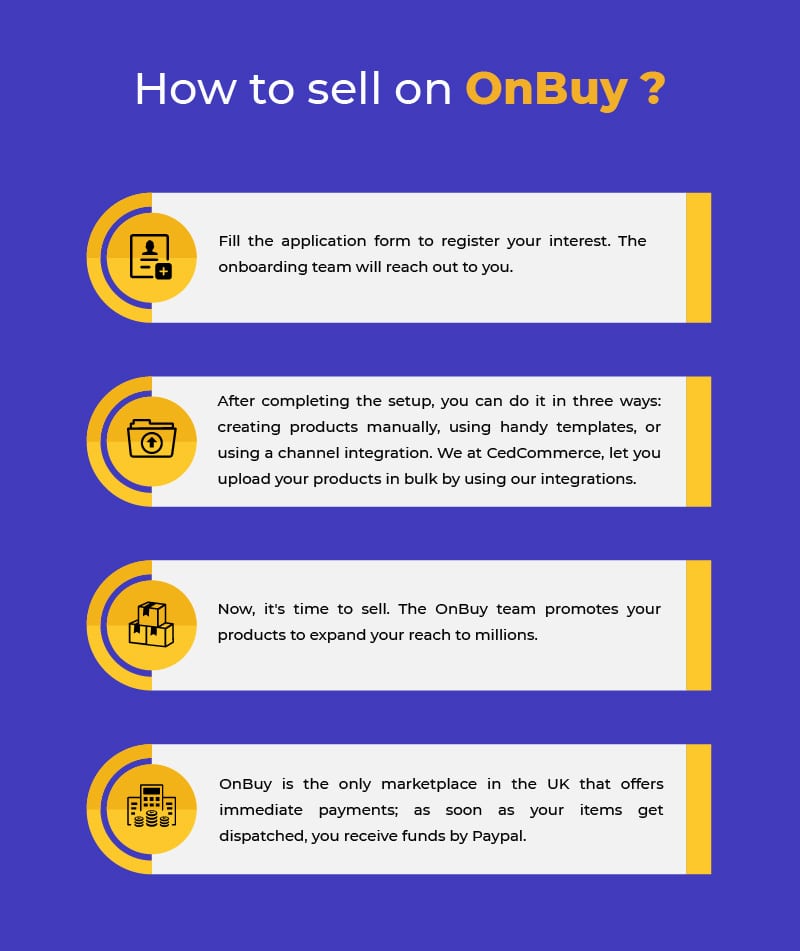 Additional benefits– selling on OnBuy
Sell To Millions Of Buyers- Yes, it is true. OnBuy is among the prominent names when it comes to catering to sellers and customers across Europe. It gives you multiple chances to earn globally. With over 31,000 Trustpilot reviews and excellent ratings, and more than 250,000 monthly visitors per month, OnBuy has marked its presence.
Wider Range- More than 35 million products are live on OnBuy, and the number is rising, making it appealing to the sellers as they get a wider range of categories to sell.
Low Commission Rate- With sales fees between 5-9%, OnBuy becomes an ideal platform for European sellers.
Seller Protection by PAYPAL and Easy Payment- PayPal offers 180-days seller protection and secures your orders. Transactions are securely taken care of by PAYPAL, and you get the payment once the order is dispatched.
Broader Range of categories- OnBuy has a total of 17 departments of categories and thousands of subcategories to fulfill your product range.
Expansion in 140 countries in the Future- With a tremendous amount of success and exponential growth seen since launching in late 2016. Onbuy plans to expand to 42+ countries in 2021 and 140+ countries by 2023.
Efficient support team- OnBuy supports you in your growth and offers excellent seller support, which is available for you 24X7.
Note- If your sales are less than £500, your next month's subscription fees are waived off.
International Shipping with OnBuy
Shipping across borders directly increases your customers globally, which results in more earning. Other benefits include brand awareness, exploring new markets, building new connections, and flexibility to build a business, and above all you know where your targeted market is. Cross-border deals are promising and help sellers to establish themselves efficiently.
OnBuy's expansion strategy aims to attain 50X growth in the upcoming four years. OnBuy aims to become an eCommerce giant in the upcoming years with strong international partnerships, infrastructure, enabling local currency, and an efficient team that delivers the best.
OnBuy is targeting those states that other marketplaces fail to reach. Their successful model of low, competitive seller fees makes them appealing to the sellers. With an adaptive eCommerce model, they are making a constant hold of sellers and are planning to enable a hassle-free shopping experience for sellers as well as for the customers globally.
How to Ship internationally with OnBuy?
Shipping with OnBuy is as simple as selling. OnBuy delivers to over 150 countries and the most popular courier range for OnBuy are Yodel, Royal Mail, and DPD. The delivery cost varies depending on the seller. The below image shows the estimated delivery and cost.
For further information, you can go to the seller panel and do the settings in the delivery section the way you want.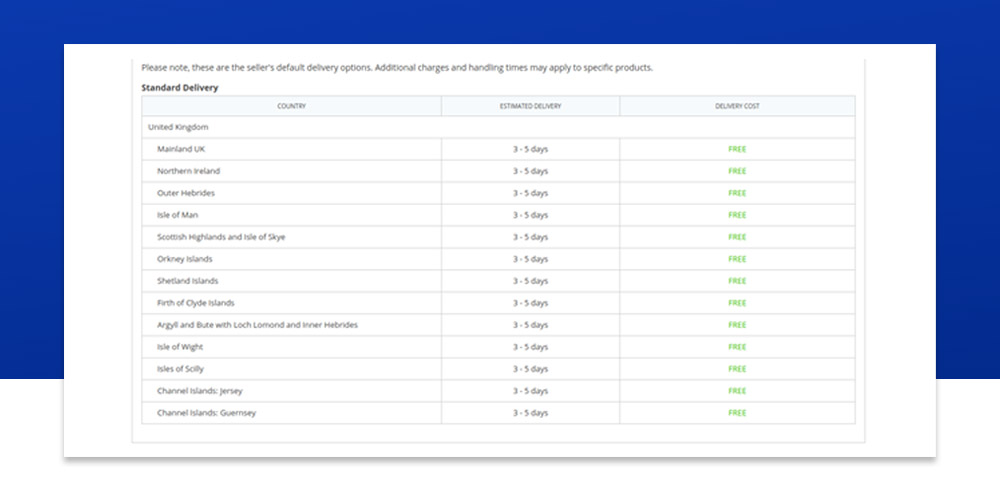 Note- For Holidays you can extend the timeline of shipping as per your convenience.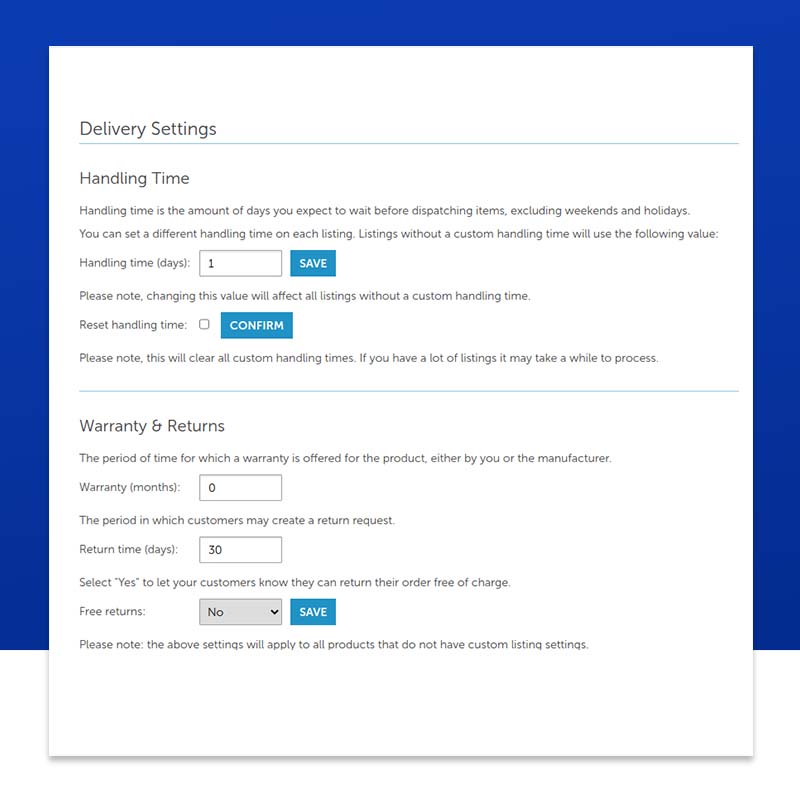 OnBuy has it's own delivery template that is easily accessible by OnBuy sellers. OnBuy considers DHL and FedEx as prominent shipping partners in international shipping
Why CedCommerce?
CedCommerce has become a leading solution provider for big and small businesses. With its establishment in 2010, they are providing tools and solutions to optimize online selling. They are connecting eCommerce sellers to multiple marketplaces with multichannel integrations. CedCommerce aims to provide dedicated expert solutions, for every eCommerce platform you might be exercising Magento, PrestaShop, WooCommerce, OpenCart, Shopify,etc.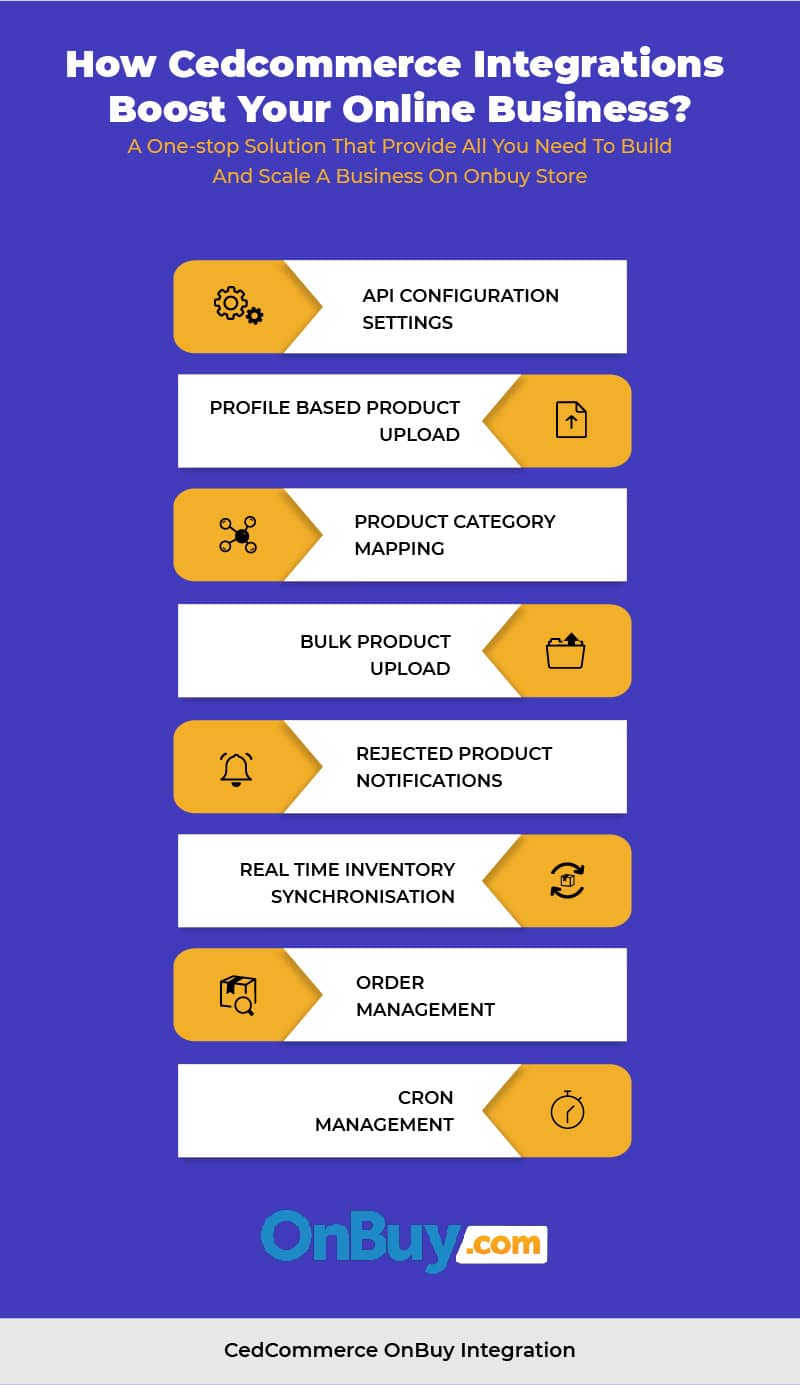 To Sum Up
Offering multiple shipping options to your customers, helps you increase your conversion rate thus attracting more buyers to your store. International Shipping has become a testing benchmark for any successful online business, not just for OnBuy. It hence becomes necessary to accomplish an effective delivery process and dip your toe in the pool of global eCommerce- which is growing at an exponential rate. 
If you're looking to expand your business internationally, OnBuy can be a great choice as the marketplace itself is expanding. Onboard OnBuy and fine-tune your shipping process with the help of experts like CedCommerce, who have 10+ years of experience in providing the best solutions for online businesses.
The post How to Earn Globally with OnBuy's International Shipping appeared first on CedCommerce Blog.