Walmart Canada—one of the most confided marketplaces—is highly preferred by sellers. The marketplace curates a community of esteemed sellers who offer top-quality products and best-in-class customer service.
As the shopping pattern continues to evolve during these times of pandemic, shoppers are buying more essential items from Walmart Canada than ever before. Walmart Canada attracts over27.88 million half-yearly visitors. Thus, increasing the possibilities to scale your products among a wide range of shoppers,
Walmart Canada can undoubtedly be your next big opportunity. However, extendingyour online footprintto Walmart Canada andsetting up your marketplace account can be just the beginning.
To really expand on the Walmart Canada marketplace and stand ahead of the competition, you need to monitor and optimize your seller metrics – CedCommerce helps you do just that. This article will help you uncover the hidden secrets of Walmart Canada's seller performance standards and how you can maintain an optimized seller scorecard through CedCommerce.
Why does seller metrics matter?
Walmart Canada marketplace is committed to offering the best in the class customer service experience. As the number of marketplace sellers continues to increase, the need to ensure the consistent customer experience is on the rise. Thus, Walmart Canada formulated its Seller Performance Standards, which looks over a variety of factors to expand the count of performance metrics over time and summarizes the key seller metrics along with expected targets, which are mandatory measures of reputable service.
These metrics measure the services that provide ease to customers. Meeting these metrics helps you build customer loyalty, which increases your chance of creating a more successful business on Walmart Canada. Besides, the more you sell, the higher your products rank.
Now that it is obvious that Seller Performance Standards highlights clear opportunities let's take a look at key metrics required to meet as a Walmart Canada marketplaceseller.
Seller Performance Standards for Walmart Canada
In its effort to simplify the selling process and improve customer satisfaction, Walmart Canada sellers are held to requirements and agreements associated with ongoing performance.
Simply put, Walmart Canada Seller Performance Standards are the factors affecting the performance of a seller. Sellers use these metrics totrack their selling progress toward goals and sales plans.
Key Takeaway: Considering the ever-changing situation, Walmart Canada has brought in certain relaxations in its policies. You can check the current relaxations in the articlehere.
The seller score is out of a maximum of 100 and comprises the following sections.
Order Defect Rate (ODR) Reduction: Maximum Score= 50
Rejected Returns Reduction: Maximum Score= 15
Customer Experience: Maximum Score= 15
Product Level Compliance: Maximum Score= 10
Content Quality: Maximum Score= 10
Read on to know how these metrics are calculated and what you can do to ensure your scorecard is top-notch.
The Order Defect Rate
Of all the five standards you are supposed to meet, the Order Defect Rate is the most crucial. You must maintain an Order Defect Rate (ODR) at or below 15.5% to meet the minimal Seller performance standards on Walmart Canada, including the following: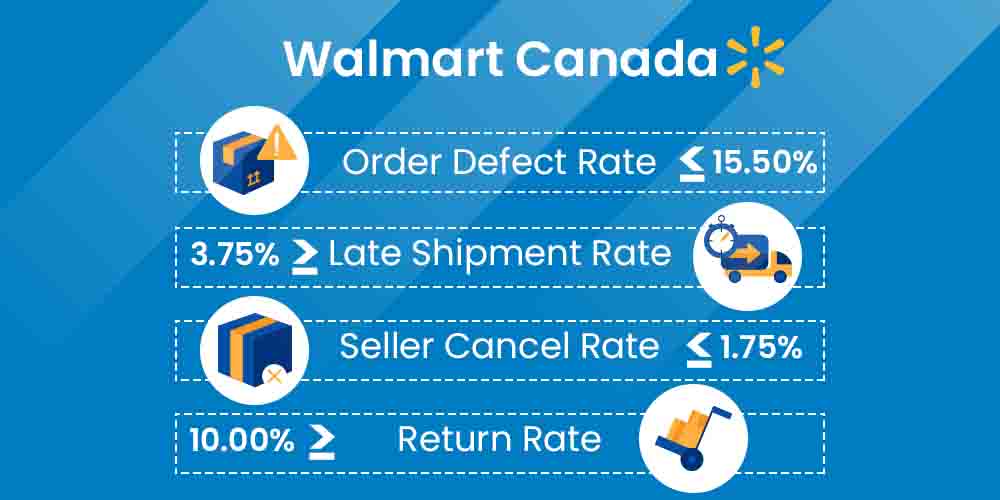 Walmart Canada calculates your ODR for both 14- and 90-day periods, which gets updated on the 1st and 15th of every month. But how are these targets calculated?
ODR is calculated by dividing the number of orders, which include any one of the defined "defects" to the total number of orders during the same period for (90) days.
Overall Defect Rate = Number of Unique Defect POs (Cancellation + Return + Shipping) / Number of Unique POs for 90 Days
NOTE: The ODR is calculated per order. Thus, even multiple defects in the same order account for a single defect for ODR.
Understanding the Order Defect Rate
ODRs relate to the issues which indicate a problem with your service or products quality: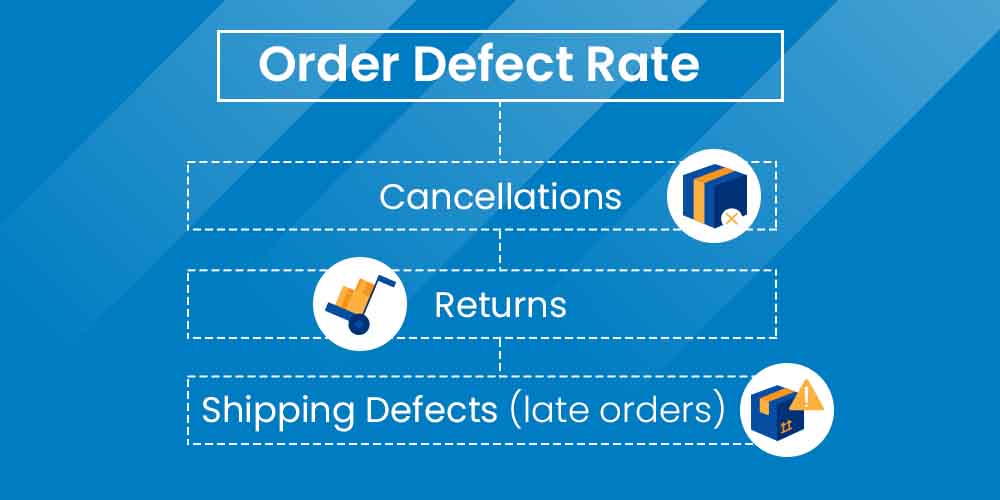 Order Cancellations
Orders canceled after receiving an order from Walmart Canada is considered as a defect.These defects are calculated by dividing the number of cancellations with total PO lines for the same (90) days.
Cancellation Defects= Number of Cancellations/Net PO lines for (90)Days
These cancellation rates have a substantial impact on your business when they are canceled due to seller errors (inventory shortage, inaccurate content, pricing, etc.). You can have control over these defects by overlooking a few common scenarios.
Listing errors
Appropriate product listings are imperative. However, uploading inventory updates can be tedious.CedCommerce'sbulk upload feature helps you avoid significant costly errors.
Pricing errors
Having updated prices of your listings across all the selling channels is a must. However, manual syncing invites the risk of human error and consumes much more time. Specific insignificant differences can be overlooked, but if you unintentionally enter $2 for a $200 item, you can be sure shoppers will bargain, and you will be compelled to cancel the order(s) in that case.
Thankfully, with CedCommerce's Price synchronization feature for your Walmart Canada integration, you can synchronize the price of your products across all the channels at once.
Avoiding overselling
Often, shoppers find it annoying if the item they purchased isn't available after all. Thus, it is mandatory to maintain accurate inventory in your Walmart Canada marketplace account.
However, it becomes a complicated task to maintain up-to-date inventory on each platform if you are selling across multiple channels. Fortunately, the CedCommerce Walmart Canadaintegrationhelps you avoid overselling by automating inventory sync across your channels in real-time.
Product Returns
Some of the online purchases might result in returns. Thus, impacting your business and so you should include multiple images, provide detailed product descriptions, and regularly monitor the product quality. Return defects are calculated by dividing the number of returns with total PO lines for (90) days.
Return Defects = Number of Returns/Total PO Lines for (90) Days
Shipping Defects (late deliveries)
The time it takes for your orders to ship has a significant impact on your metrics at Walmart Canada Marketplace. Orders delivered after the Expected Delivery Date (EDD) comes into this section. You must deliver the items on time to meet your shoppers' satisfaction. Here's how shipping defects are calculated.
Shipping Defects = Number of Late PO lines/Total shipped for (90) Days
Rejected Returns Reduction: Maximum Score= 15
This metrics is related to in-store returns only and is determined by:
Percentage of returns sent back.
Percentage of all shipped orders
The target for both these rejection rates is 10%, which, whenachievedmakes the sellers earn a full score of 15.
Customer Experience: Maximum Score= 15
Walmart Canada believes in offering seamless customer experience, and so they expect sellers to resolve the issue quickly. Now, this customer experience component of the seller score is an equal division between the Seller Contacts per Order (CPO) rate and the Seller Aged Escalation rate.
Sellers are awarded a full score if the CPO rate is at or below the target of 10%, and the Aged Escalation rate is at or below the target of 20%.
Product Level Compliance: Maximum Score= 10
When selling on Walmart Canada, you must keep a check of the prohibited items and abide by the selling laws. Sellers are suggested to review their list of items and take quick actions. They are then evaluated based on their total number of item violations along with their percentage.
Content Quality: Maximum Score= 10
Generally, product descriptions play a crucial role in determining your seller score. Walmart Canada eMails the sellers' content quality score bi-weekly and signifies critical content errors that can be improved to improve an item's content.
Improve your selling experience with CedCommerce
A right seller metrics impact your growth on Walmart Canada and empowers you to delight shoppers. Building a large customer-base by encouraging returning and new customers to make purchases, enhances your product ranking, and reduces cancellation rates. Thus, reducing your chances of Walmart account suspension.
Experience a hassle-free selling experience with the automated features of Walmart Canada Integration solution along with the easy listing, and syncing. Sellers with stores onShopify,WooCommerce,Magento, Magento 2andBigCommerceplatforms can access these features right away.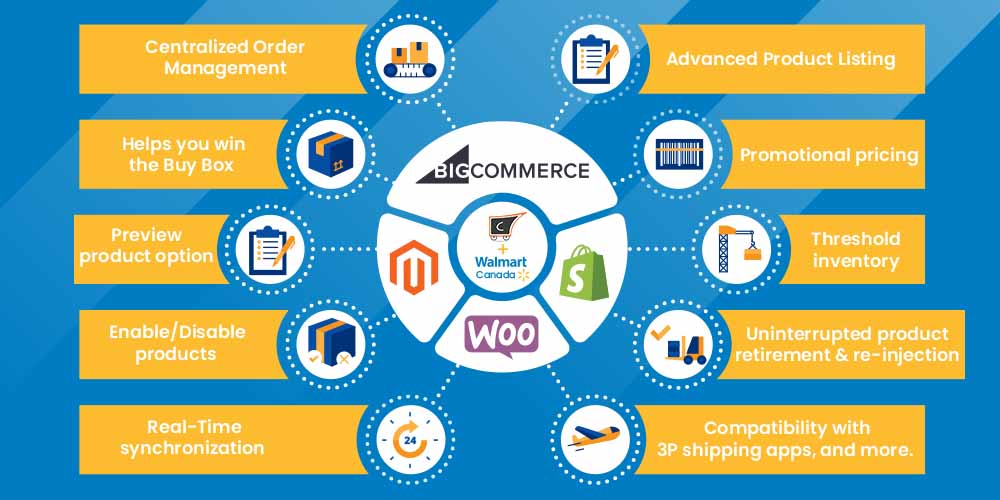 Tracking your performance in Seller Center
With Walmart Canada's Seller Center analytics tool, you no longer need to guess around as it helps you monitor your seller metrics and track overall performance.
To access your performance insights:
Log in to the seller center and navigate to Insights >Analytics.
Click seller scorecard and scroll the page to view different metrics- Cancellation Defect, Return Defects, and Shipping Defects, respectively.
Walmart Canada never suspends your account unnecessarily. However, if you have been suspended due to a lower seller score, you can always submit an appeal to the Walmart marketplace.
Data brings clear transparency and helps you segment your selling journey. These seller metrics provide you key data insights about your orders. Now that you are well aware of Walmart Canada's key metrics, we wish you proactively work on the areas to improve your seller scorecard. Happy selling!
We are available 24*7 to help you with the best of our services. For more details, contact us through any of your preferred mediums and like us on Facebookfollow us on Twitterand connect us on LinkedIn.
The post How to improve your seller metrics on Walmart Canada? appeared first on CedCommerce Blog.