The revenue of  a business whether big or small depends upon its popularity. Every action from the audience counts in the extent of popularity. A new visitor is impressed by a volume of followers, likes, and shares. He envisions a perspective after reading comments on your new product in the market. That is why various social media marketing strategies are applied to acquire praiseworthy comments. Positive customer feedback if highlighted on the homepage is productive to promote your business on social media. Brand value in the market is enhanced in the process.
Social Media Benefits To Small Business
Social media is becoming a rampant medium for online business growth. Especially the ventures that are dependent totally on the internet to acquire leads. However, perplexity holds small business owners regarding their reach to the target audience through social media. They are entrapped in the perception that marketing through social media is not helpful in expanding their business.
This is an illusion. An effective social media marketing strategy fetches more money from existing users. More customers are added to the process of retaining old customers. Several advantages are gained through social media marketing for business. It increases traffic on the brand page, building traffic conversions, and increases awareness about your presence. Well-established business owners like 'Luxy Hair' were brainy to make the most use of social media. Owner Alex Ikonn sold hair extensions through his Youtube channel.
Social Media Marketing Strategies
If you are the owner of an entity that kick-started recently, the following procedures are some of the ethical practices of improving public visibility-
1. Brand Presence
Social Media for small businesses is a powerful marketing tool that will majorly account for a demarcated value of your business in the market. Many known brands today have millions of fan following because they can be seen on all of the social networking sites. Yet their sales are high too. New ventures usually find it safe to start marketing from Facebook as Statista inferred that nearly 1.5 billion daily active users exist on Facebook.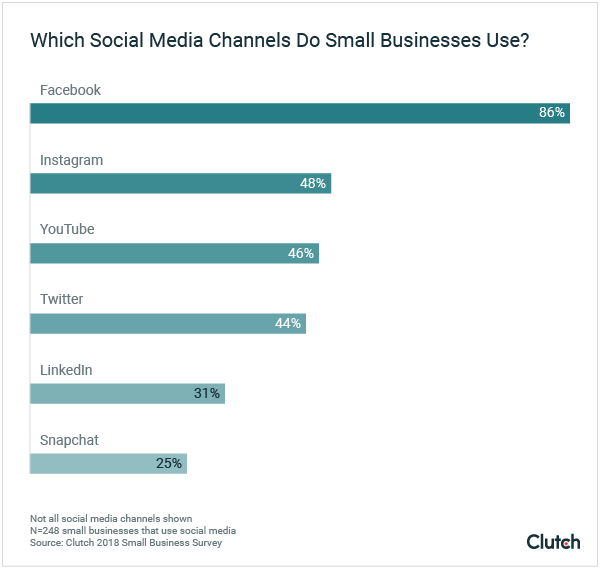 Image Source: Clutch.co
However, just one page for your brand on Facebook is not enough to upheave your visibility in the market. Your brand name should flood throughout the internet. Facebook, Instagram, Snapchat, LinkedIn are the popular social media platforms where your target audience could be found. People other than your favored crowd are also present on these platforms. This does not mean that profiles on one of these platforms are enough because you think your purpose will get fulfilled here. This is a mistake to think like that. Though people from all backgrounds are present, the majority of the audience that specifically wanted your service is active on one of these platforms the most. For example, If your target market is B2B, it would be wiser to focus on social media platforms like LinkedIn. 80% of the lead generated by B2B brands come from LinkedIn.
2. Optimize Your Content
Structure the content of your brand such that your readers can recommend others. The blog of your product experiences adequate traffic when it is readable and can be comprehended easily. It is informative enough that people refer back to your blog repeatedly whenever they need it. The site that has more traffic and is often recommended naturally rises in search results.
Optimization is the most important social media marketing strategy to promote your business. An optimized blog consists of relevant pictures, videos, infographics, DIY guides, and much more. Statistics mentioned in it are authorized by attaching curated links. Curated links improve the standard of your content and make it look professional. It also helps the visitor to trust your content and rely on it. To acquire better optimization, focusing on keywords is recommended. Search engines display results according to words user types when searching for a piece of information. Lastly, create an eye-catching headline that the user is prompted to come back after missing it out due to quick scrolling.
Image Source: Bridgingpointsmedia.com
3. Improve Page Content
Regular updates maintain a subscriber's interest in your page. An update can be anything- a new product, blog, new features in an app. Your subscribers will always explore recent upgrades. A reader in 2020 is not able to get satisfied with the data that was written back in the year 2015. He wants to know the recent scenario. Post videos daily about the new product on the YouTube channel of your brand. Advertise its updates, and show the nature of product to the subscribers. Inform viewers what is next in your to-do list (this generates curiosity and invite them to check the channel frequently). They will move on to the competitor if your channel remains dormant.
Image Source: Clutch.co
A reader should not be hurdled regarding access to your blog. Your website needs to be organized well according to the reader's comfort. A page dedicated to your recently launched product gets more reads or more sales when it is maneuvered properly. Not all but a few of your blogs should make a presence on your home page. Or make a tab that consists of a list of blogs your team has written.
4. Make the Most Out of Your Followers
Pleasing followers is counted as a successful social media strategy. Followers convert into customers if your appearance is frequent. A profile whose content is consistent to its theme avails a follower-cum-customer to a small business. An electronic eCommerce creates a video tutorial on a new smartphone. It is uploaded on YouTube or Instagram. Viewers are astonished to see some unexpected features demonstrated in the video. In this way, followers will get astonished and apply the hack to save their time.
People admire your page because it serves their purpose. They love inexpensive products or will be joyous on seeing a discount offer on their favorite product. A customers is happy when his problem is resolved. Imagine if someone is not able afford his favorite expensive perfume. But buys that perfume immediately after a discount from your side. You will get a happy, permanent customer in return. A drop in sales becomes rare. It is a fruitful option to let users know about your promotional offers, or customer service provided, or any product available for free.
Image Source: business2community.com
5. Analyze Success
Your progress is important to determine. It helps to eliminate drawbacks, leading you to success. There are effective social media marketing tools to filter out techniques applied that failed to enhance marketing. These tools inform activities of followers-conversion to customers, who liked all your posts, and much more. The owner learns the behavior of his subscribers through Facebook Insights. It includes interactive visual graphics that are easy to understand even by new entrepreneurs. A study on 344 marketers present on social media revealed that engagement(36%) and conversion rates (35%) are important aspects when measuring success statistics.
Image Source: marketing91.com
6. Popular Social Media Platforms
Owner of a successful venture analyzes his chosen social media website before commencement. He examines unique target user base and specific environment matching its niche. In addition, he observes the site where his sales volume is expected to hike. These are required steps to promote your business on social media. Websites widely used are-
a) Pinterest- An image on Pinterest directs the user to the main page where your product is situated. A random user whether belonging to your focused audience or not reaches your page and gets a brief idea. This is added to the extent of the traffic.
b) Google+ -A super-fan circle is created on Google+ which is great for you to advertise the latest discount you have offered.
c) LinkedIn- LinkedIn is especially meant for a Business-to-Business model. professional agreement is conducted between two similar industries, resulting in one of them becoming a client of the other.
Social Media Marketing is done for free on these platforms. There are other sites social media marketing strategies are conducted well. Instagram, YouTube, Twitter also increase sales and consumer awareness. Besides, extensions and plugins offer advertisement tools after payment.

Image Source: Pinterest

Also read: Social media and Ecommerce: A Refreshing Combination
Conclusion
The key to achieving your desired sales goal is the content of your brand widespread on different social media websites. Interactive videos, pictures, and write-up makes content readable and influencing. Besides, an organic content and marketing tools are applied to measure activity statistics of subscribers. Execution of marketing strategies in a systematic way ensures your extensive reach on social media platforms. 
The post How to Market Your Online Business on Social Media? appeared first on CedCommerce Blog.