Have you been spending money on advertisements to reach the audience and still facing troubles? You need to Advertise where you can get the maximum audience and what would be a better space than Google-the world's largest search engine with 62.5% market share and 259 million unique visitors. With the scope Google holds, it is one of the best online platforms to build your business. This blog discusses everything you need to know about Google Ads and the ways you can optimize your Google Ad campaigns for the best results. Remember, the more focused and potent your paid campaign is, the more productive will be the clicks for your advertisement. However, before we move ahead with learning the tricks on advertising with Google Ads Let us know what it is.
What is Google Ads?
Google Ads is an online advertising platform that runs on PPC(Pay-per-click) advertising model, wherein the advertiser(that is, you) will pay per click on your ad. It is also an effective method for attracting customers to the website for your products and services and can eventually boost traffic and leads.
A few glossaries you should remember while understanding Google Ads.
Ad Rank
Ad Rank determines the rank of your ad. The higher the value of your ad is, the more visibility it will gain. Your Ad Rank is calculated by multiplying your maximum bid with the quality score of the Ad. Bidding Google ads work based on a Bidding system where you set a maximum bid amount for your ad. The more you are willing to spend for a click on your ad, the better is the placement. The three options available for bidding are
CPC( Cost Per Click)
Cost per click is the amount you pay for each click on your ad
CPM( Cost Per Mile)
cost per mille is the amount you pay when 1000 people click on your ad
CPE( Cost Per Engagement
Cost per engagement is the amount you pay when a visitor takes action on the ad.
Campaign type
To start a paid campaign ad on Google ads, you need to select the type of campaign for your ad. The three varieties of the campaign are Search ads are text ads that appear on the search engine result pages Display ads are image-based ads Video ads are 15-sec ads that appear on Youtube.
Click-Through Rate (CTR)
Click-Through Rate is the number of clicks you are getting on an ad in proportion to its views. A Higher CTR indicates good quality Ad
Conversion rate (CVR)
You can measure this rate by checking the form submissions in proportion to the people who have visited the Landing page. A higher conversion rate means the Landing page gives an excellent experience to the user.
Keywords
They are phrases or words which align best with the searcher's intent or query. For example, if you search for "how to decorate the house for festivals," the advertisers who have used keywords like "festival decoration" as the targeted word in their ads will be displayed to you.
Pay-per-click(PPC)
is a paid marketing channel wherein the advertiser has to pay-per-click on an ad. PPC is not just restricted to Google Ads but is one of the main aspects of Google Ads.
Quality Score
It measures your ad's quality through Click-through Rate (CTR) and your keywords' relevancy. It determines your Ad Rank.
Now that you know the basics and the terminologies used for Google Ads, it is vital to know the Advanced strategies or tips you can easily follow to optimize your Google Ad campaign.
Google Ads strategies you should follow.
1.Add extension to your campaign
Google Ads extensions are the fastest way to increase conversions. Not only does this enhance your Ads but also increases the click-through rate and conversion rate, which can make significant changes in your Ad campaigns.
2.Differentiate between your customers
It would help if you separated the product marketing campaigns and general awareness campaigns. Since your regular customers already know you and expect the products and services they need, you need to avoid showing them ads related to brand awareness and instead showcase your product ads to them for better conversions. You can indulge in displaying brand awareness ads to the new customers because they have only begun to know you.
3.Fix your Landing Page
A useful Landing page keeps the audience engaged for them to convert, but if your Landing page is not upto the mark, it will hit back in terms of a high bounce rate. If Google picks up your high bounce rate, it will affect your Ads campaign quality score. To avoid this situation, you need to add visuals and Ad keywords on your Landing page. You can also indulge in A/B testing to know what works best.
4.Stick to specific Keywords
The higher the click-through rate is, the more you are going to end up paying. Please do not fall for this trap and stick to using precise keywords and not broad ones for your campaign; otherwise, your ad might get a lot of unnecessary clicks and zero conversion for which you are going to pay. For example, if the ad is for Guitar lessons, use "guitar" as the keyword and not a broad keyword like "musical instruments."
5.Negative words effect
As much as your keywords are essential, the Negative words are too. With Google Ads, you can tell Google what your ad is not about, which substantially impacts your ad. The negative words can help you reduce the costs by targeting a specific audience and improving your ad's quality by making it more relevant. This way, you are going to pay less for better results.
6.Quality score
Google uses the Quality score to measure the quality of your Ad. This quality score is not limited to the ad alone but different factors, including the ad's relevancy, how it benefits the customers, and the keywords you are betting on. Quality score is important because it will decide whether your ad will be displayed or not. So, Do not just optimize the Ad but also make your Landing pages mobile-friendly for a good quality score.
7.Remarketing
Google Ads lets you run various audience-based campaigns, which is not taken advantage of. Many marketers think that Facebook is the only way to reach a lot of audience, but that is not true. Ad words, too, have great options for Remarketing. You can have tons of audiences based on specific-actions like dates, tags, or specific page visits, and when you target such interested customers, the conversions tend to increase. Once you know what specific actions your customers are taking and you can connect the dots and become more sure of how to go about generating more leads. Hence Remarketing is a crucial aspect of Adwords.
8.UTM codes Tracking
It is essential to track the running Ad campaigns, and UTM Tracking is the easiest way out. But what are UTM codes? Let us see what the definition of Urchin Tracking Model (UTM) codes is on Google.

Google uses UTM codes to track the Ads campaign and can track the part of Ad that leads to conversions for understanding which strategy is working for you and which is not. But how would you know if you need to use UTM Tracking?
Well, if you have these three questions unanswered, then you need to use UTM codes.
Which campaign has a high bounce rate?
Which campaign is performing well and attracting more sites?
Which campaign has a longer average time on site?
If you are unable to answer these questions, then get UTM codes today. To use the UTM codes, you can add them manually using Google's UTM builder or add them at the ad campaign level.
9.Offline call tracking
If there are conversions on your Landing page, Google Ads can track and record them. But what happens about the conversions that happen over Phone calls? What if they happen offline? How do you know where the conversions came from? Unfortunately, Google Ads is not very fluent in tracking the calls, so similar to UTM codes, you can use CallRail and track all the phone calls.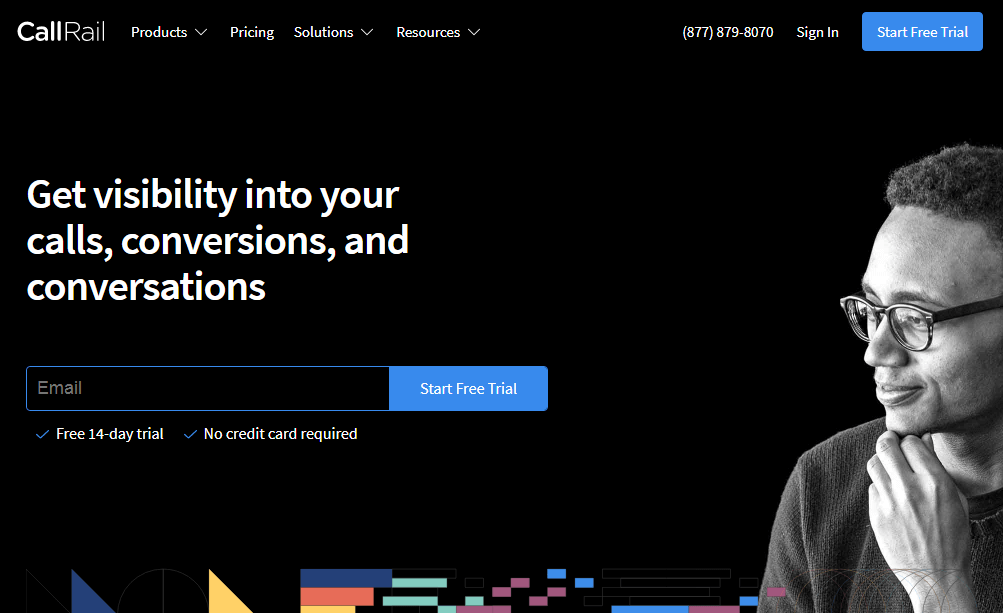 CallRail acts as an excellent link between Google Ads and tracks the phone call conversions for you.
10.Optimize for mobile traffic
In this smartphone generation, the whole world is on mobile, and even the stats show that mobile traffic has surpassed desktop traffic. As a result, you need to optimize your Ad campaigns for mobile to not miss on good quality traffic. One of the most powerful techniques to optimize ads for mobile is by Adding Site link extensions to the campaign because no visitor will stop what they are doing and search for what you do. They want the information fast, and so you deliver it to them quickly by using this method.
To Add site link extensions, you need to add extensions on Adwords and click on Sitelink extensions. But remember, when you are optimizing for mobile, then choose mobile as the device preference. That way, Sitelink extensions will only optimize for mobile traffic. This method is the easiest way to drive more traffic.
11.Optimize your bids using Geotargeting
Google lets you adjust the proposals according to your location, which will help you optimize your bids. After all, your campaign goals are to increase conversions and click-through rate. If you use Geotargetingyou can customize your bids for specific areas and increase your ad's relevancy, which will also reduce the cost because it will declutter your campaign and improve the quality score of your Ad.
For example, if your product is summer clothes, you can avoid bidding on cold places because they would not need your products. So, you are saving on time and bids by using Geotargeting
Google ads campaign tips for 2021.
Well, Google's optimizations are not always in your favor, and as a marketer, you want to maintain control over your strategies. One solution to this is to use a campaign optimization tool named SEISO. Things you need to focus on in 2021:
1.Organize your campaign budget
With so many campaigns, keywords, and Ad copies, it becomes difficult to handle all of it after a point of time when you have to add more to the bucket. To avoid the clutter, you need to check the two reports- Quality score and Search query report that highlight keywords that are triggering your ad.
2.Make it Visual
Creatives and visuals are what attracts the customers. Creative quality weighs up to 80% on Facebook and is getting important on Google Ads too. So, it would be best if you made the visuals count. You can use SEISO to check the recommendations for optimizing the Ads.
3.Know your Strengths
As a marketer, you would think that the more you spend on the keywords, the more return you will get, which is partially true but make sure you have the maximum market share for keywords that are profitable for you. To make sure you have no lost impression, you need to monitor the Google Ads on the Search engine result page (SERP's) Lost impression represents missed opportunities on the search-related keywords that you bid on.
In the End
Google Ads is one of the most impactful spaces for setting up an Ad campaign with unlimited options and Metrics. It can be very time consuming, but Google Ads customizes the whole campaign for you, making it perfect for your goals. You should try it for yourself and see the results. I am sure it will help you expand your reach and track conversions for your products and services.
If you are already using Google Ads, How has your experience been?
The post How to Optimize your Advertising campaigns using Google Ads strategies appeared first on CedCommerce Blog.