To sell anything online you need to set up an online store first. You can either set up your online store through an open-source platform like – OpenCart, PrestaShop, WooCommerce, Magento, etc, or SaaS platform like – BigCommerce, 3D Cart, or Shopify. This article is all about the eCommerce platform Shopify and how to set up your Shopify store step-by-step. 
Before we take a deep dive into how to, let's see why Shopify is the right choice for you! 
Shopify – The Epitome of eCommerce Platforms!
The inception of the eCommerce platform Shopify is rather an interesting one! Basically, Shopify is a SaaS platform (Software as a Service) trusted by more than 800,000 online sellers. You can set up your online store with Shopify without any hardcore technical expertise. 
Tobias Lutke, Daniel Weinand, and Scott Lake wanted to set up their online store – Snowdevil but the trio faces complications while doing so. After experiencing the pain points of online sellers, they worked hard and launched the eCommerce platform Shopify during the summers of June 2006. 
Within 3 years, the team launched an API platform that allowed developers to create applications exclusively for Shopify stores. 
Since then, the eCommerce platform Shopify kept growing and sellers from across the globe appreciated Shopify for making their eCommerce journey smooth and full of entrepreneurial learnings and growth. You can reach out to any Shopify seller and they will agree to the fact that – setting up an online store on Shopify is comparatively east and interesting!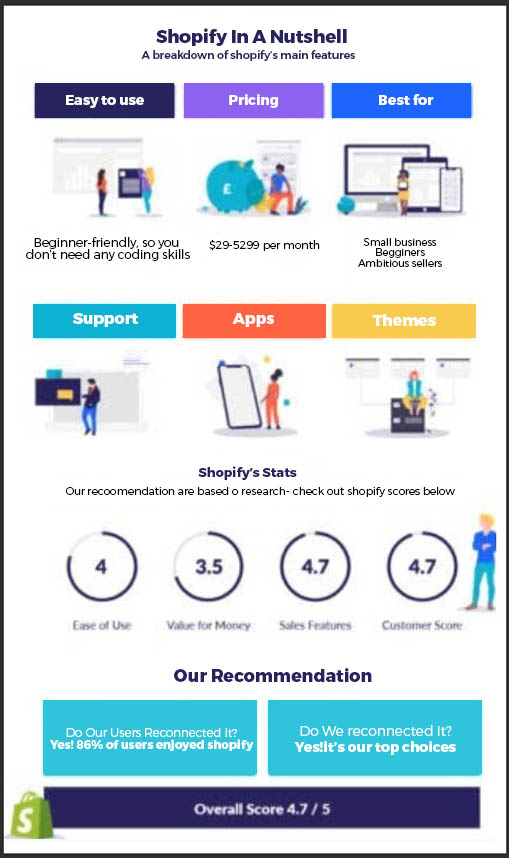 Why Should You Set up Your Online on Shopify? 
Just like blogging is easy with WordPress, selling stuff online is easy, interesting, and affordable with the eCommerce platform Shopify! You can sign-up for a 14-day free trial and during that time you can set up your Shopify store, test the applications. If you get a good grip on the eCommerce platform Shopify, you can even grab some sales! 
Shopify plans are suitable for sellers of all kinds! You can set up your online store by spending as low as $29 per month. If you're willing to invest more, you can also go for Shopify Advanced or Shopify Plus Plan.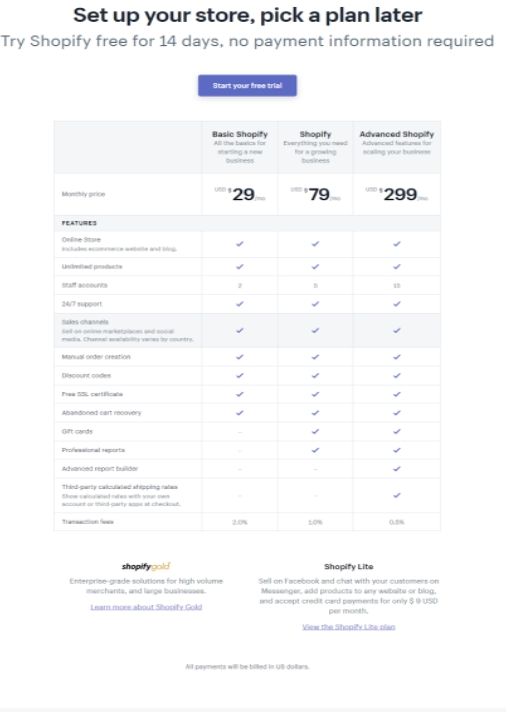 Other than it's planned, here are some add0on benefits of the eCommerce platform Shopify – 
Shopify Admin – You can find a range of reports that helps you in understanding the performance of your eCommerce store. Apart from order tracking and best performing product pages, you can get a real-time view of your visitors. 
Free Features – Shopify store comes with a pre-loaded theme and you have the freedom to customize it to suit your branding requirements. Then there are free fonts, eCommerce themes stock photos, and a number of free apps that you can use while you set up your online store. 
Shopify is on a Cloud Network – You don't want your store to crash during crucial moments right? eCommerce platform Shopify is on a cloud network – you're free from the fears of your site crashing time and again. 
Support from the Experts – One thing that makes Shopify stand out of the crowd is its community of Shopify experts. If ever you find setting up your Shopify store difficult, you can reach out to Shopify experts. 
From social media to Shopify's official forum – you'll get help from the experts at your convenience with everything you want to know about how to set up your Shopify store. 
How to Set Up a Shopify Store (Step-by-Step Guide) | The Baby Steps – 
From domain set up to adding products, payments, and shipping services – this Shopify step-by-step guide covers everything! Let's have a look at how you can build your online store through the eCommerce platform Shopify.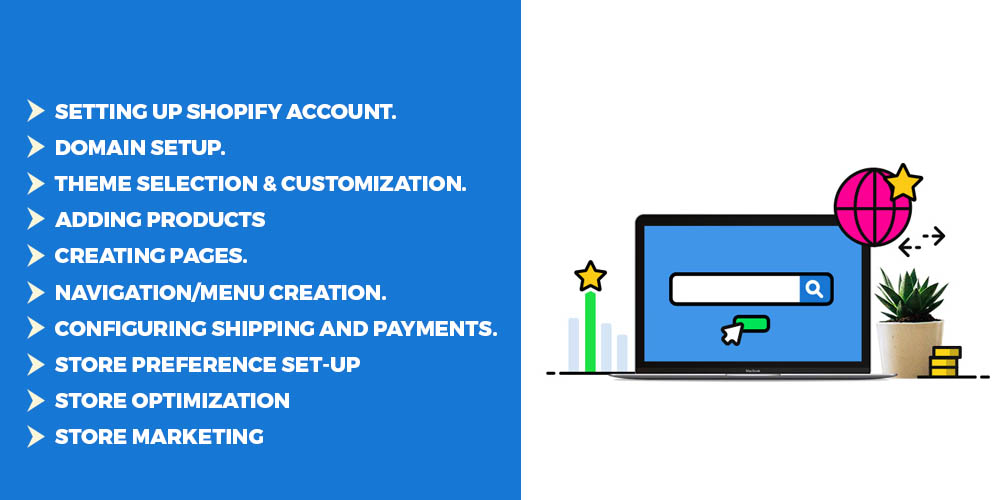 Setting up Shopify Account – Signing up on Shopify is a matter of seconds and the process doesn't require your credit card. You just enter your store's name and other credentials. 
If you're already doing a business, you need to reveal your current revenue. Then you can enter your business address. Once you're done with your Shopify account, your dashboard would look something like this – 

Domain Setup – It's the URL that links your store. This is what your customers will type in the address bar. While you set up your online store through the eCommerce platform Shopify, a primary domain is already waiting for you – yourstore.myshopify.com

But you can also have your custom domain or connect a domain that you already own. 
Theme Installation/Customization – Theme is an eminent part of your online store. It's what your customers will see when they visit your store. Choosing an attractive and highly functional theme is crucial while you're setting up your online store. 

eCommerce platform Shopify comes with an inbuilt theme – Debut. But you can customize it as per your requirements. You can also explore free and premium themes available at Shopify's theme store. 

Get in touch with Shopify experts to get your theme customized as per your brand's requirements!
Shopify Store Set-Up Guide | The Building Blocks – 
Now that you're done with the preliminary setup, it's time to add products to your store, followed by – the creation of pages, collections, and menu. 
Adding Products to Shopify Store – Your products are physical goods, digital services, and gift cards that you offer to online shoppers. But the main question is – how do you add products to your Shopify store? With eCommerce platform Shopify, you can add products to your store manually, or automatically in one go!

If you're dealing with limited goods and their variants, you can add products to your store manually. But if you have quantity in a bulk, you can add all the products at once through a .CSV file. You can also add products to your store from other platforms automatically! Just like you have a name, and carry some worth, your products also carry some basic traits that you need to fill while you're adding products to your store. Click here to go to adding products to your store – Our Shopify step-by-step guide!
Adding Products to Collections | A Vital Element of Shopify Store Set-Up Guide – 
After you set up your online store on Shopify, you add products and create collection pages. Collections refer to the group of products belonging to the same category. It helps customers to view similar products together. 
Once you have created a collection, it goes live on the store as a webpage with a gallery of the products that are in the collection. Customers can then click a product image to visit a specific product page. 
You can also add links to the collection in a menu in your store's navigation. The layout and appearance of collection pages depend on the theme you have chosen. 
With eCommerce Platform, Shopify Create 2 Types of Collections –
Automated Collection – Uses selection conditions to automatically include matching products. You can add up to 60 conditions and also specify whether products need to meet all of the conditions or selected ones to be included in the collection. 
Click here to know how you can add automated collections to your Shopify store.
When you add new products that match the selection criteria, the product is automatically added to the collection. Isn't that wonderful? You can save a lot of time by using automated collections if you have a large selection of products. 
One bummer with automated collections is that you cannot remove a product from the list unless you change the conditions or edit the product details so that they no longer match the conditions. 
Manual Collection – It includes only the products that you choose on your own. Manual collections take more work to maintain but it's a good choice for small and specialized collections. If you're planning to hold a one-time flash sale of just a few products, then you can create a manual collection for them and set up a discount for just the products in the collection. 
Coming Back to the Building Blocks – 
Creating Pages – Then you need to create pages like – About us, Contact us, T&Cs, Privacy policy, and likewise. The image below gives a brief idea that customers also check your pages other than product and collection pages. 

You can use Privacy Policy Generator & T&C Generator to create pages for your Shopify store. The tools create professional and legally authorized pages for your store. 
You can also use the default templates available in the eCommerce platform Shopify. Just go to Settings > Legal and there you'll find ready-to-use templates. 
Follow the below steps to create pages in your Shopify store – 
– Go to Online store > Pages.
– Click on Add Page. 
– Enter title & content for the page. 
– Select if you want to publish it now or later. 
Click on save. 

Navigation & Menu Creation – With a proper menu, you tell your visitors what all you're offering in your store. If you set up your online store with a distorted menu, all your other efforts would go waste!
Navigation and menu depend on your store's theme and product categories. You can change the navigation menu from the navigation page in Shopify admin. 
It's suggested to get in touch with a Shopify expert to come up with a smooth and logical flow of navigation menu.
Shopify Store Setup Guide – Shipping | Payments & Store Preferences – 
It's shipping and payment services that make or break a deal. No Shopify store set up guide is complete without sharing how you can set shipping and payment services in your store. 
Shopify Shipping Set Up – Shipping can be one of the most time-consuming and frustrating parts of running an online business. As your business grows, shipping gets complicated. But shipping services with eCommerce platform Shopify is simple!
You need to understand shipping carriers, types of shipping rates, labels, and profiles before you do amendments to the Shopify shipping set up. 
Here is a step-by-step guide to dodge hectic Shopify shipping!
Adding a Payment Method – By adding a payment method, you can revive payments from your customers against the goods they ordered from your store. But while doing so, you need to be really careful about the payment method. 
eCommerce platform Shopify offers a range of payment methods – from credit cards, UPI, to buy now pay later. Once you have figured out the most preferred payment method of your target audience, you're good to go!
Click here to get a deep insight into Shopify payment methods!
Summing Up – 
So this is how you can set up your online through the eCommerce platform Shopify from scratch! However, how to set up a Shopify store step-by-step guide is just the tip of the iceberg. Store setup is a continuous process where you keep on experimenting with things from time to time. 
If you actually want to become an eCommerce connoisseur, you must know how to sell on Shopify with a strong ad strategy. All the best with your journey. 
Happy selling!
The post How to Set up Shopify Store Step-by-Step | Your Shopify Guide appeared first on CedCommerce Blog.