What is Augmented Reality Technology?
Augmented Reality is the process in which digital content like images, sounds, or text is overlaid upon the real-world objects around us. The most common example of Augmented Reality technology can easily be seen on social media apps like Snapchat. By making use of Snapchat filters you can enhance an image of yourself by applying different filters to it like you can add virtual puppy ears to your image, or it can add any other virtual thing over your image.
While hanging with a bunch of friends, you might have snapped wonderful selfies with your pals, and before posting it on your story or feed, you can audio effects, graphics, icons, or captions. So these are some very basic examples of AR that almost everyone uses in their daily lives.
AR Vs VR
Technology is advancing faster than it has ever before, and it is very difficult to keep up with everyday technological advancement. So being a business owner or an investor one must keep updated with the latest technology or trends of the market. Here are two latest technologies that have changed the direction of the entire technical world. AR and VR both are basic types of immersive technology. However, these two words are often muddled with one another and used interchangeably.
Let's discuss the Differences
In virtual reality it is a computer-generated environment with objects and views that appear to be real, making the viewer feel immersed in their surroundings. Emerging yourself into a different world that is a virtual world is the main concept of virtual reality. So to get into the virtual world the viewer needs to wear a VR headset or glasses.
Whereas in the case of AR it does not require any headset or glasses for AR effects. It lets the user superimpose digital content over real-world objects. Users can easily view these virtual generation creations on their smartphones or tablets.
Additional Equipment
Virtual Reality needs a VR box or Glasses to wear to give a virtual experience to the user. Whereas AR does not need any additional equipment to add any special effect on the object you see. It enhances the object you see by adding digital components like audios, images, etc to it.
Surrounding
Virtual Reality takes the viewer to the new virtual world. whereas in the case of Augmented Reality it adds objects to the scenes that you are already seeing.
What are the different types of Augmented Reality Apps?
The best thing about AR is that it is accessible to ordinary users. Nowadays many App development companies are working to offer an enhanced user experience to their customers by offering them in-built AR features in their mobile apps. This has led businesses to a new level of technological advancements. Augmented reality has now made its place in different sectors, you can easily find its applications in different ways.
Different Types of Augmented Reality Incorporates the following
Marker-based AR
Marker-based Augmented reality is the easiest to produce and most available as it is the most commonly used AR. It has its applications for different purposes. It identifies the object in front of the camera and gives data about the item on the screen.
The recognition of the object is based on the marker where it replaces the marker on the screen with a 3D of the corresponding item. Subsequently, the viewer can see the item in more detail and from different points. Apart from that while turning the marker, the viewer can move the 3D image too.
MarkerLess AR
Markerless Augmented Reality is also amongst the most widely used AR, it is also known as location-based AR. To start a markerless AR experience, users have to scan horizontal surfaces like a table or a floor, or sometimes a vertical surface like a wall. Here the system analyses the environment to find correlations and differences between pixels and then defines the vertical coordinates related to the actual environment.
Generally, the Markerless AR feature is available on those devices that have a location-based detection feature in them. This type of app generally works by utilizing the information from a gyroscope, accelerometer, or compass. And can provide the data based on the user's location. Some common examples of this app can be Snapchat filters, or pokemon Go, in which GPS coordinates are used to display the pokemon depending upon the user's location.
Projection Based AR
Projection-based AR is one of the simplest types of Augmented Reality. It is a type of AR that directly overlays digital projections onto the real world. Unlike wearable AR or smartphones, projected AR doesn't generally require a device to mediate. In this type of AR, the light is projected on the surface and the interaction is done by touching that projected space.
Superimposed Based Augmented Reality
In this type of Augmented Reality, the object view is partially or fully replaced by an augmented image. In this type of AR object recognition plays an important role. One of the most common examples of superimposed AR is X-ray in the medical field, where x-ray is superimposed over the patient's body. Also, it can be seen while analysing historical structures like how the structure looks like years ago, and how it transformed into the current one.
Read Also: Top 7 Mobile App Trends in 2021
How Augmented Reality Technology is affecting the E-commerce industry?
Any technology which enhances the user experience and gains positive reviews by the users becomes the trend in the E-commerce industry. The E-commerce industry has seen a quick development in the last few years. And discoveries like Augmented reality have just elevated the user experience by offering them a unique touch and feel of the objects they are going to buy. Features like AR enable the buyers to buy things online with the real look and feel of the item they are buying. AR can superimpose digital data onto the real world. You would be surprised to know that most of the customers are ready to pay extra money if they get AR experience of that object.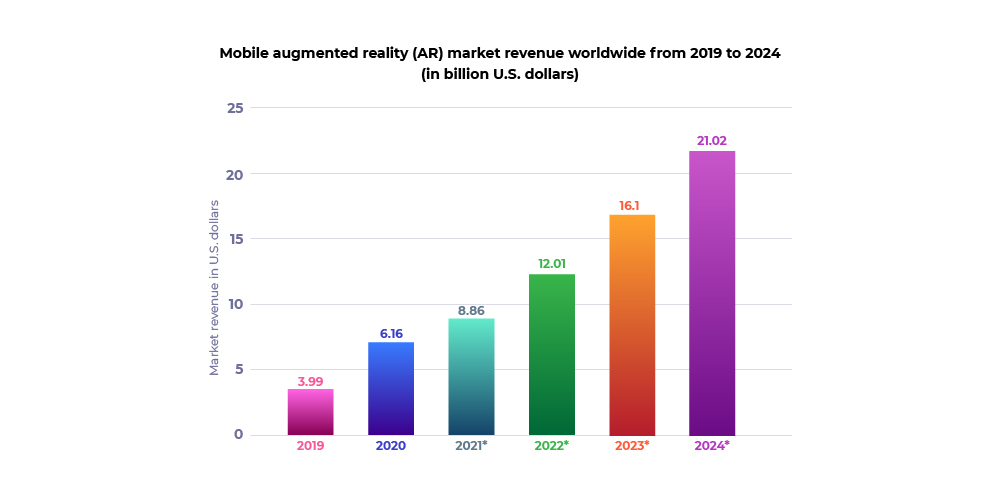 A report by statista shows that "In 2020, the mobile augmented reality (AR) market was worth 6.16 billion U.S. dollars. It is forecasted to rise to 8.86 billion U.S. dollars in 2021, before jumping to over 21 billion U.S. dollars by 2024."
Before digging into the Applications of AR-based Ecommerce, Let's discuss the psychological aspects of an AR
Uniqueness
People usually are thrilled with the unique or latest technology that they have rarely or never seen before. This combination of real and virtual views can give a buyer a unique shopping experience, thus increasing the engagement level of an object.
Immersiveness
The main feature of Augmented Reality is its immersiveness, which lets the user feel that they are viewing and feeling the real object. And which is completely different from the traditional E-shopping experience.
Convert more visitors into customers with AR-enabled Mobile App
Making Headway toward AR Based Ecommerce
Though E-commerce is advancing at an exponential rate and has done numerous technological advancements. Its researchers and innovators are continuously working to offer a better experience to its shoppers by offering a real-time shopping experience. Many online merchants are losing incalculable sales opportunities because of customers' inability to completely assess and visualize the product. Augmented Reality Apps gave a perfect solution for this problem. By enabling customers to visualize the product they're thinking about, AR can give a complete shopping experience to those customers who love online shopping.
How Augmented reality mobile apps help to grow your online stores
A few years back the E-commerce industry was facing the limitation of representing a product virtually to its clients. But Augmented reality bridges this gap by offering shoppers a better sense of what they are buying.
And this could help you in:
Attracting New Buyers
Features like augmented reality in online shopping can help customers to view the product more closely. This makes customers more confident about the product they are going to buy online. Also, this helps attract new buyers to your product.
Increasing conversion Rate
If you offer a good shopping experience to your buyers and they are happy with your offerings, this could help in boosting your conversion rate. Nowadays everyone wants to purchase online. But the thing that prevents most of the customers from buying online is not getting a real touch and feel of the product. With the help of AR features, they could more closely monitor the product they are going to purchase.
What Buyer Wants?
Like other digital marketing practices, Augmented Reality for online business is becoming a need. Marketing psychology says that if someone purchases an item, he is truly purchasing an experience. A buyer doesn't simply need furniture, But he wants to feel it from all angles. So if you are a marketer, you need to help your customers get a real experience of the product they are going to buy.
Increase Customer Engagement
AR increases customer engagement level up to much as it makes the buyer stick to your site. And, the longer the visitor stays on your site, the more chances of getting conversions.
How Magenative can help its clients by offering in-built AR features into its app?
The MageNative team is constantly working on providing a better app shopping experience to its customers. It completely understands customer behavior and the current trend of mobile app shopping.
Its AR feature enables the user to view the product in 4D, and also allows them to share it with their friends. So MagaNative lets your customer's get an incredible shopping experience with AR-enabled Mobile apps.
Conclusion
In this age of digitalization and Ecommerce, most shoppers prefer online shopping. Augmented Reality technology is the most powerful tool in online shopping. It engages audiences and gives them a feel of the product as they are viewing it physically. Makes it easy for the shoppers to select the product without going to the physical store. So to offer a real-time and a better shopping experience to the customers, MageNative apps are now coming up with this incredible feature.
Convert more visitors, into customers with AR-enabled Mobile App
The post Is Augmented Reality Technology an Effective Tool for E-commerce? appeared first on CedCommerce Blog.