The year 2020 is witnessing substantial growth of e-commerce businesses. Despite bearing losses due to the tumbling economy, businessmen retained confidence in starting an e-commerce business during the COVID-19 pandemic.
Your e-commerce can become a key player in meeting essential needs instantly in times of COVID. It is possible because panic led consumers to rapidly clear up retailers' inventories. Homes bulked up with toilet papers, water-bottles, hand-sanitizers, and food staples. Public visits to offline shops reduced as e-commerce services delivered orders at their doorsteps.
Hence, offline shops faced endless challenges in containing the losses. The sudden cut of income flow dismantled the livelihoods of its owners. Conducting a local business became impossible as it posed virus risk to themselves as well as the public. In other words, since resuming traditional business operations seemed hazardousowners sought to work on starting an e-commerce business. The online presence of their business has now almost become mandatory.  
Read Here: Why you should shift to e-commerce
E-Commerce business ideas 
Some industrial sectors retained consistent growth amid global depression. Retailers of flourishing sectors smartly dealt in marketplaces at this time of crisis. Their strategies secured a significant income. According to Adobeonline sales reached $63 billion in August. The first eight months of 2020 generated $497 billion via online sales.
This statistic is the result of purchasing and collecting necessities for further lockdown days. The lockdown even prompted people to change their shopping preferences. For instance, many of them had to defer shopping plans for luxury items. Along with managing basic needs, people performed outdoor activities at home because stepping out of the house unnecessarily is no longer recommended. Consumers carved out ways for exercising, remote-working, marketing, and entertainment at home. 
Observing the significant change in consumer needsstarting an e-commerce business during the COVID-19 pandemic is proving indispensable. Retailers dealing in grocery, fitness, entertainment on marketplaces and online stores observed a good amount of sales. The below graph shows an increase in sales of Canadian e-commerce businesses that experienced the fastest sales.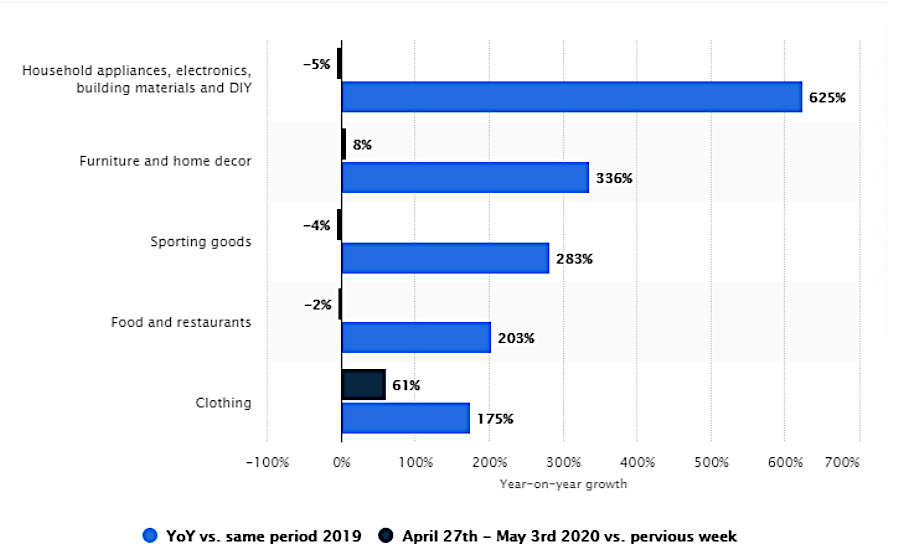 Image Source: retail-insider.com
Online Fitness
People did not ignore their health during home-quarantine. They carried workouts at home due to the closing of gyms and public parks. Instead, people followed the live and recorded workout videos uploaded on a fitness tutorial website. About 7% of users watched the live sessions on the Mindbody app in 2019. More than 75% of users watched them in 2020.
To carry-out workouts at home, consumers needed vital gymming equipment. A set of equipment consisted of essentials like yoga mats, dumbbells, and heavy exercise machines. As a result, Flipkart and Amazon saw a significant spur in workout requirements.
French sports retailer  Decathlon noticed a 220% growth in categories like cycling, cardio, and running. It said, "e-commerce has taken a massive lead in the last three months growing from a business share of 5% pre-COVID-19 to 22-25% now." This statistic indicates the profitable growth in the sales of fitness essentials during the COVID-19 pandemic.
Online Grocery
City grocery stores saw a cut-down in revenue as people purchased only necessities, barring other non-essential items. Besides, door-to-door delivery fulfilled the needs of people without stepping out of their homes. As a result, the demand pressure on grocery marketplaces drove it out of stock. It even dealt with the supply crisis due to production and transport restrictions. Creating a grocery marketplace will generate a decent income for you because consumers preferred ordering from it more than any physical grocery store in this pandemic.  
There are endless methods you can follow to maintain social-distancing among the consumers. For example, online supermarket giants adopted different approaches to ensure contact-less delivery and infinite supply. Marketplaces like Walmart and Kroger Co. are testing the Nuro self-driving robot for grocery deliveries. It is a small driver-less car and has four cargo folders that replaced delivery boys. Best Buy and Target recently included curbside pickup features. Now, its consumers do not have to exit their vehicles at pickup spots for procuring orders. The workman will drop the order at their cars wherever they are stationed.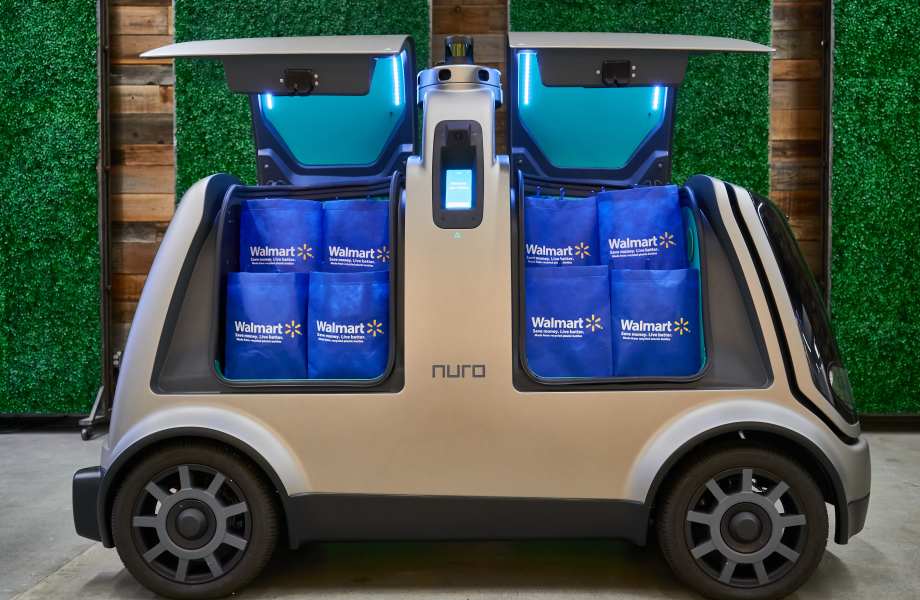 Image source: Corporate.Walmart.com
For minimum contact, consumers ordered an ample amount of food and household items straightaway from online grocery stores. According to recorded statistics, consumer goods sales have gone up in the US. While the sale of hand-sanitizers increased to 54%, aerosol disinfectants saw a spike of 19%. The average daily users of grocery marketplaces rose to 40,000 as a result of coronavirus.
Online Streaming
External sources of entertainment, like cinema halls and game clubs, were non-functional. People spent longer times watching web series to kill ruthless boredom. A popular video app, Video Hub stated in a report that around 40% of consumers watched online streaming more because of the pandemic. On the other hand, 17% of them said the habit would continue post-pandemic. 
Americans extensively watched Netflix, Amazon, Hulu, and Disney+. In Italy and Spain, Netflix saw first-time installs hike to 57 percent and 34 percentrespectively, over four weeks. These services offer exclusive web series and movies at a low cost. Consumers engage more in such platforms because of high-quality content. People enjoyed free one-month trials of Netflix. Consequently, the appetite for online media increases every day since coronavirus cases are on a continuous rise, and staying back home is the only option.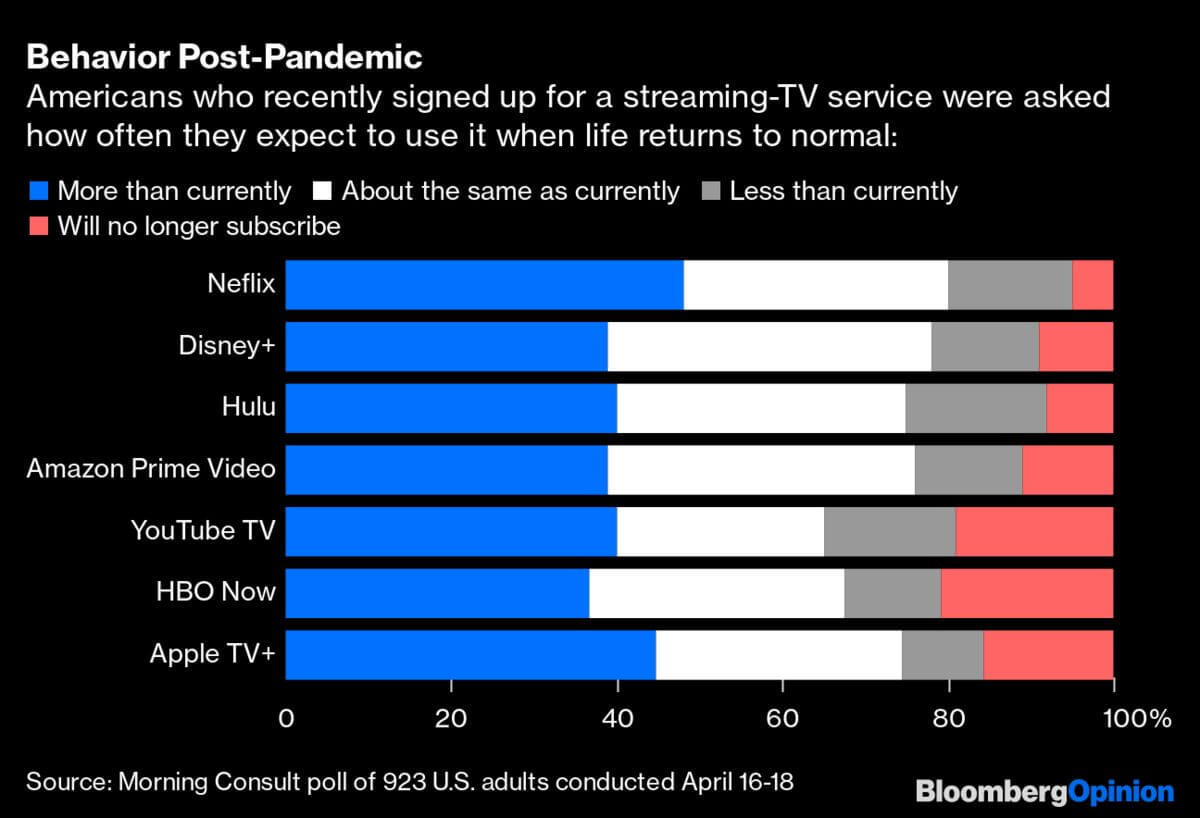 Image source: Bloombergquint.com
Online Pharmacy
Now, since the virus gripped almost every home on the earth and people unable to move outside the house to reach a medical store, they found no better option than downloading a medicine delivery app on mobile phones and order the prescribed medicines within a few minutes.
In this way, creating an online pharmaceutical business promise productivity not only in the current environment but in the days of the post-COVID-19 pandemic. Business Wire predicted in a report that the CAGR this business would be 14%  during 2019-2025. E-pharmacies have got people rid of standing in long queues and waiting to procure a set of medicines from nearby pharmacy stores.  
These benefits were possible due to several factors like speedy internet, quality products, health-conscious people, and now coronavirus pandemic. These factors also helped enhance medicine delivery app services like free expert consultation, appointment booking with a doctor, or nearest diagnostic centres. Users filled prescription form on Pillpack by Amazon app for quick medical access. 
Besides these sectors, e-commerce stores provide computer components to small brick-and-mortar businesses that have switched to remote working. Due to COVID-19, demand for office chairs, tables, laptops, and other office setup requirements increased as every working personnel preferred staying at home rather than coming to the office. Not only employees but students purchased these items for online classes. Both college and school children demanded laptops to continue their studies.
Things to consider before launching an e-commerce store
Converting an offline store into an e-commerce business also comes with its own responsibilities. Bearing such responsibilities will raise the value of your new e-commerce business. Usage of prominent E-commerce platform solutions for marketplaces and online stores make extensive differences in a business. The owner's burden of managing and improving efficiency reduces. Besides the solutions, you should also not forget to consider the points before starting your e-commerce business-
forming a strategy
choosing a domain name
planning your niche
determining the target audience
Conclusion
So, can we infer that marketplaces are worth boosting your income? Surely it can make a positive difference in your bank account by starting an e-commerce business of your own. An innovative e-commerce business idea instead of a physical store for grocery, pharmacy, fitness, and more ensure prominent growth as consumer demand in these sectors is at peak. It will continue to rise in the upcoming days after COVID-19. Want to know how to create an online marketplace? Click on the link below:
                       Guide on how to create an online marketplace
The post Is COVID-19 pandemic the right time for starting an ecommerce business?  appeared first on CedCommerce Blog.