We live in the Mobile-First era. Today mobile has become an essential platform for online activities. Right from social interactions or gathering information to online purchases, everything is happening on mobile devices. Furthermore, in comparison to desktop searches, mobile search has surpassed that limit around the world. Moreover, Google is also giving priority and better ranking to websites with valid accelerated mobile pages because they load fast on mobile devices. Hence, it has become imperative for eCommerce businesses to have a fast loading website. And that's where Google AMP comes in to solve the problem.
Google AMP is an open-source framework that ensures mobile web stores to operate at optimal speed. It is a highly responsive website attaining top-ranking on SERPs drives more traffic than those which do not rank.
And when talking about getting a BigCommerce-based webstore for your e-Commerce business, the framework offers the first native integration for AMP, i.e., Accelerated Mobile Pages for their sites.
Coming back to today's Mobile-first mindsetlet's have a look at why it is essential to have a fast loading website.
A glance at the Mobile-first mindset!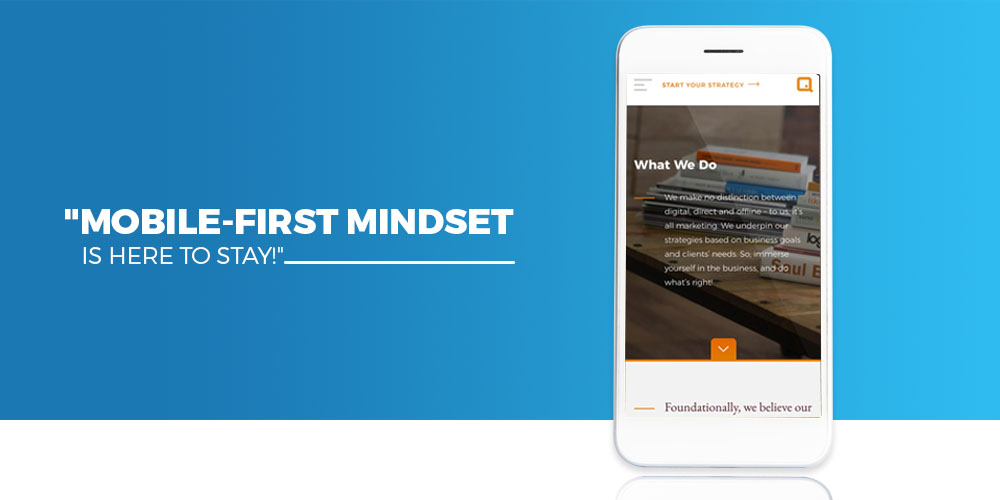 We live in a world of the digitally-advanced era, wherein people are on mobile phones ALL the time. And this means businesses seeking expansion in their reach must have mobile-friendly websites. Moreover, e-commerce sites attract most of the traffic from Google. Hence it makes perfect sense to invest in Accelerated mobile pages that will help you drive more traffic from mobile searches.
"There are 30 billion mobile moments (the moments when shoppers consult their phone and expect an immediate answer) every day in the US alone. It means every day your webstore has 30 billion mobile opportunities to cater to something to consumers that they want."
What is Google AMP?
AMP stands for "Accelerated Mobile Pages". Being an open-source initiative introduced by Google, it is meant to make your webstore load fast across mobile devices. Moreover, Google AMP enables the designing and creation of sites and ads in such a way that it not only works fast and high in performance on mobile devices, instead works excellently on all other devices and distribution platforms as well.
AMP holds the potential of making visitors happy through a fast loading website and better engagement. As a result, your website enjoys the possibility of a higher ranking position on Google.
Accelerated Mobile Pages improves the usability of your website and convinces visitors to stay for a longer duration.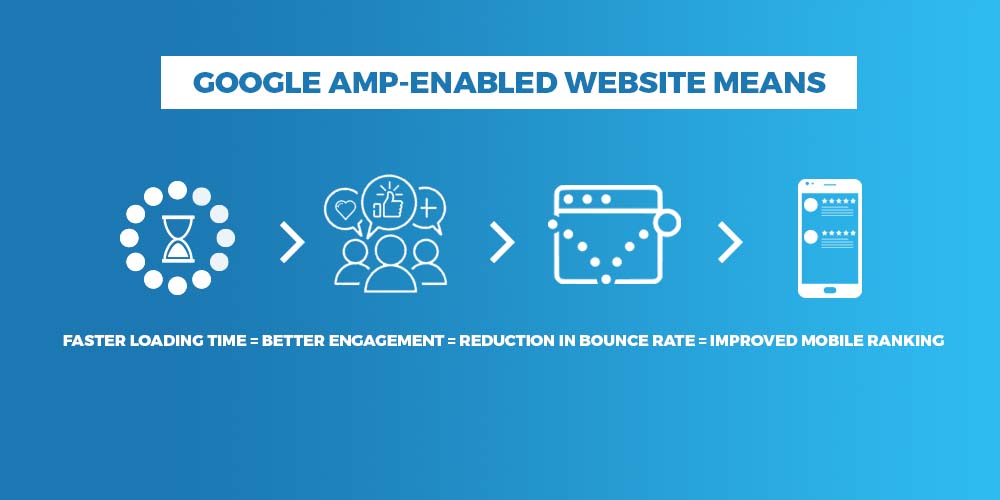 Moreover, Google AMP also improves the loading time by creating a simplified version of the categories and product page details of the web store on mobile devices.
So, to sum up, the Accelerated Mobile Pages are helpful in designing eCommerce pages, creating compelling advertisements, and providing great mobile experiences to consumers by hosting pages that can load almost instantly.
Why AMP?
"Mobile has become the primary shopping method for many online consumers, and eCommerce brands increasingly realize that their mobile sites need greater prioritization," said Brian Dhatt, chief technology officer for BigCommerce.
As the quote says, having an instantly loading website is essential for every e-commerce brand today. And AMP is the go-to solution for them. It eliminated those extraneous details and allowing shoppers to access product pages, catalogs, and find relevant information as quickly as possible. All this, indeed helps customers taking instant purchase decisions and proceed to the checkout process without much friction or hassle.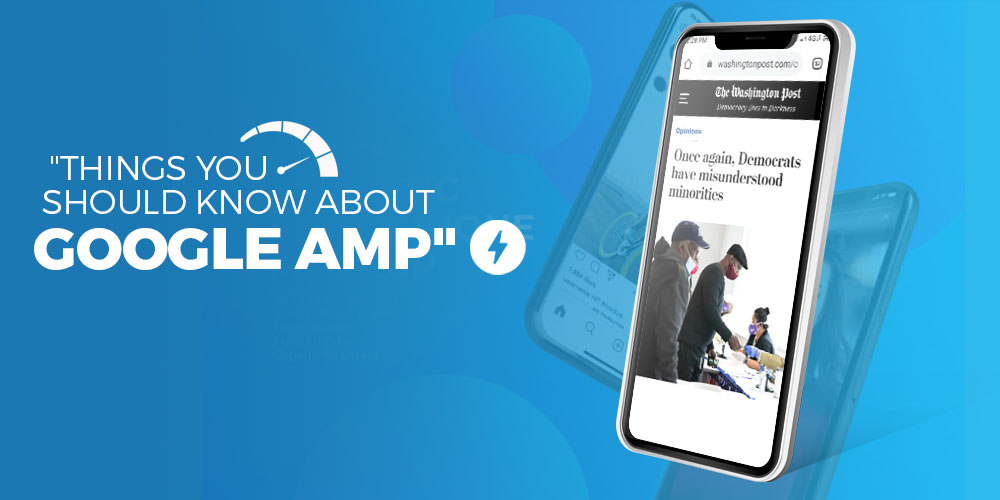 Benefits of Google AMP Websites
Reduced Page Load Time.
Page load time is a significant reason behind the bounce rate. Research suggests that 79% of visitors not only abandoned website pages but does not return after experience slow engagement. With AMP all this is eliminated as the page load speed is almost instant.
Alleviates Heavy Design Elements
AMP increase website page load speed by eliminating all the heavy design elements that slow down the speed. Accelerated Mobile Pages simplifies the website's content, and that increases the load speed. According to research, on average, a 100-millisecond delay in load time of a website can drop its conversion by 7%.
Optimizes SERP Visibility
A survey conducted in 2017, suggests that the majority of consumers are inclined towards clicking on an AMP-enabled website more than the one with Accelerated Mobile Pages. Because it boosts load speed, AMP is also helpful in optimizing a website's search engine visibility.
The native support of BigCommerce designates your Web store as "AMP-enabled" in the Google search results.
Stay with the Trend
In this digital-advanced era, enabling AMP features on your site can help your store stay on the cutting-edge with ease. Not just this, if you choose BigCommerce-based stores, then you will be saved from costly third-party apps or custom coding.
Other Benefits!
With almost-instant load time, user experience is fast and consistent. As a result, core business metrics improve.
Building Accelerated Mobile Pages is accessible, and this indeed reduces technical assistance.
AMP ensures your users get an unparalleled, nearly instantaneous experience on popular global platforms such as Google, Twitter, and Bing.
Eliminates the complexity of coding and maintains flexibility and control on dynamic data fetching and site styling.
The components of AMP are already optimized.
Now that you are aware of the numerous benefits of owning an AMP-enabled site, you can get your AMP-compatible store with BigCommerce.
BigCommerce is the first native eCommerce framework to offer AMP-compatible sites. And if you are thinking about having a BigCommerce store, then CedCommerce is here to help you with excellent service.
Let's have a look at how CedCommerce helps you with the AMP-compatible BigCommerce store.
How CedCommerce Helps You With AMP-Enabled Site?
CedCommerce is the Certified BigCommerce Partner and offers unmatched services to merchants right from marketplace integration solution to Bigcommerce-based store setup and theme customization.
For soaring high in this mobile-first mindset era, CedCommerce experts are well-informed about the needs of having a fast-loading website and hence, offer exclusive services of designing AMP-compatible BigCommerce store at unmatched prices.
So, contact us to know more about setting up BigCommerce AMP-site with CedCommerce.
The post Know-How Google AMP is a Game Changing Solution for Growth on M-Commercea appeared first on CedCommerce Blog.