In today's competitive scenario even if your eCommerce store looks awesome it may fail to persuade people to purchase. When it comes to converting a visitor into a customer, it's about the power of a good call to action button that lets a visitor take an action. Throughout this article, we'll talk about how you can master the art of placing a call to action button (CTA) in your online store and increase conversion rate. We'll also talk about the science behind a good call to action button so that you're always one step ahead of your competitors. Now you must be wondering how can an eCommerce call to action button be an art as well as a science? 
Well, let's figure it out! 
But first things first. Let's get down to the basics and figure out what exactly is CTA – call to action is and why it's necessary for your online store. 
Understanding the Basics of Call to Action Buttons – 
A CTA button is like an arrow pointing a hiker to the summit. It lets your visitors know where they are, and what they should do next. There are a million different ways to use CTAs to tickle certain behaviors. A CTA can come in different forms like – buttons, images, and text – and encourage people to take a desirable action. 

A clear and straightforward eCommerce call to action can enable you to motivate your customers by addressing their wants properly. As a result, your customers can readily reach the right place in the conversion funnel. 
Placing a call-to-action button is easy – every page must include (at least) 1 CTA button. It's that easy! But even after doing so if you're not getting the desired result then there is something wrong with your approach. 
Learning the Art of Call to Action Buttons – 
Here's how you can master the art of placing call-to-action buttons effectively in your eCommerce store – 
Invoke Sense of Urgency – By showing that you're almost out of stock you can make online shoppers more inclined to buy the products. You can do this by using words like – 
Now.
Hurry.
Quickly.
Limited Edition.
Only 4 items left in the stock!
Reserve your seat now!
Sales end soon!
Order your dresses now!
and so on… 
Use Captivating Words – Make sure that you're using CTA related words in your eCommerce store. It's actually a way where you can convert visitors into customers. Here are some common words that you're most likely to find in online stores – 
Add to cart. 
Buy now. 
Shop now. 
Get access. 
Subscribe. 
Get limited offer. 
Check out. 
Place your order. 
Include Value Proposition – Another great element that gives an instant boost in conversions is communicating a value proposition through the call to action buttons!


Online shoppers must be shown what they will get back in exchange for taking an action!

Stating value propositions like – Free guides, Save up to 25% in a call to action button clearly explains what shoppers are going to get in return for their actions!

Display Security Seal – Security seals near your call to action buttons can build trust among the store visitors. You can remove the insecurities from your customer's mind related to payment security and personal information. 

Use Review Call to Action – Reviews and ratings have a great impact on buying decisions. First-time buyers usually rely on social media platforms and reviews of the products. 
You can remind your previous buyers to leave a review of their last purchase. These reviews encourage future buyers to purchase the products flushing all kinds of insecurities. 
Offer Freebies – Who doesn't love freebies? You can convert your visitors into customers by offering freebies. You can include a spin wheel where customers can get an assured discount or a free shipping service. 
Use CTAs as Navigation Tools – Call to action buttons are great navigation tools. This way you can guide online shoppers exactly where you want them to go, and your visitors benefit because they have a good shopping experience this way. 
Science Behind CTA Buttons – 
There is one problem with call-to-action buttons – because there is no end to combinations and placements of the CTA buttons, sellers are unaware of the permutations and combinations of the same. Here's the science behind a good call to action button. 
After analyzing 90 high converting call-to-action buttons, following are the finding that's going to help you in coming up with the best combination of your CTA buttons – 
Call to Action Buttons & Color Psychology –
Changing the color can often have a great impact on your conversion rate. Let's have a look at how popular websites have used colors to come up with a call to action button that makes all the difference.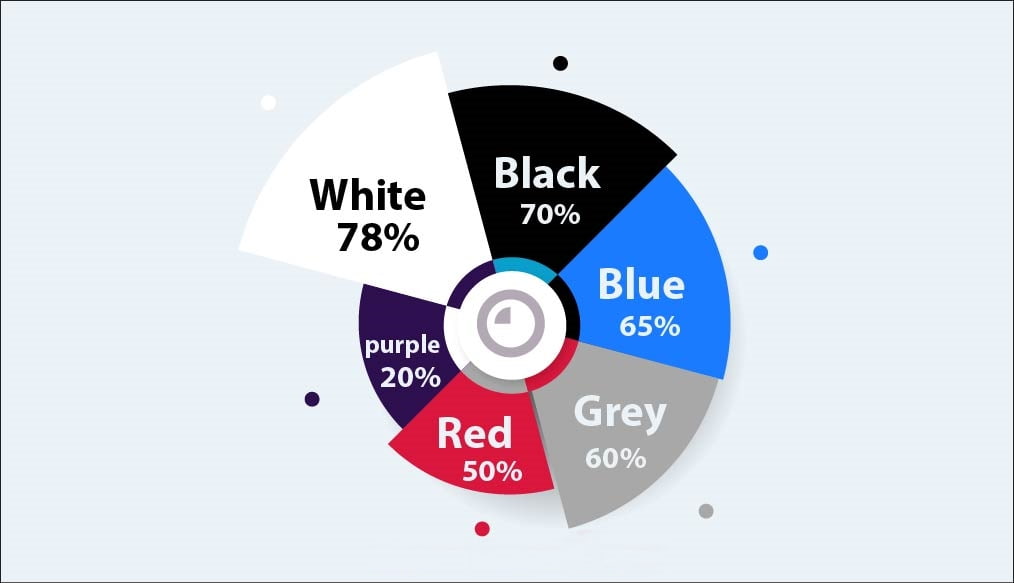 White is and probably will be the best font color for your call to action buttons. 78 out of 90 buttons used a white font color while the rest of them used black, blue, grey, red, and purple. 
The reason being – white portrays the feeling of completeness and pureness, making it a perfect example of purity, innocence, cleanliness, and peace. 
When we talk about the background color of your call to action buttons, here is what we found – Orange, blue, red, and green are more popular colors than the rest of them.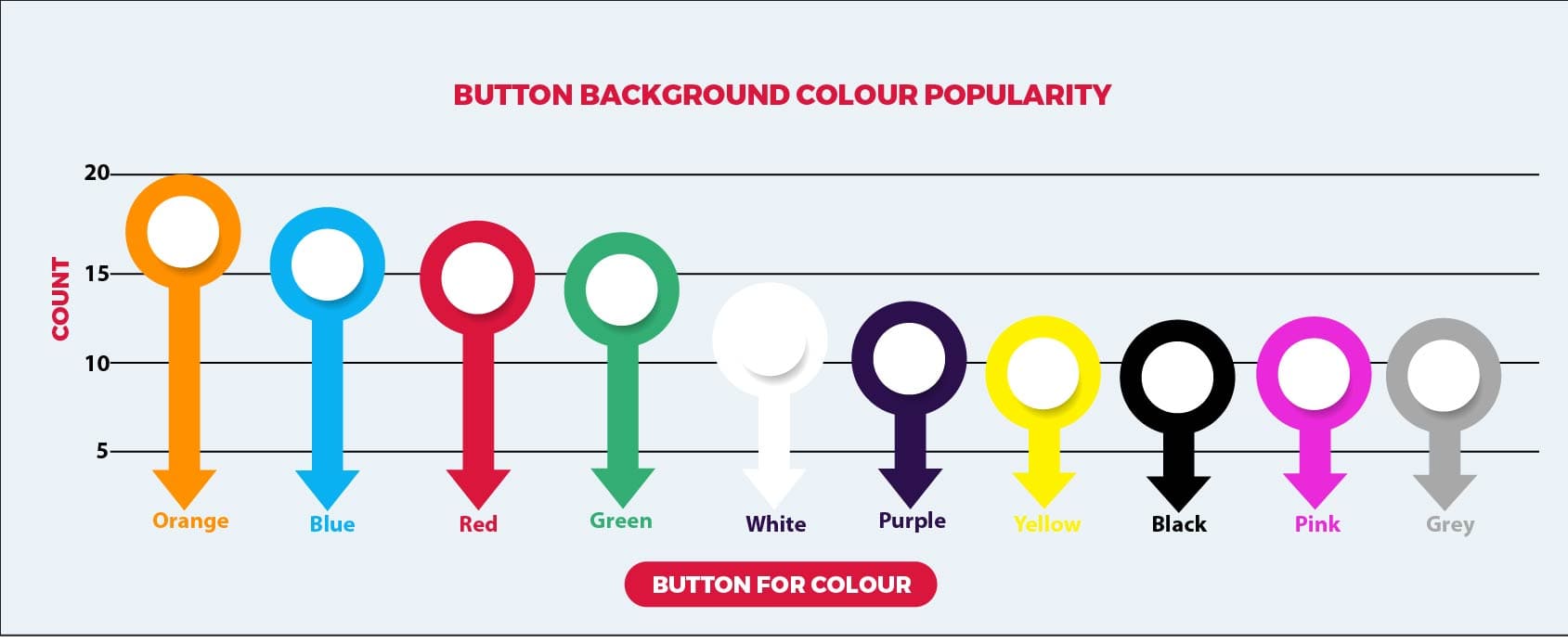 The orange color combines red's power and energy with yellow's friendliness and fun. It's also known to be a color of motivation and lends a positive attitude. 
The blue color is known for its trust and dependability. It's reliable, responsive, and mentally soothing. Undoubtedly, it's one of the most-liked colors across the globe. 
Red is a powerful and dynamic color that reflects our physical needs whether to show affection and love, or to portray terror, fear, or survival. On the other hand, it's also a very energizing color that can portray friendliness and strength. 
Green is the color of balance and harmony. It's one of the most-seen colors in nature reflecting life, rest, and peace. It's also a sign of growth. 
How to Make Your CTA Buttons Stand Out from the Background?
Where you're going to place your CTA button is of utmost importance. Be it at the top or at the bottom, if your background color doesn't compliment your button it won't create an impact. 
You need to make sure that either your background color syncs with the button or in rare cases, a distinct border to support your call to action button. 
By default, most pages have a white background and most designs synch with that. But if you want to experiment with other colors then grey, blue, and black are the next best alternatives available. See to it that your overall brand and store layout syncs with your color scheme. 
It's All About Words – 
So, you have figured out the color combination of your CTA buttons but what are you going to write to captivate online shoppers? Below is a chart that shows how many words are apt for your call to action buttons – 
It's clear that you should insert a maximum of 2- words in your CTA buttons. Longer call to action buttons is not at all recommended. Below is a list of words that you can use in your CTA buttons – 
Takeaway – Now is the most popular word and widely used by eCommerce stores!
It doesn't make much difference if you don't capitalize the first letter of your CTA buttons, but to make it look clean and professional, capitalization can be included.
It's All About Experiments & Observations – 
You must have noticed one thing – there is no set formula for a good CTA button. The data above denotes that a lot of successful eCommerce stores keep experimenting with its layout to figure out which combinations work best. It's no harm to reach out to Shopify experts and discuss with them the correct placement of your CTA buttons. 
Summing Up – 
So, this was all about the call to action buttons! Just like you have ad sets for a single product, try and come up with different combinations for your CTA buttons. Let your customers decide which one works best for your eCommerce store. 
But a key takeaway is – NEVER STOP EXPERIMENTING! 
Happy selling!
The post Learning the Art & Science of Call to Action Buttons appeared first on CedCommerce Blog.