They say it's never late to prepare for something best. And here the best thing coming is Mother's Day 2021. This pandemic has drastically changed our lives and made it a little more complicated, especially for all moms. It's time to celebrate the love they shower on us every time and the efforts they make to simplify our lives. Why not offer the best to all the mothers around and brighten up their faces? So, sellers, this time, you need to optimize your store for mother's day. This blog will be addressing top trending products for mother's day and marketing ideas to boost your store.
Trending Products this Mother's day 2021
Custom Jewelry– A great gift idea for all the moms out there. There will be so many sellers who will be offering the same sort of jewelry but customizing the jewelry according to the customer will give you many orders.
Flowers– The very trending product of every event and festival. Flowers are loved by all and gifted most of the time. Try offering the best variants.
Greeting / Gift Cards– The most under-rated products, but higher in selling when it comes to specific occasions like birthdays and anniversaries.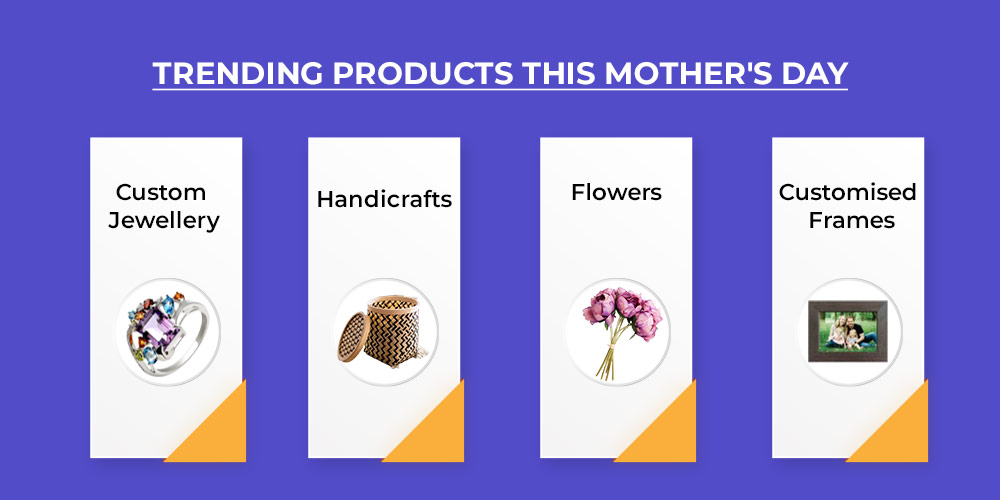 Clothing/Accessories– One of the most popular gifts, and moms will love something customized.
Housewares/Garden Tools– Offer your mom what she needs. The moms need it and will love it.
Electronics– The electronics that can help her in daily things or can add a little entertainment to their lives can be a good go.
Customized Photo Frames– A very sentimental gift that you can offer to your mom.
Handcrafted Products– In today's times, handcrafted products are loved by everyone. Why not personalize it for her.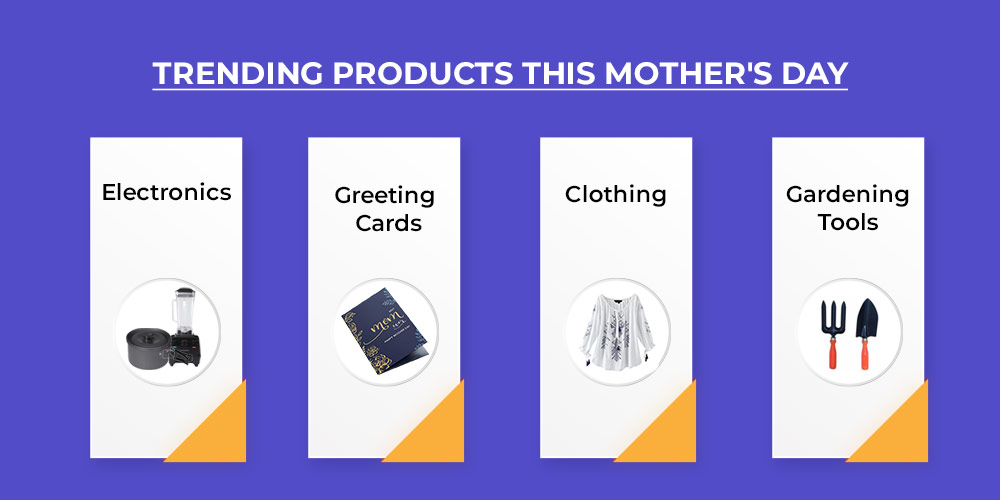 Marketing Ideas to optimize your store this mother's day
Prepare a Day Specific Guide- 'A lot of buyers don't know what to buy this Mother's Day. You can prepare a gift guide that is an excellent way to help the buyers to find unique gifts for moms.
Free Shipping- Offering exclusive free shipping for mother's day will be a great way to attract buyers. If possible, offer overnight shipping.
Utilize Social Media-Using social media for all sorts of promotions can help boost your sales and better exposure, as a lot of people will be spending time online post-pandemic.
Personalization- Everybody loves personalization. You need to be mindful that your products will be specific for Mother's day and the people buying your products could be brothers, husbands, in-laws, etc.
Emotional Connect-Mother's day is all about love. Everyone wants to express gratitude towards their moms. A valuable but emotional gift will surely brighten her face with a smile. Offering a customized handwritten note will surely be special.
Conclusion
Do not forget, we celebrate this mother's day for the women who made us smile and our life easier in all ways with their immense love.
Make sure, you don't force your products on your customers, rather focus on making the day special. And in case you need expert help, reach out to CedCommerce.
Happy Mother's Day!
The post Mother's Day 2021: Best Selling Products for your OnBuy store appeared first on CedCommerce Blog.