Giving their all, without expecting anything in return is what mothers do. Celebrating just a day for her may not be justified. A mother seems to be like a superwoman with invisible capes. Be it household, family, or work, she rules wherever she gets her hands.
Etsy, one of a kind marketplace, provides an opportunity to consider, "the women" (in all forms) out there to excel even in the business sphere like; being more creative, selling online, building your brand, and being famous worldwide. This Mother's Day, let us celebrate by giving her a chance and opportunity to outshine with her creativity and skills.
Mother: The Epitome of Perfection
There are around 80% female entrepreneurs selling on Etsy, out of which many are mothers. Women who have built their stores from scratch and kept believing in expanding with Etsy to sell and grow more aggressively worldwide. Women as mothers, grandmothers, or single mothers are an inspiration to all those who believe they can do wonders.
A mother is the epitome of perfection, so she is doing magic in every field. When it comes to being a mompreneur, just like Abigail Browna woman, a wife, a mother, and a successful businesswoman selling on Etsy since 2016. She has been dealing with crystal jewelry and gifts since she was pursuing her graduation. She has become much active since 2019 on Etsy and has made total sales of around 20,000, to which she has been continuously achieving a milestone. She finds herself lucky to raise her girl child and to handle business with her husband's support. They are soon to welcome another child with joy.
It has been a constant juggling act for her and very difficult in the past few years, a number of times she was questioned whether or not to continue with her business. But now she is thankful that her hard work is paying off. He can now afford to take on an employee, and her husband has been able to give up his full-time job to work with her and manage the household tasks and childcare. Presently they also have a Shopify platform which is now live at lillianlacey.com and they are also working towards having a physical shop by next year, to fulfill the demands of local customers, who have appreciated it a lot.
Abi has chosen to collaborate her Etsy store with her Shopify store so that it is easy for her to manage both solely in less time. She is much happy with the immense 24/7 support she has received from the Integration App team.
When asked how she manages both home and business, she replied:
Like all good things, it takes a bit of work and patience to get things going, but once it is set up it's an excellent app. Not to mention the unrivaled support I receive as a seller. My regular contact with Shubham has been truly wonderful in helping me work everything out and get my Etsy and Shopify platforms working together.
For many creative hands like you, who want to start selling your creations online, it may do miracles if you bring them to a renowned platform like Etsy. But soon or later, you may discover that you now need recognition and an established brand, Whatever path you take, it is important that you keep flourishing with your business.
Mother's Day: Trending Categories on the Occasion
Specific product categories are much highlighted on the occasion of Mother's Day. Product categories such as Jewelry, POD products, Planting, Paintings, Home Decors, and Utilization products are much in demand. While Mother's day is around; you can easily set up your store on Etsy to use this occasion to sell the products much in demand. If you already own one, you might collect ideas of what you may add to your listings this time.
A Business Fresh from the Garden – Sybotanica by Sybren
Sybren Bies has been selling successfully online dealing into the planting category on Etsy. To date, he has made a total of 728 sales, and each plant is cultivating at his home. Sybotanica products are much required during Mother' day, especially in pandemics, as customers find plants as a natural and evergreen gift for their moms, grandmom, or stepmom.
Sybren is operating his Sybotanica store from the Netherland and has happily acquired a 5-star rating on his Etsy store.
A Business Fledged with Creativity- Art Bubble Jewelry by Maria
Maria Gradinaru, an Etsy seller from the U.S, is dealing in the POD product category. She is running her store with Etsy successfully. Her products are much in demand during special occasions such as mother's day, valentine's day, etc.
She delivers personalized cards with a message to be conveyed along with Jewelry accessories attached. To date, she has made 996 sales with a 5-star customer rating. Her creative idea in Art bubble Jewelry is an inspiration for many.
A Business of Innovation and Safety
During the Pandemic, many female sellers have started manufacturing masks from their homes and started selling them. Even though the sellers were trading in different product categories, they took advantage of the situation and began selling face masks. Sellers on Etsy have also become so creative that they began manufacturing customized designer masks as per the latest trends and themes.
There are variants of customized masks available in the market; some have names imprinted, or embroidered, while some have your picture printed on them. Wedding masks are even more trending, with the bride & groom's name and wedding date embroidered. Apart from cotton masks, silk masks are much in demand as it compliments your style. You can be more creative with customizing the masks with designs, elements, fabric, and ideas.
A Business of Bringing Emotions with Creativity- POD Products
As and when any occasion is near, buyers rush to search for relatable products. So how about providing them product range by customizing them as per their desire. Since Mother's Day is near, numerous POD products are available with creative ideas.
On Etsy, these include Customized T-shirts with picture imprints on them or just a message for mom, similarly customized key chains, mugs, bracelets, rings, and pendants. The sketches of Mother and daughter/Son are much in demand these days.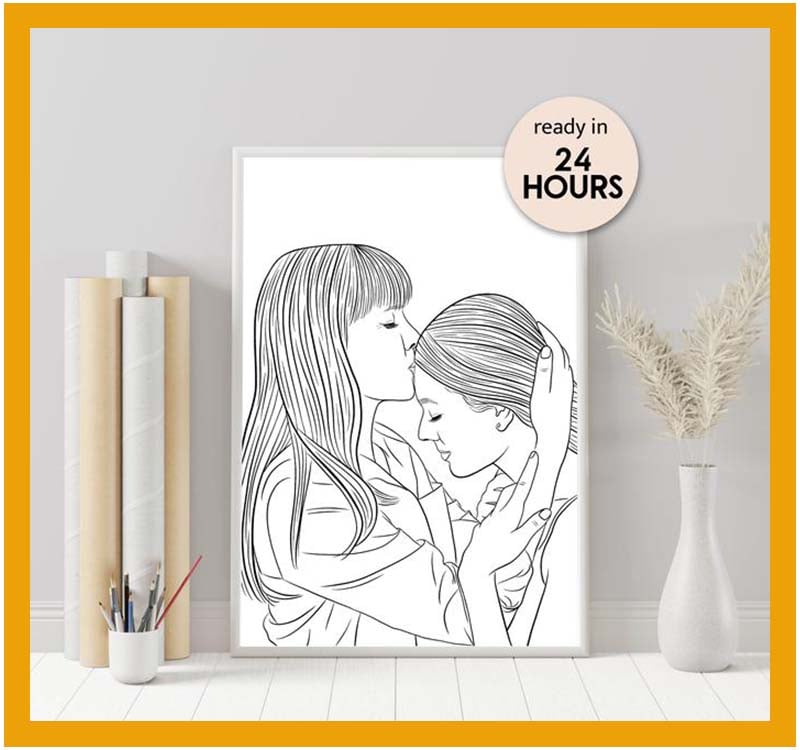 There can be no limits on ideas and you can do even more to start your Etsy store. As Women are skilled in stitching, weaving, and designing; clothing for kids, pregnant women, and newborn babies are one of the trending businesses you can invest in.
Be it handmade sweaters for newborns, jewelry, mugs, bags, masks, stuffed toys, or anything beyond creativity. Being an Entrepreneur means you should seek and grab the opportunity to conquer with your creative skills. Think about what new things can be brought to fulfill the desires of buyers, make use of already existing things around you, and try to make them relatable to the occasions.
Just For Her Smile: Gift Ideas For Mom
Like 2020, the situation is not yet under control; even in 2021, the outspread of Covid-19 has worsened the lives globally. Since you can not step out of your homes and celebrate Mother's Day because of this health hazard situation, you can gift her from various options available online. Even though you are not stuck somewhere and not available near her, you can still express your emotions by sending her surprises.
Here are the gifting ideas for your mother:-
A Mother-Daughter Duo Portrait
POD Products such as mugs, T-shirts, quilt cover
Customized jewelry
Pack of Coffee, chocolates, candies with greeting cards
Plants(natural or artificial)
Plant seeds, beautiful pots, and planting accessories
Home decors
Household products
New mom dresses
Newly born clothes and accessories
Baby's handprints, footprints framed
Even if you already have a store on Etsy, you may still transform your listings by making them relatable with gifting products. You may even add certain products into your category to sell during Mother's Day.
Marketing Strategy Tips For The Occasion
If you are already selling on Etsy but not dealing in items related to Mother's day, or maybe you are just new to the platform. For you, It is not mandatory to create any relatable products in less time; you can instead use some marketing strategies to be a part of the celebration.
Discounts: Discounts and offs are something that every customer desires. Providing slash rates and discounts on events like mother's day is like garnering more traffic towards your store and making good sales.
Add Greetings: Just imagine while unboxing an order, your buyer finds a greeting card attached, wishing him/her for the current occasion, or maybe just thanking him/her for shopping from your store. This gesture will bring a smile to their face with love for your store. You may send Mother's day greetings with every order dispatched during this time.
Gift Wrappings: Just receiving a package in a box doesn't look interesting, a good wrapping of a product seems alluring. Wrapping the package with the Mother's day wish/cartoon printed on it, is a good idea. 
Giveaways: You might be having certain regular customers, you may provide some giveaways to them, who have made a good purchase during Mother's Day. This will motivate your buyers to get attached to you.
Social Media Promotions: Social media has a wider and quick reach, you can make use of Social media platforms to wish masses, on behalf of your store. Being active on it will lead you to always connect with your customers and keep them updated.
Mompreneurs – Hike up your Home Business with CedCommerce
A woman like you is very creative in different aspects, but many a time you have to sacrifice your talent and choose the child's upbringing. Well, no physical gift can be so crucial as letting you outshine your hidden skills and showcasing them to the world.
Even if you have owned a small business with an online store, you can still run an Etsy store along with it, without any mismanagement and hassle. This Mother's Day is the time for you to expand your identity and talent, don't just be a Mom; be a "Mompreneur".
The post Mother's Day 2021: Scale Mom-Owned Business with Etsy appeared first on CedCommerce Blog.