The holiday season 2020 is fast approaching, it's time to get ready for something no one has experienced before: a pandemic holiday season. This holiday season is going to be different, so you will need an eCommerce holiday survival guide 2020 with an end-to-end winning strategy. Let's begin by finding out what eCommerce holiday calendar entails?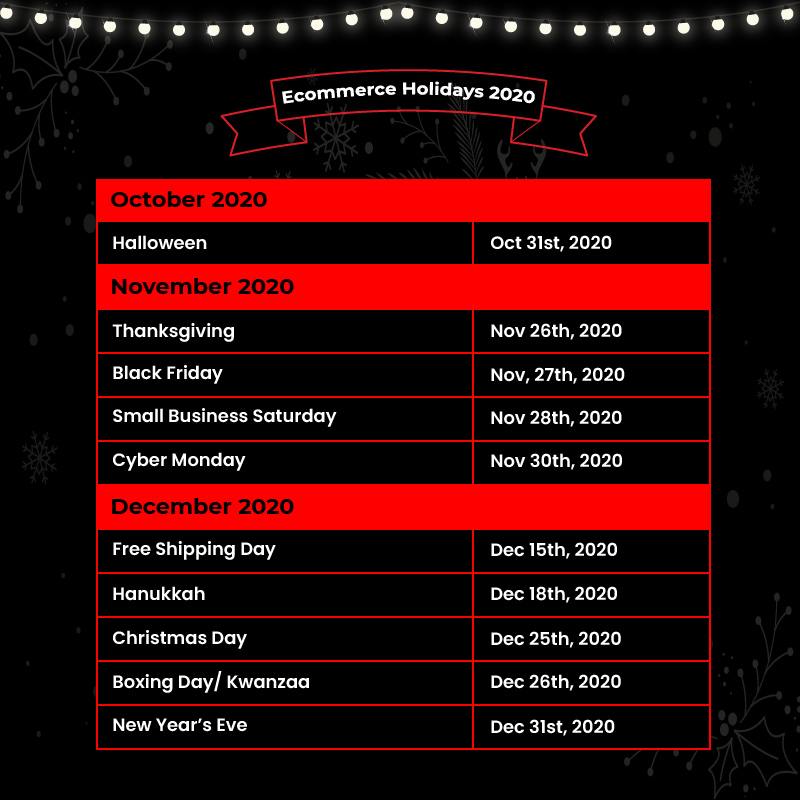 Here's what this eCommerce holiday survival guide 2020 has for you:
An overall holiday marketing strategy that will boost your sales and brand awareness.
Holiday Email marketing strategies that can help you retarget the audience and effectively decrease the number of cart abandonments.
End to end and well-thought-out strategy to delight your customers, to the point that they become your loyal customers.
A strategy to help minimize returns this holiday season 2020 and which will enhance the whole shopping experience. Best marketplaces that will ease the process of global expansion, subsequently helping your brand reach a broader audience.
Explaining the importance of AI(Artificial Intelligence) and Augmented Reality in this digital era and how you can incorporate it into your holiday strategy.
Keep in mind that these tips aren't specific to a particular holiday, but you can include these tips for any holiday strategy. Now, let's explore each one of these in further detail.
Your holiday season 2020 winning strategy: eCommerce holiday survival guide 2020
Time to revamp your store
It's time to give your website a holiday season makeover, this will resonate with the shopper's holiday spirits and it will get them excited to shop with you. With enticing holiday-themed buttons engage the online shoppers better.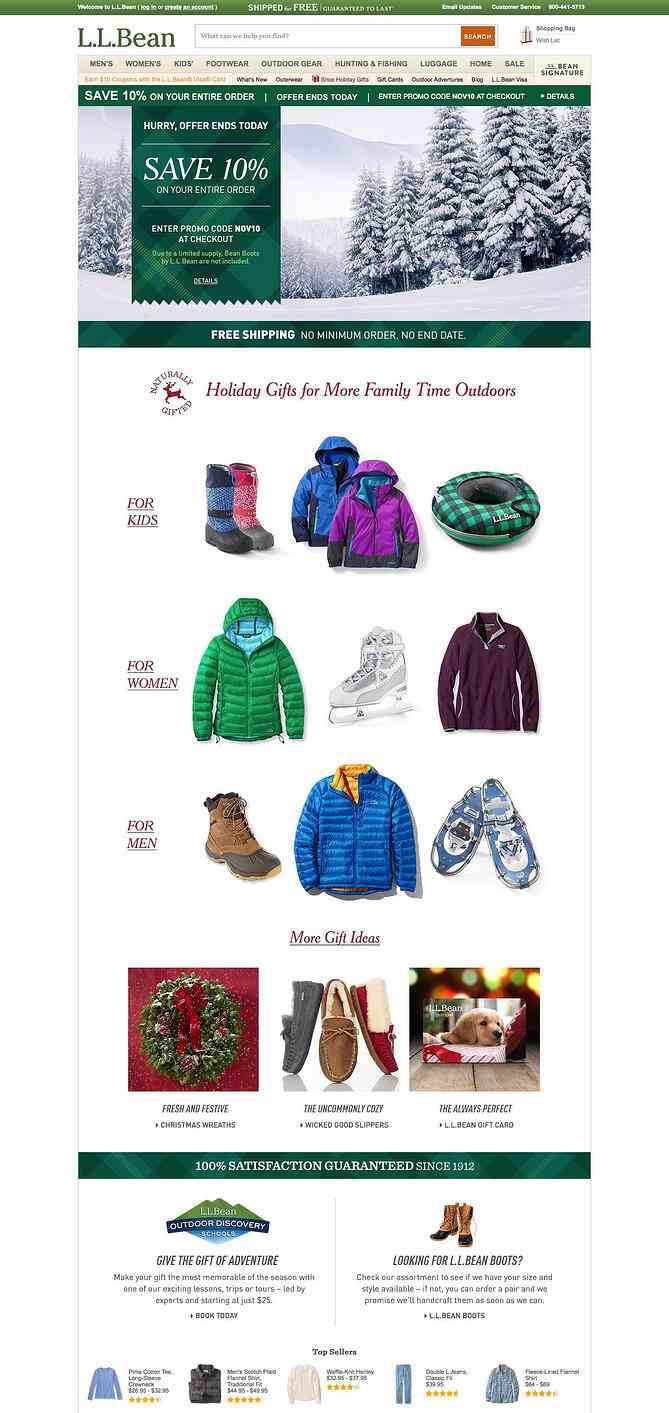 Also, everyone is expecting a surge of new first time online shoppers(imagine grandparents making purchases), thus making it absolutely necessary to keep the whole shopping process easy, from browsing to the checkout.
Amidst making your website as elaborative and holiday-themed as possible, do not ignore the page loading time, as every second your page fails to load, it decreases the conversion rates by 20%.
Offer Free gifts and promotions
Who doesn't like free gifts, right?
One of the things prominent in almost all of the eCommerce holiday survival guide 2020 will have this point mentioned somewhere. This holiday season is the best time to use free gifts such as free shipping with a $25 purchase or a free gift with a $50 purchase. These kinds of freebies encourage shoppers to make the purchase with you.
Moreover, SoftwareAdvice research reveals that discounts drive 19% of sales during the holiday season.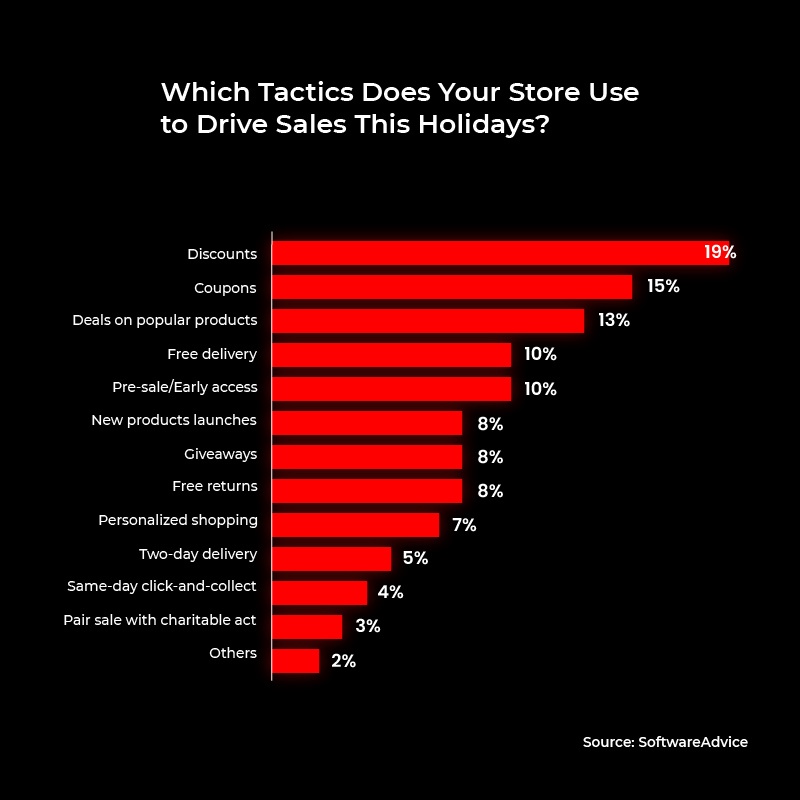 Bring those shoppers back with Email marketing
According to the Convince and Convert report, 75% of consumers admitted that they go through their emails to find the best deals before making a purchase. Consider emails as an untapped opportunity waiting for you.
In addition to this, according to Coresight Research, a consulting firm, revealed that 23% of the U.S. consumers plan to start 2020 holiday shopping earlier than when they did in previous years.
What does this mean for you?
Start your email marketing earlier this year. Send out emails to shoppers and let them know about your offers and shipping deadlines. Also, provide order-by dates to guarantee arrival before the holidays.
Incorporate triggered emails in your holiday email marketing strategy to alert shoppers about product availability when inventory runs low.
Compose and save last-minute email offers now in case shipping delays.
Pro tip: Sending out emails to last-minute shoppers can help boost sales before the holiday sales ends for 2020. Capture these shoppers' attention by sending them emails a week before Christmas, informing them about the discounts and freebies. This approach will motivate these last-minute shoppers to purchase your product.
To stay on top of everything this holiday season, also take into consideration that most of the email providers such as Gmail, Yahoo, etc, constantly change their algorithms, this means that your emails could end up in the spam folder, hence destroying your hard work.
What can you do about it?
Focus on maintaining a consistent sending volume and time period. Sudden changes in volume or frequency can trigger the email providers and will block your domain or filter your emails temporarily.
Keep an eye on the open and click rates by subscribers' domain, such as jones@gmail.com or steven@yahoo.com. This will give you an idea of the drop-offs from Gmail or Yahoo or any other domain.
Frequently monitor blacklists to avoid an accidental listing. Even the most reputable email senders could get listed on blacklists. Check out the leading blacklists include SpamHaus and MX Toolbox.
Also, remove or segregate non-responsive email addresses, so that you don't waste your time strategizing for these shoppers.
Video marketing to entice visual shoppers
According to 90 per cent of usersthe video helps them make a purchase decision, which could potentially benefit your brand.
Adding a video to your website, emails, or social media page will help you share your brand's message better.
If you haven't already, tap into the most used streaming platform: YouTube. Create a channel and market your business and share your videos. At first, it might get a little confusing as to how to rank your videos, how to create informative and entertaining content, worry not! CedCommerce is here to help. Our marketing experts can help you create amazing videos that resonate perfectly with your brand and ranks well on YouTube. Connect with us today!
Make use of social media
This is another thing that most of the eCommerce holiday survival guide 2020 will include this year. Social media is quickly becoming the topmost preferred channel for retailers to reach shoppers for holiday promotions.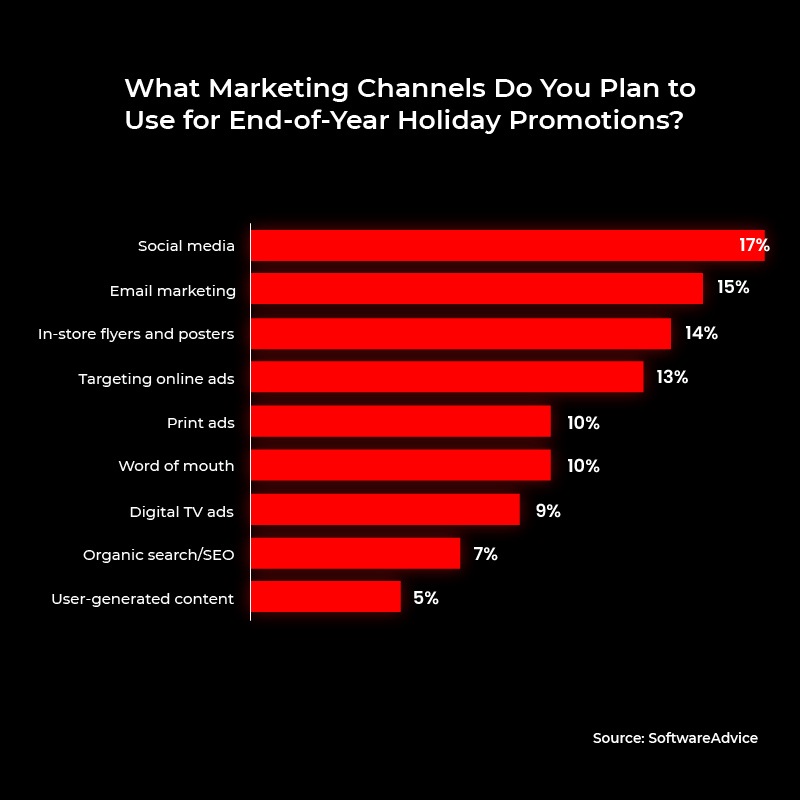 Not only that, according to the ODM Group study, but 74% of consumers also depend on social media networks to help with their buying decisions, you surely don't want to miss out on the opportunity to reach these shoppers. If you already use social media marketing, it is time to optimize it for the holiday season.
Tap into the power of hashtags on platforms like Instagram and Twitter. Using hashtags on your Twitter, Instagram, and various other social media profiles can help you create more buzz for your business.
Promote your holiday offers on your social media and pair them with visual treats for your visitors.
For Instagram, leverage its helpful insights and tools, and adopt the different kinds of content forms, for example, Instagram posts, Instagram stories, Reels, and IG Tv videos. The full-screen creative, and swipe-up feature that takes the user directly to the site has proven to be highly engaging, surpassing Instagram posts. It is also evident by the fact that the ROAS on Instagram Stories has almost tripled since January, and 57% of marketers find them very effective.
Snapchat's popularity has surpassed Facebook, Instagram, and Messenger popularity combined. It has over 190 million active daily usersbut it's still often overlooked for marketing purposes.
You can also use Twitter polls to identify customer pain points. Twitter polls are an easy and effective way to engage and connect with your followers online. Their feedback can even be used to find out the kind of posts they would most like to see.
Don't forget the major step:
Tracking. Set up your goals and measure your social media performance using tools like Google Analytics. Monitoring your social media efforts and growing your social presence doesn't have to be stressful! Why worry when we have a team of experts who are willing to help you every step of the way. Let us help you, connect with us today!
Further, consider running social media contests and giveaways to improve engagement. You can offer free gifts as rewards or your loyalty program for free for a month.
Content marketing for brand awareness
Content marketing helps you to establish your brand as a credible brand in your industry. It does take a bit of time to start seeing the results, but it is single-handedly the safest yet free way to enhance your brand awareness.
Give your blog section a holiday makeover. You can create holiday posts such as holiday gifting ideas, or what to wear on Thanksgiving dinner and add the links to the clothing items you sell on your website. Not only would this content provide helpful information to customers, but it would also motivate them to purchase from your website.
Importance of Augmented reality and artificial intelligence
Try to include Artificial Intelligence to make shopping easier for your customers. For instance, using self-service like AI-enabled chatbots can assist your customers to find products or track a package with ease.
With the use of Augmented reality, consumers can see how a certain product will look like in person(refer to the image).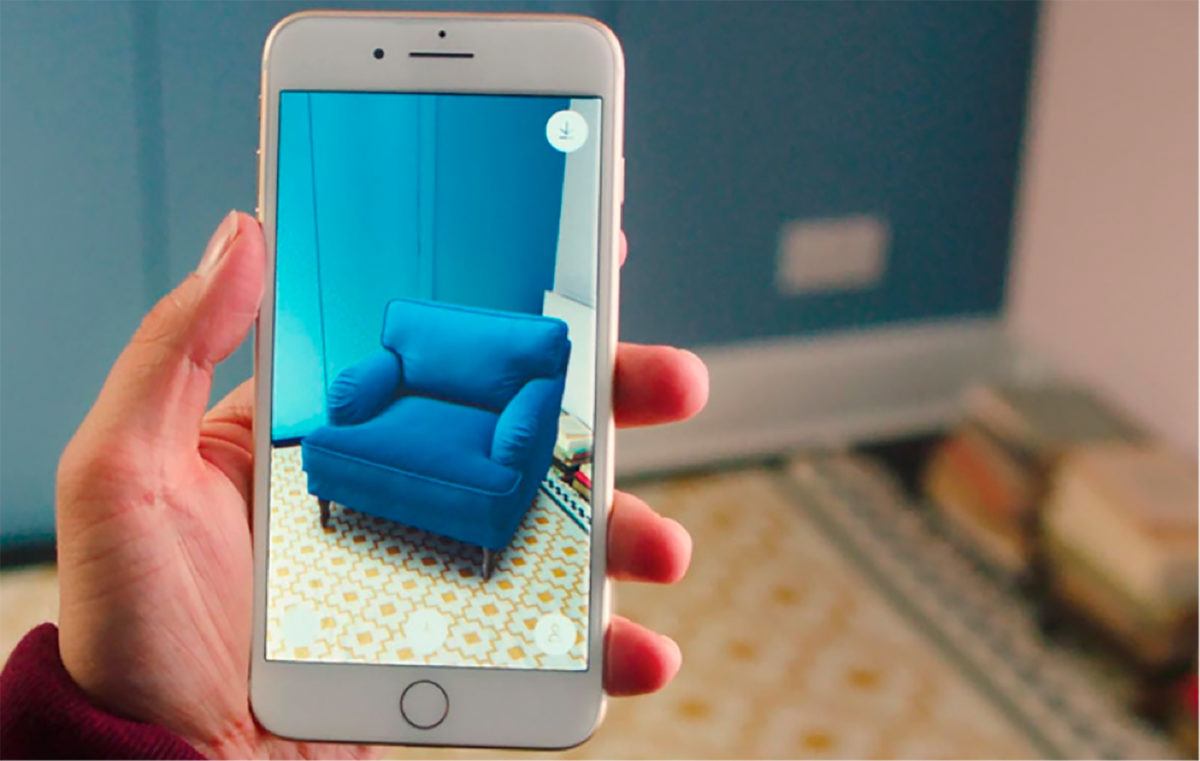 Add spinning 360-degree product views and zoom-in options that replicate the physical experience. While 360-degree product views give shoppers a chance to see the item from every angle virtually, high-quality zoom functionalities allow them to get up close to the most minute details, such as the texture or the transparency of the clothing item or the details in a piece of jewellery.
68% of shoppers admitted that they want their favourite brands or retailers to provide them with honest and personal advice, meanwhile, 44% of shoppers expect product recommendations and tips when shopping online. So you can create a "Gift Idea" chatbot to help your customers choose gifts for their loved ones.
Delight customers with impeccable services
Put yourself in your customers' shoes, and think about what are the basic things customers are looking for? Good price, fast delivery, the delivered product should be almost identical to the one advertised on your website and if there are any problems or queries, you should be able to help them, right? Yes! That's all a customer wants from you.
So let's work on them:
There is a lot of repricer available in the market to help you compare your prices to your competitors, use them!
Due to the pandemic, the supply chains are disrupted, but that doesn't mean you can't fulfil the orders in time. Move the inventory closer to the source of demand by collaborating with physical stores and allow your customers to choose the option to buy online and pick in-store options. Use crowdsourcing, meaning collaborate with the transportation services such as Uber, Lyft etc, to get the orders delivered fast. Moreover, be straightforward with your customers about the expected delivery date.
Be honest about the product that you're selling and keep the product description as clear as possible. Sometimes the product does appear different in an image, in that case, add a disclaimer, that the product might be a little different in person. Include zoom-in options and videos of the products.
Develop bots to get your customer's queries resolved as quickly as possible.
Keep your inventory up to date, further enhancing your customers' shopping experience.
Reduce your returns
Did you know that the average eCommerce return rate is 30%? Categories such as clothing and others are highly subjective types of gifts that tend to be returned at even higher instances.
So let's look at how to avoid this:
Use only high-quality images.
Keep the product description clear and concise, which describes the product best. For instance, for the apparel category, specify the sizes clearly to avoid returns.
Consider including videos of the products so that shoppers can have a better understanding of the product.
Keep your refund and return policy clear and concise. Your refund and return policy should be easily accessible. In the beginning, you can take inspiration from the giants in this industry such as Amazon, Walmart, etc.
Offer free return shipping.
Take this opportunity to really understand what was the reason for the return in the first place and try to build a relationship with your customers. Show that you care about their shopping experience.
'Tis the season for global expansion: eCommerce holiday season survival guide 2020
As several predictions for this year's sales say, many shoppers will be getting their shopping done online, it makes sense to expand globally this year and start boosting your sales.
Best marketplaces for global expansion
Amazon
Without the mention of one of the giants, Amazon, this list can not begin. Amazon has surged to be the number one marketplace. With its reach in over 13 countriesAmazon marketplace has exemplary traffic worldwide along with the engagement of the same intensity.
Even if you are a beginner, Amazon has programs like Amazon FBA(fulfilment by Amazon) and Amazon prime that can increase your revenues and customer base. Prime does this by encouraging customers to spend more money by offering incentives, such as giving consumers free two-day shipping on a wide variety of products with no minimum order.
Learn more about how to sell on Amazon this holiday season and get a chance to expand globally here!
Ebay
Ebay is considered to be another big player in the eCommerce industry. With its presence in over 100 countries, Ebay certainly dominates this industry. As per the reports of StatistaeBay had 174 million active users in Q1 of 2020, which is constantly growing.
Global expansion is easier with Ebay as it launched a program called GSP(Global Shipping Program). GSP streamlines international selling by automatically including all shipping and customs charges in the buyer's purchase price and reducing the retailer's effort to a simple domestic US shipment at no additional charge.
Start selling on Ebay with this comprehensive guide!
Walmart
Walmart is another honorary mention in this list. The first reason why you should consider Walmartbecause
There are no monthly fees.
There is less competition at Walmart because they are very exclusive about which companies they allow selling on their site, hence very few get to showcase their products.
Walmart lets you showcase your brand hence increasing your brand awareness.
You can reach a different set of audience with Walmart.
Walmart is a trusted name and selling on a platform like that will set your brand as trustworthy.
You only pay when you make a sale.
Get started with our guide to selling on Walmart here!
Social media marketplaces
Facebook Marketplace is slowly but surely becoming the choice of many sellers as it is extremely convenient to discover, buy and sell items. Facebook has almost 2.4 billion active users, and by listing on a marketplace this large, you can reach buyers where they already are.
Since shoppers don't even have to leave the platform and they can make a purchase right there, this eases the buying process immensely, hence the reason why platforms like Facebook marketplace and Instagram checkout are growing rapidly. CedCommerce has recently announced its Facebook and Instagram shopping integration app that will ease your selling process on these platforms, and the good news, it is FREE!! Try out our app!
Multichannel selling
Consumers prefer to shop across a variety of channels before deciding where to buy a product. So to meet your customers on all these channels, you must need to be present there. Here is when multichannel selling comes in.
Why sell on one marketplace when you can sell on several platforms with minimum efforts and maximum profits? Try out multichannel selling today. Don't know where to start? Our integrations can help! Wherever you are, be it Shopify, Magento, WooCommerce, BigCommerce or Opencart, we have multichannel solutions for you. So connect with us and let our experts help you figure out the best approach for your business. Let's discuss!
Wrapping it up!
There you have it! Your eCommerce holiday survival guide 2020. This holiday season sure is going to test you and your brand on different levels but this will also give you multiple opportunities to reinvent your brand. Something CedCommerce has also incorporated since the pandemic. With remote working being the new normal, our customer support team is still standing strong to help you down every path, even at 1 am, making sure all your queries are solved. Comment down to connect with us today!
Think we missed anything in this eCommerce Holiday Survival Guide 2020? Comment below and let us know.
The post Preparing for a pandemic holiday: eCommerce holiday survival guide 2020 appeared first on CedCommerce Blog.