Why PWA for eCommerce? Why are businesses raving over this? Do PWAs really help your business? Given below is one of the many examples of how an established business was able to implement PWA for eCommerce was successful.
Lancôme, a french cosmetic and luxury brand whose parent company is L'Oréal Luxury Products, was in 2016, unable to understand what strategy to implement when they noticed that the traffic coming from smartphones was way more than that coming from the desktop browser. After giving much thought, the digital marketing team came up with the idea of introducing a PWA, even though at the time, PWA for eCommerce was a fairly new concept. After the launch of the PWA, it was seen that it had gained more popularity than their native app and several significant changes such as their mobile sales increased by 16 percent and more every year on.
Given below are a few more examples of businesses that have successfully imbibed PWA and are reaping its benefits:
Starbucks: Starbucks wanted to make something similar to their app that will allow their customers to order online, hassle-free. So they came up with the idea of making a PWA that will give their customers a similar feel of using their native app. The PWA of Starbucks is 99.84 percent smaller in size as compared to their native app and there have already been significant changes in the number of users who are now ordering from the browser as well as the app, to be specific, 2x more times.
MakeMyTrip: MakeMyTrip is India's leading travel website that has an estimated 8 million users on a daily basis out of which mobile users were amounting to 2/3rds of the total users and so they decided to develop a PWA to give their users a fast and smooth user experience. This change allowed them to reduce their page load time to thirty-eight percent and a total increase of 160 percent for user sessions and a 20 percent reduction of bounce rate.
Uber: Uber developed their PWA, their main reason being to give access to their app for those people who do not have good connectivity, or rather for those who have network issues. Their PWA runs on 2G and 3G, thus inviting more people to install the app.
All you need to know about Magento PWA
PWA or progressive web apps can be understood as an enhanced version of a web browser. It looks, feels, and runs like an app but is built on the lines of a web browser. It has all the features of an app that include adding the icon on the home screen but without actually downloading it from an app store, also it has the ability to function even when there are connectivity issues, also offline.
Businesses that want to expand from the storefront or website should positively consider PWAs. The PWAs that have been developed by the Magento 2 studio are referred to as Magento 2 PWA. PWA was launched by Magento in 2018 as they understood the importance of mobile-first e-commerce. Alongside this, Magento launched their PWA studio, which enables existing Magento vendors to establish a PWA on their existing storefront. Using this, Magento merchants can build their own PWAs to grow, increase their user base, make conversions and engage customers. It is a complete set of tools that are needed for the development and running of a PWA storefront on Magento. There are numerous benefits of opting for Magento PWA and there are innumerable stories to tell the tale of success achieved for opting for it.
Benefits of PWA for eCommerce businesses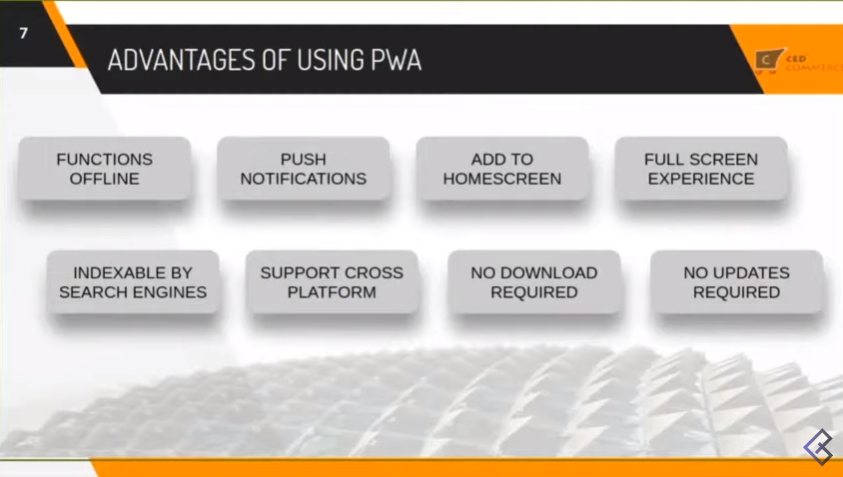 Image source: https://cedcommerce.com/
While surfing the net or while browsing for a product we use the web browser when we don't have the access to an app or we might not have the data or connectivity or possibly the storage to use an app. At the same time, the user experience and ease of use of an app are not comparable by a far extent to a browser.
PWA showcases the best of both worlds of the browser and app. It is reshaping the world of e-commerce and has put together an abundance of possibilities that is beneficial to both the business and the user.
Magento PWA is one such solution that people who already own Magento e-commerce businesses can opt to turn their online stores into a PWA through the Magento 2 PWA studio or create a PWA and not a website, as per their need and convenience. PWA in Magento 2 comes with a bunch of features that provide you with all the solutions needed for e-commerce PWA.
When is the right time for Magento merchants to opt for PWA?
There can be different situations in which a Magento merchant could opt for a progressive web app for an e-commerce store, so given below are a few times when it could be implemented:
When you do not have the resources to invest in a native app Magento 2 PWA
To deliver a better user experience.
When you want to increase your conversion rates.
While planning to remodel your e-commerce business.
Also read: When to consider PWA for Magento website of yours?
Why do Magento Merchants need to use PWA for eCommerce?
Magento PWA combines the website and the app to create an amalgamation that is currently being seen as the present of e-commerce. PWAs are a boon to the e-commerce industry and have changed how businesses interact with their customers and it has also helped in reviving eCommerce for mobile users. Not only have they reached a larger audience but also have been able to drive more users to their websites.
Given below are a few points as to why Magento merchants need to use PWA for eCommerce:
PWA for Magento enables enhanced user experience
Since Magento PWA integrates the browser and app features, it is sure to deliver a very good user experience. It provides a seamless user experience as Magento PWAs are known to work offline or even in very poor network conditions thus from every aspect it is a win-win situation when it comes to user experience.
Owing to this factor there is a significant change in overall user engagement when we speak of PWAs as compared to native apps. In a report done by smashing ideasthere was an increase from 20 percent, being the minimum, to 250 percent, in relation to customer engagement. For example, Lancome, a part of the L'Oréal luxury products, showed a record of 53 percent more mobile sessions as compared to when they did not use PWA.
It is SEO and desktop friendly
Magento PWA is SEO in the way that it provides excellent user experience and fast loading time, all of which enhance the user experience, thus helping the business to rank organically. It is also desktop friendly, as it is an enhanced version of a browser, just as you save its icon on the mobile homepage, you can do so on the desktop.
Cost control when it comes to uploading apps on an app store
When you build a PWA it cuts out the need for you to go and upload your app on a store and therefore the cost of uploading the app is curtailed, there is no need to give these marketplaces 30% of your earnings. There is also no assurance that once your app is in on a store, it will be downloaded. There has to be a very strong reason for users to download the app, therefore Magento 2 PWA eliminates all these reasons and simplifies the process.
Fast and affordable development
PWA for eCommerce is not developed in the way native apps are developed as there is no need to create codes for all the different platforms your app will be uploaded to. Native apps follow a different method of development and for every platform, there has to be a different set of codes, which is very expensive, and then comes the charge of uploading the app on different platforms which have separate charges. There is no such thing when it comes to PWAs, therefore, making it fast and affordable development.
Reduces cart abandonment rate: Improve conversion rates by 50%
The buyer expects a seamless browsing experience with fast loading pages that are responsive and work offline. All this plays an important role when the buyer has a purchase decision to make, it influences the decision. PWAs incorporate all of the above factors and this, in turn, helps to reduce cart abandonment rate.
Mobile app uninstallation
Given the universal mobile app uninstall rate is 28 percent after 30 days, gives all the more reason for Magento merchants to use Magento 2 PWAs. Buyers need a very strong reason to install apps and when they do, after their motive is fulfilled, most of them uninstall the apps, one major reason being the space that it takes up on the mobile phone. PWAs are such small files that the space taken is almost not noticeable and also the fact that it works offline gives a good reason for the buyers to use it.
Visually engaging frontend: 50% increase in customer engagement on PWA
PWAs ensure a smooth, reliable, and trustworthy shopping experience. It also works with a low network allowing the shoppers to view the images, products and also add to the cart and proceed for checkout, all of which increase customer engagement up to 50 percentmaking PWA for eCommerce a popular choice.
Cost reduction
Using Magento 2 PWA you do not have to build separate applications for your storefront. You can simply opt for a PWA which costs a fraction of what developing an app would cost you. Another point to be considered is that to reach a wider audience you would have to develop two different apps for two different platforms, that is, android and iOs.
With PWAs you do not have to worry about that as PWAs are compatible with a maximum number of browsers with the exception of a few. The charges for developing any app, be it Android or iOs is really expensive, and also that for different app stores you have to develop a different version of the app just adds to the cost burden, but a PWA may cost from anything to 2-3 times lower to 15 times lower, depending on what you have in mind and the type of business you run.
Even if a small portion of the cost is cut it is a great help to the business, especially if your business is a start-up. If you have a small business and are looking to expand, PWA in Magento 2 is the best fit as you get the use and feel of an app by only paying a fraction of the real cost.
Ease of Accessibility
Since Magento PWA is created from the URLs of the existing Magento storefronts, you do not have to worry about downloading the app, it gets added to your home screen and can be accessed from there. Another impressive feature is that the PWA works smoothly and really fast, offline and online with very less loading time. Also, businesses that have switched from native apps to PWAs have noticed a huge difference in page loading time.
Using Magento PWA will help your outreach to grow
Do you have an app as well as a website but still are unable to reach your goal or are still not able to drive the required traffic to your business? Magento PWA can help you achieve this. Many people do not have the access to an app while some prefer using apps for ease of accessibility. PWA in Magento 2 integrates these two so that you do not have to go and download the app from the store but you still get an app, that is actually an extension of the web browser, with all the features like push notifications, etc. This way you are able to target the users that come from mobile apps and uses that use the app, both at the same place.
How can we be of help?
CedCommerce provides eCommerce solutions to those businesses who want to build a strong presence online and take forward their eCommerce business. If you want to take forward your business like Cloth Face Mask did or as The Roasters did, you can avail of our PWA service.
Cloth Face Mask used the Cenia PWA theme for Magento PWA that gave them plenty of options to choose from like various addons and extensions that gave them the option to add various payment methods, product tracking, the discovery of their products, and so on. For The RoastersEleutheria Poci owned an online coffee and beverage store that wanted a brand new version of her online store and therefore approached CedCommerce to take up the initiative of developing a PWA for the online store. The following features were added to her website:
very fast loading time
a website with a high page speed
rich user experience
Concluding remarks
PWA in Magento 2 is cost-effective, fast loading gives a user-rich experience, and works offline. All these factors enable better conversion rates and are ideal for businesses that are not able to find a solution that will help them to target both customers coming from the browser and app. It is a worthwhile investment to make presently and it also helps with optimization, therefore making it a good option.
The post PWA for eCommerce: Why Magento Merchants need to go for it? appeared first on CedCommerce Blog.