Struggling with choosing the right eCommerce theme for your website from tens of thousands of options available? With so many choices, it is like picking a needle in a haystack.
We live in the digitally-advanced era, where consumers are likely to get distracted more than ever. It is because the first impression is significantly important when it comes to the appearance of the website. Just like physical stores, online stores also need to be attractive enough to keep customers engaged. Attractive eCommerce themes play an important role in keeping the customers engaged while exploring your online store.
38% of visitors will stop engaging with a website if the content or layout is unattractive.
Among many platforms, BigCommerce is the most preferred platform for offering great eCommerce themes. Each theme available at Bigcommerce offers a pre-set design and functionalities. And BigCommerce themes can be easily customized for delivering the best brand experience for your online business.
Tips To Choose The Right eCommerce Themes.
The right eCommerce theme ensures that your online store is making a strong first impression on your visitors. It is because what a visitor sees as soon as they enter your website has a direct impact on their next step. Either they proceed to the checkout section or tap on the red cross button at the top-right corner of their screen and never come back.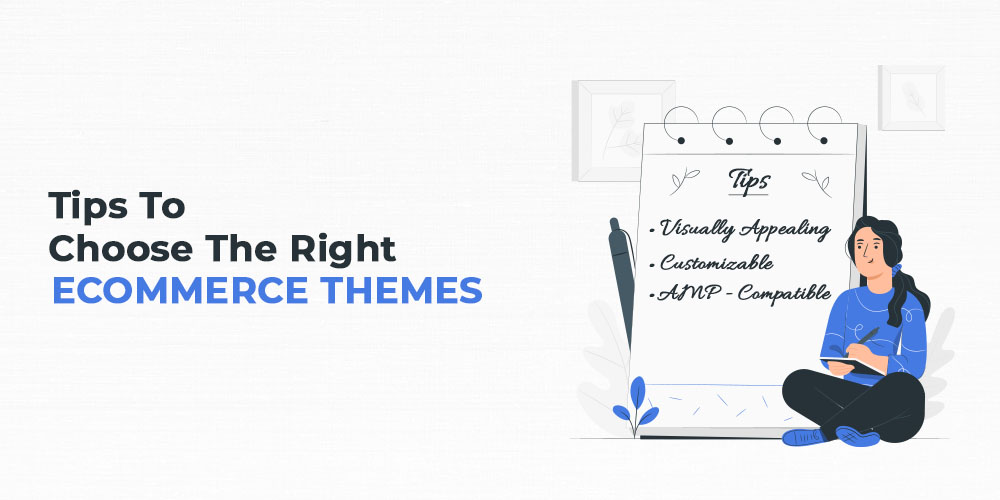 Hence, selecting a perfectly appealing website combined with a careful selection of fonts, color schemes, page loading speed, easy navigation, high-definition images, and so on is very important.
And when choosing the right eCommerce themes, you must keep the following points in mind. 
1# Visually Appealing
As said above, an attractive website layout makes the very first impression on visitors. And as the famous adage says – "The first impression is the last impression"; online businesses must choose a website theme that is visually appealing enough to keep the customers stay on your website. Hence, Look for attractive graphics, images, fonts, and so on when selecting a perfect eCommerce theme.
2# Customizable
A website theme with customizable capabilities is another essential factor to consider when choosing an eCommerce theme for your web store. Since the eCommerce business holds the tendency of quick expansion in a short time, it is vital to select a theme infused with advanced features and customizable capacity.
3# AMP-Compatible
Not just mobile-friendly, but also infused with Accelerated mobile pages that can help your website load fast on mobile devices. It means you must always opt for right eCommerce themes with AMP-compatibility so that your website gets a better ranking even on mobile search results.
When talking about BigCommerce, it has the first-native eCommerce integration for AMP. And most importantly, BigCommerce themes are AMP compatible.
About BigCommerce Themes
Bigcommerce is one of the top eCommerce platforms allowing businesses to create an online store. It not only enables you to set up your online store, add products, and make money through your website but also offers a wide array of attractive themes and templates choose from. There are more than 100 themes to choose from; out of 12 themes are free, and 100 are paid.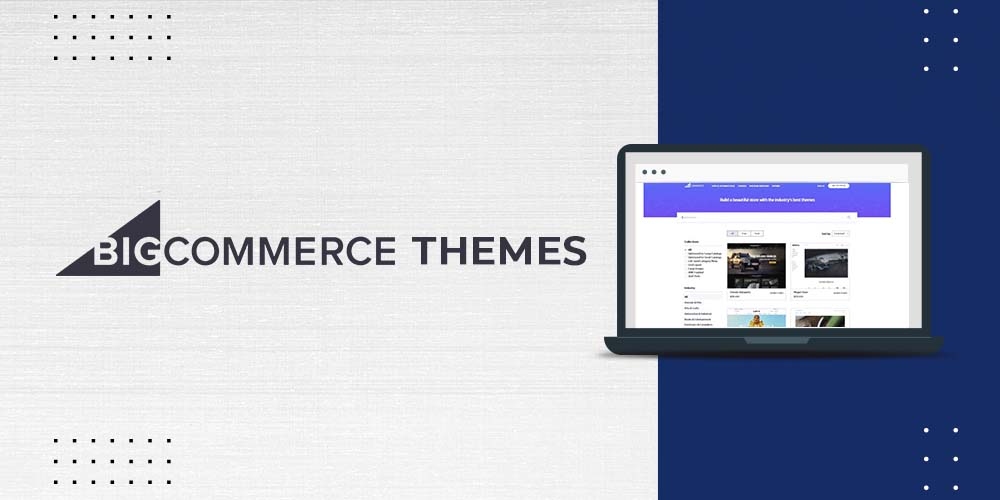 The BigCommerce themes are designed with a set of features and functionalities created to aid the development process of an online store. BigCommerce themes are a collection of high-quality designs infused with an advanced set of tools and modification options.
Where to go…
Now, when it comes to choosing the right Bigcommerce theme among hundreds of free as well as paid theme templates, CedCommerce is ideal to approach. Being the Certified Partner of BigCommerceprofessionals at CedCommerce will help you throughout the process of selecting and implementing the Best BigCommerce Themes.
On contacting CedCommerce, you will be served with professional assistance regarding Store set-up & theme customization by our experts. They will assist you in every step and helps with the best choices.
Now, let's have a look at some of the most suitable and best BigCommerce Themes according to your store.
Best BigCommerce Themes 
Free Themes
Cornerstone.
Cornerstone is BigCommerce's most popular theme and is one of the most sought-after themes for the new merchants to start with. It is one of the most sought-after free BigCommerce themes available in three variations – LightBoldand Warm.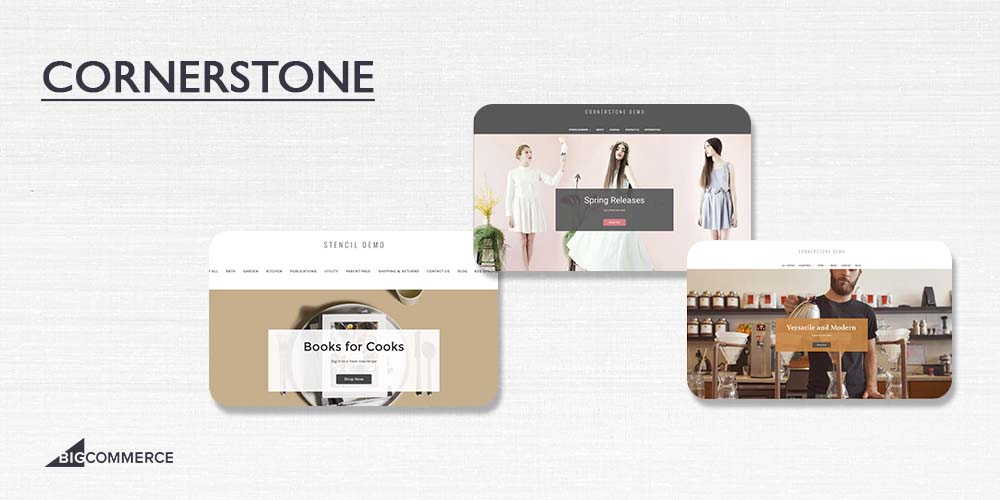 The free BigCommerce theme specially optimized for sales and discounts, multi-purpose sites, and large catalogs. It is the most responsive theme holding great compatibility with multiple devices – laptop, mobile, and desktop.
The Cornerstone is considered to be one of the Best Bigcommerce themes with features:
Cart suggested products
Customizable product selector
Advanced quick view
Google AMP compatibility
Customized one-page checkout
Vault
Vault is yet another popular free BigCommerce theme infused with advanced store design capabilities. The theme is versatile enough to handle both large as well as small catalogs. It offers a modern, sleek look to your website.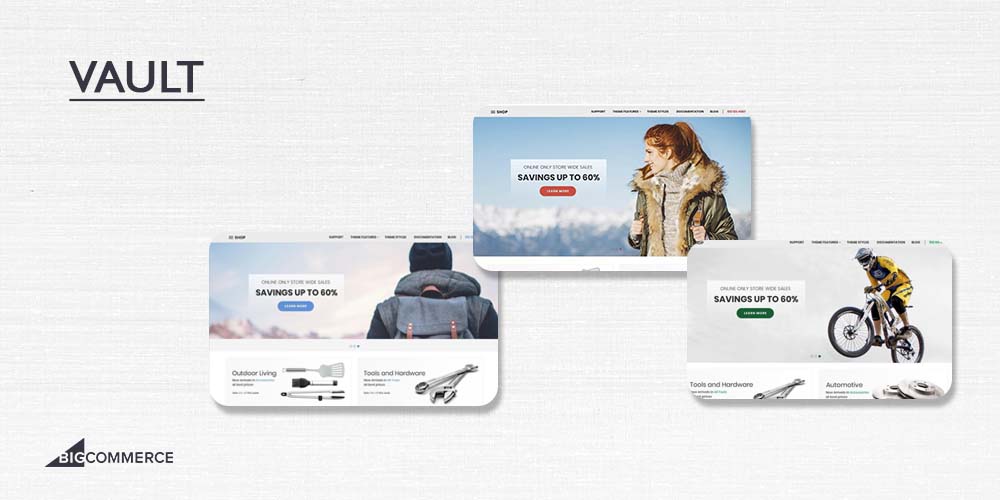 Available in three different styles – CoolBrightand Naturalthe free Bigcommerce theme offers a clean look with its timeless font style, clear layout, and color highlights.
Some of the key features of the Vault theme are –
Fully Responsive
Free Theme Upgrades
Frontpage Slideshow
High Res Product Images
Advanced Quick View
One Page Check Out
Google AMP
For Large Catalogues
Parts Warehouse
Parts Warehouse is another innovative BigCommerce theme ideal for larger catalogs. That means it is a perfect option for stores with multiple products and categories.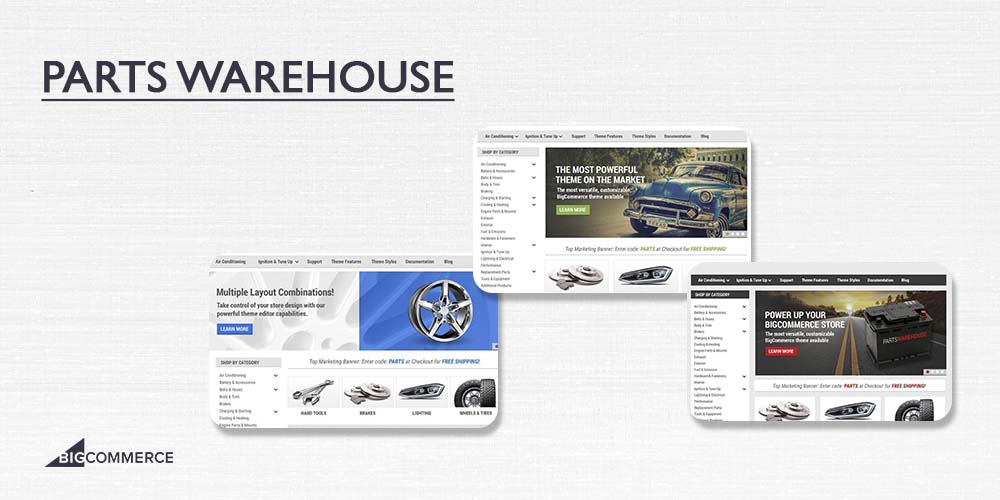 Ideal for home & garden, electronics & computers, sports & recreation, and automotive & industrial stores. The highly flexible and customizable theme is available in 4 styles – ClassicDarkLightand Champion.
Parts Warehouse is a paid BigCommerce theme. And it is feature-rich with the following-
Product Comparison Table
Complex Search Filtering
Cart Suggested Products
Product Filtering
Advanced Quick View
Google AMP
Quick Add-to-Cart
Venture
The Venture is another versatile Bigcommerce theme ideal for large catalogs. It is a perfect theme for the fast-growing online store. The theme comes in 4 different variations – BrightWarmCooland Dark.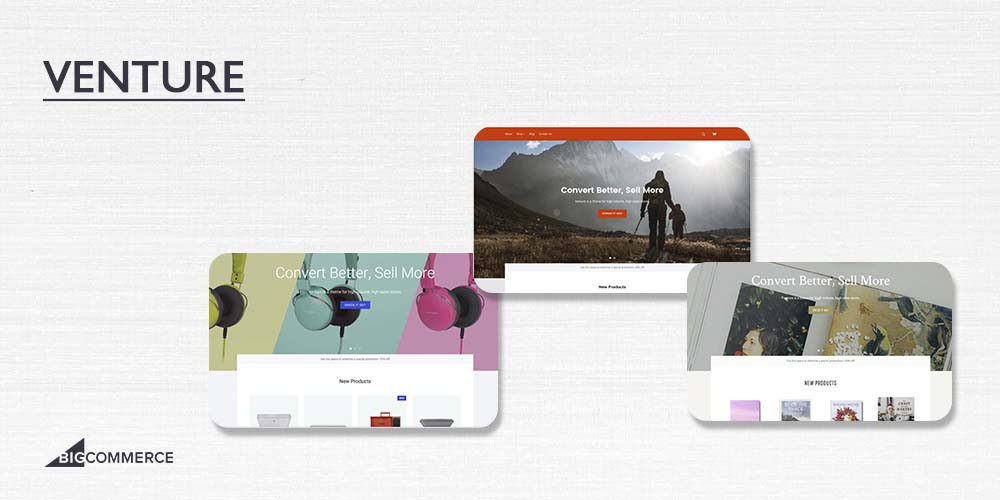 It offers a sophisticated and stylish layout ideal for multiple categories and products. The theme is designed with-
Customizable Product Selector
Free Theme Upgrades
Advanced Quick View
One Page Check Out
Product Videos
Google AMP
Quick Add-to-Cart
For Small Catalogues
Geneva
The Geneva theme comes with striking and contemporary design. It is another paid BigCommerce theme that contains four premium quality layouts – BoldPastelColourfuland Grey. You can maintain your website with this theme without having any skills in coding.
With this BigCommerce theme, your customers are going to enjoy a better browsing experience. High-resolution images, extensively high footer sections, etc., are all major benefits of the Geneva theme.
The theme offers the following features- 
Google AMP support
Product video supported pages.
Customized Check-Out
Quick Add-to-Cart
Google Analytics Enhanced Ecommerce
Runway.
The Runway is another most sought-after paid BigCommerce theme. It is a gallery theme ideal for online stores with exceptional style.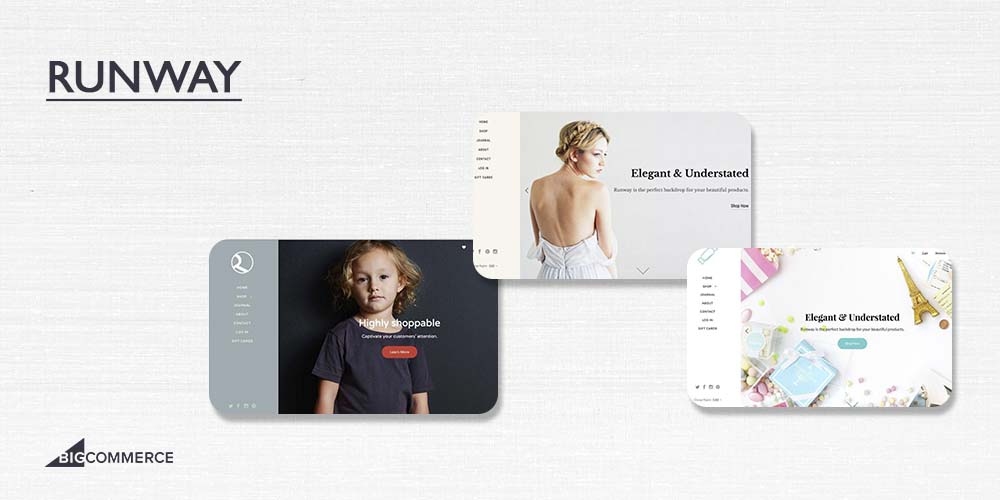 The Runway BigCommerce theme comes in 4 different styles – WarmBoldBrightand Minimal. Each style serves as a perfect layout for brands dealing with high-end products. The theme is loaded with exclusivity and innovation.
Some of the main features of the Runway theme are-
Fully Responsive
Free Theme Upgrades
Google AMP
Multi-Tiered Sidebar Menu
Google Analytics Enhanced Ecommerce
Storefront CSRF Protection
Wrapping Up
Now that you know, BigCommerce themes can be the ultimate option for choosing the eCommerce themes. With this, the time, costs, and energy involved in keeping your visitors engaged can be easily eliminated.
With great flexibility and innovation, BigCommerce themes can play an integral role in the success of your webstore. And when it comes to opting BigCommerce themes store setup or customizationCedCommerce is your ideal place to connect with.
The professional assistance at CedCommerce will be guiding you at each process of your store set-up & theme customization.
And to connect with CedCommerce, click here!
The post Quick Guide to Choose Right eCommerce Themes for Online Store appeared first on CedCommerce Blog.