Short Summary
The Problem
Emma Hannay owner of Stamped With Love struggled to keep track of stocks on two platforms (Etsy and her WooCommerce store). Hence, deeply worried about overselling and underselling during peak hours.
The Solution
Etsy integration for woocommerce put an end to her worries with the automated sync feature. Hence, never lost the opportunity to sell to more customers.
The Outcome
Emma is selling seamlessly without issues. Her store sales increased by 5X. She is satisfied with the solution to the extent of recommending it to others. Also, rates CedCommerce support and solution as 5 star. And has plenty of time to focus on business objectives.
Stamped With Love – Bespoke Gifts for All Occasions and All
Stamped With Love is an online personalized gift store based in the UK with unique and lovely handcrafted gifts for your loved ones. The store features loads of extraordinary collections of gifts and keepsakes. These unique products bring smiles and strengthen bonding with those you really care about and desire to make them feel valued.
Stamped With Love Store is making people come close with bespoke gift for all occasions and for all.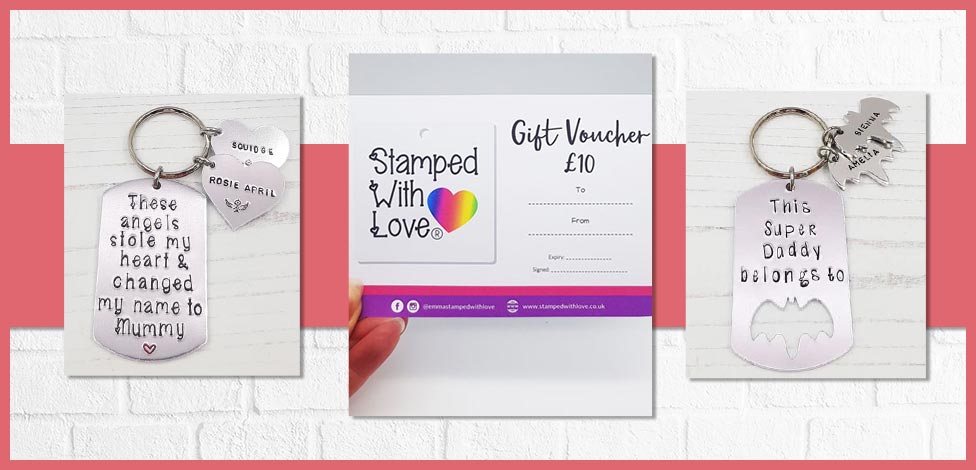 You can make gifts stamped with love upon including a personal message for the special person along with the product.
Emma's dedication help her make store stand out with below
SEO optimised store to increase product visibility. Therefore, making it easy for customers to find the products
Always being responsive to customer concern about order, shipping, and everything else
Creative packaging with high quality material to delight the customers
About page very well informs user about emma's vision, inspiration, and efforts behind the store
As a result, customers find her store to be a reliable destination for bespoke gifts for parents, couples, friends, pet and more
The Journey and Challenge of Stamped With Love Store
Store owner Emma Hannay kickstarted her online selling journey with Etsy in 2015. Her website, stampedwithlove (WooCommerce based) was ready in 2017. Two platforms sound quite logical to facilitate more selling by reaching out to more customers.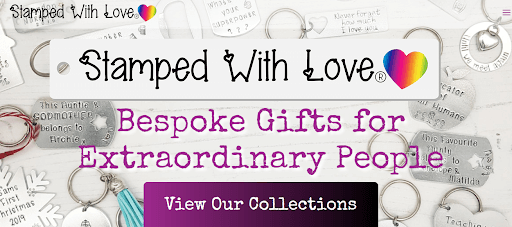 Image credit: Stamped With Love
Despite having gifts that are too cute to say no and a team of 10 skilled individuals. They failed in managing the pressure of peak hours fruitfully. During Christmas and Father's day, demands were too much to get addressed due to a lack of understanding about stock's quantity. Hence, timely and correct order delivery was a hard nut to crack.
As a result, the selling experience during the festive season (high sales day) used to end up like a messed-up affair with limited sales. Emma wanted to find the root cause and went on till she sensed some deep trouble with the inability to be updated with the latest stock level.
Soon, she drew the conclusion that an integration solution would permanently solve the problem. She will keep track of inventory that is sold, in-stock, and to be packed and shipped.
Emma Learned About Etsy Woo Integration for Ensuring Real-Time Inventory Sync
She was on a quest to find the integration solution provider and empower her store with two important features as below.
Pull orders from Etsy into her WooCommerce store for stock management
Stock related updated information to be reflected on Etsy
Finally, in her email inbox, she discovered CedCommerce Etsy integration for WooCommerce featured in one of the WooCommerce email. She was relaxed to find our feature-rich integration solution was affordable with a one-time payment and no hidden charges. Hence Emma, a perfect choice to sell like a pro on Etsy.
She approached CedCommerce regarding Etsy integration for WooCommerce. The solution bought her peace of mind. Due to the automated synchronization feature, she efficiently manages stock levels during high traffic hours on her store and Etsy marketplace. It also helped in knowing about exact stock requirements.
Hence, no worries about whether there are sufficient products and eventually procuring more products than required.
Emma is excited upon finding CedCommerce took 24 hours to integrate the store on Etsy, which was significantly less than the earlier solution she opted for her store. She also noticed that customer support was far better than her previous experience with other solution providers.
CedCommerce went an extra mile to fulfill her custom label request. Our skillful developers did a little customization in the store to ensure Etsy orders get fetched on WooCommerce store with a custom label onto them.
Stamped With Love Store Sales Skyrocket and Emma is Selling Without Worries
The sales and visitors to the store have improved a lot upon using the Etsy integration for WooCommerce. It took only four weeks to experience a 100% rise in visitors to the store. As a result, Emma's store witnessed a 5X jump in sales during the same time duration.
More importantly, it put an end to her unwanted stress. The stress that mounts up due to confusion as a result of the inability to accurately monitor and manage stocks across Etsy and the store.
Finally, it resolved her biggest concern. Therefore, she no longer worries about if the product is available or she has to deny customers after accepting the order.
Emma Recommends CedCommerce for WooCommerce Store Integration on Etsy
Emma is selling seamlessly without any issues. She is excited to have received impeccable customer service and rates it as five stars. In particular, she was impressed with the account manager's professional behavior and deep understanding of her business.
In her own words, The customer service is amazing, a dedicated account manager that I can contact through WhatsApp is amazing. I know that I am working with a company that wants to support me to do well too ~ Emma Hannay (Stamped With Love, Store Owner)
As a result, She is promoting cedcommerce as an e-commerce integration solution partner to those interested in selling on Etsy with WooCommerce store. Her purpose is to bust the myth that integration solutions are an expensive affair because the return on investment is worth the price.
The Major Benefit upon using the Etsy integration for WooCommerce
The ability to sync stocks (inventory) between WooCommerce store and Etsy proved crucial to utilize the fullest selling opportunities.
As a result, Stamped With Love store never accepts the order but denies it afterward on low stocks. It would have been very embarrassing and unprofessional.
Similarly, no more being unaware about exact product quantity. Therefore, a situation like the product is in the warehouse, but customers find it's out of stock on the store didn't occur.
This way, the customer experience was not compromised despite targeting more customers. Hence, Emma's store was able to deliver an impeccable customer experience even during the festive season.
Other Features that Enabled Hassle Free Selling on Etsy are below
Bulk Product Upload – It helped in uploading all products from WooCommerce to Etsy with single click including the variants. Hence, ensured accuracy during product upload and saved several man hours of the store owner.
Profile Based Product Upload – for uploading products considering their attributes and categories on Etsy. As a result, product visibility increases, and customers can easily find the product without getting lost in the website.
Centralized Order Management – Making it easy to manage Etsy orders from the WooCommerce store fully. As a result, no order was missed or shipped with delay. Therefore customers didn't complain about delayed delivery.
Dedicated Account Manager – A highly skilled professional determined to do all the setup, gives a walkthrough of the solution and explains the app's ins and outs. He will as well solve anything that could hinder the smooth functioning of the store.
Product Category Mapping – A feature to enable many to one category mapping. Hence, it was easy to map multiple product categories of WooCommerce store to a single category on Etsy.
Product Data Validation – A useful feature for ensuring all products uploaded on Etsy comply with set standards. Thereby eliminating any chance of product rejection.
Summing It Up – CedCommerce Professionalism Drew Appreciation and Recommendation
Etsy integration for WooCommerce proved to be a game-changer for bespoke gift store Stamped With Love. They can serve more customers despite a team of 10 members.
As per store owner Emma Hannay, the Integration solution bought much needed ease in her online selling journey. She is equally elated with customer support that ensured her store is up and running, and she never has to worry about stock management.
Hence, her store is in condition to gain the lost orders missed during the last few years (especially during festive season shopping) due to lack of the right solution.
The post Real time Stock Sync Between Store and Etsy Paved Success Path for UK based Gift Store appeared first on CedCommerce Blog.