CedCommerce empowers WooCommerce merchants to sell on the Tokopedia marketplace with ease and effortlessly. Experience a smooth selling process by listing your products on the Tokopedia marketplace.
Established in 2009, Tokopedia, the largest eCommerce marketplace in Indonesia, is the rapidly growing economy in Southeast Asia.
Over the past few months, Pandemic has accelerated the expansion of eCommerce. It has provided customers with access to a wide range of products and services and enabled merchants to grow their business by making the most of this opportunity.
Here are the stats that show the rise of the eCommerce industry in the Indonesian region.
eCommerce Scenario in Indonesia
Online shopping has become more popular and convenient for people from the safety of their homes. The eCommerce industry of Indonesia is likely to hit $65 billion by 2022.
Tokopedia contributed to more than 1% of Indonesia's economic growth in 2019, with active monthly users of more than 90 million and more than 7 million merchants on its platform across 17000 islands. Its primary goal is to democratize business through innovation.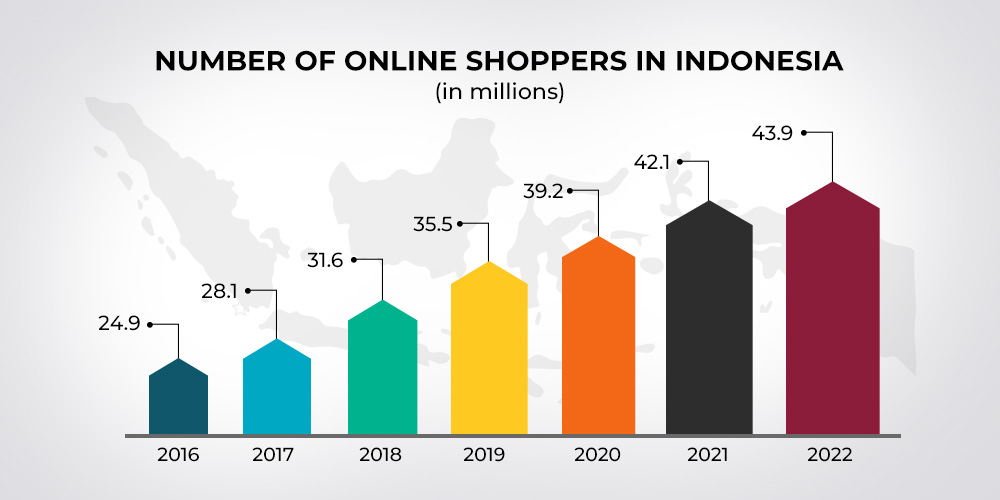 Indonesia is the wealthiest country in Southeast Asia, with approximately 270 million people, making it excellent for cross-border eCommerce. Tokopedia is only available in Indonesia; considering Indonesia's growth and potential, it will soon expand its reach in other Southeast Asian countries. As per Statistathe revenue in the eCommerce market of Indonesia is expected to reach the US $38,195m in 2021.
Keeping the above statistics in mind, it can be beneficial to sell on the Tokopedia marketplace as it has a great possibility of expansion across Southeast Asia. Let us discuss the reasons why you should sell on the Tokopedia marketplace?
Reasons to Sell on the Tokopedia Marketplace?
Are you willing to engage more customers in your WooCommerce business? Then why not sell on the marketplace that's leading the Indonesian region?
The marketplace allows big to small and medium-size entrepreneurs to have a flawless selling experience. It is free for its regular customers who use the basic plan. Simultaneously, sellers can increase their sales through Power Merchant as customers have tremendous confidence in transacting with them. If you are a part of the Power Merchant program, you are charged a 1% service fee for every transaction.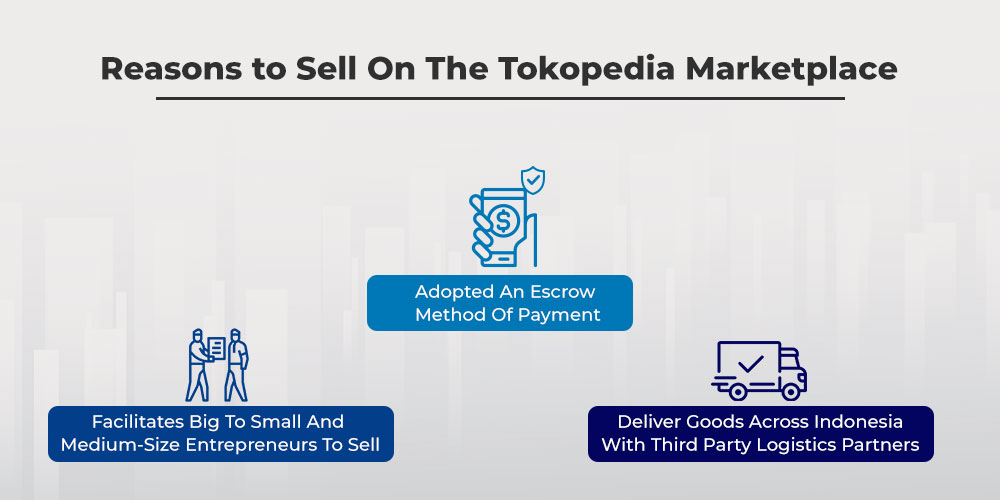 Tokopedia has opted for an escrow method of payments for more secured and fraud-free transactions. The merchants can get connected to large banks and instant payment methods like Mandiri e-Cash, BCA KlikPay, KlikBCA, etc.
With a network of third-party logistics partners, Tokopedia delivers goods across Indonesia, which means if you sell on this marketplace, you are sure to get a lot of customer engagement and limelight for your products.
Other attributes of Tokopedia
It provides a wide variety of products and services.
Enables financial inclusion by offering affordable investment solutions and various payment options.
The Tokopedia Mitra application bridges the gap between online and offline.
With an integrated logistic and fulfillment system, customers can decide the time of arrival of the package, and sellers can store their products in its warehouses located all over Indonesia.
Thus integrating your WooCommerce stores with Tokopedia will ensure a safe and hassle-free selling experience. The plugin will help you manage product details, orders, and inventory efficiently and effortlessly. Let us get right into the explanation of the features of Tokopedia Integration for WooCommerce.
Salient Features of WooCommerce Tokopedia Integration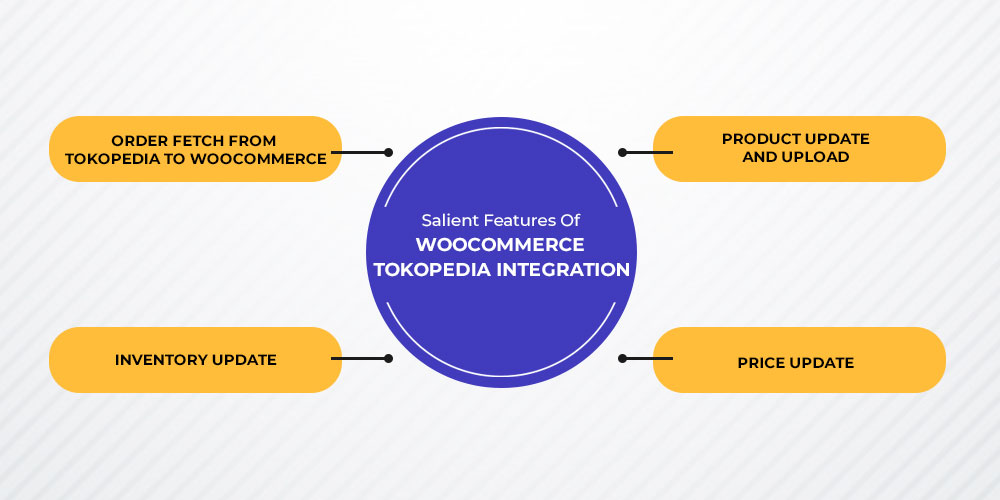 Product Upload
Manual uploading of products can be a tiresome job. The integration allows you to upload your WooCommerce products on the marketplace in bulk in just a single clicks.
The data will get automatically updated on Tokopedia via WooCommerce with proper title description, price, and stock details.
Product Update 
You can easily modify the data on the marketplace with the help of the WooCommerce extension after you have uploaded the products.
Price Update 
The extension allows to update any changes in the price of the products on Tokopedia through WooCommerce.
Inventory Update
Keeping track of inventory on two platforms can be problematic. You can avoid overselling by updating the list as soon as there are changes in the stock of any product in WooCommerce. It is possible by selecting products from the Manager product page.
Also, the integration helps to update the stock of products automatically from WooCommerce to Tokopedia by setting the scheduler or cron at the back end.
Order Fetch from Tokopedia to WooCommerce 
Managing orders on two platforms can create inconvenience for the merchants. You can fetch orders manually by directly clicking from Tokopedia to WooCommerce.
Also, with the plugin's automated features, you can fetch orders at specific time intervals from Tokopedia to WooCommerce by setting up a scheduler. Once the scheduler automates, there is no more manual involvement.
The Tokopedia Integration for WooCommerce leverages you to have a seamless selling experience and eases your work. The plugin automates your WooCommerce store to the marketplace allowing you to grow your business by reaching a vast audience.
Summing Up
Evolving with the latest features, you can integrate your WooCommerce store to Tokopedia, the largest marketplace in Indonesia, thereby giving your business a chance to prosper in the wealthiest country of Southeast Asia.
With Tokopedia Integration for WooCommerce, take this chance to bring your business into the limelight and flourish in Indonesia's eCommerce industry.
The post Selling on Tokopedia marketplace made easy with WooCommerce Integration appeared first on CedCommerce Blog.