Quick Brief: Shipping to Canada has never been easier! Walmart's new Ship with Walmart program is here to ensure that US-based sellers looking to expand their horizons have a firm footing in the world of business. This new Walmart shipping service offers a quicker, more straightforward, and comfortable way for US-based merchants to start selling on Walmart Canada Marketplace. In this blog, we'll have a look at the features and benefits of the SWW program, the cost of shipping to Canada, and much more.
Shipping to Canada: What goes wrong?
With 4 million monthly visitors to its name and an excellent reputation to speak for it, Walmart Canada is one of the most prominent international marketplaces out there. Especially for US-based sellers who want to expand their business and are looking towards a multichannel sales approach.
For merchants who're selling in the US, expanding to Canada comes as an obvious next step. Primarily because of the shared border, the cultural similarity, and the ease of doing business between the two countries.
However, even with countless benefits and the lucrative market, some sellers find the idea of shipping to Canada a little bothersome. This happens mostly because of the skyrocketing excise and customs cost and the additional hassle of managing international shipments.
It is reasonable for a seller to find the high shipping costs and the manhours spent handling International cargo off-putting.
Although, if the shipping cost and the trouble that comes with it are the only reasons stopping you from shipping to Canada, we have some great news! Walmart's newly launched Ship with Walmart program helps US-based sellers expand to Walmart Canada in a more efficient and less cumbersome manner.
The Ship with Walmart program offers reduced, Walmart-negotiated prices to the merchants and helps you prepare the required Import Documentations.
Ship With Walmart: Explained
Ship with Walmart (SWW) is Walmart's newest program that makes it easier for US-based businesses to set-up shop in Canada. This unique program cuts the shipping cost to Canada, as sellers can avail of the negotiated prices instead of the sky-high excise and customs fees.

As a seller, you would have to register for the SWW program with Walmart. Upon which you can either choose to seamlessly integrate the program into your store (all frameworks) with the superior integration offered by CedCommerce; or use extensively involving and troublesome APIs.Thus, allowing you to focus more on their day-to-day business and let the carrier worry about your shipments. Industry bigwigs, namely- FedEx and Purolator International, handle all products under the program. This ensures that your shipments are delivered on time and with accurate tracking details.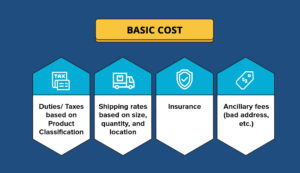 The Ship with Walmart program ensures that as a small/medium enterprise, you don't have to deal with the additional trouble of shipping. Hence, you get a fair chance to succeed in the international market and create a niche.
The two distinct features of Ship with Walmart
Ship with Walmart aims to facilitate trade between the two countries; hence everything has been thought of and provided. To handle shipments, Walmart has come up with two distinct features: Express and Ground.
While 'Express' focuses on time-essential, small scale packages, 'Ground' has been designed more for bulkier parcels.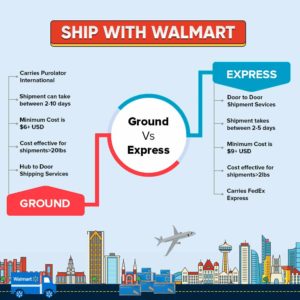 Express
A door-to-door service; Express is suited for smaller, lighter items and express shipments where time is essential. Seller ships the product from its shipping center directly to the buyer. FedEx has collaborated with Walmart to take care of the Express Shipments.
Ground
A hub-to-door service; Ground is suited for larger, more bulky items where the time is not that big a part of the process. Seller ships the product from their shipping center to a nearby hub; from there, the shipment gets delivered to the buyer's address. The Ground Shipment will be handled by 'Purolator International.'
What are the benefits of the SWW program?
Walmart's SWW program has many benefits, apart from the ease of doing business. These extend to the retailer and the customer; since it has been designed, keeping in mind the needs of both parties.
How does it benefit you as a Retailer?
Walmart negotiated rates
Duty and Tax Report
Import Document preparation
Customers Brokerage
Account experts to assist you
How does it benefit your customers?
Reliable shipping time estimates
End-to-end Tracking
Product delivery in 2-10 days
Who else can benefit from the SWW Program?
Walmart US sellers who use 3rd Party Integration
Sellers who're using CedCommerce Integration: Sellers who are already using CedCommerce Integration can reap the SWW Program's benefits through our Walmart CA Integration App free of cost. The new feature comes as a bonus of being our loyal patron!
Sellers who're using any any-other Third-Party Integration: Walmart US sellers who are using any other third-party Integration can also leverage the benefits of the Ship With Walmart Program by just using the SWW feature of our Integration. You can keep using the existing integration, but to avail the benefit of SWW, you'd be required to sign-up with CedCommerce, as we are one of the only two Walmart Partners for the SWW program.
Any US-based seller interested in expanding to Walmart Canada
Suppose you're an independent e-commerce store-owner or selling on any other marketplace and now wish to sell cross-border through Walmart Canada. In that case, you can use the Integration Solution to:
Onboard the Walmart Canada Marketplace seamlessly using all of our fantastic Integration features and also benefit from the SWW program.
Use only the SWW feature for your shipping needs.
US Sellers without an e-commerce store
US Merchants without an e-commerce store can also use the SWW feature of our Integration Solution to sell directly on Walmart Canada. The app's unique feature allows Websiteless Sellers to reap the SWW program's benefits without going through the hassle of adding an extra shipping solution.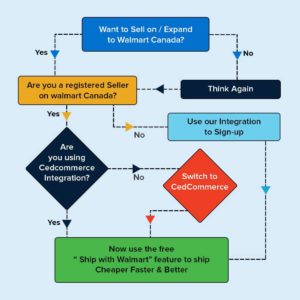 How can CedCommerce make your life easier?
CedCommerce aims to make selling a smoother process for all our Walmart sellers. We have always prioritized our client's needs and have worked to find solutions that do so. Our partnership with Walmart for the new Ship with Walmart Program is another of our many efforts to make your life easier.
The SWW Program cuts the shipping and excise costs significantly, while our Integration Solution helps with onboarding, seamless synchronization, and order management.
The SWW feature of our Integration allows sellers to avail of the benefits of the Ship With Walmart program and manage multi-channel selling processes with a single platform.
Our Integration solution ensures smooth onboarding for new sellers and easy set-up for existing ones!
What we're saying is: SWW is an excellent program for US-based sellers looking to expand their bases to Canada. It makes shipping to Canada a whole lot easier than it ever was and cuts down the cost of international shipping to ensure that all sellers have abundant opportunities for business growth.
The post Shipping to Walmart Canada? Ship with Walmart is Smarter & Cheaper! appeared first on CedCommerce Blog.