If AliExpress dropshipping is your next move towards business expansion, but do you find it complex or too technical? No idea how to get started? Well if your answer are yes, then we have crafted this blog for you only. So, keep calm and read below
AliExpress Shopify dropshipping is among the hottest ways to maximize the earnings of your Shopify store and earn in six-digit figures. The success in AliExpress dropshipping 2020 is linked to automating the order, inventory and shipping process. It makes the process of importing products and order fulfillment easy and very quick. You will discover in depth how it can put your dropshipping business on autopilot mode and you enjoy business expansion in minimum efforts.
Let's Get Started
In this comprehensive guide you will learn ins and out about the below.
Why is AliExpress Dropshipping a Hot Trend?
Why You Should be a Dropshipper in 2020
What You Lose if you don't Opt AliExpress Dropshipping
Why AliExpress Dropshipping
What is AliExpress Shopify App (aka MultiChannel Importer App)
How do you benefit from AliExpress Shopify Dropshipping App
Features of Multichannel Importer App
How AliEXpress Shopify App helps you Earn high Via Dropshipping
Features of AliExpress Shopify App
What if you start today with AliExpress Dropshipping plugin?
The Step by Step Guide to Set up your Dropshipping Store on AliExpress
The Deadly Mistakes of Dropshipping – Avoid at All Cost
Dropshipping – Sell Products Without Warehouse
Dropshipping Solution – Sell Products Without  Worries
Why is AliExpress Dropshipping a Hot Trend?
It doesn't require too much investment. This makes it one of the low risk but high return business models.
No need to own/rent a warehouse and worry about low inventory stocks.
It gives you a perfect opportunity to test the waters before launching your ecommerce store.
No time spent on product packaging and label printing.
You have lots of funds to invest in brand promotion.
ePacket delivery means less transit time (4 -9 days) and door-to-door tracking.
Why You Should be a Dropshipper in 2020?
Dropshipping is one amongst the low risk yet highly rewarding business model of 2020. No need to worry about warehouse simply set your profit margin smartly and earn in an effortless way.
Apart from minimal cost to kickstart your dropshipping business. A little research will reveal top dropshipping products . AliExpress dropshipping solution will help you filter the best suppliers, automate order processing, and ship on time.
A well crafted marketing strategy will bring loads of customers. Rest of your queries and issues will be taken care by our technically sound 24/7 responsive support.
The Rewards associated with Dropshipping far Outweighs the Risk Under all Scenarios Combined.
Hence, don't fall for an article questioning the viability of dropshipping in 2020. Success is subjected to your determination to sail against all the odds. Here is a popularity graph of dropshipping in the last couple of years as suggested by Google. 
image credit: Google trends
What You Lose if you don't Opt AliExpress Dropshipping?
You lose the chance to expand business to the next level with minimal efforts and least investment. It will pull you  behind your competitors who have either opted dropshipping or will soon opt dropshipping.
Loss of loyal customers and positive reviews which you could have gained by automating dropshipping with AliExpress dropshipping solution. Moreover, you lose the opportunity without giving it a try.
Why AliExpress Dropshipping?
AliExpress dropshipping has no hidden charges.
More than 100 million products gives you ample choice to sell your customer a wide range of products. Give more choice to customers and get more orders in return.
Lowest product prices than other marketplaces due to low manufacturing costs. Your profit margin is highest in comparison to dropshipping on other marketplaces.
Do You Know – It costs less than $2 to ship product from China to the USA
What is AliExpress Shopify App (aka MultiChannel Importer App)?
Put end to endless hours of manually importing and uploading products. Do it the professional way, import products from AliExpress to your Shopify store with one click. Automated order processing will ensure on-time order delivery every time.
Is it Affordable for Newbie Sellers?
Free upto 10 products for unlimited time periodcredit card not required. You can opt for it at as low as $0.1 per product. A personal account manager will be assigned to you. He will make you familiar with the ins and outs of the app. You need not be a technical geek to manage dropshipping business with the Multichannel importer app.
Overthinking about Aliexpress dropshipping programs will spur excuses in your mind and discourage you from making the right decision. Meanwhile, your competitors will leverage the opportunity to earn millions of dollars. This way, your competitors will have an edge over you and you need to work hard to regain their loyal customers
How do you benefit from AliExpress Shopify Dropshipping App?
Import and list products from AliExpress to Shopify store (of course with every bit of detail ) using one stop Multi Channel Importer App.
Sellers can create different types of offers. Therefore, you gain a competitive edge and your product visibility sees an instant rise in popularity.
Using Price markup feature increase/decrease price percentage wise or by fixed quantity. This feature helps in setting the most competitive price to make your product appealing during the festive season. Moreover, It can be done in bulk.
Import products with all possible variants in one click and give your customers more choices.
App helps you find and filter the best suppliers and connect with them. It helps you improve customer experience, as the best supplier can be trusted for zero order delay.
Share order tracking details with customer.
Filter the best products from 100 million products on AliExpress. It can be based on quantity sold, price, ePacket, free shipping, supplier and more.
Get notified about updates in price and stock.
App will Auto fill the shipping address.
App enables selling in multi currency. This way, you significantly reduce cart abandonment rate.
Multi channel importers will automatically map new products with existing products (if they belong to the same category).
Edit and update product description and title to make product customer friendly.
Change in product price, and stock on AliExpress will be auto reflected for respective product on your shopify store. It will be done without delay.
Filter products based upon product URL, product id, and more filters.
Your Customer Order On-time Delivery is few clicks away with Multichannel importer app.
These features have established sellers among the league of top dropshipping sellers. They are satisfied and lauded our efforts with 5 star ratings and endless positive reviews.


Features of Multichannel Importer App
The multichannel importer app enables the simplest way to import productsautomates order processingand ship all the orders on time.
Feature #1: One Click Bulk Import
Import all products (including every variant) from AliExpress.com to your SHopify store in one simple click.
Feature #2: Inventory & Price Auto Syncing
Inventory and product price will be synced automatically on a regular interval. It avoids overselling and underselling. Moreover, maximises selling.
Feature #3: Select Collection
Choose specific collections of products and list all on your Shopify store.
Feature #4: Product Upload Multiple Ways
You can upload products in following ways
Select and upload
Upload based on profile
Upload in bulk
Feature #5: Currency Conversion
Convert product currency to one that suits your business requirements. This short video will give more insights about the app.
How AliExpress Shopify App helps you Earn high with Dropshipping
The idea behind the development of the Multichannel importer app is to ease dropshipping journey with power of store automation. Therefore, it is packed with dropshipping friendly features. These features help you save money, sell seamlessly and reduce order delays.
The selection of the right products and trusted suppliers is very important for success for dropshipping business on Aliexpress but it doesn't end here. The moment you receive order in bulks means no more you can handle your store manually
Why is Manual Store Management Outdated ?
You receive thousands of orders during the festive season or sale, but manually you can successfully fulfill a few only.
Entering details in spreadsheets end up consuming hours and there is always a room for errors.
It is hard to update inventory in real time. Therefore, seller takes order but refuse to deliver it upon knowing that inventory is low.
Filtering and finding the best products/suppliers is a tough job. Therefore, you might end up partnering with inefficient sellers. Moreover, these sellers might not deliver orders on time.
Manual Mode of Store Management is not only time taking but equally error prone
Therefore, the first step to safeguard your dropshipping business against manual errors is to go for store automation using multichannel importer app without a second thought!!
Import Unlimited Product Instantly & Fulfill Hundreds of Orders in Minutes – The New Standard of Dropshiong in 2020
AliExpress dropshipping is really worth it, it enables you to earn with minimal investment without the hassle of order fulfillment, and inventory management. If you plan to start your own store but lack of experience stopping you, Getting started with drop shipping will give you a fair idea and this way you will be able to test the water and make better decisions.
In AliExpress dropshipping order fulfillment is done from china via AliExpress. As soon the purchase is done, You place the order with the seller on AliExpress. Once the order reaches the customer the difference in price at which you sold the product and at which the seller sells is your profit margin.
Is AliExpress Dropshipping Reliable?
Another advantage of AliExpress dropshipping is buyer's protection. If the product doesn't reach on time means the full refund will be granted to the customer. This way, you can ensure a smooth customer experience.
Few Tips by Experts for high sales with Aliexpress Dropshipping Business
The e-packet is the best shipping option in terms of price and shipping time. It also enables you to provide customers with end to end tracking details.
Furnishing your customer order shipment on time is the foremost priority of every Dropshipper.
A markup price of 100-150% will fetch you a very high profit.
Offer free shipping and offer discounts on customer's first order.
Why Multichannel Importer App for Effortless Business Expansion
Shopify AliExpress Dropshipping App is the Hassle-Free way to become the top seller on AliExpress. The earlier you take the right decision means chances of business expansion are higher. Moreover, AliExpress has no dearth of opportunities and it grows faster than any other marketplace.
AliExpress dropshipping solution multiplies productivity and opens the door to become a top seller on AliExpress.
It is key to seamless selling on AliExpress. Rest will be taken care by 24/7 responsive customer team and your dropshipping journey will proceed smoothly without technical glitches.
Without AliExpress Dropshipping – You Limit your Opportunity to Move to the Next Level.
How Multichannel Importer App helps you Earn High with AliExpress Dropshipping?
A useful and easily navigable app to import products from AliExpress to your Shopify store with One simple click. Importing products with all varieties better engages the audience.
Order Fulfillment
Order processing won't take a lot of time. Automated order processing significantly shortens time required from order received till order delivered. Therefore, you can ensure fast shipping and zero order delays.
App sends you real-time notifications as soon as the order is confirmed. Upon sharing it with customers you help them with end to end product tracking.
An updated customer is the happiest customer. Therefore you gain a competitive edge over other sellers.
Inventory Management
Manual mode of inventory management won't be efficient enough to handle inventory after a certain level. Manage inventory from a single dashboard and ease business expansion journey on AliExpress.
Inventory will be auto-synced. Hence, no more deny customers of particular items due to low-stocks.
Smart way of inventory management helps in minimising underselling, overseeing and maximising selling.
Shipping Automation
Shipment of few orders is an easy peasy task, but as business grows so does demand from customers. Automated shipping will help you ship bulk orders on time. Auto address fulfillment will not let manual error creep in and increase shipment time.
Save Time – A Significant Amount
The single most valuable thing that you save upon automating your Shopify store is Time. you save time with bulk upload, automated order processing, and auto fulfillment of shipping address.
The Multichannel Importer App enables you with sufficient time to take your dropshipping business to the next level. It automates repetitive and time intensive tasks.
Free for 10 products
Experience seller friendly features for free. It is applicable on 10 products and available for unlimited period.
More Questions? We have a 24/7 responsive tech support team. We are happy to help anytime and everytime.
What if you Start Today with Multichannel Importer App?

The Step by Step Guide to Import Products from AliExpress to Shopify Store
The Multichannel Importer App is easy to install and won't take too much time.
The Installation:
The process to Multichannel Importer App in your Shopify Store.
Visit the link –> https://apps.shopify.com/ced-importer.
Now, Click on Add app button to install the app.
Upon login, you see the shopify store as below.

Click on Install app button.
The Onboarding:
Another simple process. Input your basic information (like email id, contact number,) and complete your configuration step.
You will be redirected to the Account section. Here you can do the below
Import products from seller center
Import products through CSV
The Registration:
Provide details like Full Name, Country, Phone Number, Email, Skype ID, and How Do You Know About us.
An important part here is to go thoroughly to terms and conditions and agree to it by selecting the checkbox and clicking on the Submit button.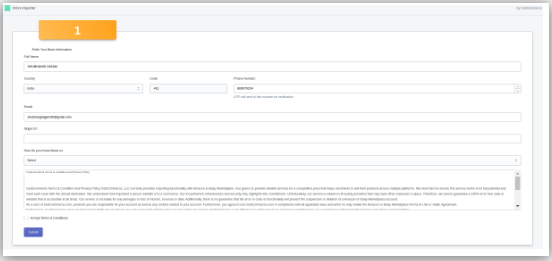 The Dashboard:
Here you find links to all the functions of the app.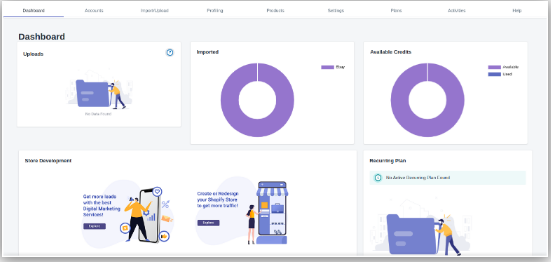 Credits Here you find the number of credits available/left.
Uploaded
Here you find the number of uploaded products with product amount and respective marketplaces.
Imported
It shows the number of products pulled from source marketplace to app.
Recurring Plan
All information about the recurring plan i.e Current Plan, Current Plan Price, Plan Activated On, Next Billing Cycle (if any)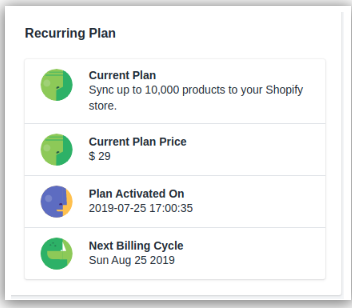 The Account Linking
Upon registration completion, next comes connecting account with AliExpress.
Product Import and Upload
Either do it via CSV file (no need to connect marketplace with the app) or link AliExpress to account section and easily import all products (including the variants).
Congrats your products are imported. The process to upload products on shopify store is simple.
Upload the first 10 products to the Shopify store is Free
Head to the product section and choose 10 products to upload. Uploaded products will be reflected in the Dashboard section under Uploaded.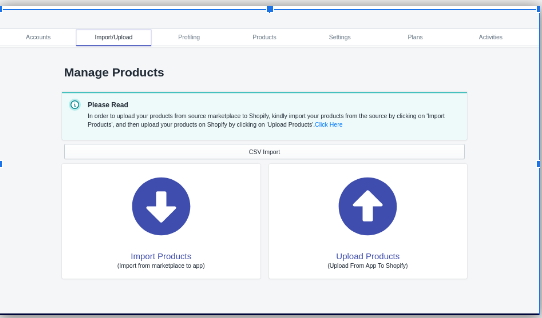 Profiling
An awesome feature to help you upload products based on certain requirements. It avoids manual selection and upload. Here is how to do it in minutes.
Products
It contains a list of all the products that have been imported to the app. These will be in the form of categories like Image, Title, Inventory, Status.
You have the choice to filter the products as per your convenience. Simply click on Create Profile at the top. It redirects you to the Profiling section. Here, you can create profile of products depending upon your requirement.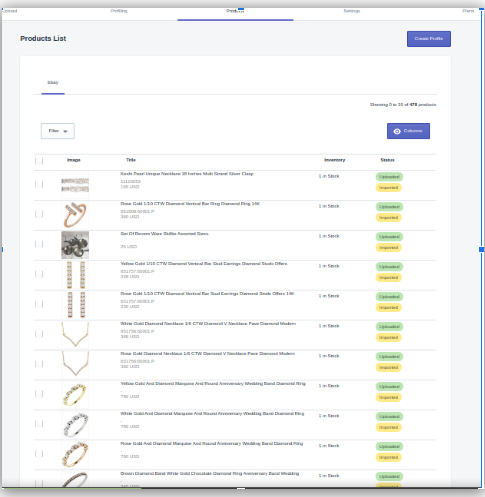 The Activities
This section has all the activities related to the import and upload process that are supposed to happen once the app is installed. Therefore, makes tracking very easy from the activities section.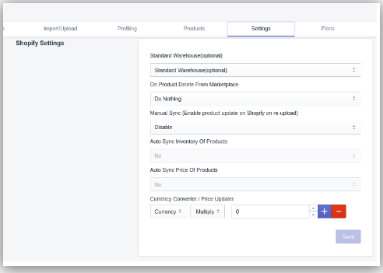 The Deadly Mistakes of Dropshipping – Avoid at All Cost
Dropshipping is amazingly easy way to earn high, but few mistakes could be fatal for dropshipping business. Don't worry, below you find how to avoid/manage them like a pro.
Limited to Single Niche
If you sell in one niche then your marketing budget is centered around few products. You lose the opportunity to invest in selling the hot products in different niches.
Sell under several niches and test more products. Variety of products draw more customers and high sales come along.
Too much reliance on Vendors
Unfortunately, your awesome vendor runs short of products, raises shipping prices, or set up another business. One won't always work. Therefore, have a backup plan and be in contact with a few trusted suppliers.
Order Information is Difficult
Customers expect you to provide products at the earliest, but they are equally keen about knowing the details. Inform them about the most probable shipping dates and share latest updates about product status.
Less Aggressive Branding
Products sold is not the end of branding. You have the opportunity to brand yourself in the form of branded packing slips and via follow up thank you email. Moreover, you will remain in your customer mind so their next product purchase will start at your store.
Taking SEO for Granted
Normally sellers are less concerned about the importance of proper SEO. SEO by experts can take your store traffic from zero to zenith within a few months. Therefore,  recommended to focus on SEO  right before the start of the store.
On a personal noteI would say do the basic from your side and leave the rest to experts. Basic includes find out your keywords and keep your content inline with it. Opt for SEO full time services as long as you earn sufficient enough loyal customers.
Return Policy Missing
Products applicable for return must be managed with a return policy. In case of product return, the customer might not be very pleased but a customer friendly return policy will help in ensuring product is returned with minimum hassle and less efforts.
Giving Up
As a newbie, there might be areas where mistakes might be inevitable. Do not take them as failures but treat it as a new form of learning . Therefore, it will  avoid the same mistakes again.
On a personal noteunrealistic expectations don't bring profit. Don't expect to earn 6 figure monthly income in the very first month or first few months.
Forget the tiresome and error-prone method of copying and pasting customer data and import it within minutes.
Summing It Up
Import products from AliExpress to the shopify store and leverage auto order fulfillment feature to ensure high accuracy, efficiency, and productivity with few simple clicks. It is packed with dropshipping friendly features that makes the journey to the next dropshipping level easy and effortless.
You will not only increase sales via AliExpress dropshipping. Moreover, you can better focus on sales and managing your store in a smart manner.
The Multichannel Importer Shopify App helps you get rid of the Manual Order Processing, the Outdated and Error Prone method.
The post Shopify AliExpress Dropshipping Ultimate Guide For Business Expansion appeared first on CedCommerce Blog.