Dropshipping solution plays a key role and turns dropshipping into an easy and effective business process cutting through the hassle of tedious manual processes that are error-prone and outdated. Hence, it is must have for a dropshipping business.
But, the closure of ShopMaster (dropshipping platform) is a jolt to the dropshipping business. As a result, it sent a second set of shockwaves among dropshippers after the pandemic. Therefore, they are on the lookout for continuing selling in a streamlined fashion without hampering business profit or the ease of doing the business.
CedCommerce message to all dropshippers is not to panic during hard times. Our feature-rich dropshipping solutions have got you covered completely. Above all, CedCommerce is renowned for being the client's first company with 850+ value-driven eCommerce solutions developed by experts. It enables you to sell hassle-free and in a streamlined fashion like a professional.
How CedCommerce Dropshipping Solutions will Ease Your Dropshipping Journey
With an array of dropshipping solutions that are easy to use (you need not be a tech nerd) and equipped with dropshipping-friendly features, we have got your back covered. Let's see what it has to offer and why it is a perfect alternative to ShopMaster.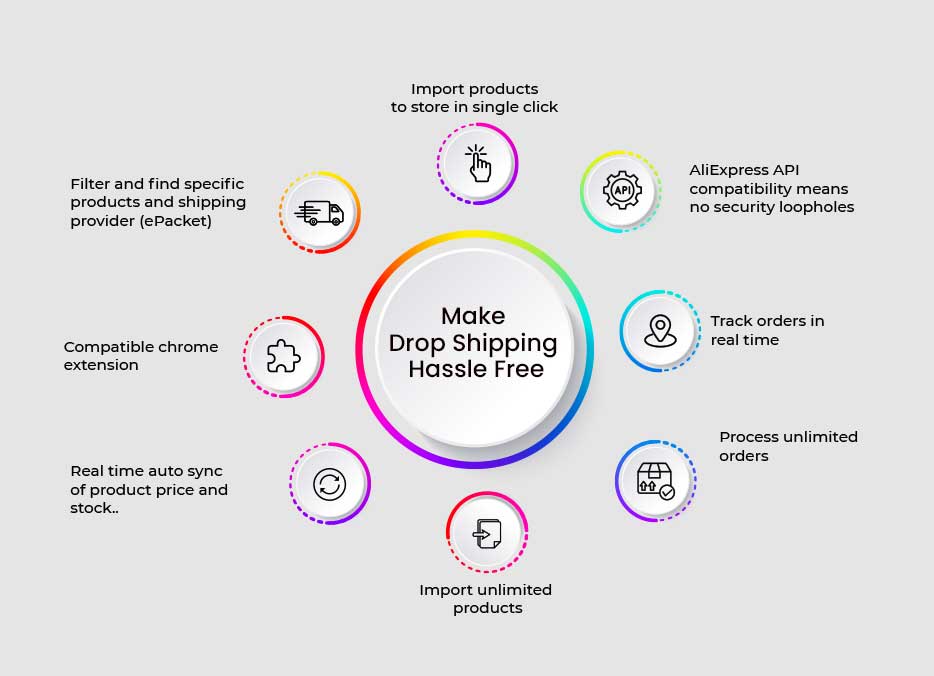 Easy to Use Dashboard
An intuitive and clutter-free dashboard where everything is easy to locate. Hence, making it easy for users to simultaneously focus on all crucial metrics. More importantly, no special skill is needed to feel comfortable while using the plugin.
Have a peek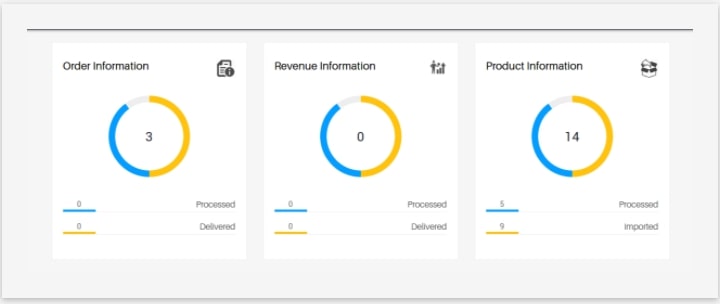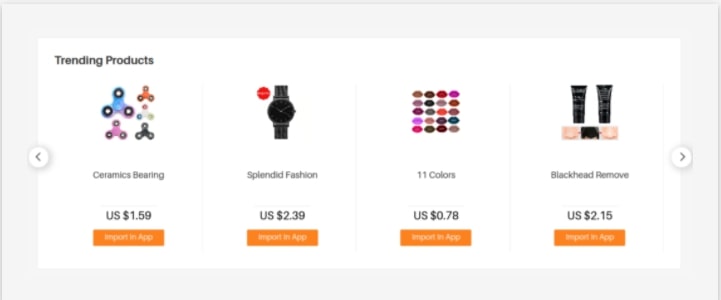 Single Click Product Import
Automate the process of importing products (single or bulk) to your store with one simple click. Therefore, it eliminates the manual mode of product import. Hence, no room for error, and you save lots of man-hours.
How it's done #1- Locate the products on AliExpress.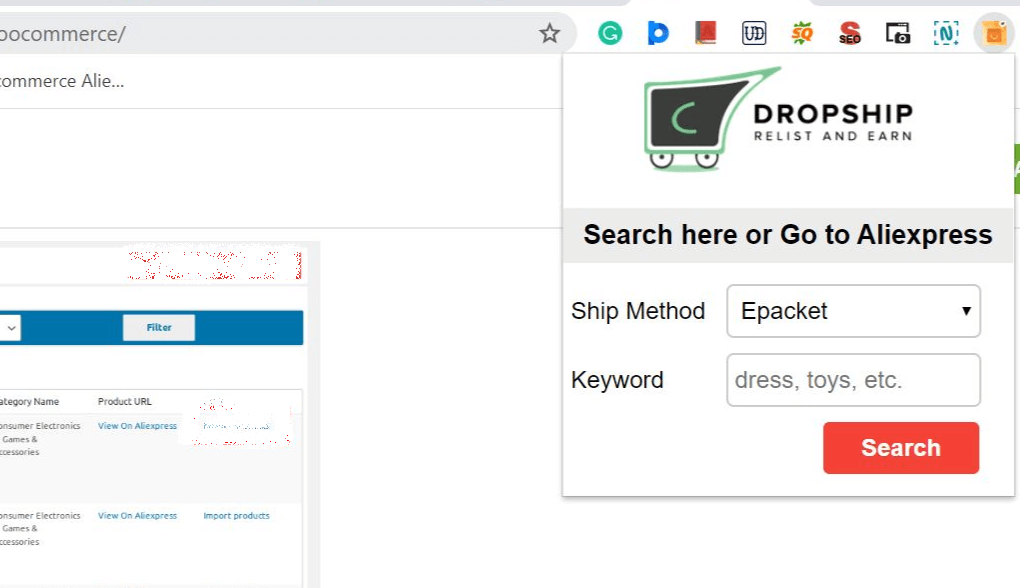 Image credit: WooCommerce
#2- Import selected products in a single click, and it gets imported to your store.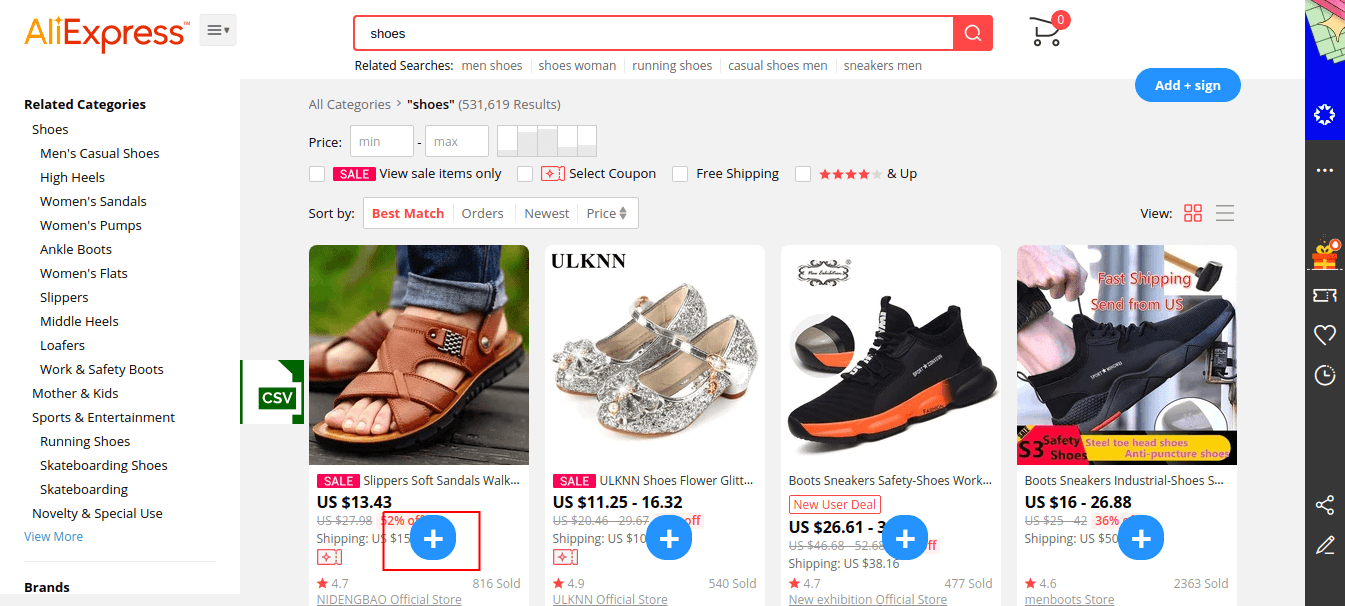 Image credit: WooCommerce
Product Import (URL or Product ID)
You can also import products using the URL or product ID.

Image credit: BigCommerce
Product Filter and Search
Search specific products (category/keywords) upon using the filter (or combinations of filter) and import them to your store with a simple click on Import on App button.
Image credit: BigCommerce
Automated Syncing
Auto sync feature enables real-time sync of products and price on your store. It's an important feature that keeps you aware of the latest data on how many products are currently in stock, along with their updated price. Hence, you will never face underselling or overselling.
Above all, knowing what product quantity is supposed to be sold and how much exactly it costs are the two essential criteria that must be conveyed correctly to customers to avoid confusion and shipping delay.
This feature is a boon for your dropshipping business. It helps to avoid advertising products not in stock or advertising with outdated prices. How it's done

Image credit: WooCommerce
Choose the enable option from the dropdown. It will update prices and inventory in real-time.
Price Markup
Competitive pricing is vital to keep sales high. Therefore, price markup will help you implement and maintain the best price and update it based on market dynamics. It allows you to increase/decrease price percentage-wise and by a fixed amount.
Above all, no product can always have the same price. Therefore, it is a must have feature to appropriately price products and stay competitive.
How it's done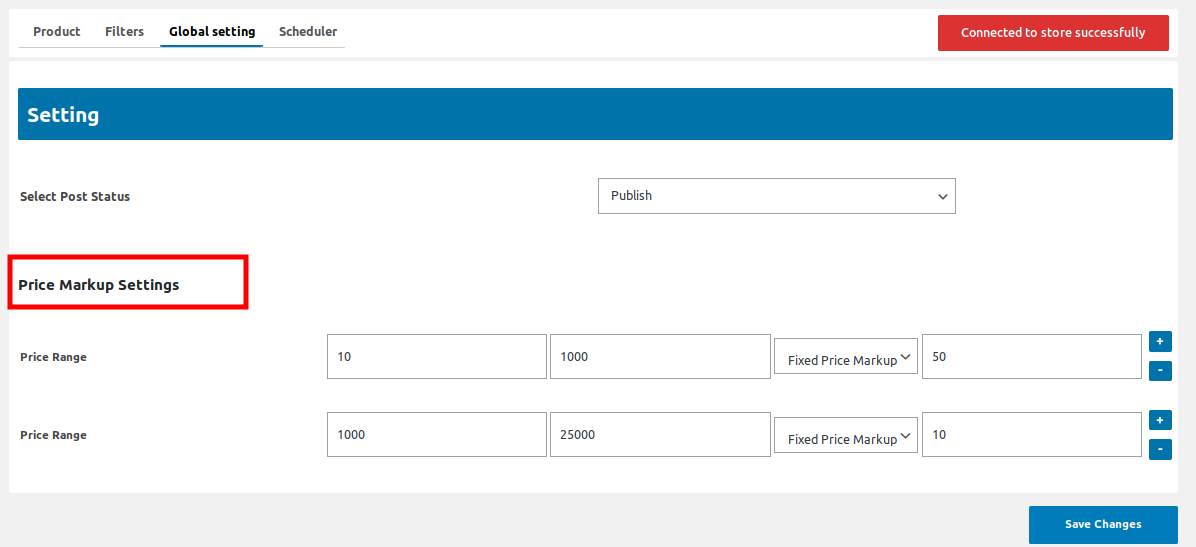 Image credit: WooCommerce
Do You Know: The Solution is compatible with the chrome extension (Aliexpress Dropshipping Assistant For WooCommerce). Therefore, making product import possible directly from chrome browser.
Import Hot Selling Products
Filter top-selling products on AliExpress and get them imported to your store. It helps you list the most in demand products and boost your chances of sales. Therefore, you can have a competitive edge over others.
How to do it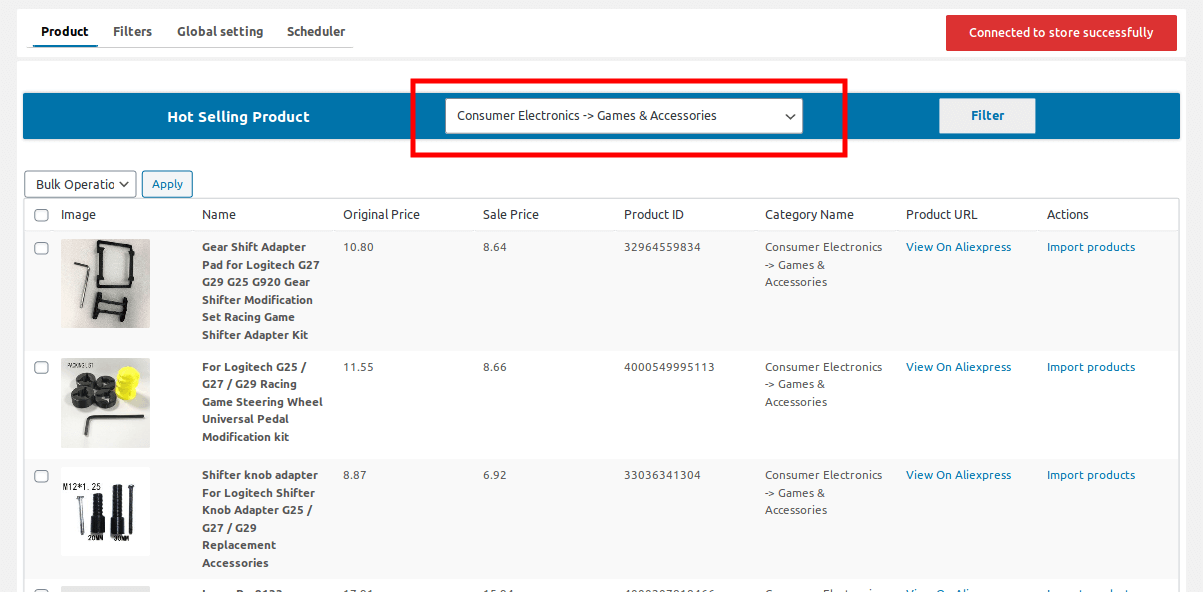 Image credit: WooCommerce
Control Product Visibility
This feature gives you control to put products live on the store or keep it unpublished and hidden from the visitors. Hence, a valuable feature for ensuring out-of-stock products aren't visible in the store.
Here you have to opt for either publish or draft option. Accordingly, decide will the imported product created on your store go live or be in the draft.
How to do it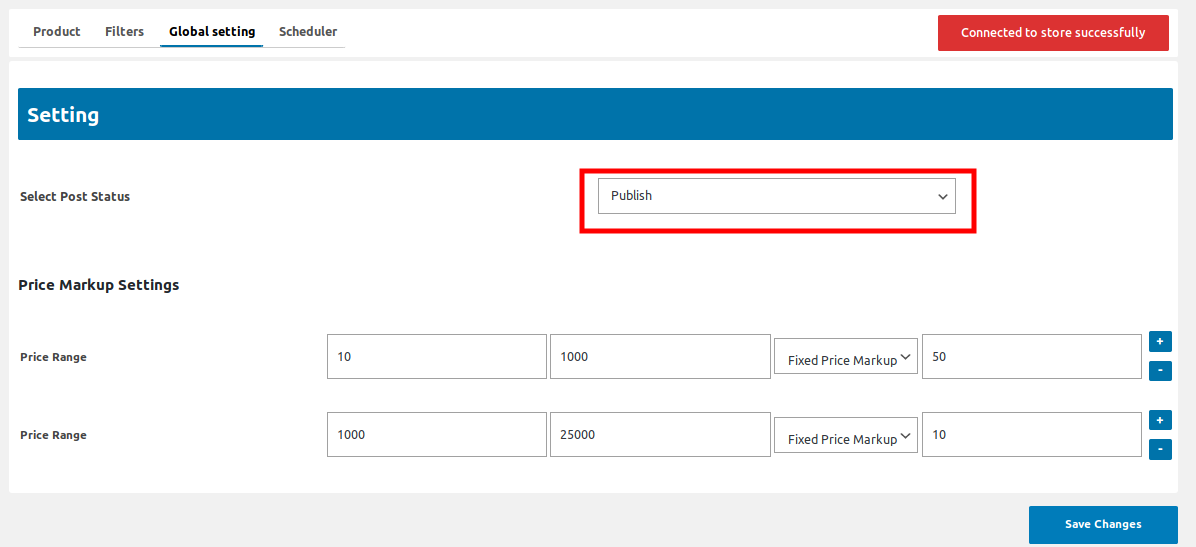 Image credit: WooCommerce
Order Management
Order from the store will be auto-fetched to the dropshipping app, which means the order is created as soon as it arrives. You can filter it based on
Product ID
BigCommerce Order ID
Product SKU
Order Status
Order processing is possible in simple steps. #1 – Click on the create order button.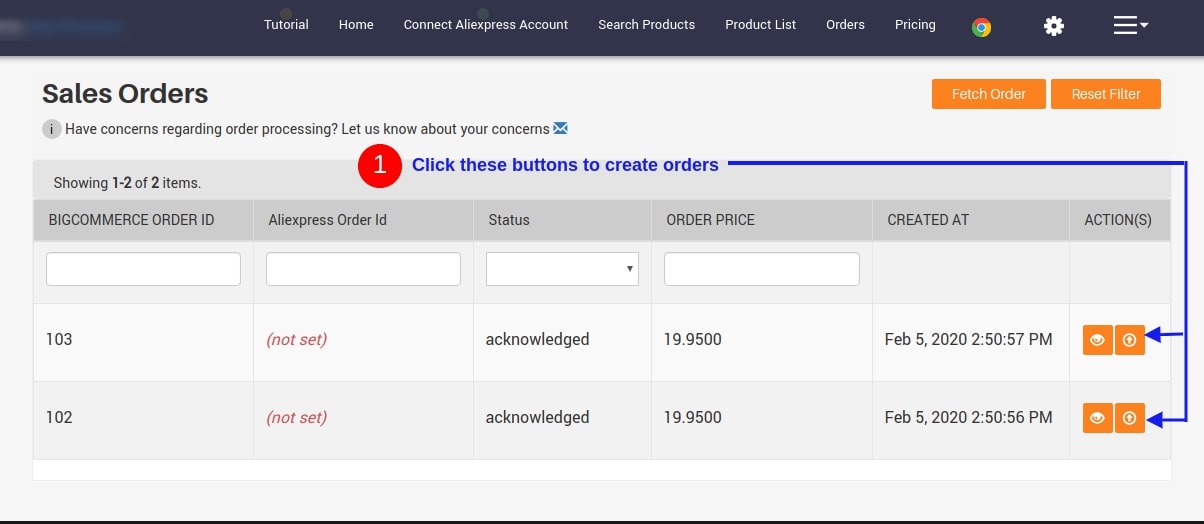 Image credit: BigCommerce
#2 – Choose the shipping provider 

Image credit: BigCommerce
#3- Now perform the checkout process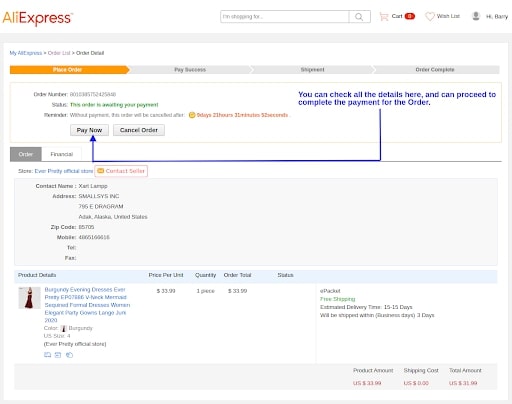 Image credit: BigCommerce
Product Category Mapping
This feature allows the mapping of a product with multiple product categories on your store.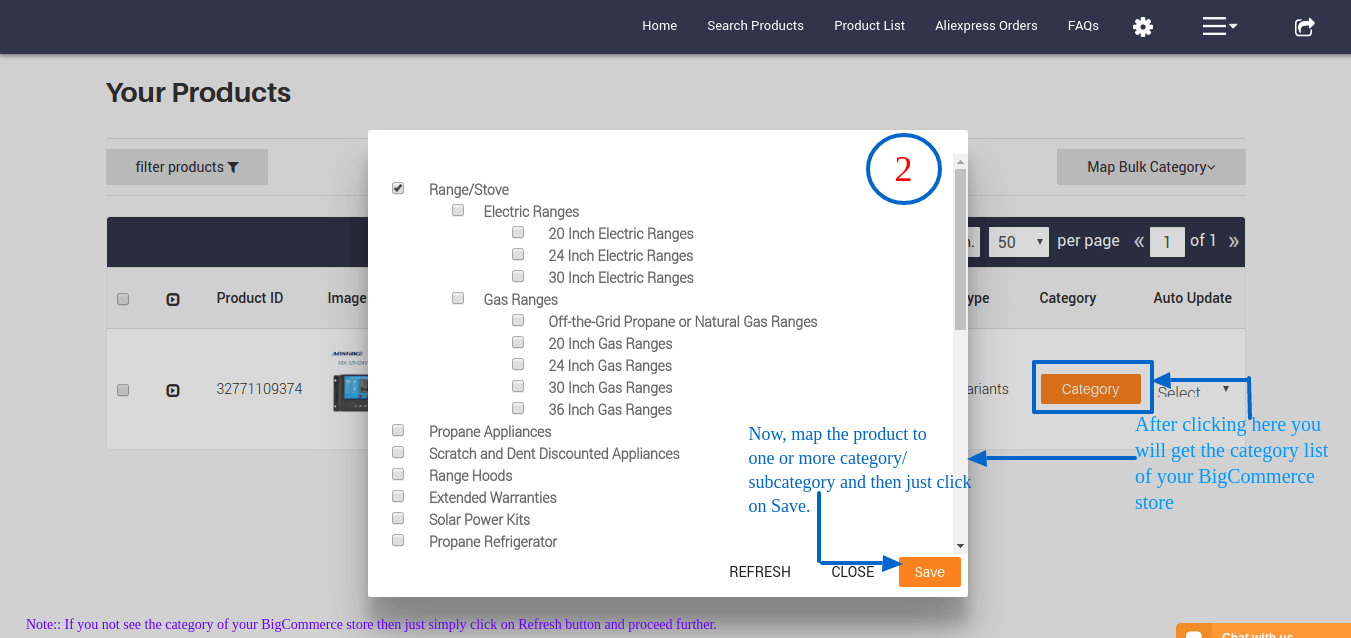 Image credit: BigCommerce
You can also map products in bulk to one or more categories in your store.
Some More Benefits of Using CedCommerce Dropshipping Solutions
You can import unlimited numbers of products to your store and import them from any suppliers.
24/7 customer support by a technically sound team who expertise in fixing issues without delay. Therefore, it ensures nothing goes wrong.
Auto product update will ensure important aspects like title, description, inventory, category, and price are auto updated
Choose the default category to be assigned for products imported from your store.
Selective product deletion to delete product either from the dropshipping app and store or from your store only.
Customize the product description and specification and let the product appear relevant and appealing to your customers.
Edit product details (title, description, inventory, and price) to keep it updated, relevant, and appealing to your store visitors.
A dedicated account manager will give a walkthrough of the app, making you familiar with the ins and outs of everything related to installation, onboarding, account set up, and more.
Plans start at as low as $20
You can do third-party shipping by simply disabling the auto shipment process.
Decide shipping price, shipping provider, location to ship product, discount, and more. Therefore, it makes shipment a hassle-free experience.
AliExpress API compatibility guarantees high-level security and seamless order processing.
Live order notification upon product purchase on your store.
You have the freedom to add products to your store that are not available on the marketplace. Thereby allowing you to offer more choices to your customers.
What are you waiting for? Shopmaster is Shutdown, But Options Are Open
Let your store flourish via AliExpress dropshipping. AliExpress being a globally renowned e-commerce marketplace will fetch you tonnes of business, and our feature-packed dropshipping solutions will help you successfully process and ship hundreds of orders in a day without missing a single order.
Sell More Manage Less and Save Your Time
Let the dropshipping solutions do the hard work for you. As a result, it will save your precious time and put an end to error-prone manual methods.
No more manually placing orders to the supplier (informing supplier about the order) by entering all bits of information related to order status, payment method, tax info, cost, quantity, shipping address, billing address, and more.
Customize your store to make it appealing and deliver an immersive first experience.
At present, our AliExpress dropshipping solutions are available for stores on WooCommerce, BigCommerce, Shopify, Magento, 3dCart and more. Coming soon are the dropshipping solutions for popular marketplaces like Walmart, eBay, and SaleHoo.
Summing It Up – Put Your Dropshipping Business on Hassle-Free Mode
The sudden announcement of the ShopMaster shutdown might feel like a bolt from the blue. But challenges are evergreen, and so should be your eagerness to crush them completely. On the bright side, you can grow and scale dropshipping businesses by opting for the right solutions.
Our affordable solutions are ideal for dropshippers considering the fact they might have also considered dropshipping for being a low investment business model. These feature-rich dropshipping solutions will prove to be the cornerstone of dropshipping business.
Our team is committed to your dream to sell to millions. Therefore, assisting you to put your dropshipping business on a global horizon with hassle-free dropshipping.
The post ShopMaster ShutDown But You Can Continue Dropshipping Hassle Free appeared first on CedCommerce Blog.