Google has been constantly evolving to make selling an easier operation. Google launched Google Shopping, Shopping Ads, Google Shopping Actions, and Google Free Listing. All of these terms might confuse you, especially if you are a beginner in eCommerce. So let's dive straight into explaining what each one of these is and do a comparative analysis: Google Shopping Vs Shopping Actions Vs Shopping Ads, which one of these aligns well with your business goals and see if a combined approach will benefit you.
Covered topics:
Before we begin explaining all these programs, you should know about the: Merchant Center. It is a seller's panel where your product feed lives. You can easily manage everything that is product feed-related here.
You can also check the status of your product feed, whether it is rejected or approved. Moreover, you can check the status of all the Merchant Center programs.
All in all, Merchant Center is the most important and the only tool you would need to sell on Google Shopping.
Learn more about it here: Merchant Center guide
Google Shopping
Google Shopping was launched in 2002. At the time it was named Froogle. At its roots, Google Shopping is and was a comparison-shopping website. In the year 2012, it became a paid advertising platform.
It is available in 120+ countries.
Want to know more in-depth of Google Shopping history?- check out this blog!
Google Shopping Actions, Shopping Ads, Local Surfaces Across Google, and Local Inventory Ads listings are an essential part of Google Shopping and these listings make up the products that appear on Google Shopping.
Google Shopping Actions
GSA, launched in 2018, is the fast-growing marketplace by Google. Listing your products on Google Shopping is fairly easy and all you need is a Merchant Center account and a product feed to get started.
Your products appear on the shopping.google.com and Google Shopping tab on Google Search with the "Buy on Google" icon. (Refer to the image below)

It works on a pay-per-sale model, i.e., you pay on a commission basis for each sale. Check out the entire commission list here: Shopping Action commission list
For now only Indian, Canadian, American, and French sellers can list their products on Google Shopping Actions.
Google Shopping Actions benefits
Increase your basket size

Ever since Shopping Actions' launch, many retailers have seen a 30% increase in their basket size year over year. You can be one of them.

Effortless shopping experience
A recent study showed that US customers want a marketplace with competitive prices and fast and free shipping.

(Source: Google)
Shopping Actions offers not only same-day delivery but also free delivery backed up with Google guarantee, subsequently improving your sales.
Moreover, Google Shopping is highly personalized based on user behavior, which enhances the shopping experience. Transaction details are saved which further eases the checkout process and reordering.
User data for better understanding

Unlike other marketplaces, Google Shopping Actions lets you tap into the user data such as email, name, shipping address, which can positively help you in creating your Shopping Ads marketing campaigns.

Retailers first marketplace

Your Google Shopping store will have your brand logo. This improves your brand's visibility. Your products appear on the Google Search where 5.6 billion searches occur each day, this increases your chances of making more sales.

Good performances are rewarded

If you keep up your performances, i.e., keep shipping and product defects low, you are eligible for commission discounts.

Check out the retailer standards boosting tips here: Google Shopping retailer standards

Moreover, with good performance, you are also rewarded with Shopping Actions Buy Box.

More sales, less efforts
In a recent study, it was found that 44% of those who use their voice-activated speaker at least weekly say they use the device to order products they need like groceries and household items at least once a week.
Shopping Actions products are available on Google Assistant and you can easily tap into these lesser-known, often overlooked high potential customers.
Shopping Ads
Visually rich product ads that appear when you search for a product on Google Search. These ads appear on the Google Shopping tab, Google Search, Partner websites, the Google Display Network, which includes YouTube, Gmail, and Google Discover, shopping.google.com, and Google search.
These appear on top of the Google Search results page and sometimes on the right-hand side.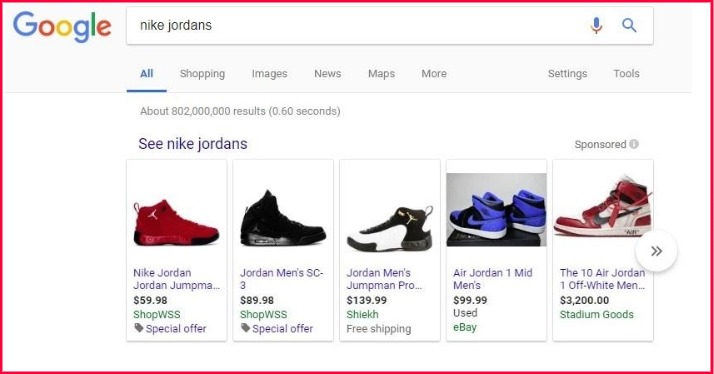 It is based on the pay-per-click(PPC) model.
To leverage Shopping Ads potential, you will require a Merchant Center account and Google Ads account. You would also need to link them together.
Check all the further requirements here: Shopping Ads requirements.
Shopping Ads benefits
Your products appearing (if you enable it while setting up Ads campaign) on more than one platform translates directly into improved sales, online and foot traffic, brand recognition, and increased revenue.
If you are looking for reaching a global audience on tight budgets then Shopping Ads is just the solution you need. It is available in 40 countries which helps you reach a global audience often with small budgets.
Shopping Ads helps you bring in high-quality traffic to your website as the users searching for these products on Google Search are more likely to convert.
You can track all your conversions and also you can check all your demographics to better curate these ads campaigns.
Shopping Ads does not require any keyword planning, which is one less thing for you to worry about.
Google Shopping Vs Shopping Ads Vs Google Shopping Actions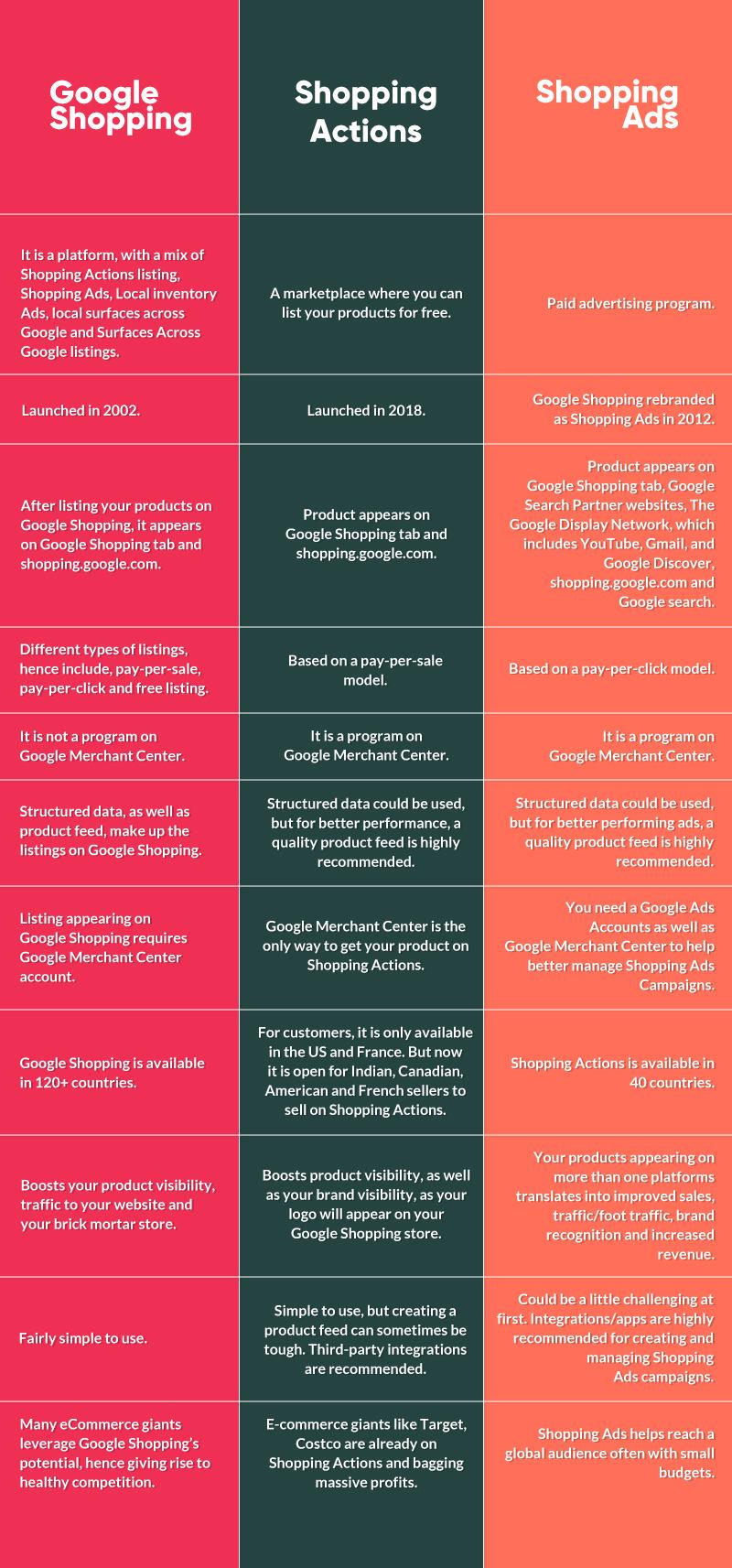 Which one to choose?
Google Shopping Actions?
GSA is a perfect match for you if you are a beginner and you want to give eCommerce business a try. You get a well-established platform to showcase your products and you only pay when you make a profit. Also, it is fairly easy, as you only need a Merchant Center Account and an error-free product feed. Also, you don't necessarily need a website, to begin with.
You might stumble upon some issues while creating a product feed. If you have a website you third party apps/integration can help you easily generate a product feed and will eliminate any issues of getting your product feed rejected. If you choose CedCommerce, we can help you generate a product feed as well as help you in creating a website.
Shopping Ads?
If you are looking to instantly increase your traffic, sales, and revenue, then Shopping Ads is an ultimate solution for you.
With the new Google Free Listing updateyou can easily test the waters and see which products are performing well on Google Shopping. Later you can switch to the paid advertising, i.e., Shopping Ads to further boost your products' reach with several Google platforms.
The post Shopping Actions vs Google Shopping vs Shopping Ads: Which is better? appeared first on CedCommerce Blog.