Short Summary
Challenges Faced
Adaptive Clothing Showroom found uploading products with variant attributes, a time-consuming process.
Solution
Through Walmart Integration, the store was able to bulk upload product with seamless attribute mapping.
Outcome
After signing up for the CedCommerce's Walmart Integration, the store saw a 2X sales boost. The shoe sales, on one hand, was up by 65%, the other category sales was increased by 35%.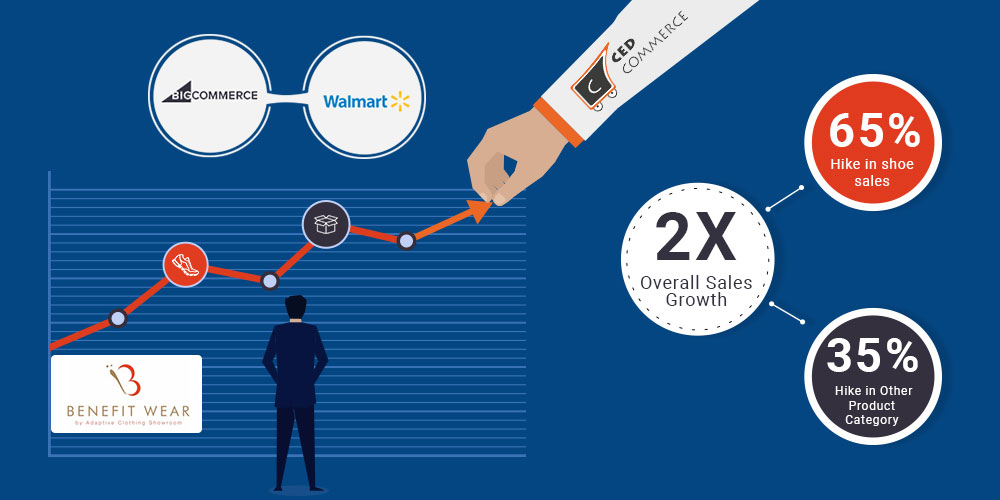 In these unprecedented times of COVID-19, many sellers are utilising e-commerce marketplaces to expand their reach. Ranked at 14th position, the Walmart marketplace is a platform boasting over 1 billion products since its inception. It is catering to an average of 270 million customers per week. And for merchants seeking a better selling experience on this marketplace, a seamless Walmart Integration app solution is essential.
Adaptive Clothing Showroom is a BigCommerce based store involved in the retail clothing business for years. The store was looking for an integration solution that could upload inventories quickly with fewer glitches. Michael Morgenstern, the owner of the store, wanted to sell more efficiently by integrating his BigCommerce-based store with Walmart. Thus, he opted for Walmart Integration by CedCommerce.
About Adaptive Clothing Showroom- Comfort For Those With Special Needs!
With almost 15 years of experience in selling adaptive clothing and accessories, Adaptive Clothing Showroom always prioritised to fulfil the needs of those with physical, and cognitive disabilities.
The benefit-wear store aims to provide a wide assortment of clothing and accessories for men, women, and children who need regular as well as adaptive outfits for independent or aided dressing.
Each adaptive clothing and accessory offered at the store is designed especially for people who are wheelchair users, bedridden or facing limited mobility. They ensure price affordability by providing quality products at competitive and reasonable prices. The store lives the vision of delivering 100% customer satisfaction.
The Challenge
Listing products on a leading marketplace like Walmart.com is not an easy task to do. There tend to occur a lot of glitches and issues while uploading and managing inventory in bulk. And such issues need professional assistance through seamless integration.
Adaptive Clothing Showroom wanted to automate its selling process on the Walmart marketplace quickly and easily. Michael and his team wanted a solution that can help them in quick upload and seamless variant product attribute mapping on Walmart marketplace.
"Too much manual effort was needed to upload products on Walmart marketplace," says Michael Morgenstern.
The Solution
On contacting CedCommerce, Michael Morgenstern and his team were suggested, the Walmart-BigCommerce Integration, and within six months they attained scalable results.
Onboarding on Walmart.com, which was Michael Morgenstern and his team's major problem was made easy and quick with CedCommerce's expert assistance. Not just this, the app allowed the store to perform all sales processes such as inventory management, pricing, and order management, etc., from one single platform.
To sum-up, CedCommerce's Walmart Marketplace Integration solution fulfilled the needs of the store well and performed all critical sales operations with ease.
About Walmart Integration app by CedCommerce
To automate your selling process on Walmart and make it more efficient, CedCommerce, the Official Walmart Channel Integration Partner helps you in connecting your BigCommerce store with the marketplace using an API communication mechanism.
The app seamlessly synchronises your store's product to the marketplace; lets you manage price and orders from one place only.
CedCommerce, through its Walmart Integration apphelped Adaptive Clothing Showroom with a seamless connection between its BigCommerce store and Walmart seller account throughout.
Experts at CedCommerce aimed to make things more feasible for Michael Morgenstern and his team by providing the most efficient business expansion tools for selling on Walmart.com.
With the help of Integration app, Adaptive Clothing Showroom was able to list products on the marketplace and receive orders at its Bigcommerce store itself, hence switching between multiple accounts was not needed anymore.
Key Benefits – Adaptive Clothing Showroom Enjoyed With Walmart Integration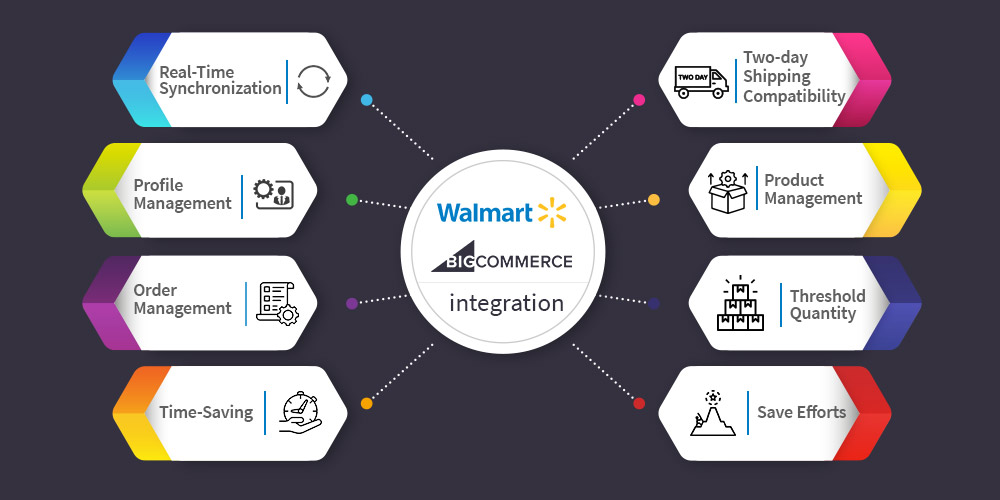 Real-Time Synchronization
Right from updating product information to getting order details about – received or -returned, everything is synchronised in real-time with Walmart-BigCommerce integration solution.
Two-day Shipping Compatibility
The compatibility with 2-day shipping services from Delivery, indeed helped Adaptive Clothing Showroom meet order fulfilment deadlines on time.
Profile management
The feature enabled Adaptive Clothing Showroom to assign category template on their profile. And that helped Michael Morgenstern and his teams map BigCommerce category attributes with Walmart category attributes quickly.
Product Management
The store, after signing up to Walmart Integration solution by CedCommerce, was quickly able to upload, edit, sync and delete its products and its details on the marketplace with ease.
Order Management
With this feature, Micheal Morgenstern and his team were able to manage orders easily. All the order-related processes such as order receiving, dispatch and fulfilment were managed with ease.
Threshold Quantity
With the help of Walmart-BigCommerce Integration, Adaptive Clothing Showroom was able to keep track of the stock level by getting a regular alert for low stock.
Time-Saving
"Listing products on Walmart is very time-consuming, and CedCommerce did it quickly." Said Michael Morgenstern
The salient features of the app saved a lot of time for the store in uploading, editing product information, syncing functions, or deleting products from the Walmart marketplace.
Save Efforts
With the app, most of the manual operations are automated, and thus it involves minimal efforts for selling on the Walmart marketplace.
Conclusion
After signing up for the Walmart Integration by CedCommerceAdaptive Clothing Showroom enjoyed a positive hike in overall growth. The sales growth went up by 2X in just six months.
While talking about the category-wise hike, shoe sales were increased by 65% and other categories by 35%.
Michael Morgenstern is highly impressed with the customer support service and quick response by the team at CedCommerce. And with the help of exclusive features of Walmart Integration app, the store is successfully enhancing its selling experience on Walmart.com.
If you are also interested in making your selling process on Walmart efficient and seamless, then Contact Us.
The post Walmart Integration: An Adaptive Clothing Store Automated During The Pandemic appeared first on CedCommerce Blog.