To succeed in your eCommerce business, you need to have three things: a trending product to sell, skills to market your products, and a strong customer base. Instagram, being one such home for product discovery, makes it easy for people to browse and purchase the product they love.
Having said that, when most of the sellers start their business, they focus more on building their profile, planning marketing campaigns, and much more. But in the end, they forget the most crucial aspect that 'product is always the king.' With this in mind, if you want to grow your business, you need to know the list of top selling products on Instagram. So, explore further to understand what products to sell on Instagram and what strategies you should opt to make your product trending on Instagram.
What makes a product trending on Instagram?
As an eCommerce retailer, you might have a question 'Why some of the products sell best on Instagram" or "what products to sell on Instagram." Well, here are some of the factors that influence the vitality of the product:
Emotional appeal
A customer only looks for a brand with which they can connect. This emotional appeal plays an essential role in making an item a top selling product in a market.
Now, think of it this way: you are suffering from continuous hair fall. And there, this product tells you five ways to reduce your massive hair fall and assures you with hair growth in a certain period. Would you not want to try? Definitely yes!
Similarly, whenever you plan to sell your product, you should think about what your customers actually want!
Social currency
Social currency is your influence or presence on social media. If your product is successful in building a positive image in your customer's mind, it will help you stay ahead of the social curve and take you a step closer to a trending product.
For example: If your brand focuses on providing environment friendly products. You can sell apparel and promote the explorer spirit with your every post and picture.
Visibility and recognition
Making your business stand out in a sea of competition is vital for ruling the eCommerce market. For this, your brand should be able to quip your customer's interests in its product and compel them to make a purchase.
For instance, now you can offer checkout on Instagram to provide instant purchase to your customers as soon as they find the desired product.
Checkout on Instagram is currently available for US merchants.
Other factors that make a top selling product on Instagram
As a marketer, just adding your products to your Shop is not enough. You need more strategies to target your customers. In this, the Instagram algorithm plays the most important role. The Algorithm decides what type of content to display in the user's newsfeed when they login to the platform. So, as a business, you should keep a close track of the evolving Facebook & Instagram algorithm and market your strategies accordingly.
What are the top-selling products on Instagram?
While setting up your business on Instagram, you must know the answer of what products to sell on Instagram; and some of the best ways to do so. As this would help you manage your business efficiently. So, dive further to see the list of top-selling products on Instagram and some of the prohibited products on the list.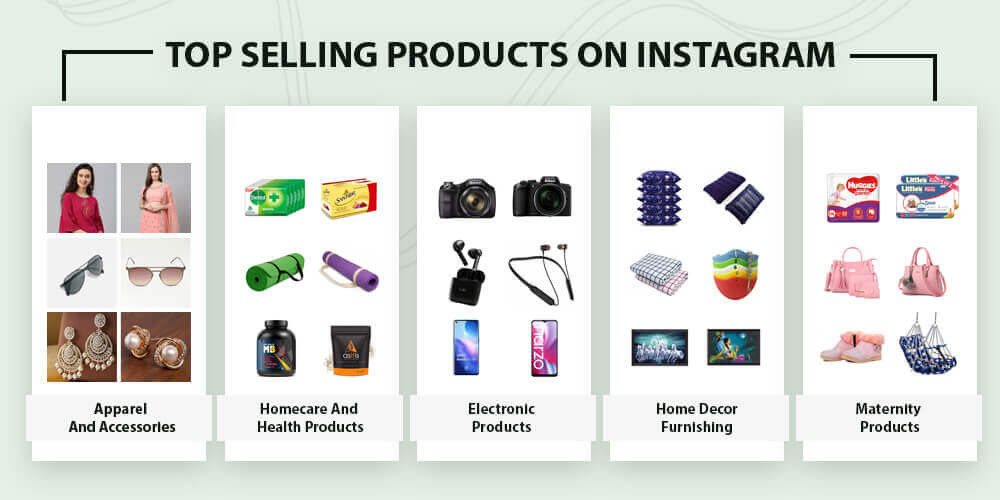 Apparel and Accessories
What are the most popular products on Instagram? Apparel, fashion, and lifestyle make the cornerstone of Instagram success. Where once fashion was dictated by the few, it is now inclusive of the many. Today's fashion shoppers have been seeking out brands that not only speak of their individuality but enable them to become actively involved. Due to this; Cycling shorts, renowned for their comfort and versatility, have become the uniform of the year. Some of the top selling products on Instagram under apparel and accessories are:
Sunglasses and watches: With people focussing more on their images and following every bit of the latest trends. Sunglasses and watches have become a top choice for customers.
Layering: The market has seen a sudden rise in the influx of layering on 2021 season runways in New York, London, and Milan. Layering comes in different styles like chokers, pendant necklaces, bracelets, and rings.
Mesh shoes: People are focussing more on exercise to keep themselves fit. Thus, athletic wear and accessories like mesh shoes have become popular in the market.
Homecare and health products
Around the world, people are elevating the mundane of everyday rituals into micro-moments of excitement. In Thailand, craft coffee is blooming as people increasingly see the drink as a delicacy. Similarly, in the UK, exercise is supplanting a night out. People are now engaging more in fitness activities like yoga and training to keep them healthy and fit. Some of the top selling products on Instagram under this category are: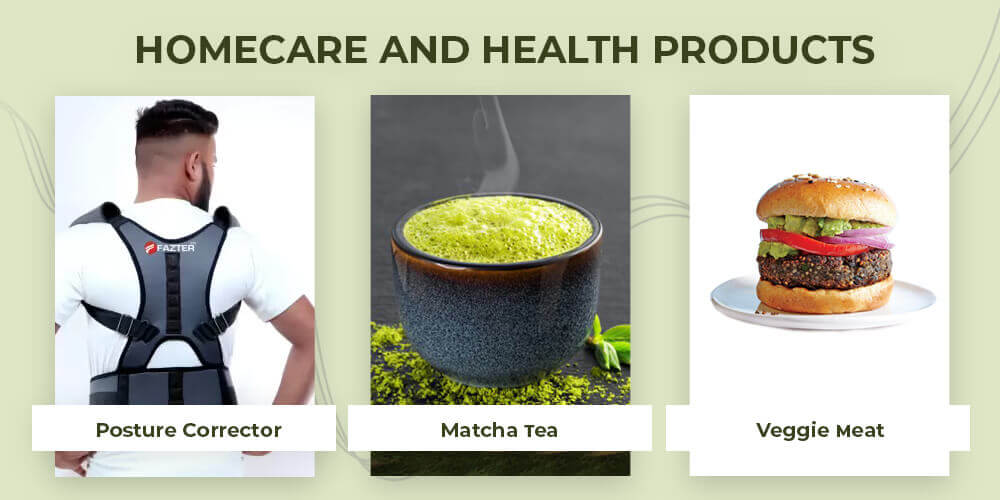 Posture corrector: With the growing trends of yoga and exercise, the posture corrector has become popular in the United States, Australia, Malaysia, and Canada. The posture corrector limits the motion in the spine to mitigate backbone issues.
Matcha tea: People are indulging in adapting to matcha tea. It is rich in catechin, which is believed to have cancer-fighting effects on the body. It has various health benefits, like preventing heart disease, type 2 diabetes, cancer, and even encouraging weight loss.
Veggie meats: Now, people are seeking special foods to foster a healthy gut microbiome. In Germany, the veggie 'meats' rich in nutrients and fewer fats are surging in popularity. About 20% of Germans under the age of 24 reported that they had purchased meat alternatives like veggie burgers in recent months. Thus, making it a popular choice for the audience.
Electronic products
The next product category that has taken a sudden rise in popularity is Electronic products. It is expected that the eCommerce market for electronic products would grow 12% by the end of 2021; making it one of the most profitable markets. Here is the list of some of the best products to sell on Instagram: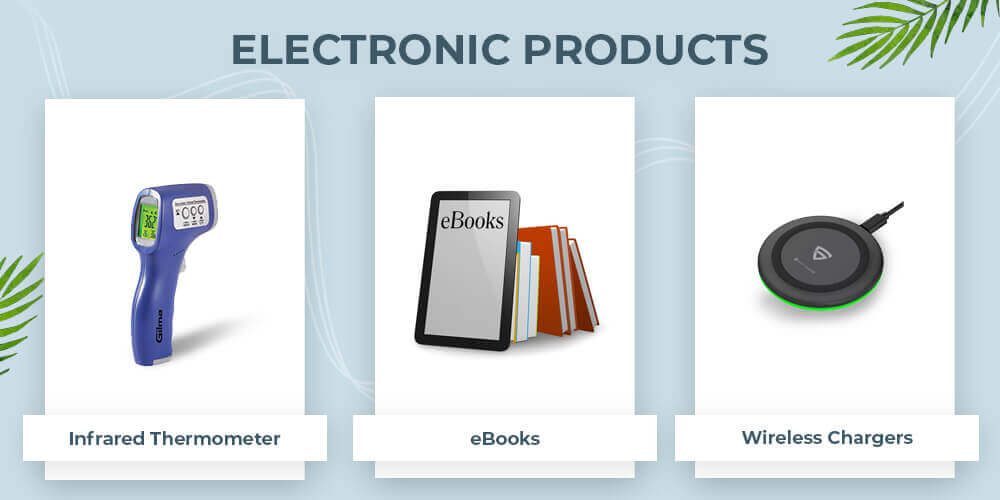 Infrared thermometer: The year 2020 disrupted the course of nature due to the sudden rise of the pandemic. During this time, many types of equipment like infrared thermometers came into existence. It allows people to take temperatures even without touching the object.
eBooks: As books become a source of wider windows to the world, literary tradition is going from hobby to habit. There are small bookshops that are reinforcing their presence on Instagram offering online lectures, discussion groups, and children's storytimes through the E-Books.
Wireless chargers: Wireless chargers let you charge your device more conveniently and quickly. This kind of wireless charger has been around for several years and continues to be one of the best-selling products on Instagram because of its usefulness and flexibility.
Home decor furnishing
The season of festivals and occasions has left people all boosted up. Many people on Instagram are looking for inspiring interior style designs and decorations. As people reconsider where they live and how they get around, they're revamping the role of spaces in their lives – from offices to back gardens. In July 2020, it was estimated that household item spending was up by 20% more than any previous year. Well said this; vegetative seeds are in high demand in the states of Britain. Some of the best selling products on Instagram are: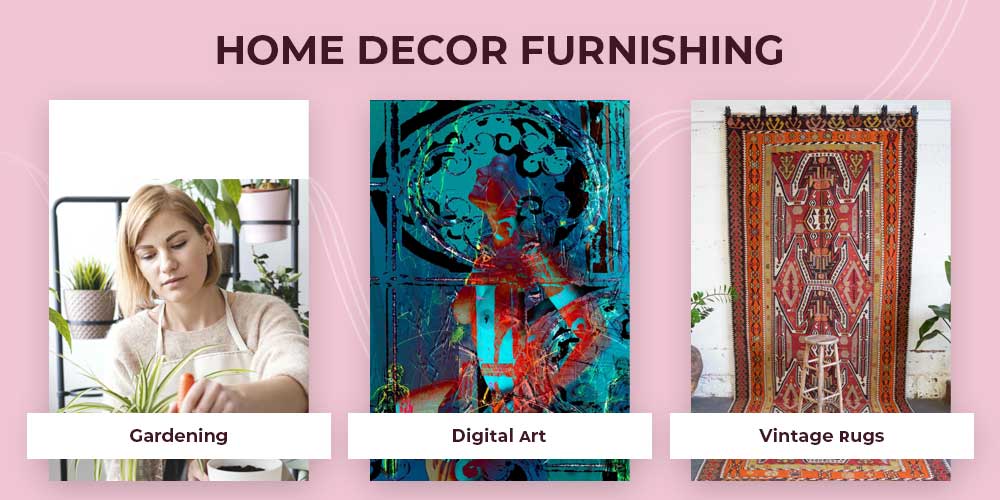 Gardening: Encouraging residents towards 'Dig for Victory,' people opt for various garden accessories like indoor plants, birds feeder, hand trowels. This maintains a healthy environment and helps people harness the fruit of their labor.
Digital art: The states of Brazil are going under revolutionary changes with the introduction of digital arts. The digital galleries are helping artists show their work across the globe. People are now embracing digital artwork and using it to renovate their home designs.
Vintage rugs: The recent work-from-home trend has made vintage rugs one of the most trending products on Instagram this quarter. Area rugs bring together all the elements of a room and make spaces more cozy and welcoming.
Maternity products
Motherhood is a stage that marks a start of a new journey. In this journey, a lot of new products come your way. People usually focus on maternity goods like maternity wear, nutritional supplements, and skincare products. Maternity wear, such as tops, tunics, pants, and innerwear, provides comfort to the mother and minimizes the risks of developing yeast infections. TThe nutritional supplements help regulate hormones and maintain the optimum levels of nutrition in the mother and the baby. Some of the most famous brands on Instagram, like Gathre, Comotomo, Baby Bjorn, and Clek, embrace the "less is more" philosophy of design and function when it comes to all things related to babies. Explore further to know some of the best selling products on Instagram under this category: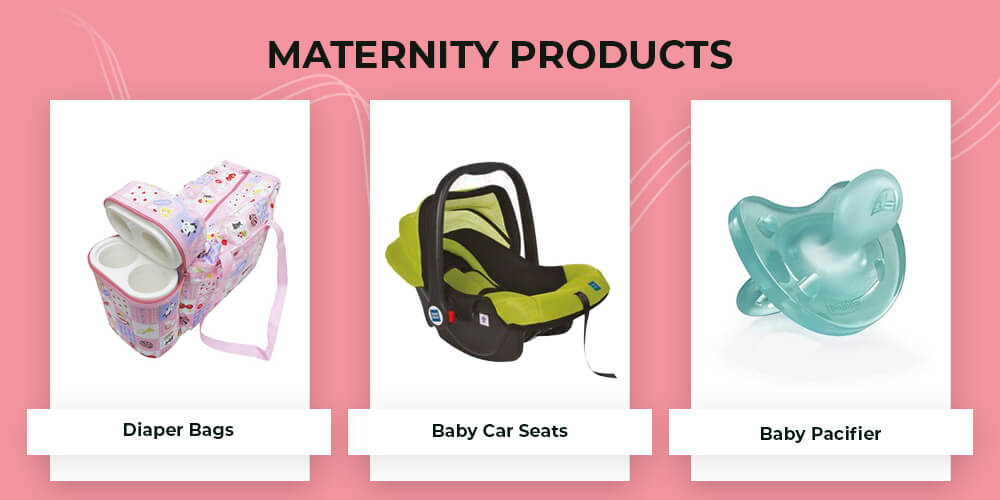 Diaper bags: Diaper bags are one product that is winning in the baby care niche. The bag has multiple pockets to carry everything related to the baby. Some of the products you can carry are milk bottles, burp cloths, diapers.
Baby car seats: Baby car seats have become an essential product for every newbie parent while traveling. These baby seats keep the baby safe from any jerks and accidents.
Baby pacifiers: If you want to sell a product with a high margin profit- opt for Baby pacifiers. These products have always been in a trend. Baby pacifiers help babies soothe themselves during periods of crying.
List of prohibited products on Instagram
Now that you know the list of top-selling products on Instagram, it's time to look at the prohibited products on the list. Take a quick look at it: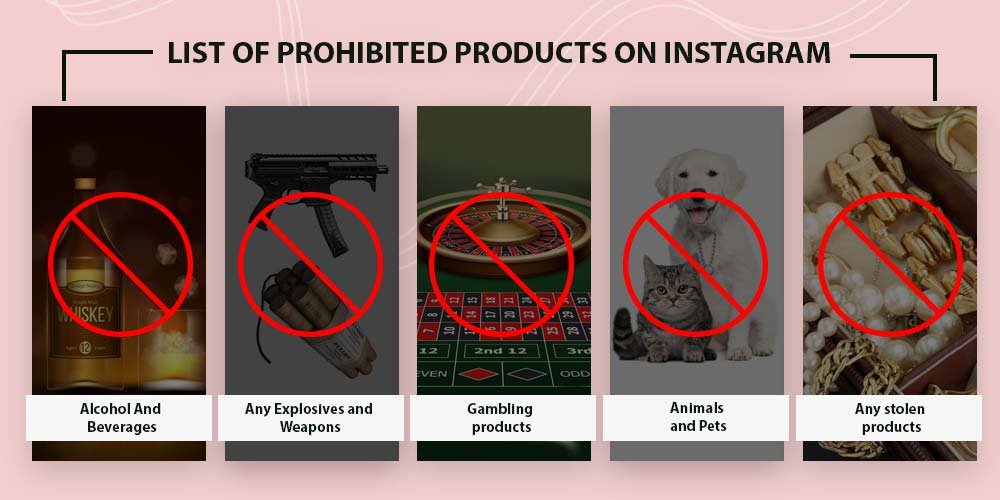 Adult products
Buying and selling of alcohol
Product promoting discrimination based on creed, caste, gender, etc.
Any Gambling products like lotteries, raffles, casino,
The flammable and combustible substances and products
Medical and cosmetic products and services.
Any stolen goods.
Products that are misleading, violent, or hateful.
How to improve your product listings on Instagram?
To improve your product listings on Instagram, you can:
Start with the research of what's trending in the market.
Add additional product attributes to make it easier for people to find your brand.
Repost your content at a regular interval of time.
Add hashtags to your products to gain more visibility.
Post at the time your audience is most active.
Finishing it up
Picking up a trending product to sell on Instagram is a great way to increase your product visibility and get incremental profit to your business. However, it also matters how you truly grow and market your products. Some of these top-selling products on Instagram allow you to carve your niche across the platform. With an introduction to new features, Instagram is growing tremendously, and it won't be wrong to say it is the future of eCommerce. So, don't waste any more time and connect to Instagram now!
The post What to sell on Instagram: How to get your business ahead with top selling products on Instagram appeared first on CedCommerce Blog.