Over the years, the eCommerce industry has undergone tremendous transformations and has now come a long way from where it all started. The remarkable developments and advancements have triggered some notable changes in consumer behavior and demands. Apparently, the customer today not just demands ease and facility but also a personalized shopping experience while shopping for something online. In short, the customer wants the same experience as they get in-store. And that's when they need headless commerce. 
As a result, the biggest emerging eCommerce trend is now experience-driven commerce and likewise, most of the global brands are redefining their key business strategies to deliver a personalized and immersive shopping experience to customers through an omnichannel approach. The focus of online stores now revolves around providing the same experience to shoppers no matter whatever device they use.
In addition to this, the COVID-19 pandemic also caused a major shift in the ever-changing buying journey, from the way customers engage with brands to where brands need to be present. So, how can businesses make it possible to meet the rapidly changing needs of consumers and extend their brand to deliver quick results? Well, this is where headless e-commerce comes to the rescue of online stores. With its given agility and flexibility, headless commerce is what brands need to deliver an altered and ingenious customer experience. 
Do you want to try how the Magento PWA Theme can elevate your business? Just one click away! 

Also Read: An Introductory Guide to Magento PWA studio
What is headless commerce? 
Headless commerce is one of the biggest buzzwords in e-commerce that is creating a lot of hype in the industry. So, first, we will unfold the concept of headless commerce.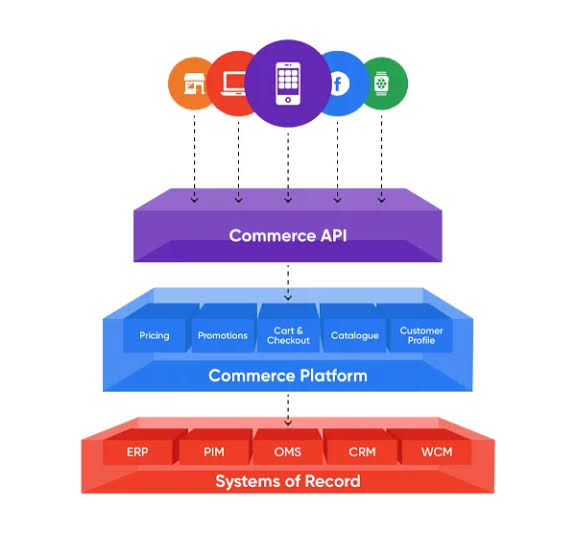 Source: Pimcore
Headless e-commerce is an e-commerce solution where the frontend commerce is separated from the backend functionality (the head) including the user interface, social commerce, the digital marketplace can be altered or customized without making changes with the backend. Headless commerce platforms allow organizations to unravel flexibility so that they can create innovative and valuable customer experiences and ensure to build a best-in-class online store with no boundaries to technological advancement. Effective headless commerce platforms come with robust capabilities like product management, shopping cart, and promotions, etc. With the help of headless e-commerce, businesses can offer API-driven experiences via custom frontend, CMS, application, etc.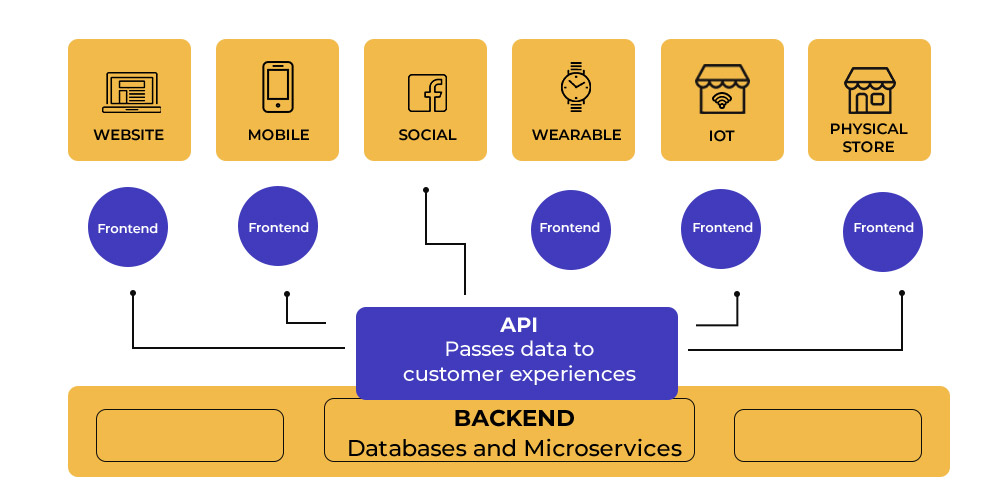 Therefore, headless e-commerce is that new emerging trend in the eCommerce industry that will now be expected to become a crucial part of every brand's business strategy to deliver brand new functionalities and valuable experiences that engage a large number of customers to stay ahead of the competition. 
Now that the competition intensifies with the arrival of technological disruption, experience-driven e-commerce is one great way to discern and stand out. The consumers of the 21st century, the technological era, demands experiences that consist of user-generated content, easily accessible features, and personalized recommendations. Also, the influence of mobile phones on consumers can not be ignored.
Smartphone users' numbers are predicted to grow to 3.8 billion users in 2021. 
If you're in the e-commerce business, you must understand the importance of keeping up with the latest trends while COVID-19 further accelerates the need for updates in the traditional business model.
Also Read: Understanding Magento 2 PWA theme for e-commerce 
How headless commerce works?
Unlike traditional commerce, headless commerce platforms work across the presentation and application systems by passing requests along with the web services or API calls.
The API in headless commerce architecture is utilized to access information from different sources including IoT devices, e-commerce apps running on any platform, social networks, and more. So, what actually happens in headless commerce is that a lightweight API entitles the delivery of content compiled in a backend system to more diverse channels in comparison to a theme.
Further, the future-proof structure of headless commerce ensures that eCommerce delivery can scale to acclimate innovative solutions and products that might emerge in the future. The API in headless commerce architecture helps in the smooth sharing of information seamlessly among different channels and systems for a truly omnichannel experience. As such, headless commerce works best with systems that use open databases that can be easily examined.
Also Read: Headless Magento: The future of e-commerce 
Best Headless Commerce Examples
The extent of the ease and benefits offered by Headless Commerce can be estimated by some of the best Headless Commerce examples that demonstrate how the big brands are making money and gaining traction by using this advanced technology to deliver personalized user experience on their platforms. 
Also Read: Success story of Ethnicsmarts
Ethnicsmart, an online B2B marketplace, reported a rapid increase in their user base, which was earlier not exceeding beyond 30%, by using Cenia Pro PWA Theme. As a result, EthnicSmart increased its subscribers up to 19000 within a few weeks of the launch. It enhanced its mobile web appearance made the platform entirely user-friendly. 
From the e-commerce giant Amazon to the leading global sportswear brand Nike, all the big brands are leveraging the advanced functionalities and support offered by headless e-commerce. Here are some best headless commerce examples that show the growth attained by the brands that adopted Headless e-commerce:  
Nike raised its conversion rate from 15-30% by going headless with PWA.
Amazon, the biggest e-commerce brand, has reached a captivating site speed which has set new records in the e-commerce world.
Venus Fashion went headless and attained a 320 milliseconds mobile web page load time.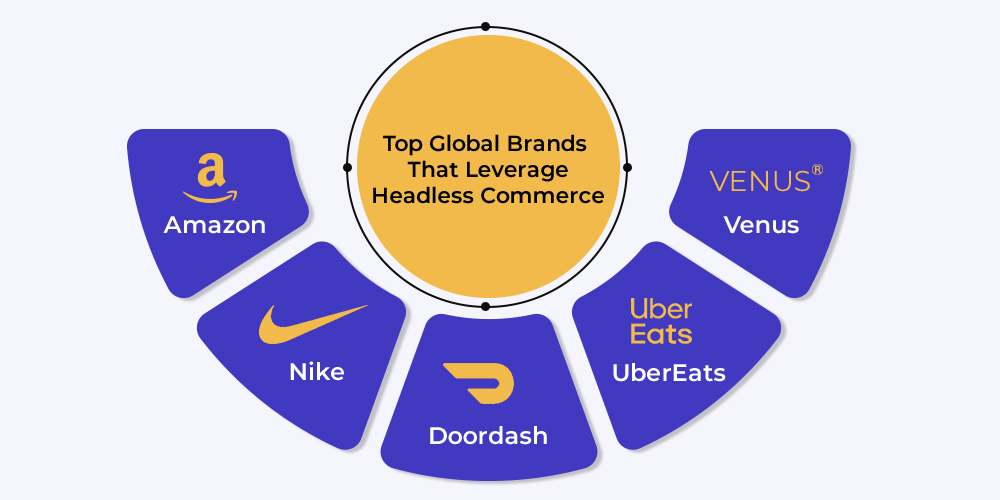 Headless Commerce Vs Traditional Commerce 
In this section, we have created a clear comparison between headless and traditional commerce that justifies how headless commerce offers endless flexibility to brands so that they can create unique and smooth customer experiences on the front end.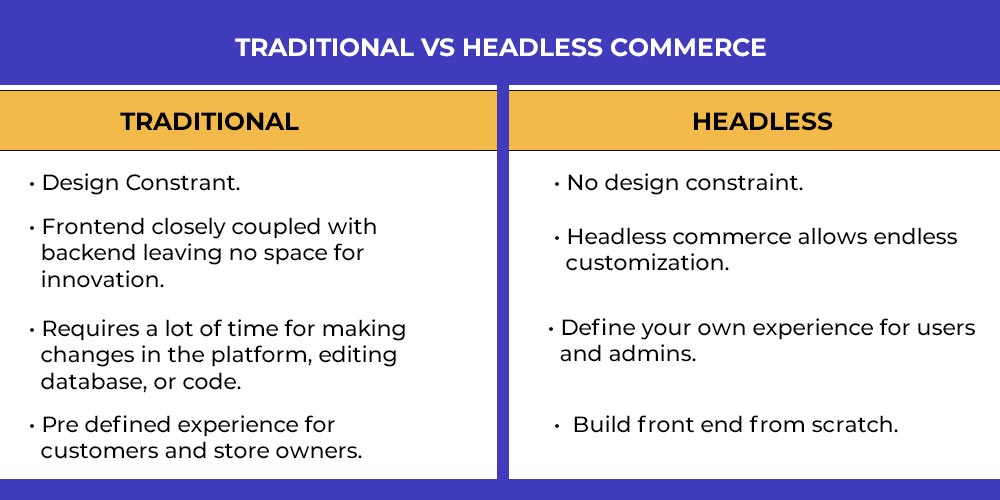 Traditional Commerce 
Most of the traditional e-commerce models are generally monolithic and there are many brands across the globe that are still stuck on a monolithic strategy which includes high development costs and delayed innovation. In addition to this, such models require a massive time to edit or make changes in the code, database, and front-end platform. Moreover, it limits the developers to make modifications up to a limit without the risk of preventing any future updates.
The traditional e-commerce platforms are constrained to a predefined customer experience both for the admin and the customers and apparently, leave a little room for customizations and updates.
Headless Commerce
Headless commerce helps businesses meet their commerce requirements by enabling them to deliver API-driven customer experiences. It helps developers create a user experience that fits well with their core business ideology. Also, the backend remains intact as the developers make changes to the frontend, which saves a lot of time. 
Also, the front end is strongly coupled with the backend, hence, developers aren't allowed to make changes in the infrastructure from the scratch. The developer gets complete control over creating the look and feel of the customer experience and business platform.
With headless commerce making the front end decoupled from the backend, the developer gets endless opportunities to make changes and modifications to the platform. 
Also Read: PWA for e-commerce: Why Magento merchants need to go for it?
Check out our CENIA PWA THEME now just by hitting the button given below!

Why does your business need headless commerce to succeed in 2021? 
1. Customization
A headless e-commerce solution allows your business to build the desired type of user interface from scratch instead of sticking to the guidelines of a monolithic software trotted with specific templates. As a business, headless e-commerce gives you full control over the frontend and allows you to follow your UX design approaches and likewise shape your brand strategies without adding templated layout.
2. Improved User Experience and ROI
The key to success in the retail industry is to keep up with the evolving customer expectations while maintaining product and service quality. When brands like Amazon are ruling the online retail space giving customers the chance to compare prices, the only way to attract more visitors to your online store and gain customer loyalty for your brand is by providing a consistent, personalized, compelling, and immersive experience across different channels. By doing so, you can increase customer engagement and give them a reason to keep visiting back.
3. Freedom of Experimentation
Headless e-commerce is a blessing in disguise for e-commerce business owners as it allows them to experiment without the risk of endangering their entire business. For instance, if you want to build an effective Progressive Web App (PWA), you can create some errors or make changes without affecting the backend operations. In comparison to traditional commerce solutions, headless e-commerce gives your brand the freedom to modify and make changes to frontend and backend code without affecting each other. 
4. Agility & Speed 
Other than providing the independence to experiment, headless e-commerce also gives businesses the ability to implement user interfaces quickly instead of retaining and installing full-stack software. It makes e-commerce easy for businesses by making development simplified and efficient so that different teams can work in parallel. Also, due to its decoupled ability, one can make direct changes to the UI without testing in the backend. 
5. Quick Integrations
With the headless commerce architecture, API integration becomes easy as there's no coding involved and ensures easy and speedy communication within software platforms.  
Also Read: Headless Commerce: The next step in e-commerce
6. Go omnichannel with no complications involved
With the help of headless commerce, your business can push the content anywhere, anytime, and everywhere. 
What does that mean? Well, for an eCommerce business, headless commerce platforms enable you to deliver your products, services, product videos, or blog posts to any channel that exists be it via Alexa Skills, progressive web apps (PWA), or even through refrigerator screens. What makes it even greater is that there is no requirement to reconstruct your online platform to publish across channels. 
7. For consistent customer experience
Customer demands are ever-changing but that does not mean that customers should not receive a consistent customer experience across multiple channels. Most of the customers want to engage with eCommerce brands that understand their demands across different channels. The backend system already identifies what the customer has brought and it further makes use of this data to strengthen the personalization systems on CMS, mobile apps, and social tracks. This way it helps businesses in delivering a consistent and smooth customer experience.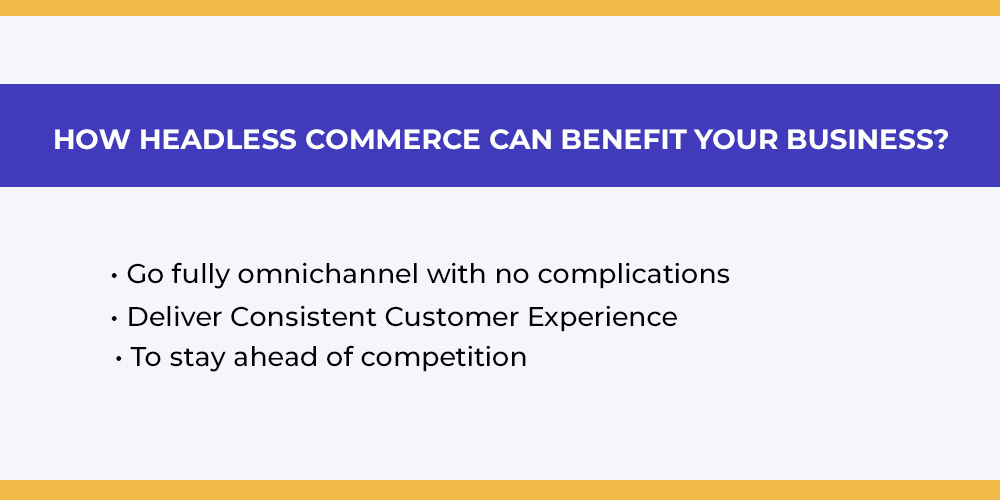 8. To stay ahead of the competition
The best part about headless commerce is that it enables your brand to actively install updates without affecting your entire back end system. Further, you can also add changes or alter specifications to your front-end system to exist side-by-side with the momentum of your buyer technology. 
E-Commerce giants like Amazon implement updates on an average of every 11.7 seconds while those brands who are still stuck on traditional platforms roll out an update one week after the other. Therefore, headless commerce helps your business reduce both the number and interval of outages.
In headless commerce, the front end system is not coupled to the back end which makes it easier for brands to update any part of the system without any hassle. This way businesses can deliver the expected requirements of consumers and remain competitive in the market.
Also Read: Progressive Web Apps for e-commerce 
The future of e-commerce 
As we continue to move towards the era of digital disruption, headless commerce is providing businesses with the right capabilities and solutions to enable growth in a disruptive and ever-changing business environment.
With headless PWA, a business can quickly adapt to change while attaining affordable ownership, fast-paced marketing, enhanced security, and all other components to deliver a flexible and steady online shopping experience. 
Do you want to learn more about headless commerce and how your business can leverage it? Well then, you can simply connect with our e-commerce experts who can guide you through the pathway of integrating the headless commerce PWA theme within your business. 
Also Read: 5 reasons PWA mobile-first e-commerce and commerce
Get in touch with us to know more!

The post Why headless commerce is the key to success in 2021? appeared first on CedCommerce Blog.