Selling on eBay is of great advantage in the present scenario. The world is uncertain about when they will again head to the supermarkets and malls. eBay has therefore emerged as a big problem-solver. What to sell on eBay is not an issue until you have something potentially harmful. You can sell anything new or old on eBay. Thinking about why sell on eBay or how should you sell with ease? We have brought you reasons for why to use WooCommerce to sell on eBay or why buy an integration for eBay if you already have a store set up on WooCommerce. Moving further, we will also guide you to connect eBay with WooCommerce and sell better.
Why use WooCommerce?
Begin with the essential things first. What are the advantages of WooCommerce? And what benefits of WooCommerce make it one of the most preferred choices among online retailers.
1. Free licenses and WordPress plugin
For beginners, WooCommerce is an absolute yes. You can get the software licenses for free in the beginning. Later on, when your business grows, you can pay and get licensed software. This is beneficial in the long run. It further helps you in empowering your business gradually as you grow bigger. Along with this, WooCommerce also provides you with a free WordPress plugin.
2. Easy to use
Whether you are a beginner or an experienced merchant, the WooCommerce store is handy for all. WooCommerce. Everything, right from installation, configuration, and process management, is simple. Even the least experienced person can use it with ease.
3. Dynamic
WooCommerce is dynamic. It is evolving every day. And this is the best feature of open-source software. It is shaped by a lot of contributors and not just a set of developers. WooCommerce gets better with every new version.
4. Customize as you wish
As a seller, you have to understand what kind of store layout or settings favor your buyers. You can also assess what stores you preferred as a buyer and why. This assessment and customization of the store according to the requirement is possible on WooCommerce.
5. WooCommerce adjusts will all plugins
A plugin is also software. It adds extra functions to your WooCommerce store. You can add a plugin to make bulk actions, add subscriptions, or more similar functions. Although the WooCommerce store in itself provides so many functionalities that you will rarely need a plugin. But in case you require it, WooCommerce is open to plugins.
6. Sell what you want, how you want
WooCommerce allows you to sell whatever product you want. Your products might have several categories and subcategories or a considerable amount of variations. WooCommerce can handle it all with ease. Even if you are not selling a physical product but a service, you can do it with the help of WooCommerce.
7. Analytics is a bonus
WooCommerce helps you understand your buyers. How does it do so? It lets you know how your customers are interacting with your products and store. Later on, WooCommerce gives you a set of analytics to better understand sales trends. Also, it is compatible with Google Analytics and other external analytics services.
8. Content Management par excellence
What is expected out of an eCommerce solution? The best content management system. And WooCommerce successfully provides this. No one can ignore the importance of good content. It is the building block of good sales. WooCommerce gives you a variety of options for managing your content. This could be through blogs, product descriptions, email marketing, landing page content, and more. WooCommerce can handle it all.
So, are you still not sure about why use WooCommerce?
Now the second question to cater is, are there any advantages of selling on eBay? Let's discover the reasons.
Why to sell on eBay?
Catering to the e-commerce business since 1995, eBay is a trusted player in this sphere. Allowing both old and new products and providing a free listing opportunity makes eBay different from others. It is undoubtedly the marketplace for all. And is highly popular among westerners. The marketplace has recently launched an eBay certified refurbished program. Under this scheme, sellers and manufacturers can sell their refurbished items through eBay's recommerce site. Let us further get an in-detail insight into the advantages of selling on eBay.
1. Easy Listing
eBay has made it easy for sellers to be noticed by the buyers. The step-by-step guidance available on the eBay official site helps to understand how to sell on eBay. It gives you a list of seller best practices beforehand. Making the details clear right from the beginning. From images to title, descriptions, item specifications, pricing, offers, and more, every little detail is available to guide sellers.
2. 200 Free Listings monthly
You get 200 free listings in a month. And after that, the listing fee is only $0.35 for most categories. Also, unlike other marketplaces, eBay charges a maximum of 10% final value fees from an article's sale price.
Read the additional fee conditions here
3. Seller Protection
eBay cares for its sellers. You are protected by various means, like transaction monitoring and seller policies. eBay has its dedicated seller protection team to monitor and enforce policies and prevent sellers from being exploited. You can report a buyer if they violate eBay's buyers' practices and be heard by the officials at eBay. eBay's resolution center is dedicated to providing you all the help you need.
4. 170 MN Buyers
Being one of the largest marketplaces with users literally from every nook-and-corner of the globe, eBay has a vast seller-buyer base. You can sell internationally with the global shipping program of eBay or on your own. Around 57% of eBay's business is international with a whopping 170 million buyer base, claims eBay.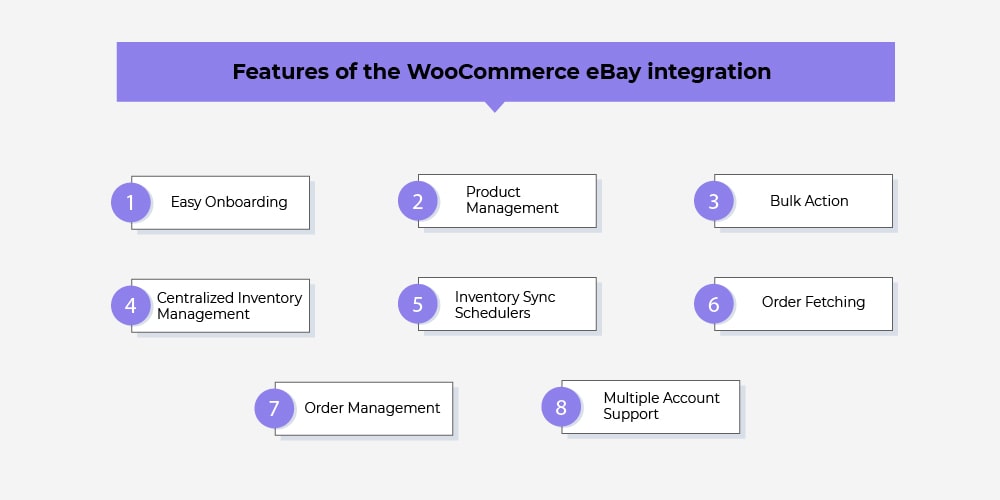 Now the next query for anybody planning to sell on eBay is how to sell on eBay.
How do you sell on eBay?
Selling on eBay is simple. Sign up and create your eBay account. And then create a product listing for whatever you want to sell. Afterward you can select your preferred method of payments and start selling. You can get expert guidance and news updates related to eBay from the seller center updates.
Here is your guide- How to sell on eBay.
Moving further, we will discuss another common query, i.e., what can I sell on eBay?
What to sell on eBay?
Everything that doesn't pose a physical threat to buyers can be sold on eBay. Ranging from household, to gaming, accessories, electronics, books, everything is available on eBay. Adding up to the benefits, you can also sell both old and new products on eBay.
Why should you connect eBay with WooCommerce?
Why not! There are a vast amount of reasons to give. But let me give you one first. You want to make selling easy. That's the primary motive behind buying an integration. And nothing can help you better than an eBay WooCommerce integration.
Easy onboarding- The integration helps you to easily onboard the marketplace in simple steps.
Product Management- Manage all your product listings from a centralized control panel on the app.
Bulk Actions- Update, edit, or remove, everything becomes easy and simple with the opportunity of making bulk actions on product listings.
Centralized Inventory Management– Manage your inventories with the centralized inventory management panel and keep a track of your item stocks.
Inventory Sync Schedulers- The app automatically updates your inventory stocks from times to time at the intervals chosen by you.
Order Fetch- Fetch your eBay orders to the WooCommerce store and keep a track of them from the app.
Order Management- Manage your orders through the centralized order management panel and fulfil shipments. Manage the orders on the app and get it updated itself on the servers of eBay. You can also track the orders and other details from the app.
Multiple Account Support- This new app allows you to manage multiple accounts on eBay. This means that if you own multiple stores on eBay, you can manage them all through one single app. This is the best feature of the new WooCommerce eBay integration unavailable in most other similar solutions.
Get in-depth knowledge of the integration here
Final thoughts
The new eBay WooCommerce integration is intended towards making selling easier. WooCommerce, as most sellers know, is a dynamic, evolving open source framework compatible with almost all the plugins. It gives you some excellent content management systems. On the other hand, eBay is also focused on making selling easier for both new and experienced sellers. Several new developments like the new reCommerce site under the Certified Refurbished Program of eBay have made things easier for sellers dealing in refurbished items.
The app supports multiple account usage. So you can manage multiple eBay stores through one app. You can also make bulk actions on products by simply selecting their product categories. Schedulers sync the inventory stocks from time to time at the intervals selected by you. Apart from these extras, the other features for product and order management and centralized inventory control panel help you sell with ease.
To know more, connect with our dedicated team of marketplace experts at CedCommerce.
The post Why should you connect eBay with WooCommerce? appeared first on CedCommerce Blog.