Either you landed on this guide to Google Merchant Center to give the free listing a shot or you want to sell on Google Shopping or you are just curious as to what it is, rest assured that you will get all the answers to your questions about the Google Merchant Center.
Google Merchant Center isn't just a basic necessity to sell on Google Shoppingit provides you with many ways to reach an, often overlooked, audience while also providing you with the status of your products, performance reports and improvements. So without wasting time, let's dive deeper.
Topics covered:
What is Google Merchant Center?
At its core, Google Merchant Center is a seller panel that helps you upload, store, and manage your product feed. It also helps you keep all important information about your retail business in a single online location hence centralizing and making your eCommerce operations effortless.
One of the benefits with Google Merchant Center is that whether you have an online or offline business, your products can gain a lot of visibility through the several Google Merchant Center programs.
Here are a few things you should know about the Google Merchant Center beforehand:
Your product feed essentially lives in Google Merchant Center.
You can use the same feed in several other Merchant Center programs such as Shopping AdsDynamic remarketing, Local Surfaces Across Google, Local inventory, and Surfaces Across Google, hence Merchant Center can make or break your efforts.
How to create a Google Merchant Center account?
Before you begin creating your Merchant Center account, you need to have a Google account. Click on this link and click on Create account.
Step 1:
Now click on this link and sign in through your Google account.
Once you are signed in, you need to enter the following information about your business:

Business address
Your business's name(this is going to appear across Google)
Step 2:
You have to specify where your customers will be checking out. It could be one of these:
Your own website: Users will find your products on Google and by clicking on the product they will be redirected to your website to make the purchase.
On Google: Users will see your product listing on Google and buy without leaving the Google platform. Do keep in mind that customers can also check out on your website even if checkout on Google is available for your product listings.
At your local store: Users see your products on Google and visit your local store to buy.
Step 3:
In this step, you can link your Merchant Center account with a third-party platform. This will allow Merchant Center to provide you with better services and can help simplify the setup process. Feel free to add more tools and integrations at any time.
Simplify with CedCommerce integrations: our Google Shopping integrations are specially designed to provide you utmost ease while selling on Google Shopping. From the Shopping Actions to Shopping Adswe can manage it all. Let's discuss!
Step 4:
At this step, you can choose to receive emails about updates with tips and best practices or Invitations to test new features. Feel free to opt-out at any time.
Right after you agree to the terms and conditions, you will be done.
Congratulations! Your Merchant Center account is all set.
Google Merchant Center guidelines
Whether you use the Merchant Center for Shopping Ads or any other programs, you have to follow these Google Merchant Center guidelines:
Promote products that are ready for direct purchase
The links that you choose to promote through Shopping Ads need to lead users directly to a page that enables them to buy the advertised product(s).
It is not allowed to use Shopping Ads to promote affiliate or pay-per-click links to products except when participating in the Affiliate Advertising Beta or as a Comparison Shopping Service (CSS) in the European Economic Area (EEA) or Switzerland.
*Affiliate Advertising Beta lets you advertise an affiliate link that directs consumers to the merchant's site where the product was initially listed.
Use an official language
When advertising in a specific country, you have to use the official language of that particular country.
If you wish to advertise in different countries and languages you can do so, but keep in mind that you would have to submit different product feeds that directs to a landing page that is in the same language as before.
In short: Your website's language, product feed and the language you set during registering your product feed should be the same.
Let your customers know about the returns and refunds
Google is fairly adamant about providing its customers with extreme ease and expects the same from you, hence you need to specify the return and refund policy.
Also, make sure it is easy to find and straightforward. You don't have to necessarily provide refund and returns, so even if you don't, clearly state that as well.
In particular, your policy should specify how you handle returns and refunds. You should include:
What the consumer needs to do in order to claim refund/return
Under what circumstances you offer returns and refunds
The timeframe in which you accept returns
When your user can expect a refund
Keep in mind that Google doesn't offer refunds and returns services.
Handle and collect user data responsibly
You must follow these guidelines while handling the user data:
Only collect and store personal information, such as credit card numbers, securely on an SSL-protected page.
Do not sell your users' contact info
You should not use users' personal information or images in ads without their consent
Your site's primary purpose should not be to collect users' personal information
Do not offer free items or incentives except in certain circumstances:

With the purchase of a product.
As part of a marketing campaign.
When the primary purpose is not to collect personal information from users.
Follow the respective guidelines of the Google programs
Every program or services offered by Google has its own unique guidelines. So if you are setting up the Surfaces Across Google campaign or setting up your Shopping Actions store, you should be following their respective guidelines.
Verify and claim your website URL in Merchant Center
Before you start using certain Merchant Center programs you need to verify and claim your website URL. This will prevent anyone else from claiming your site.
You can claim and verify your domain in the Search Console.
Keep in mind that you can verify your URL only if you have the access to edit the HTML of your website or you are able to upload files to your server.
Step 1: Enter your website URL
You can verify a URL using these steps:
Sign in to your Merchant Center account.
In the navigation menu, click on the tools icon
Select Business information under "Tools."
Click on the Website tab.
Enter the URL for your online store, starting with HTTP:// or https://. Only use a domain that you own and maintain.
Click Save.
Step 2: Verify your website URL
If you've already verified your website for use with other Google products, such as Search Consolethen you don't have to verify it again to use Merchant Center. You can simply skip to the subsequent claiming step.
Through Google Analytics
If you're using Google Analytics already and you are an administrator of your account, you will find this method to be the easiest method to verify your website URL.
First off, if you haven't already, then you need to set up a Google Analytics property, find the instructions here.
Creating this property will generate a unique tracking ID and a global site tag.
*What is a global site tag? The global site tag is several lines of code that you need to paste on the web page you want to measure(refer to the image below)

You will be required to copy and paste the global site tag generated immediately after the opening
tag on the web page in question.
Once you are done setting up the property for your Google Analytics, here's how to find your tracking ID and global site tag in Google Analytics:
Sign In to your Google Analytics account.
Click on the "Admin".
Select the account from the menu in the "ACCOUNT" column.
Select the property from the menu in the "PROPERTY" section.
Under "PROPERTY", follow this route: tracking info> Tracking code.
Your Tracking ID must be visible at the top of the page. And the global site tag must be visible farther down the page in a text box under Website Tracking > Global Site Tag (gtag.js)
Now you can move forward with claiming your website URL:
Make sure that your Analytics tag is working. If so, you must be able to find the tag in the head section of your page.
Click the blue Verify URL button at the bottom right to submit your URL to Google Search Console for verification.
This tracking code is used only to verify your website URL ownership. It does not permit Google to access any of your Google Analytics data.
Once this is done, you'll receive a confirmation email from Google Search Console.
Through Google Tag Manager
If you're an account-level administrator for Google Tag Manager, this could be an easy way for you to verify your website URL.
Make sure that your Google Tag Manager is installed and all setup. You will have the container installation code snippet. If not, then follow the instructions to Setup and install Tag Manager.
Now just click on the blue Verify URL button at the bottom right to submit your URL to Google Search Console for verification.
Once this is done, you'll receive a confirmation email from Google Search Console.
There are two more ways of verifying your website, namely, through HTML tag and HTML file upload, but those can get a bit technical. It is recommended that you let the experts do this for you. Our experts at CedCommerce can help you with this. Just comment below and let us know, we are here to assist you!
Step 3: Claim your website URL
Now you can simply claim your website URL. This will give you the exclusive rights to use your website in connection with your Merchant Center account.
Once your website URL is verified, you can claim it by clicking the blue Claim URL button at the bottom right.
After claiming your URL, you will be required to refetch your feed. In case you use the Content API, you'll need to re-upload your feed so it can be recrawled.
Website requirements
There are some website requirements that you need to meet. Let's have a look:
Your website must display sufficient and accurate contact information, including a telephone number and/or email.
Payment and transaction processing, as well as a collection of any sensitive and financial personal information from the user, must be conducted over a secure processing server (SSL-protected, with a valid SSL certificate – https://).
Your site must provide a clear and concise return policy to users.
Your site must provide clear and concise billing terms and conditions.
Make sure that the customers are able to successfully add items to the cart and fully complete the checkout process without any hindrance.
How do I add products to Google Merchant Center?
To add products to Google Merchant Center, you need to submit a Product feed. The product feed is basically a TXT or XML file, Google sheet and content API consisting of product information.
To add products in the Merchant Center, first sign in to your Merchant Center account and through the left-hand side navigation panel, choose "Products".
Under "Products", select "Feeds" and here with the plus sign you can easily add your products.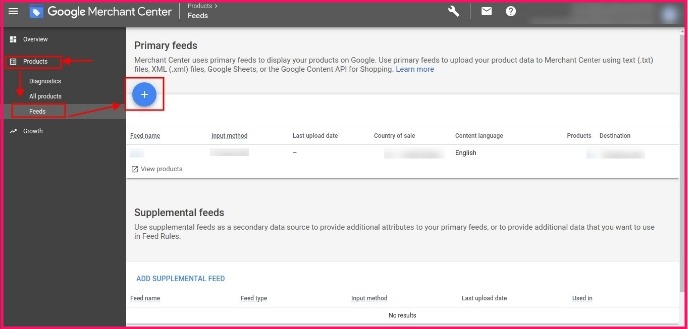 These are four ways you can add your product feed to Google Merchant Center, namely:
Google Sheets
Scheduled fetch
Upload
Content API
Check out this guide to create and upload the product feed the right way.
Here's how Google Merchant Center simplify things for your business
Here is a list of things that Merchant Center can help you with:
Uploading your product feed and managing it is very easy through the Merchant Center. As now you can use the same feed for any programs, it makes the whole process even simpler. You can now upload the same feed from Amazon, without much tweaking required.
Google Merchant Center in itself is quite a wonderful tool that opens a variety of doors for your business to grow. You can boost your product's visibility on the most preferred search engine, a.k.a. Google. There are multiple ways to list your products on Google Shopping, Shopping Actions, Shopping Ads, Surfaces Across Google, Local Surfaces Across Google or Local Inventory Ads, all of which require you to upload a product feed to the Merchant Center.
You get detailed information on your product feed status: active items, expiring items, pending items and disapproved items.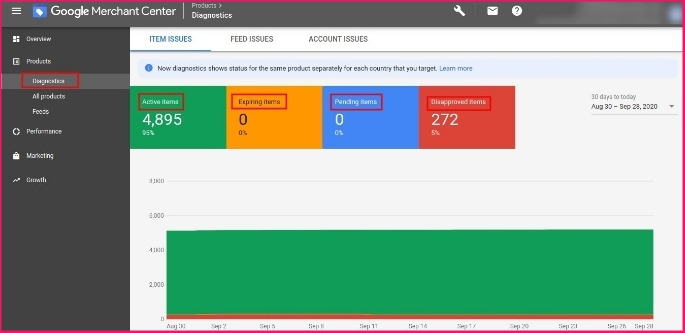 Merchant Center has a program called Merchant Promotions, this helps you to showcase the offers you are providing along with your Shopping Actions and Shopping Ads listings.
You get detailed information about the best-sellers alongside the price competitiveness analysis and suggestions for improvements. Now you can find competitive prices that you can offer for your shoppers.
Winning your customers' trust could be a tough task at first, but adding reviews and ratings can accelerate the process of establishing trust. With Google Merchant Center, you get programs like customer reviews and product ratings, which you can incorporate into your website and enhance the trust factor.
For the Small and local business owners, Google has an array of tools along with Google My Business, where you can add your business details and these will appear on the Google Search, hence increasing your brand awareness.
FAQs about the Merchant Center
Is there an alternative for Google Merchant Center?
As it is already established that there is only one way to list your products on Google Shopping and that is through Google Merchant Center, so no there is no alternative to the Merchant Center.
How do I access Google Merchant Center?
To access a Merchant Center account, you must be added as a user by the Merchant Center account admin.
Multiple users are allowed to access a single Merchant Center. Additionally, users can connect their individual Google account with multiple Merchant Center accounts as needed. Account admins can specify different access levels per user:
Standard: Ability to sign in to Google Merchant Center and access everything in the account, except the "Users" tab and the "Merchant Center programs" tab.
Admin: Standard account access, plus the ability to add, delete, or edit user roles in the "Users" tab.
Email contacts: No account access, but will receive emails based on preferences.
Still have doubts? Learn more about it here!
What is Google Merchant Center in AdWords?
Shopping Ads in the Adwords(Now known as Google Ads) requires a product feed and to that, you need Google Merchant Center. Whatever your need, be it creating a product feed to creating and managing your Shopping Ads campaigns, we can do it all with effectiveness. Let's Connect and discuss today!
What is Google Merchant ID?
Every seller is given a unique ID and it is called the Merchant ID. You can check yours out on the upper right-hand corner of your Merchant Center account. (refer to image)

Does Google Merchant Center cost anything? Is Google Merchant free?
Yes absolutely! There is no fee to use the Google Merchant Center.
Can we upload videos as a product to Google Merchant Center?
As of now, there are only four ways you can upload your product feed, which is discussed above. So, no you can not use video as product feed.
How to get started with Google Shopping Actions?
The first thing you will be required to do is to upload your feed to the Merchant Center and choose the Shopping Actions program. But why go through such a cumbersome process when you can just sit back and relax and our experts will manage your entire store! Want to discuss? Click to connect!
Last word
Google Merchant Center is often an overlooked yet very powerful tool. With the new updates and most of the Google Merchant Center programs becoming free, this the best time onboard on the Google Merchant Center.
From getting your offline store online to increasing your chances of making more sales and increasing our brand awareness, Google Merchant Center will be the primary requirement.
So there you have it: your comprehensive guide to Google Merchant Center. Got anything else to add? Comment them below!
The post Your Complete Guide to Google Merchant Center: A Must-Have Tool appeared first on CedCommerce Blog.